Be adventurous with me and try an exciting fusion of Middle Eastern and Asian flavors - Roasted Chickpea Pitas with Miso Tahini Sauce are on the menu to liven up your lunch!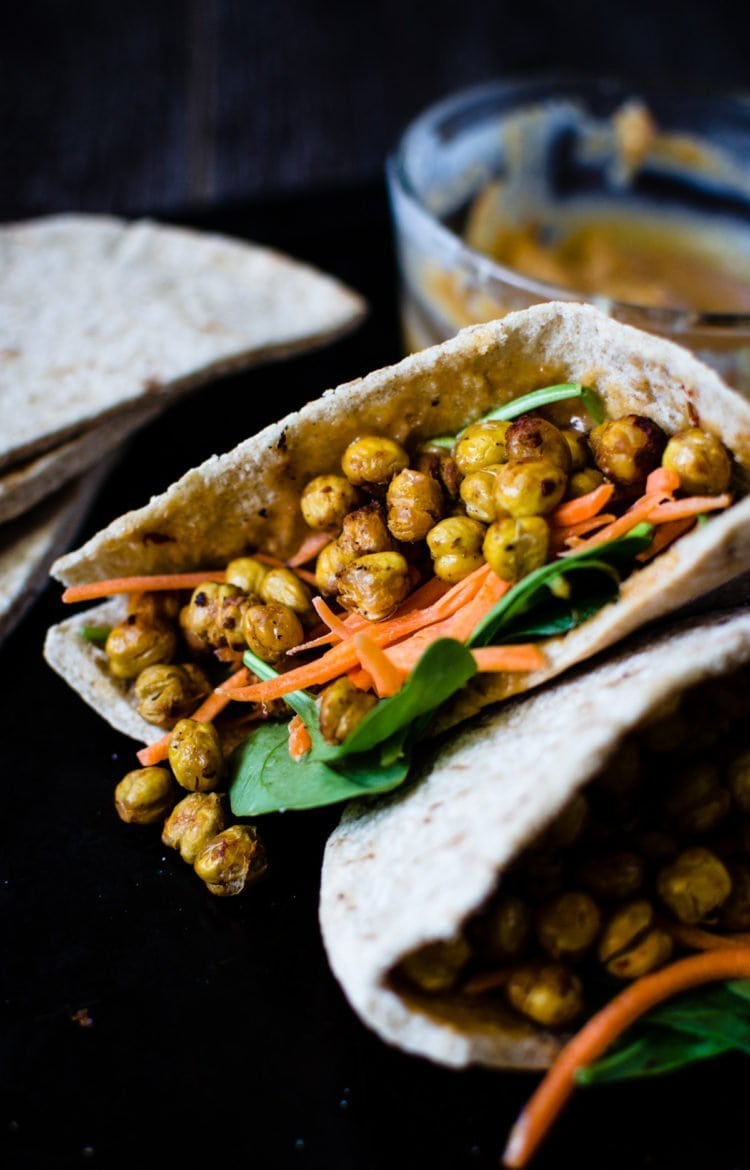 I have some crazy memories of these roasted chickpea stuffed pitas. They were the last dish I photographed in what I hope was my last apartment before we moved into our new house. Surrounded by boxes, packing paper, and filled with a gnawing anxiety over packing my kitchen up, I hurriedly snapped a few shots of this dish with the hope that it would still be warm for dinner when I was finished.
This dish was so very satisfying - in the warm, fuzzy feelings in a satisfied belly kind of way. Although it's vegetarian, the high fiber content and smokey, spicy, sweet flavors make it filling and interesting enough to fill me up and keep me content to call it a meal. And I love the fact that there were great leftovers the next day!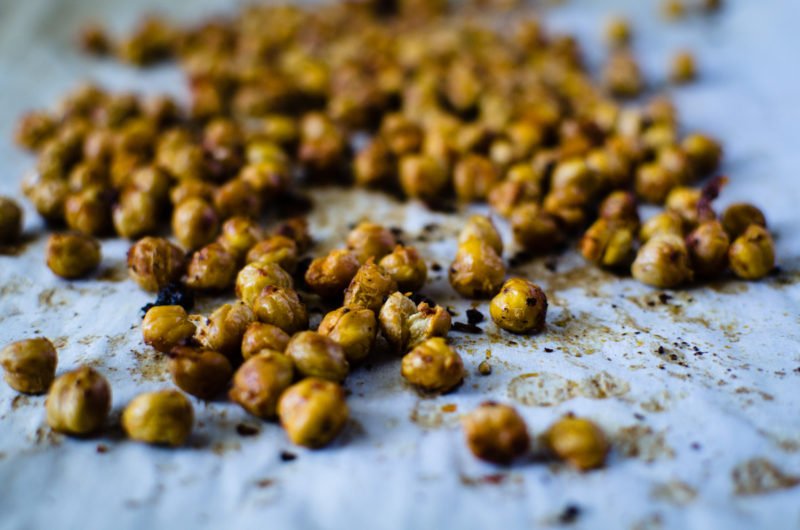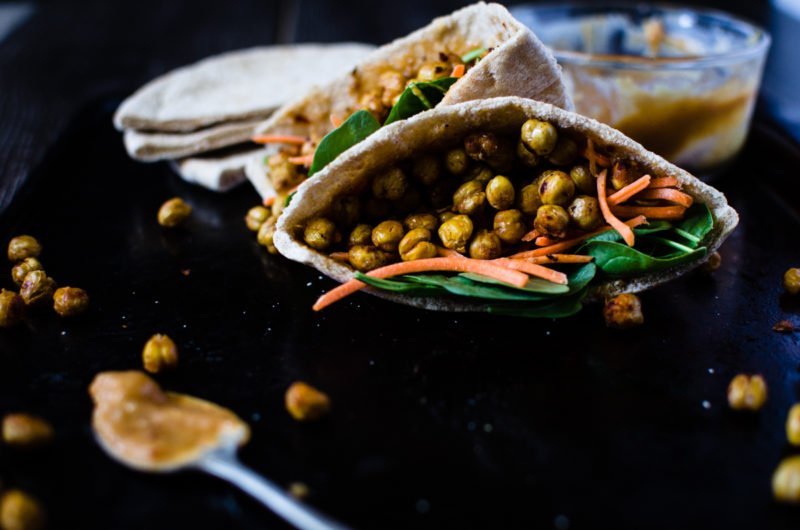 The last two weeks have been such a blur for me - the first week I tackled our move in this new house and managed to unpack about ⅓ of our boxes. Last week I made the trek to middle TN to help my mom and dad clean out my Granny's house with the hope of getting it in for-sale shape in 3 days time. In the midst of all the packing, cleaning, unpacking, cleaning, and cleaning some more, I've neglected my blog and even more my social media accounts.
I'm grateful the moves have gone well, and even more grateful for some time spent with family that I just don't get to see often enough! Snapchat, Instagram, Facebook and the like can wait - when there's a big job to do or the chance to spend time with family, I try to be "all there" and give 100% of my attention to the "now." It's worth it - and if I'm completely honest, I love to unplug from it all every now and then!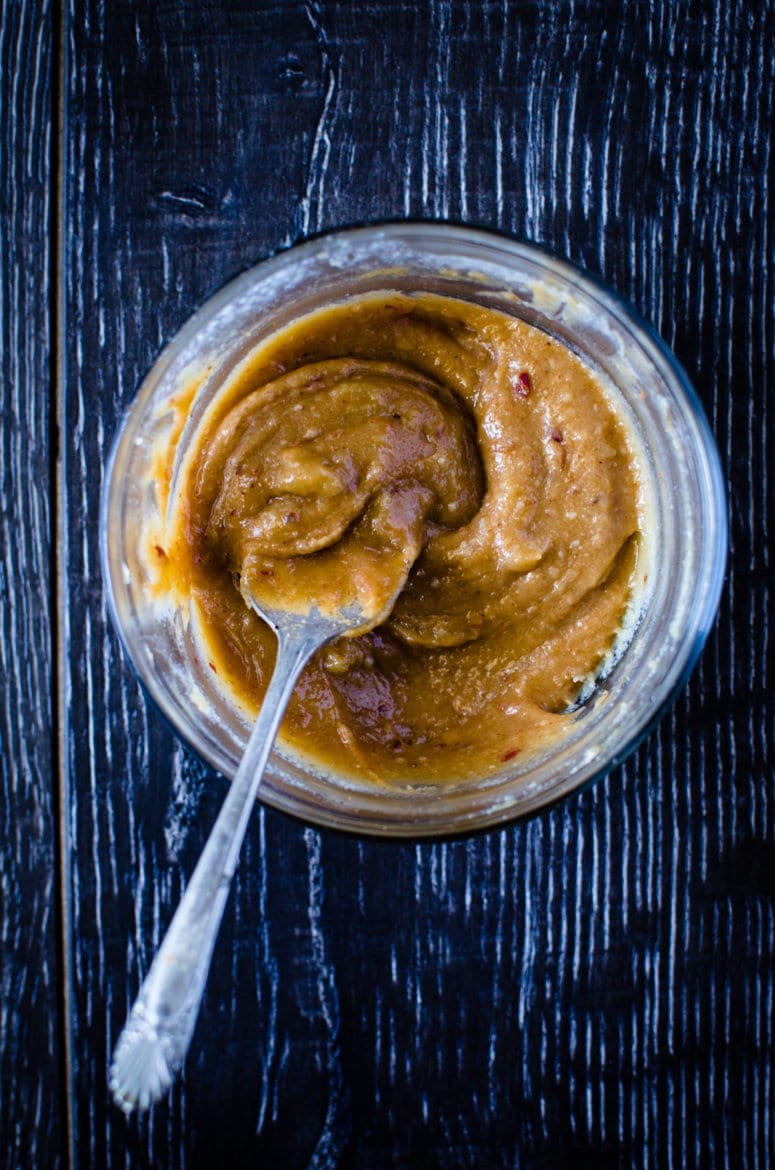 Now bear with me if you decide to try this recipe. There's a few uncommon ingredients in it that you will only find in the most adventurous of kitchens. Decide to be adventurous with me and purchase a can of harissa, a tub of white miso, and a jar of tahini sauce. These will keep for up to a year, so you'll have plenty of time to experiment with them and try all kinds of exciting recipes that are sure to become favorites. Just type the ingredients in the search bar of an on-trend recipe site - I'd recommend Epicurious - and cook away!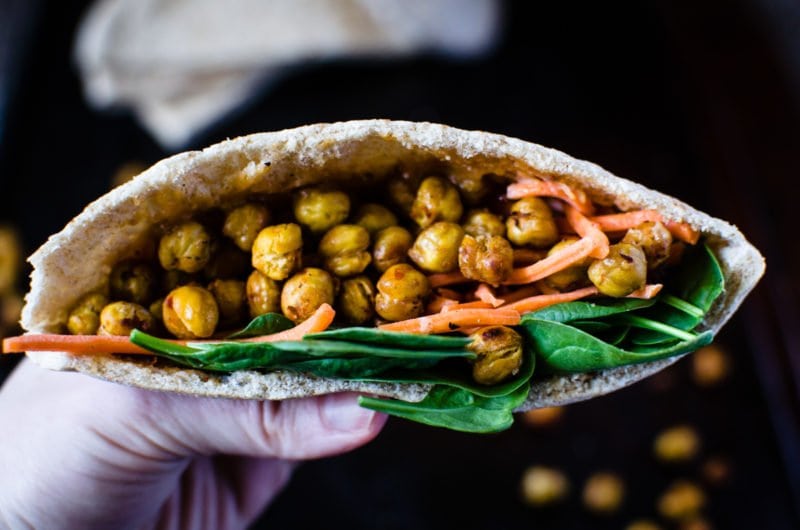 Did you make this recipe? If so, I'd love to hear about it! Leave a comment below or upload a pic to Instagram or Twitter with the tag @sweetcayenne5 - it's always fun to connect with you! Follow the newsletter here. It's only released once per week.
Recipe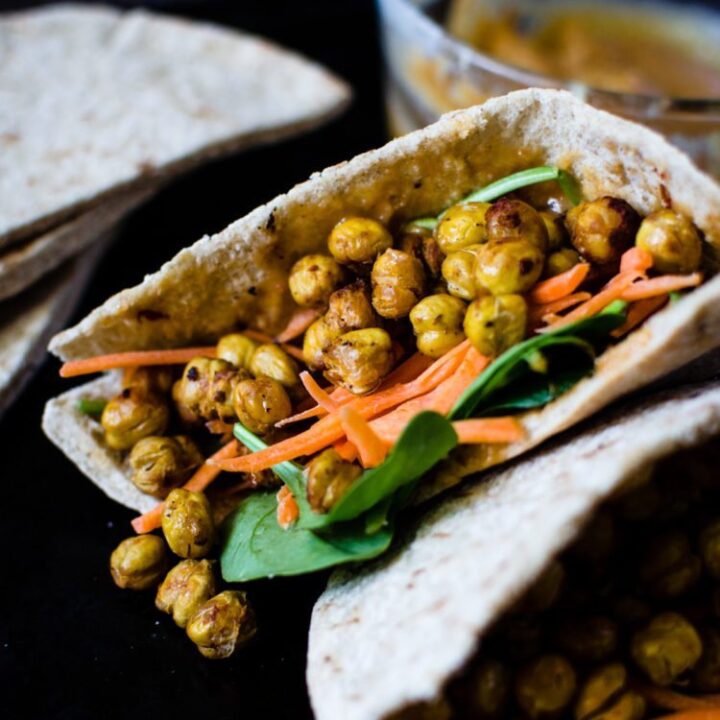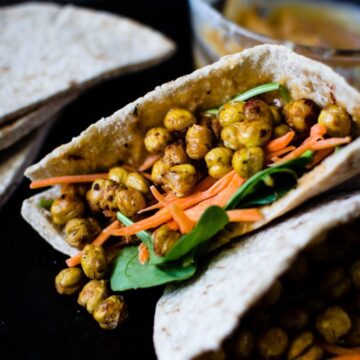 Roasted Chickpea Pitas with Miso Tahini Sauce
These pitas are stuffed to the brim with a powerful fusion of Middle Eastern and Asian flavors. Hot and crispy roasted chickpeas are the star and a creamy miso tahini sauce brings everything together.
Print
Pin
Rate
Ingredients
Chickpeas:
1

15 ounce can chickpeas, drained, rinsed, and thoroughly patted dry

1

teaspoon

harissa sauce

2

tablespoons

olive oil

¼

teaspoon

coarse Kosher salt

¼

teaspoon

freshly cracked black pepper
Miso Tahini Sauce:
¼

cup

tahini sauce

2

tablespoons

white miso paste

¼

cup

seasoned rice vinegar

2

tablespoons

maple syrup

2

teaspoons

harissa sauce
Pita sandwich:
Grated carrots

Baby spinach

Whole wheat pita bread

slice the rounds into halves
Instructions
For the chickpeas:
Preheat oven to 400 degrees F. Line a large baking sheet with parchment paper and set aside.

Drain and rinse the chickpeas before placing them on paper towels to dry them completely. Add them to the lined baking sheet. Drizzle with harissa, olive oil, salt and pepper. Toss to coat them thoroughly.

Roast the chickpeas for 20-30 minutes, tossing them halfway through with a spatula to ensure even browning. Remove from oven when they are golden and crisp.
For the sauce:
While the chickpeas roast, combine all ingredients for the sauce in a small bowl. Whisk thoroughly to combine. The sauce will be thick and should be slightly thinner than the consistency of peanut butter.
Pita assembly:
Slightly warm the pita bread halves in the microwave or wrapped in foil in your oven for the last 5 minutes that the chickpeas roast. Spread both sides of a pita half with the Miso Tahini sauce. Fill the pita with ? cup of the hot roasted chickpeas, grated carrots, and baby spinach. Enjoy warm!
Note:
Leftover chickpeas will loose their crispiness as they cool. Simply store in an airtight container in the refrigerator and reheat at 350 degrees F for 8 minutes to crisp them up again. Leftover Miso Tahini sauce will keep in your refrigerator for up to 6 weeks.
Serving:
1
Pita
|
Calories:
612
kcal
|
Carbohydrates:
78.8
g
|
Protein:
19.5
g
|
Fat:
23.6
g
|
Saturated Fat:
2.8
g
|
Sodium:
1100
mg
|
Potassium:
675
mg
|
Fiber:
12.7
g
|
Sugar:
13.7
g
|
Calcium:
156
mg
|
Iron:
6
mg