Today I thought it would be fun to do a little beauty review on a new nail service I tried recently: the Signature Nail Systems (SNS) manicure. I don't typically get my nails done, but treated myself to this service while visiting family in VA because I thought it would be a fun experience to share here with you!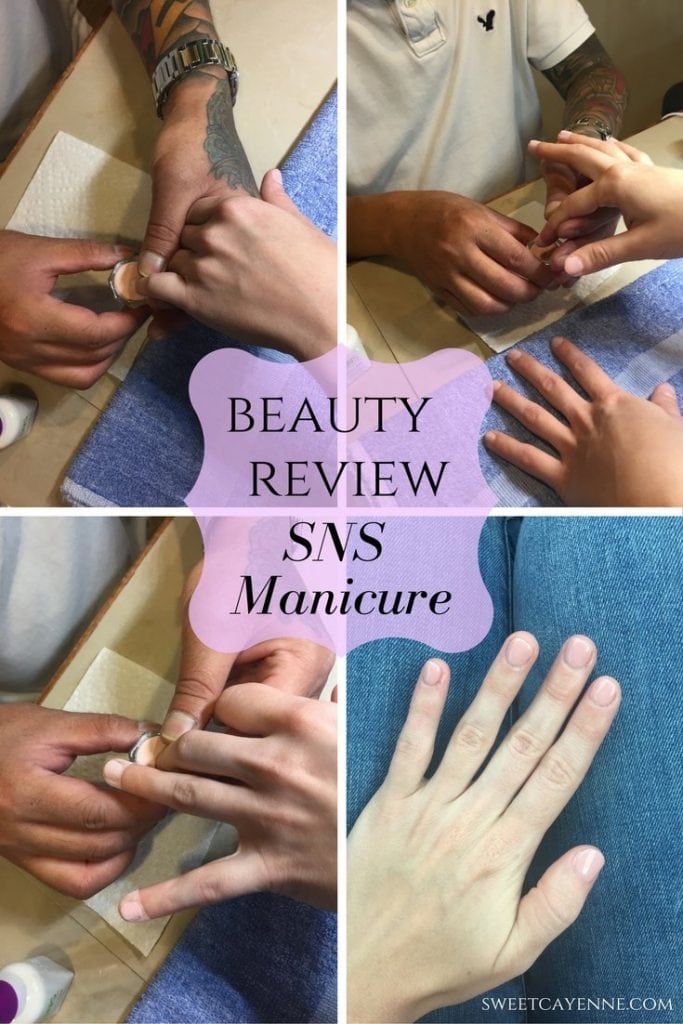 What is SNS?
Signature Nail Service is a type of manicure that involves repeated dipping of your nails into a colored powder that hardens into a matte finish on your nail. It's fairly new to the nail salon world and is currently only available in a limited number of salons. It does not require a primer or UV light, and is a healthier alternative to shellac or gel manicures.
Pros:
The Vitamin E and Calcium in the dipping powder are added to help nails grow stronger and healthier. I can already tell a difference in my nail strength after having the product on for two weeks!
The powder is much thinner and lightweight than a traditional shellac/gel manicure, so it feels much more natural/breathable on my nails.
Since the process is UV free, its better for my hands and takes much less time!
There are just as many color choices to select from as there are with a shellac/gel manicure - they even have options for glitter or matte finishes. I chose a natural shade for my manicure so it would not be as noticeable when it started to grow out. The shade I chose is called N10.
Compared to the 10-14 days that a shellac/gel mani lasts, an SNS mani will last for 3-4 weeks. This certainly cuts down on the frequency that you need to get your nails done if you get regular manicures.
Cons:
It costs a bit more than a shellac/gel manicure. Mine was $40, and a typical shellac/gel mani is $25-30.
Limited salon availability. I was really surprised that a salon in the small town of Christiansburg, VA offered this (Nail Envy). There is more availability in large cities. Unfortunately in Columbia, MO, where I live, no salon offers the service yet!
It requires removal from a professional. You need an acetone soak to safely remove the polish without doing damage to your nail. This can be done at home by placing cotton pieces soaked in acetone on the top of your nail and covering the nail with foil to hold the cotton in place. However, I have not tried removing it myself yet so I can't really speak to the process.
Try it for yourself!
You can locate a salon that provides SNS services by using the salon locator on the SNS site. If you are out of luck, it never hurts to call your favorite nail salon and request that they look into providing the service in the future!
Now, if you don't have a salon near where you live, you can always paint your own nails. When I do it myself, I love Essie products - Essie Gel Couture and Essie Gel-Setter Top Coat to be exact. Amazing color choices - check! Goes on easily - check! Quick drying - check! Stands up to long days in the kitchen - check! #winning
You may have found this SNS info, well, informative. If that is the case, you may also like some of the other things we do here at SweetCayenne.com. Check out this makeup class comparison I did between Ulta and Sephora. Did you know I love to travel? What I spend most of my time doing though is cooking tasty recipes for my blog - see: Back-Pocket Chocolate Fudge Cake, Smokey Jalapeno Cream Cheese Sliders, and One-Dish Peach BBQ Kabobs. Of course, you can find more style and beauty posts as well.
Have you tried an SNS manicure? If so, send me a shot of your fabulous fingers on Instagram or Twitter at SweetCayenne5 (If you are signed up for my newsletter, your Insta or Twitter pic may get showcased in an upcoming issue).
I'd love to hear your thoughts, any questions you may have, and anything fun going on in your world in the comments below, so please feel free to leave a message!
Sign-up for weekly newsletter updates here - You get insider information and freebies that only subscribers have access to.