Today we are getting steakhouse style fancy in the kitchen with sous vide strip steak and a luscious spinach artichoke risotto!
This year's Valentine meal was enjoyed a bit early - on a Saturday night - since a fancy Tuesday dinner did not fit in so well with our work week schedule. Do you know what I mean??? I hate when holidays fall in the middle of the week. But, you just move on and celebrate when you can. This year we decided to cook a fancy meal together that involved using a new kitchen tool that I'm super stoked to tell you about - a sous vide cooker!
What's a Sous Vide Cooker?
A sous vide cooker is basically a secret that restaurant chefs have kept to themselves for many years - but the secret has been out for a while and is quickly gaining in popularity among home cooks! It's a tool that's used to cook foods gently and evenly over a longer period while submerged in a water bath. This is how chefs achieve remarkably consistent results with steaks, fish, and more because it's a precise and accurate method of cooking.
How it Works:
The cooker works by heating water to a precise temperature that you set, holding the temperature of the water steady, and circulating the heated water around the food as it cooks. The food is sealed in a vacuum package OR placed in a freezer-safe plastic bag before cooking.
Why Sous Vide Cooking is Awesome
Set it and forget it - like slow cooking in a Crock Pot, sous vide cooking is great because it's a hands-off technique. While the cooking time is much shorter (typically 1-2 hours for steak), you can do all of your other dinner prep while your steak cooks and not worry about it being overcooked!
Even cooking - since hot water is continually circulated around the food, you can be sure that your steak will the exact doneness that you want throughout every bite. This is how fancy steakhouses achieve that perfect medium-rare throughout an entire cut of beef.
You can cook pretty much any food this way - chicken, fish, pork, veggies, eggs - the possibilities are endless!
Learn More About Sous Vide Cooking:
Anova Precision Cooker - this is the device I use for sous vide cooking and highly recommend. Their site offers how to videos, recipes, tips and more!
Serious Eats' Guide to Sous Vide Cooking - this guide tells you everything you could possibly want to know about sous vide cooking and is my favorite resource for learning about the technique. They have temperature charts, recipes, step-by-step photos, and info on cooking every type of food.
Are you intrigued?? I hope so! Seriously, this is a really cool technique and tool to add to your kitchen arsenal that you will use time and time again! I just love how hands-off it is. It was so easy to cook my steak while having extra time to make a luscious risotto to go with it.
Once the steak was done, I recruited Ryan to stir and finish off the risotto while I seasoned the cooked steak and gave it a quick sear to get a lovely brown crust on it. It was a fun team effort at the end and we had a steakhouse quality meal ready in no time with little effort - not to mention less than half the cost of what we would have paid for a "Valentine's Dinner for Two!"
Recipe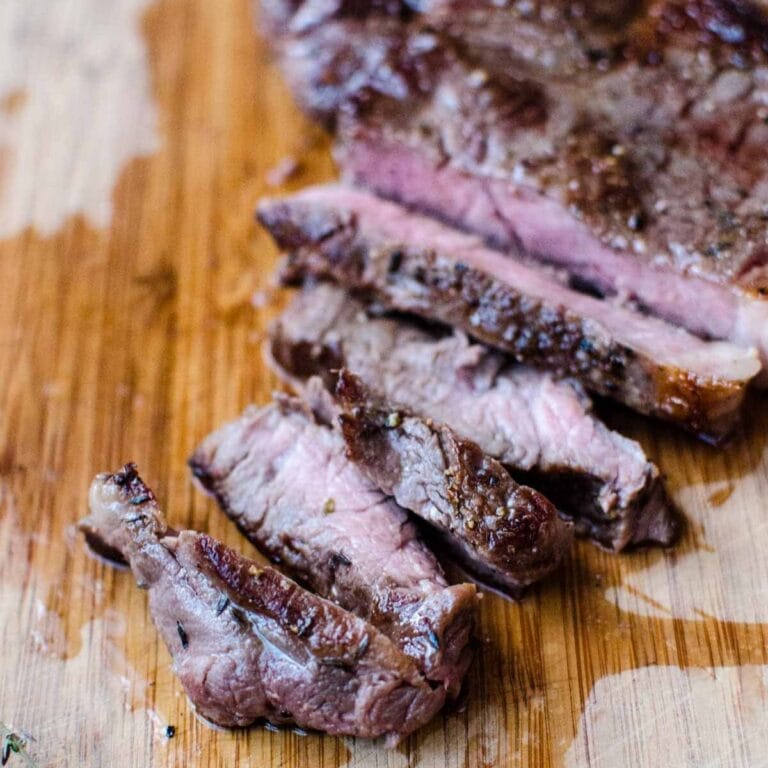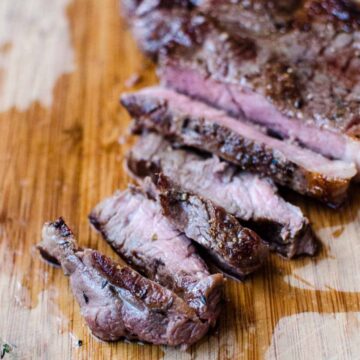 Sous Vide Strip Steak with Spinach Artichoke Risotto
This steakhouse-quality meal is the perfect thing to make for a special occasion dinner in the comfort of your own home. It's the perfect recipe to make with someone special!
Print
Pin
Rate
Ingredients
For the steak:
One 10-14 ounce strip steak

also known as New York Strip or KC Strip

5-6

sprigs of fresh thyme

Coarse kosher salt

Freshly cracked black pepper

Your favorite steak seasoning

optional

A neutral oil

I like canola or grapeseed for steak

Butter
For the risotto:
Olive oil and butter for pan

3

cups

fresh baby spinach leaves

½

cup

quartered marinated artichoke hearts

drained

4

cups

low sodium chicken stock or broth

2

tablespoons

unsalted butter

2

teaspoons

finely chopped shallot

1

garlic clove

finely minced

½

cup

arborio rice

½

cup

white wine

⅓

cup

freshly grated parmesan cheese
Instructions
Starting the steak:
Fill a large stock pot with hot water. Attach your sous vide cooker to the side of the pot and heat to a temperature of 130 degrees F.

Once the sous vide cooker comes to temperature, place your steak in a quart size freezer bag with the fresh thyme sprigs. Seal the bag using the

water displacement method

. Place the bag into the water with a large binder clip and heavy spoon attached to the bottom (see example

here

). Cook the steak for 1 hour.
Starting the risotto:
While the steak cooks, prepare your risotto ingredients. It's a good idea to have everything pre-measured out and near the stove where you plan to cook the risotto.

When the steak has about 40 minutes of cook time left, begin to make the risotto. Place the chicken broth in a small saucepan over medium heat. Place a ladle in the broth.

Place the two tablespoons of butter in a small skillet or pot. Brown the butter by heating over medium heat, stirring often, until the butter melts and develops brown bits near the bottom. It will have a nutty fragrance. Remove from heat once it is golden brown in color and set aside on the oven range to keep warm.

Heat a medium skillet over medium heat. Add a drizzle of olive oil and a dab of butter to the hot skillet. Add the baby spinach and artichokes and saute until the spinach is wilted and the mixture is heated through, about 5 minutes. Place the spinach artichoke mixture in a bowl and cover with foil. Keep it warm by keeping it on the oven range.

Return the pan to medium heat and add another drizzle of oil and a dab of butter. Add the shallots and garlic and stir until fragrant, about a minute.

Add the arborio rice to the shallot mixture and stir for a minute.

Add the wine to the rice and stir until it has almost completely evaporated.

Add chicken broth to the rice, one ladle at a time, stirring the rice until the broth has evaporated before you add another ladle of broth. Repeat this process while stirring often until the rice is thick and creamy - this should take about 15-20 minutes.
Finishing the steak:
Once the steak has been cooking for an hour, have someone take over your risotto stirring while you remove the steak from the water bath.Use a paper towel to dab any moisture off of the steak.

Place a cast iron pan over medium high heat. Turn on your oven vent and/or open a window while searing the steak.

While your pan heats, season both sides of the steak with salt, pepper, and your favorite steak seasoning, if desired.

Place 1 tablespoon of neutral flavored oil onto the hot skillet. Add the steak. Sear for 90 seconds. Flip the steak over and sear for an additional 90 seconds. Add a dab of butter to the top of the seared side while the second side is searing. Remove the steak from the heat and set on a clean cutting board. Cover with foil and let it rest while you finish the risotto.
Finishing the risotto:
Once the risotto is thick and creamy, add the spinach artichoke mixture to the pan. Stir to heat the mixture throughout. Add the parmesan cheese and stir to melt throughout. Season to taste with salt and pepper.
Plating the meal:
Have one person slice the steak into thin strips while the other ladles risotto onto plates. Top the risotto with drizzles of brown butter. Place the sliced steak to the side of the risotto. Enjoy while hot and praise your partner for the team effort - you just cooked a steakhouse-quality meal together!
Notes
The instructions in this recipe are for a medium-rare steak. This is the degree of doneness I highly recommend for optimal taste and texture. For instructions on varying degrees of steak doneness, consult this time and temperature chart.
Serving:
1
Serving
|
Calories:
861
kcal
|
Carbohydrates:
58.5
g
|
Protein:
61.9
g
|
Fat:
37.4
g
|
Saturated Fat:
20
g
|
Cholesterol:
195
mg
|
Sodium:
3157
mg
|
Potassium:
397
mg
|
Fiber:
6.3
g
|
Sugar:
6.1
g
|
Calcium:
343
mg
|
Iron:
2
mg
Shop the kitchen tools used for this recipe:
Did you make this recipe? If so, I'd love to hear how it turned out for you! Leave a comment below or upload a picture of your creation to Insta or Twitter with the tag @sweetcayenne5.