This Strawberry Tomato Bruschetta is a sweet and juicy twist on a summer classic - served on my Dutch Oven Rosemary Raisin bread that is toasted to perfection!
Be right back y'all. I've gotta stuff my face with some more of this Strawberry Tomato Bruschetta.
Seriously though, I plan to be making this AS. MUCH. AS. POSSIBLE. this summer. Or as often as I can have a loaf of Rosemary Raisin Bread at the ready. This is my favorite twist on traditional Italian bruschetta. It's the perfect combination of salty + sweet + savory + a little something unexpected - and I am here for it!
You know what else I am here for? Simple sides that require little to no cooking - maybe they even stand as a light meal on their own - and are satisfying enough to just serve with a simple piece of grilled fish, chicken or steak. Nothing fancy concerning lots of ingredients or time-consuming preperation but yet so tasty that it could pass as fancy? I think YES. This bruschetta fits the bill. Let's do this!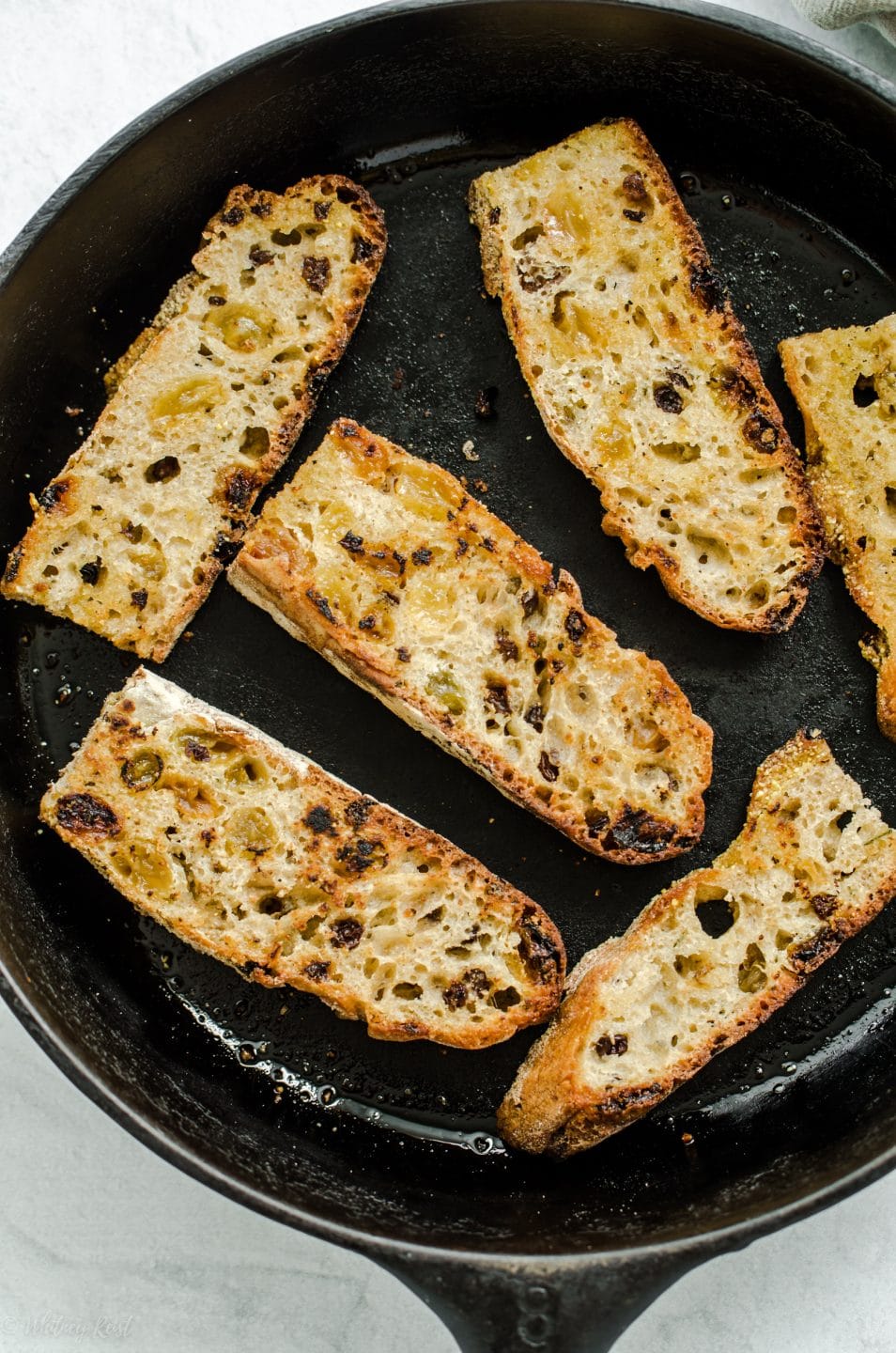 Strawberry Bruschetta Ingredients
Dutch oven Rosemary Raisin Bread - this bread is so simple to make and well worth the effort. Props to you if you can serve the bruschetta on the very day the bread is baked, as the crust will be freshly crisp and have the best texture. Ciabatta bread or an Italian baguette will work in a pinch as well!
Fresh strawberries - try and buy strawberries that are deep red in color (no yellow or white at the top) and as fragrant as possible for the best flavor. If you can't smell a fruity, sweet flavor on them, they likely won't have much flavor.
Fresh tomatoes - any type of garden-fresh summer tomatoe will do! My favorites for this are on-the-vine grape tomatoes, coloful heirlooms, or Roma.
Sea salt - flaky Maldon sea salt is DELISH in bruschetta and has a subtle briny flavor.
Coarse black pepper - freshly-cracked black pepper has a more fragrant aroma and bolder flavor, and a little bit goes a long way!
Aged balsamic vinegar - try and find a nice thick balsamic vinegar with a deep, sweet flavor as a finishing drizzle for your bruschetta. Specialty or gourmet food stores with imported Italian products should have some nice options, and feel free to ask for a sample before you buy one!
GOOD olive oil - a 100% single origin, single olive Italian variety is my favorite (like leccino or frantoio). These have a spicy, grassy, extremely clean taste and mouthfeel. You do NOT want to cook with this, as it will ruin the flavor. Consider it to be a condiment and use it as a finishing oil.
Fresh basil - shouldn't be hard to find when it's in season! But definitely try to grow your own for the fun of it!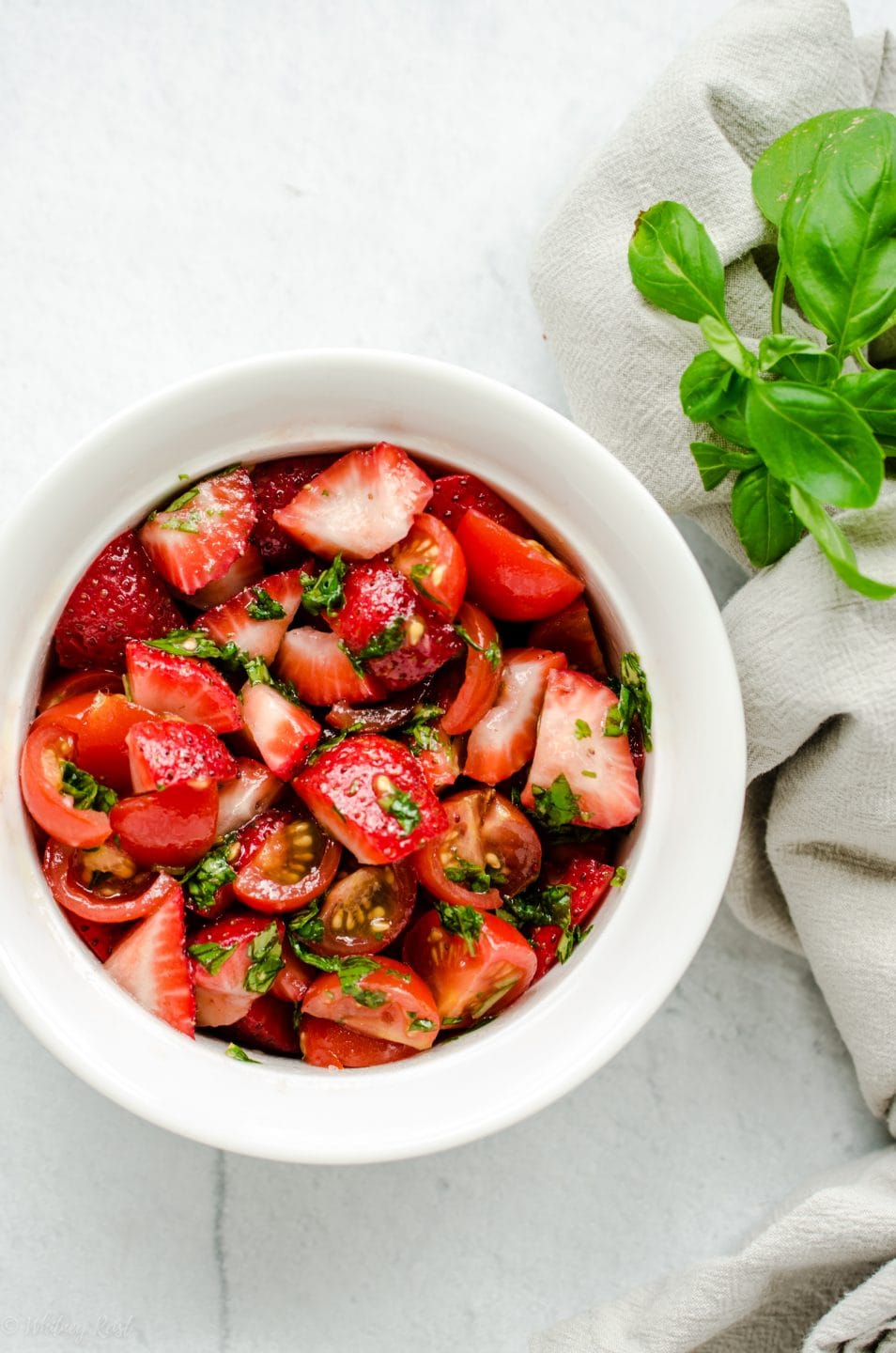 How to Make Strawberry Tomato Bruschetta
Toast thinly sliced bread in a skillet - I find that toasting bread over medium heat in a cast iron skillet gives it a crisp, golden exterior while keeping a tender interior.
Mix the tomatoes, strawberries, salt and pepper - just toss it all together in a bowl!
Fold in the chopped basil - you want to carefully fold in the basil so you don't bruise it.
Top the bread with the tomato mixture - do this just before you plan to serve the bruschetta. Otherwise, the bread will get soggy if it sits too long!
Use the olive oil and balsamic as a finishing drizzle - this will add a nice burst of flavor on the very top of the toast.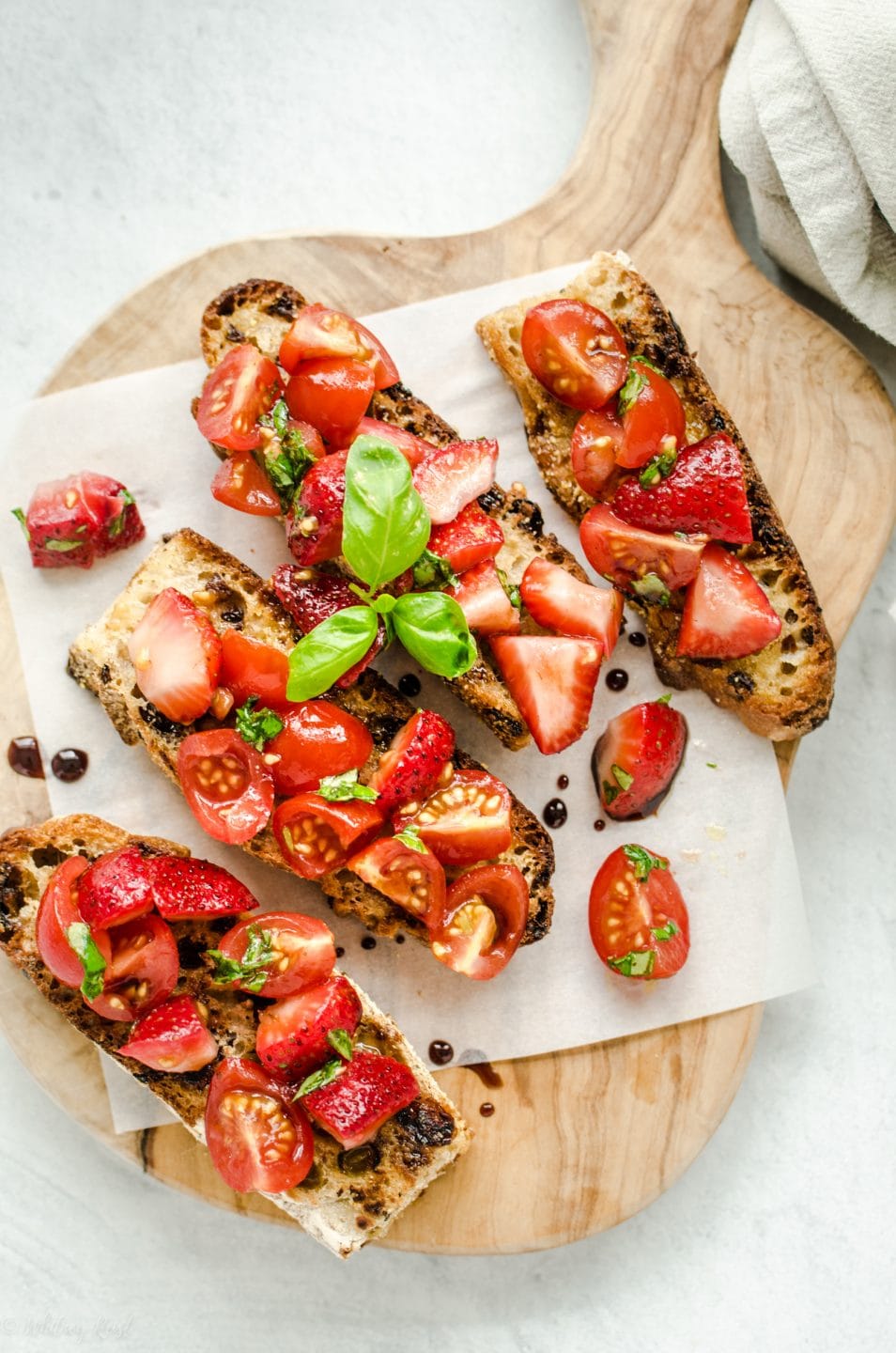 Summery Italian Aperitif Menu
An Italian aperitif is traditoinally served at many bars and small restaurants in Italy between the hours of 5 and 7 pm. Italians typically don't eat dinner until 9pm or even later, so the apertif is a time to serve a "snack" of sorts while mingling with friends and enjoying a drink. Aperitif can also stand in as a light, inexpensive meal for tourists who want to get in bed early! Below are some of my favorite aperitif menu options:
Strawberry tomato bruschetta
Slices of melon wrapped in prosciutto di Parma
Fresh burrata or mozzarella cheese drizzled with olive oil and balsamic vinegar
If this were my last meal, I would be 100% ok with it. You can find me on my back porch this summer enjoying this menu as often as I can!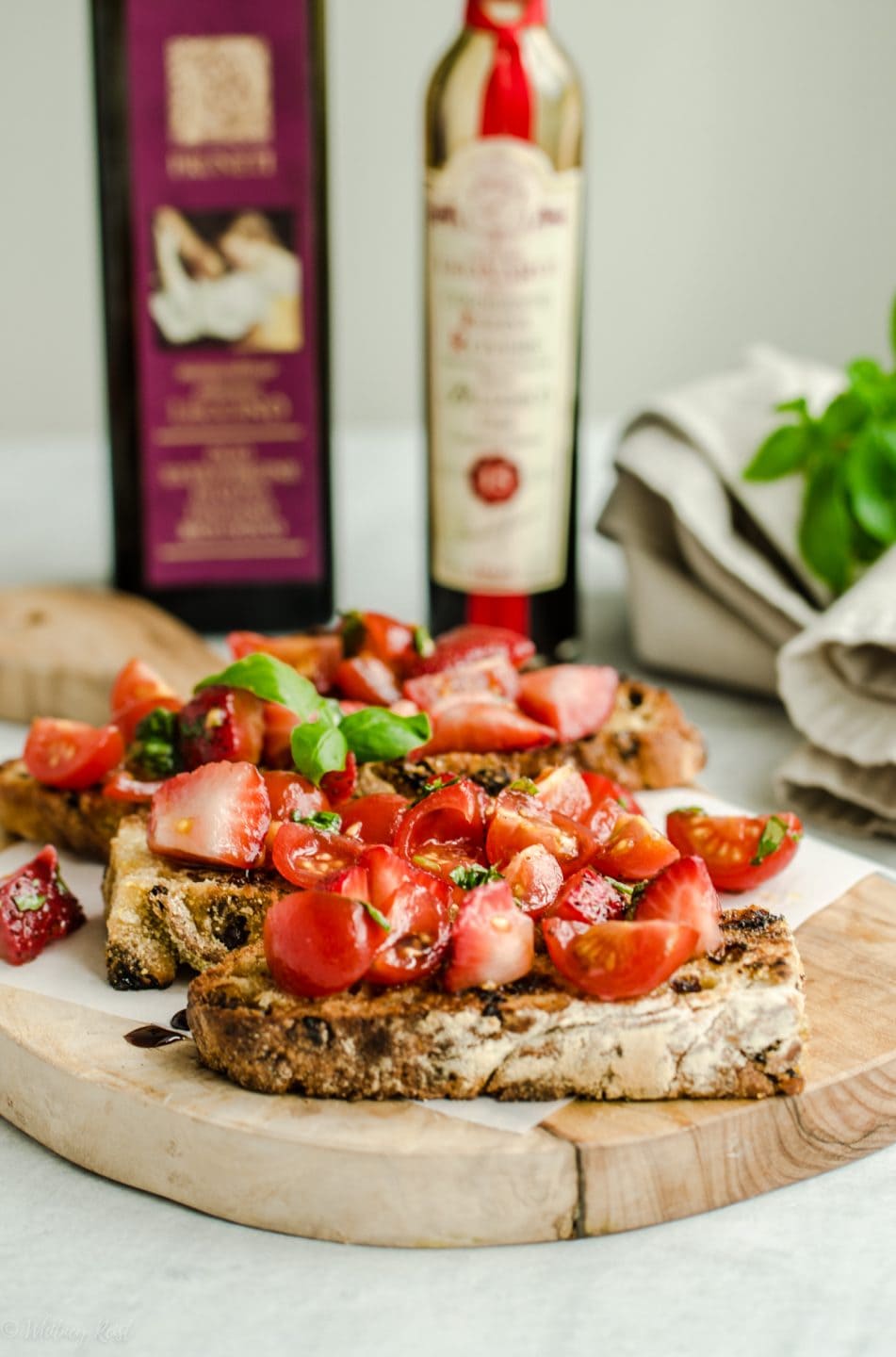 Are you ready to try this Strawberry Tomtato Bruschetta? I'm so excited for you to try this recipe. Once you get the chance to make it, please let me know how it turns out for you! Leave a comment and rate the recipe below. This will help me with the creation of future recipes! I'd also love to feature your creation in my monthly newsletter, so you can upload a photo to Instagram or Twitter with the tag @sweetcayenne5 to be featured!
Recipe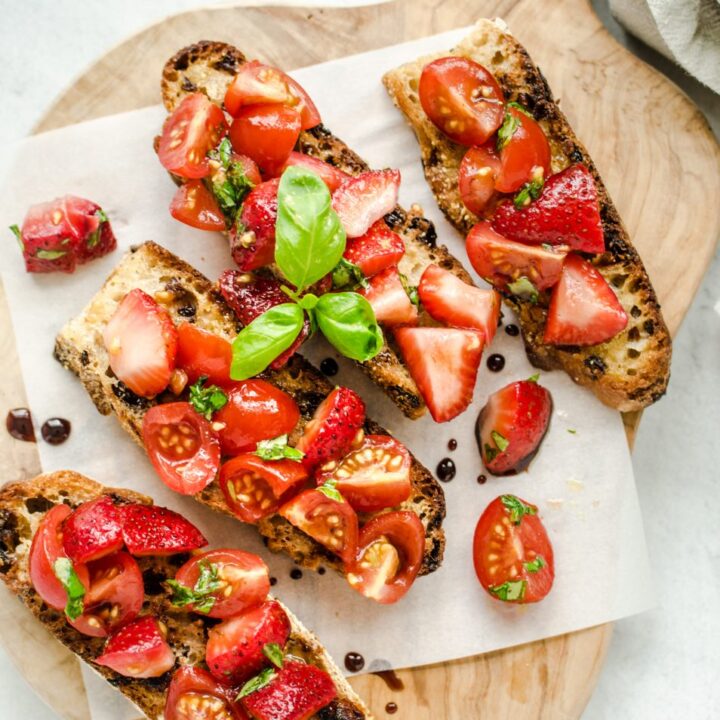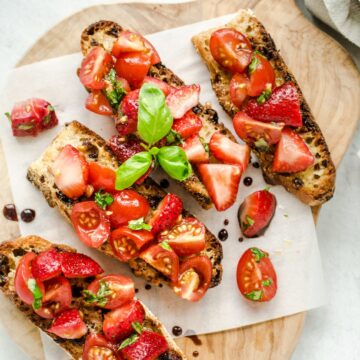 Strawberry Tomato Bruschetta
This Strawberry Tomato Bruschetta is a sweet and juicy twist on a summer classic - served on my Dutch Oven Rosemary Raisin bread that is toasted to perfection!
Print
Pin
Rate
Ingredients
10-12

slices

Rosemary Raisin Bread (see link)

1

cup

grape, roma, or cherry tomatoes, sliced into quarters

1

cup

strawberries, hulled and sliced into pieces in similar size to tomatoes

½

cup

fresh basil, thinly chopped

Salt and pepper to taste

Aged balsamic vinegar

Extra virgin olive oil
Instructions
Place a heavy-bottomed skillet, such as cast iron, over medium heat. Place enough olive oil in the skillet to cover the bottom. Place bread slices in the skillet, and toast for about 2 minutes on each side until the exterior is lightly golden brown. Repeat until all of the bread is toasted, adding oil to the skillet as needed, and transfer the toasted bread slices to a serving platter.

In a medium bowl, combine the tomatoes and strawberries Add a small sprinkle of salt and pepper to taste, then stir gently. Fold in the fresh basil. When ready to serve, carefully place spoonfuls of the strawberry mixture onto each slice of bread. Lightly drizzle the tops of the bread with the balsamic vinegar and olive oil. Serve immediately.

These taste delicious with prosciutto and melon, burrata cheese, and an aperol spritz for a true Italian aperitif!
Serving:
1
Serving
|
Calories:
217
kcal
|
Carbohydrates:
38.1
g
|
Protein:
7.1
g
|
Fat:
5
g
|
Saturated Fat:
0.3
g
|
Sodium:
352
mg
|
Potassium:
116
mg
|
Fiber:
2.5
g
|
Sugar:
2
g
|
Calcium:
11
mg
|
Iron:
1
mg
Pin this, pretty please!