Today I'm recreating one of my favorite foods from our trip to Italy last year - fried zucchini flowers!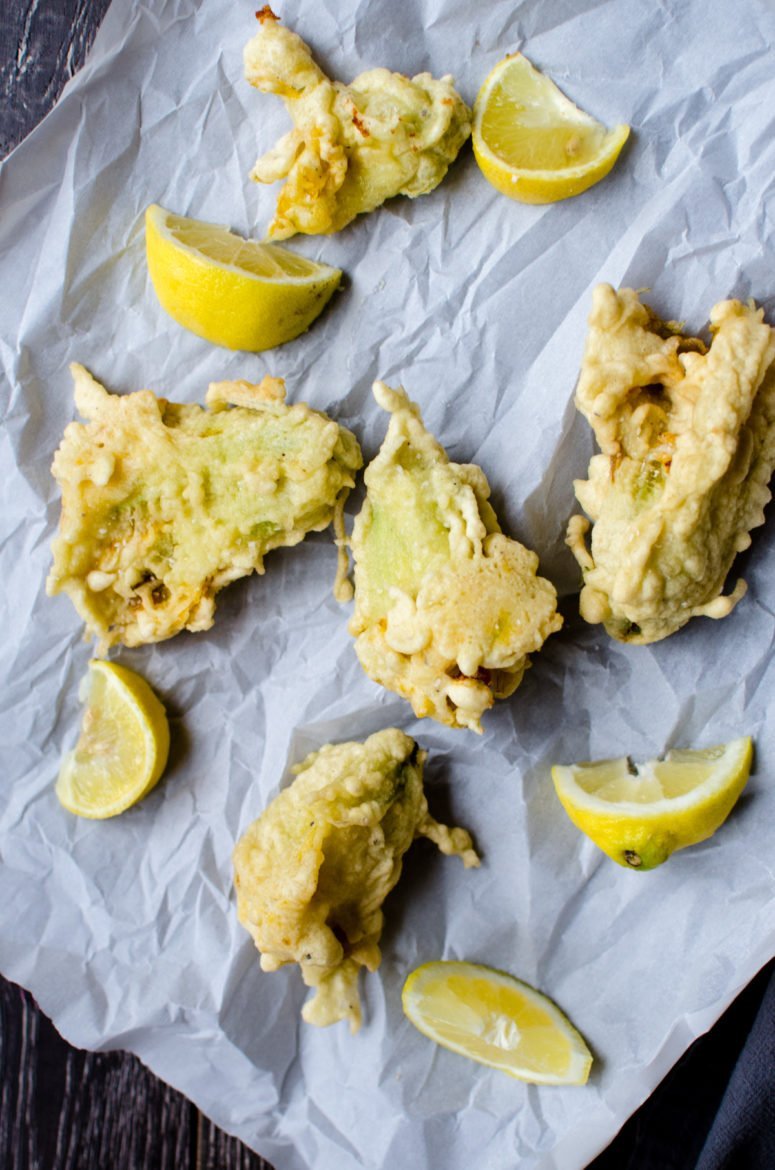 One of the best parts of traveling, for me anyway, is trying new foods that I fall in love with to the point where I'll do just about anything to recreate the dish at home. Sometimes I'm successful, but more often than not my attempts are futile and accept the fact that the food just isn't the same when I make it and I should just look forward to having it in that special place.
During our trip to Rome last year, I was introduced to the squash blossom - lightly breaded, fried, and served as a summer appetizer. I fell head-over-heels for this dish and ordered it at 3 different restaurants over the coarse of our trip. At the time, I had no idea if/where you could find squash blossoms in the states. But as it turns out, if you know someone who grows zucchini, chances are high that you can get your hands on some of the flowers!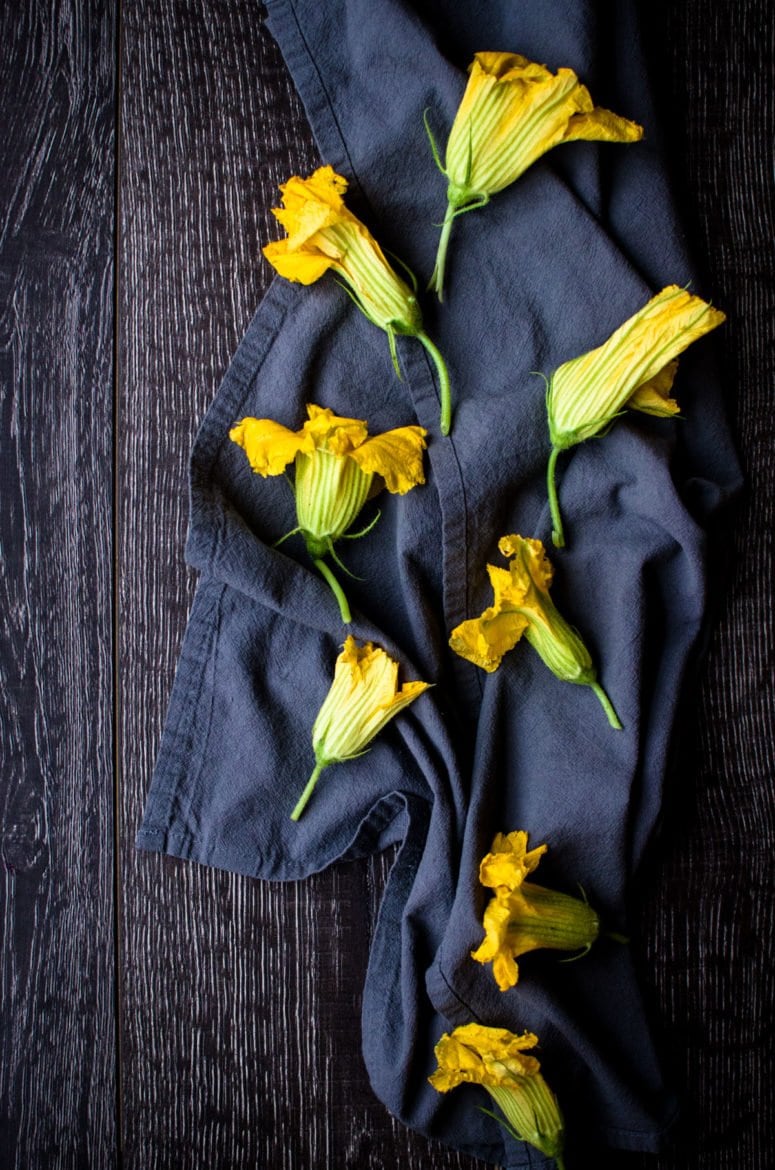 I was over-the-moon excited when I found an abundance of these lovely gems at our local farmers market - they've been available there for the past 4 weeks and are still going strong! So naturally I decided that it was the perfect time to try and make them just like I had tasted in Italy. The process turned out to be delightfully simple - all that's needed to prepare the blossoms for frying is to remove the stamen from the center of the flower.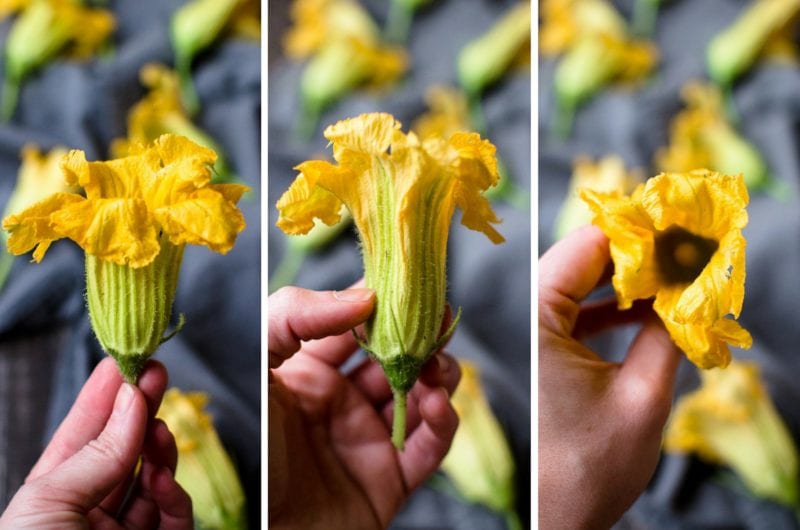 Next, a simple flour + egg + water batter is made. Flours are stuffed with a small piece of fresh mozzarella (optional, but highly recommended), then lightly dipped in the batter and fried. Perfection! They tasted just as delicious as I remembered. These make for the perfect summer appetizer before a light meal of grilled veggies and seafood. Serve them with a lightly and bubbly drink and you will have it made!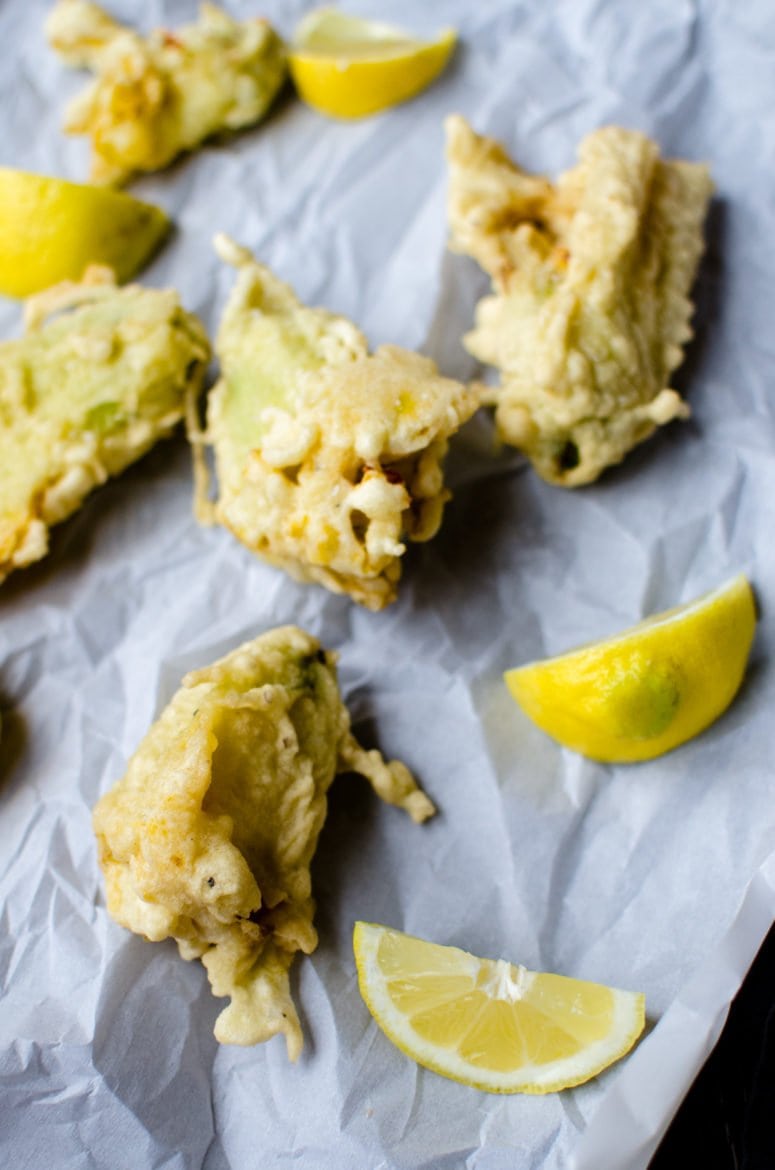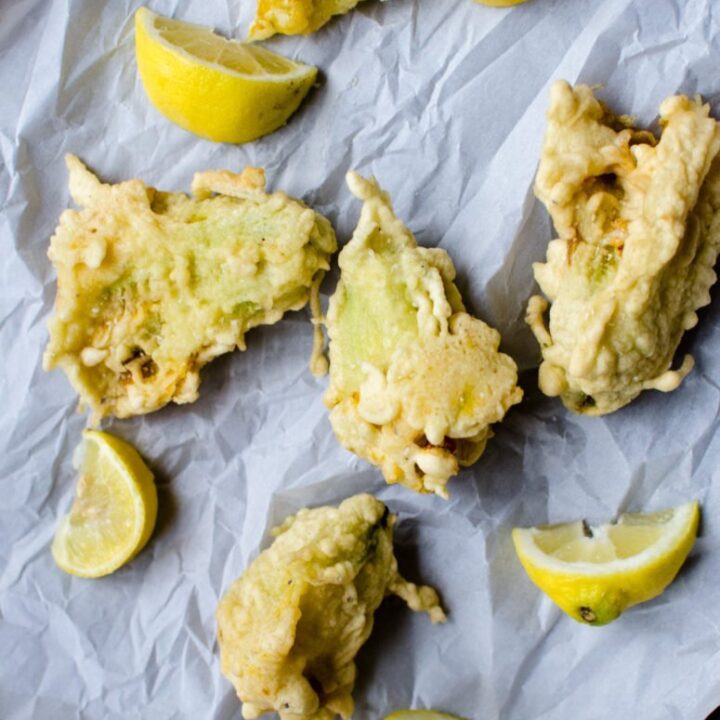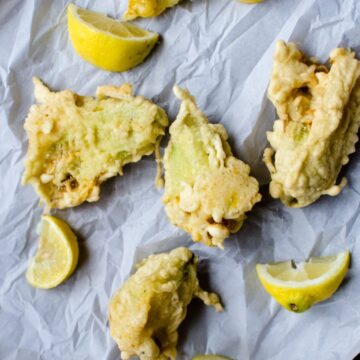 Fried Zucchini Flowers – Remembering a Favorite Food From Italy
These lightly battered and fried fresh zucchini flowers are a wonderful summer appetizer to serve with light meal of grilled veggies and seafood! Recipe adapted from
Tyler Florence
Print
Pin
Rate
Servings:
12
fried blossoms
Ingredients
Oil for frying

I recommend vegetable, canola, peanut or grapeseed

12

zucchini flowers with stems

stamens removed

12

pieces

fresh mozzarella cheese

I cut mine into pieces ½'' wide and 1 ½'' long

2

large egg yolks

1

cup

ice water

¾

cup

all purpose flour

2

tablespoons

cornstarch

½

teaspoon

Kosher salt

¼

teaspoon

freshly cracked black pepper

Additional salt for sprinkling fried flowers

Fresh lemon wedges
Instructions
Add 3 inches of oil to a heavy bottomed pot or Dutch oven. Heat the oil to 375?.

While the oil heats, remove the stamens from the zucchini flowers and place a piece of mozzarella in the bottom of each flower.

In a large mixing bowl, lightly beat the egg yolks. Add the water and mix to combine.

In a small bowl, combine the flour, cornstarch, salt and pepper. Add this to the water and egg yolk mixture and mix until it has the consistency of heavy cream (you may need to add 1-2 additional tablespoons of ice water to reach the desired consistency).

Dip 2-3 zucchini flowers at a time in the batter, using a fork to roll them around to coat them evenly. Let excess batter drip off before adding them to the oil (I used some tongs to transfer from batter to oil). Fry them for 2-3 minutes until crisp and golden brown (they will not get very dark). Remove them from the oil and transfer to a paper towel-lined dish. Sprinkle with salt while hot. Continue this process until all the flowers are fried. Enjoy immediately with a squeeze of fresh lemon juice on top.
Have you ever cooked with squash flower blossoms before? What is your favorite way to prepare them? I'd love to hear about it in the comments below!