This Easy Freezer Fruit Crumble is all about make-ahead convenience and you-do-you customization. You can make an oat crumble topping, add nuts, use fresh or frozen fruit - so many possibilities!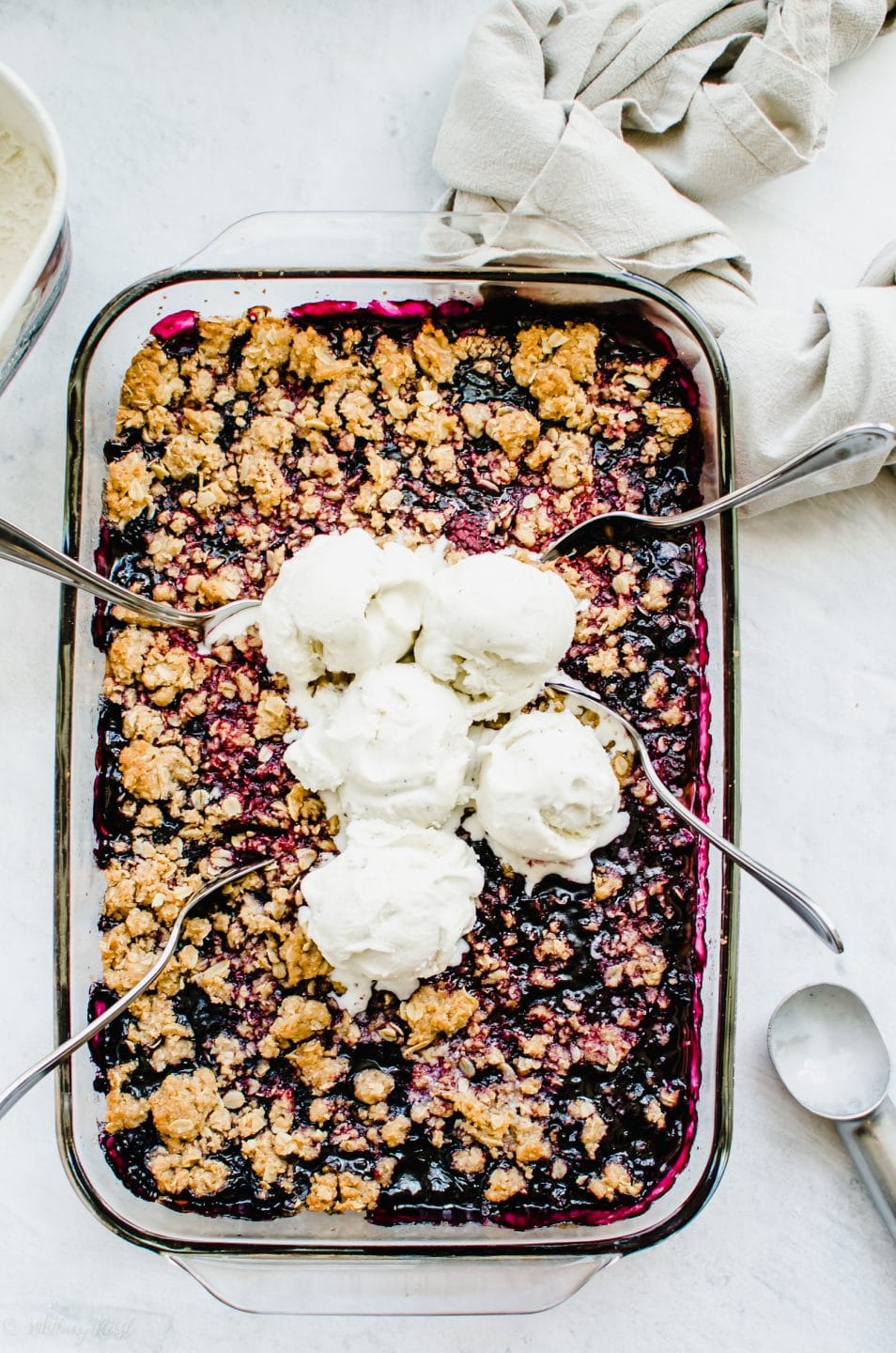 Crumbles are my jam right now. I'm super in love with the lack of fussiness, ease of preparation, and the fact that I can use a variety of summer fruits - it just depends on what I'm in the mood for! Oh, and did I mention crumbles are a great dessert for making multiple serving sizes? You can easily make a crumble for 1-2 people, or 10+ people. Whatever the situation calls for, really!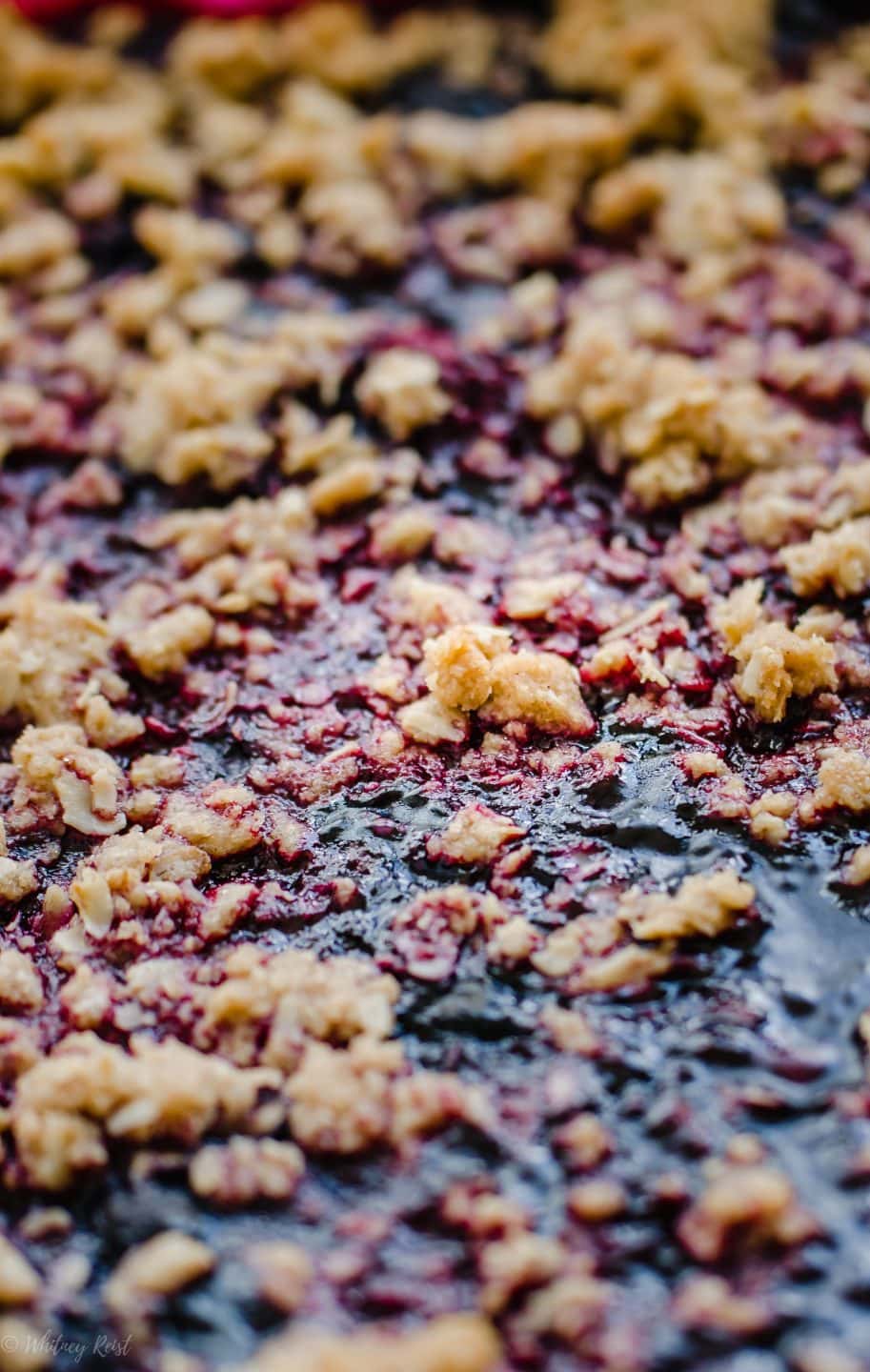 This recipe for Easy Freezer Fruit Crumble calls for making a big ol' batch of crumble topping, freezing it, then using it to top juicy, sweet summer fruit whenever the crumble craving hits. You can make it a crisp by adding oats or nuts, and there's an option for using frozen or fresh fruit! My favorite crumbles are of the mixed berry or peach variety, but I'm looking forward to trying versions with plums and cherries later in the year. What sounds good to you???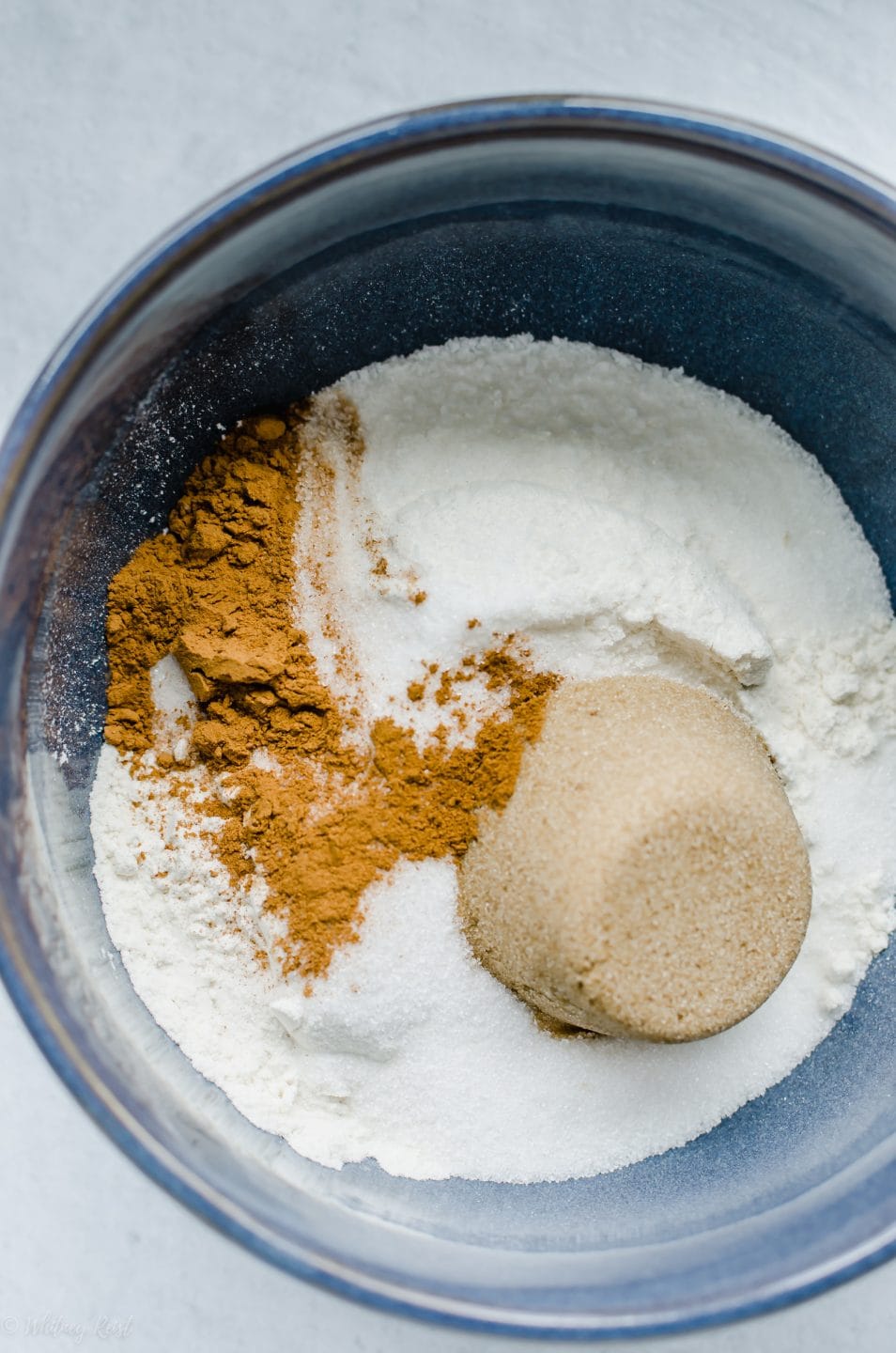 Ingredients for Freezer Fruit Crumble
Flour - a good all-purpose flour seems to work best for the crumble topping. Feel free to experiment by trying a gluten-free flour blend or white whole wheat flour. The tenderness of your crumble topping may vary slightly, but I bet it will still be very tasty!
Sugars - a mix of white and brown sugar is my favorite texture in a crumble topping. Both have varying degrees of moisture, and the brown sugar will impart a rich flavor to the topping.
Butter - for our crumble to hold together, well, crumbles, we need butter! And a little bit of melted butter added to the fruit yields a silky, glossy sauce that forms as the fruit softens while baking.
Fruit - you can use fresh or frozen fruit in this recipe! I have made and highly recommend buying a big bag of frozen triple berry blend from Wyman's - their combo of wild blueberries, blackberries, and raspberries is outstanding! I also find that this brand's berries are more tender and less grainy.
Cornstarch - we will need a little cornstarch to help thicken the juice of the fruit as it cooks and keep the crumble from being runny. If using fresh fruit, you will typically need less cornstarch then when using frozen. When playing around with the type or combination of fruit, you will likely have to experiment with the amount of cornstarch to get the right texture.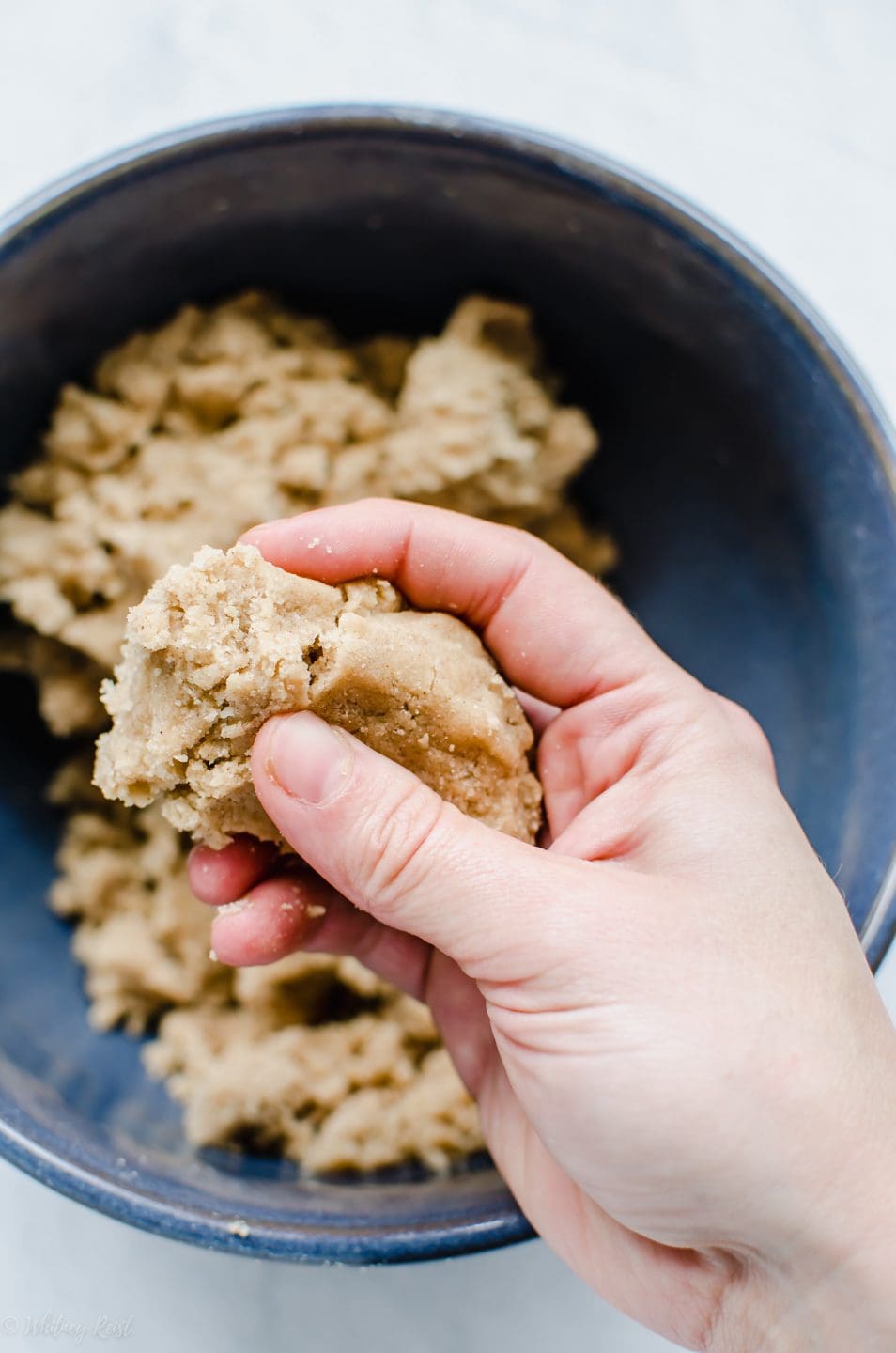 Tips for Making Freezer Fruit Crumble
Make the crumble ahead of time - if rain changes your weekend plans, if you can't sleep, need to do a podcast binge, or just want to bake something, make a batch (or 2....or 3!) of crumble topping! It comes together in like, less than 10 minutes! The key to making a good crumble topping that will maintain it's "crumbled" texture as it cooks is to work the butter into the flour mixture to the point where it resembles a slightly dry play-dough. And having very cold butter helps with this! See the picture below for a reference - you want to be able to shape, mold, and crumble the mixture with your fingers:
Stir fruit together with a little bit of sugar, butter, and cornstarch - this is the easy step and only requires one bowl! You want to lightly toss everything together. Stirring too vigorously may muss up your fruit.
Top fruit with crumble topping and bake! It's as simple as that! A crumble likes a good long stint in the oven - 45 minutes to an hour. You will know it's done when the fruit is bubbling up over the top of the crumbles.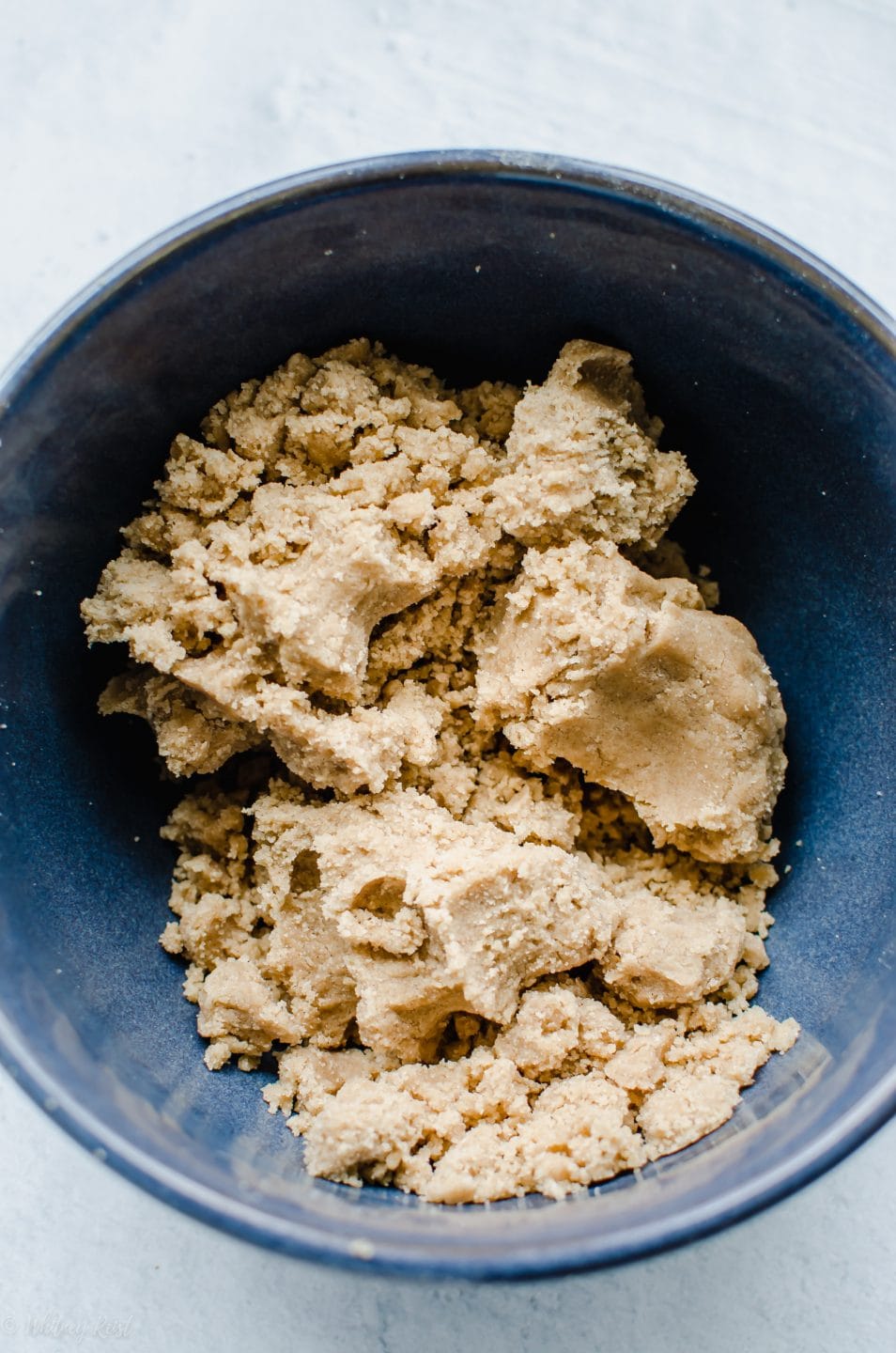 Fruit Crumble Variations and Modifications
Add oats or chopped nuts - if you do this, your dessert will be considered a "crisp" and not a "crumble." See the recipe below for specifics on the amounts! I'm drooling over the thought of a peach crisp with toasted pecans right now...
Use fresh or frozen fruit - speaking of peaches! I personally think crumbles are great vehicles for making use of frozen fruit. Save the fresh stuff for eating raw, adding to salads, and on top of your breakfast. Frozen fruit is just as delicious, nutritious, and easy to find on sale throughout the year.
Play around with sweeteners and types of flour - feel free to add honey or maple syrup to replace some of the sugar in the fruit mixture. You will be adding extra liquid, so you may need to play around with a bit more cornstarch. You can also try subbing in half whole wheat flour for the white, or using a gluten-free all-purpose flour blend.
Add different types of spices - I'm a big fan of cinnamon in my fruit crumble, but ginger, lavender, nutmeg, or cloves would be fun to experiment with.

Other Dessert Recipes
A few other options for those who are dessert lovers: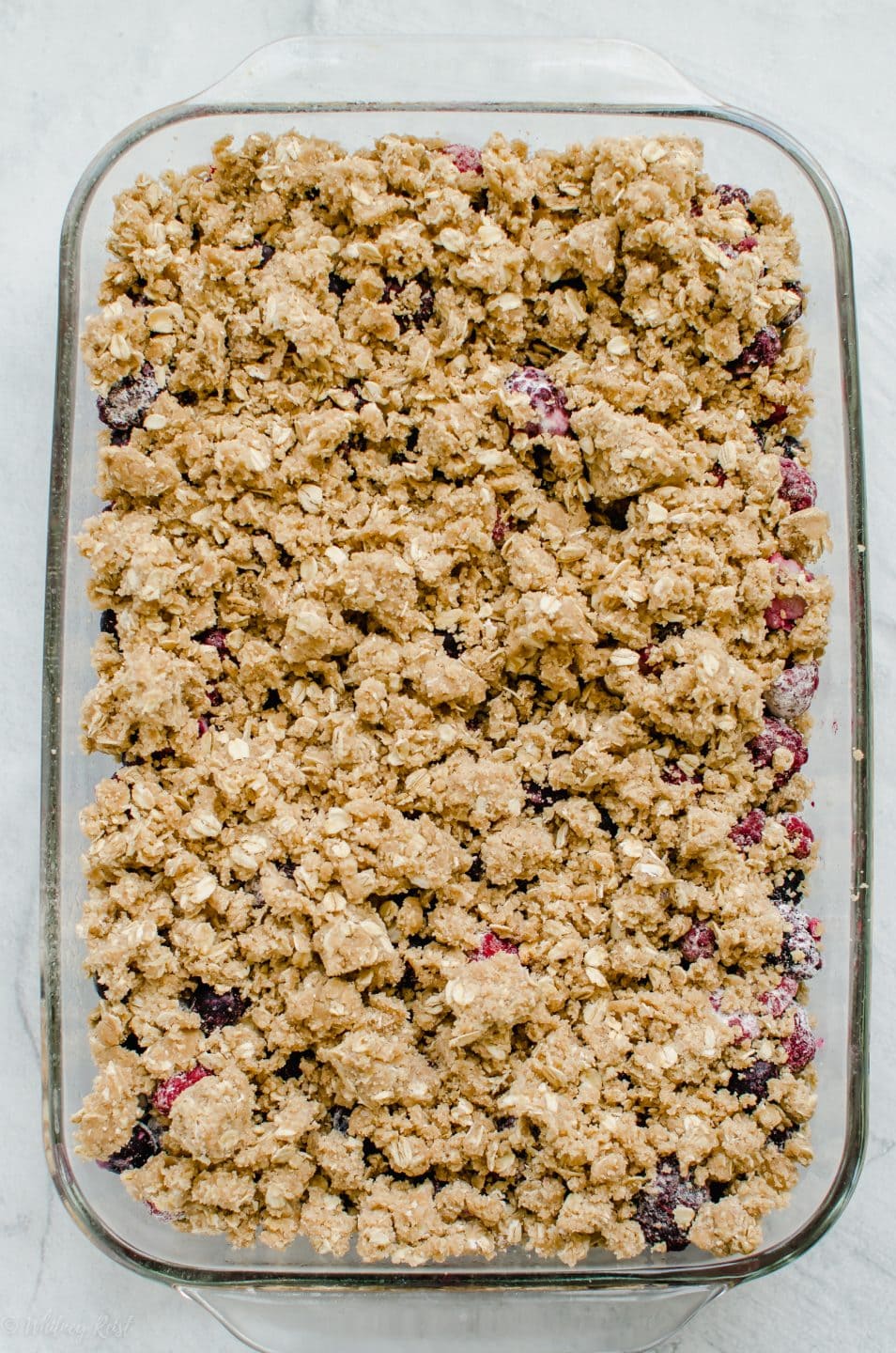 Are you ready to try this Freezer Fruit Crumble? I'm so excited for you to try this recipe. Once you get the chance to make it, please let me know how it turns out for you! Leave a comment and rate the recipe below. This will help me with the creation of future recipes! I'd also love to feature your creation in my monthly newsletter, so you can upload a photo to Instagram or Twitter with the tag @sweetcayenne5 to be featured!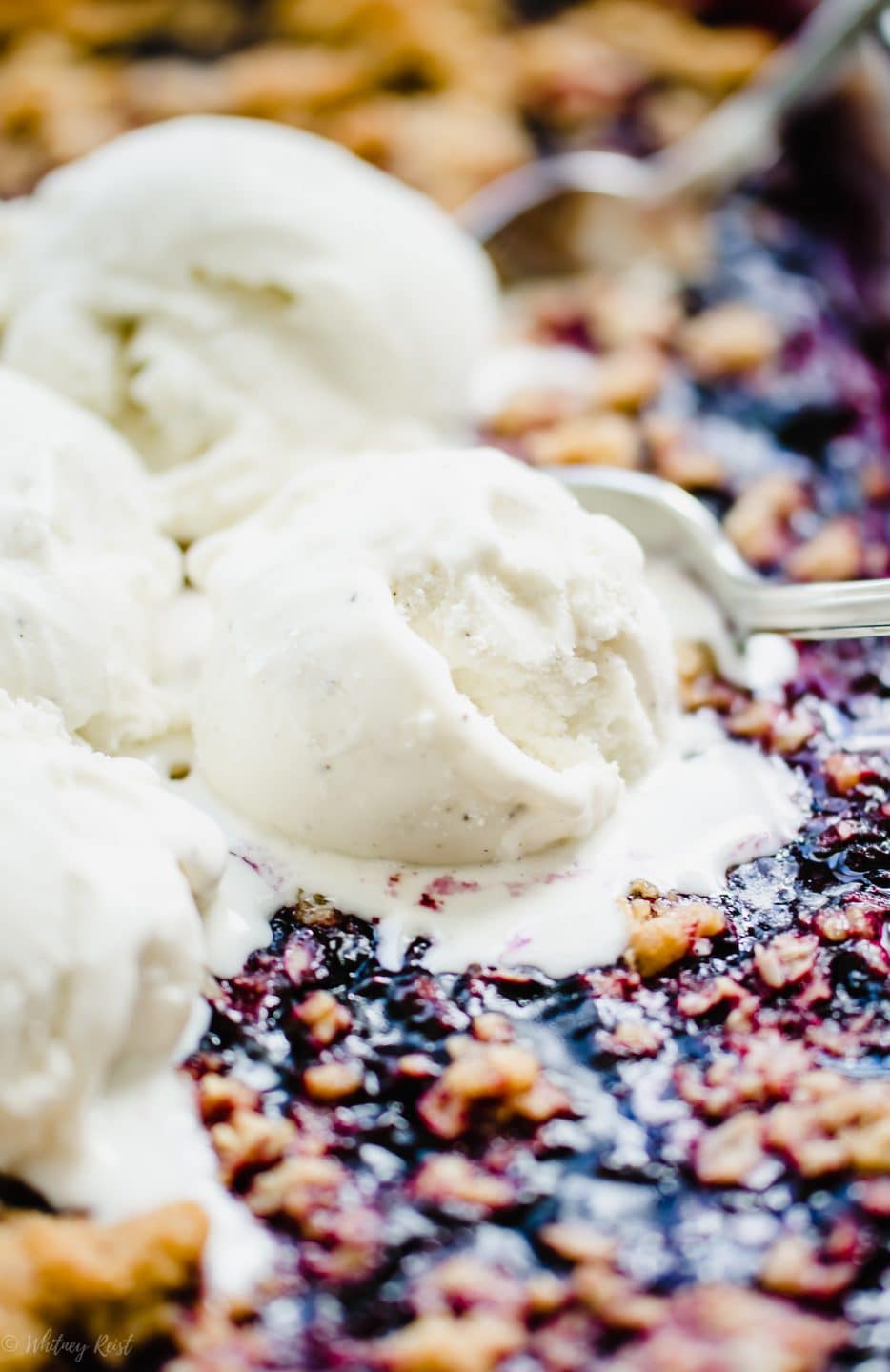 Recipe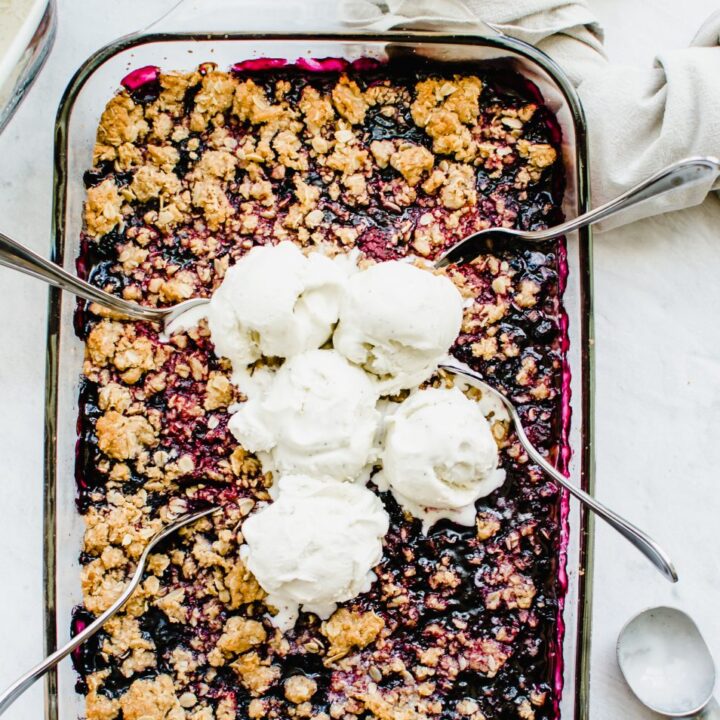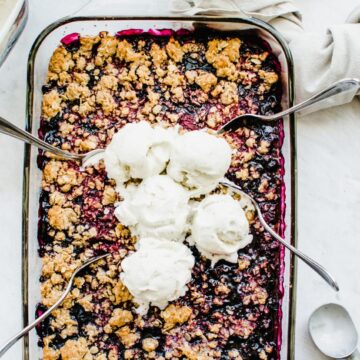 Freezer Fruit Crumble
This freezer fruit crisp is a great recipe to make ahead, stock in the freezer, and bake to bubbly perfection whenever a craving hits! It can easily be adapted to make a crumble or use different types of fresh or frozen fruit.
Print
Pin
Rate
Ingredients
For the topping:
8

tablespoons

(1 stick) COLD salted butter, cut into cubes

1 ¼

cups

all-purpose flour

⅓

cup

brown sugar

⅓

cup

granulated sugar

1

teaspoon

ground cinnamon

Pinch

of salt

Optional add-in: ½ cup toasted pecans, finely chopped, only use 1 cup of flour

Make it a crumble: only use 1 cup of flour and add in ½ cup old-fashioned rolled oats
For the filling:
6-8

cups

frozen fruit (berries, peaches, plums, nectarines, cherries)

2-3

tablespoons

cornstarch (use the lesser amount for stone fruit and cherries, more for berries)

¾

cup

granulated sugar

1

tablespoon

fresh lemon juice

¼

teaspoon

salt

3

tablespoons

butter, melted and cooled, plus more for greasing baking dish
Instructions
Making the crumble ahead for the freezer (feel free to double or triple the recipe to make extra):

In a medium bowl, combine the flour, sugars, cinnamon, and salt (and nuts or oats if using). Add in the butter cubes, and use your fingers to smush the butter into the flour mixture. Continue to work the butter into the flour mixture until it forms chunks that are slightly soft and pliable, similar to Playdough (see picture for demonstration). Place the crumbles in a freezer safe bag and freeze for up to 6 months. When ready to use, you can directly crumble the mixture from the freezer onto the prepared fruit in your baking dish.

Preheat oven to 350 °Lightly grease a baking dish with butter (use either a 9-10 inch pie pan, a 9 x 9 glass dish, or an 11 x 7 glass dish.

In a large bowl, combine the fruit, cornstarch, sugar, lemon juice, salt, and melted butter. Toss lightly until the ingredients are incorporated. Pour into prepared baking dish.

Top with 2 cups of freezer crumble mixture. Bake for 60-80 minutes until the fruit bubbles over the top of the crumb topping and the topping is golden brown. Remove from oven and let sit for 30 minutes before serving (this will help the filling set up). Serve warm with ice cream!
Notes
If you haven't made the crumble ahead of time, feel free to make it fresh when you make your fruit mixture.
If you'd like to use fresh fruit instead of frozen, plan to use less cornstarch. About 1 tablespoon per 6-8 cups of stone fruit and 2 tablespoons per 6-8 cups of berries.
Serving:
1
serving
|
Calories:
224
kcal
|
Carbohydrates:
29.4
g
|
Protein:
2.4
g
|
Fat:
11.7
g
|
Saturated Fat:
5.7
g
|
Cholesterol:
22
mg
|
Sodium:
101
mg
|
Potassium:
123
mg
|
Fiber:
2.6
g
|
Sugar:
17.8
g
|
Calcium:
18
mg
|
Iron:
1
mg