These Cinnamon Drop Biscuits with Eggnog Glaze are a melt-in-your-mouth, Christmas morning-worthy breakfast! Ok, you can have them at any time really!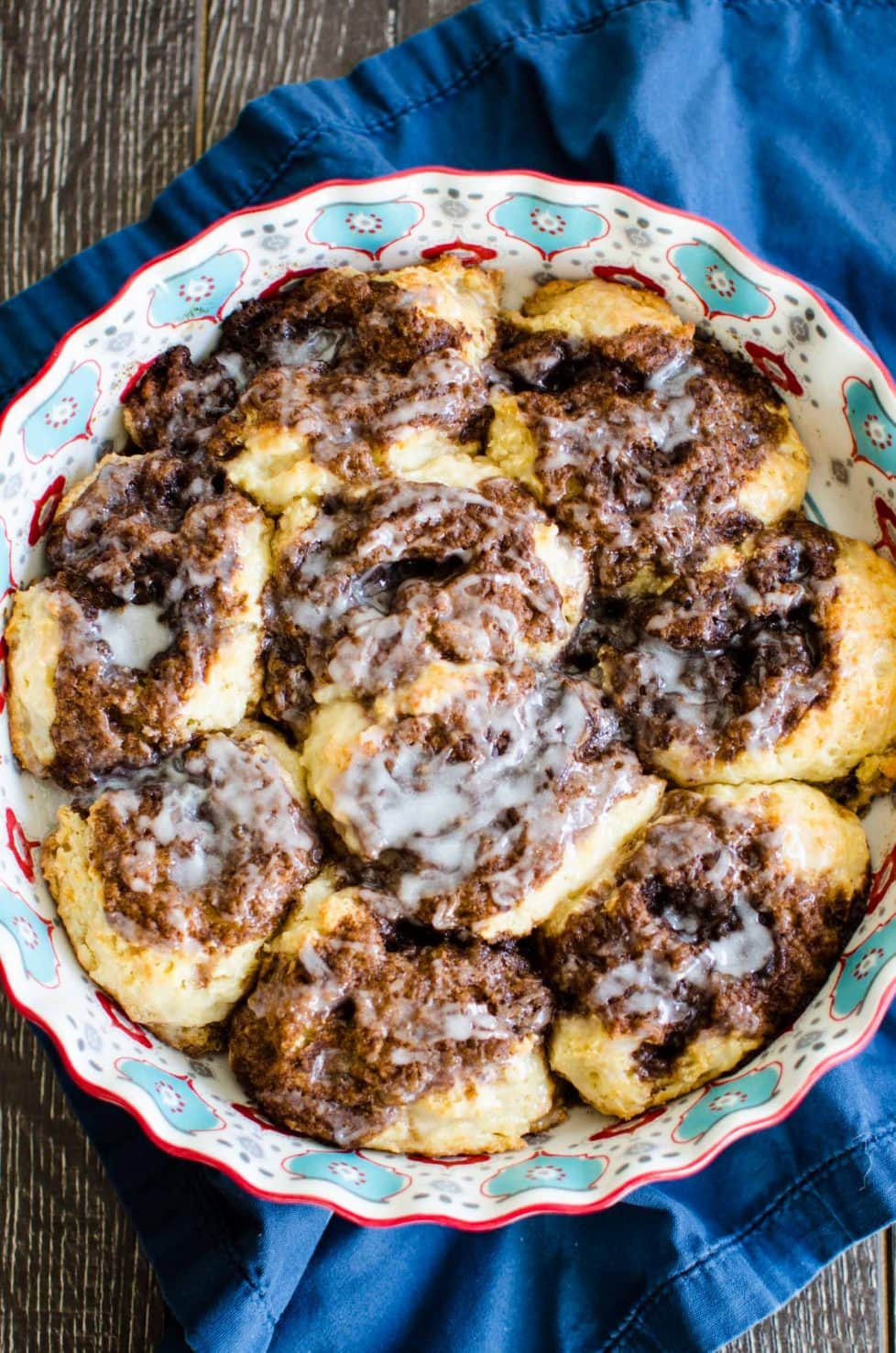 This is it, friends! The last recipe of 2017 that I will be posting on the blog. I wanted it to be a special one that I could imagine you sharing with your family on Christmas morning or a cozy winter day indoors. It was inspired by the cinnamon biscuits my mom made for me and my siblings as kiddos, AND the cinnamon biscuits my dad would pick up for us from Bojangles when he treated mom to a morning off! I loved both versions as a kid and am happy to have my own now to share with Ryan. By the way, he was over-the-moon about these. I couldn't believe how crazy he was about them! I have to give him credit for being the hand drizzling the glaze in these pictures – he was an outstanding assistant for this shoot!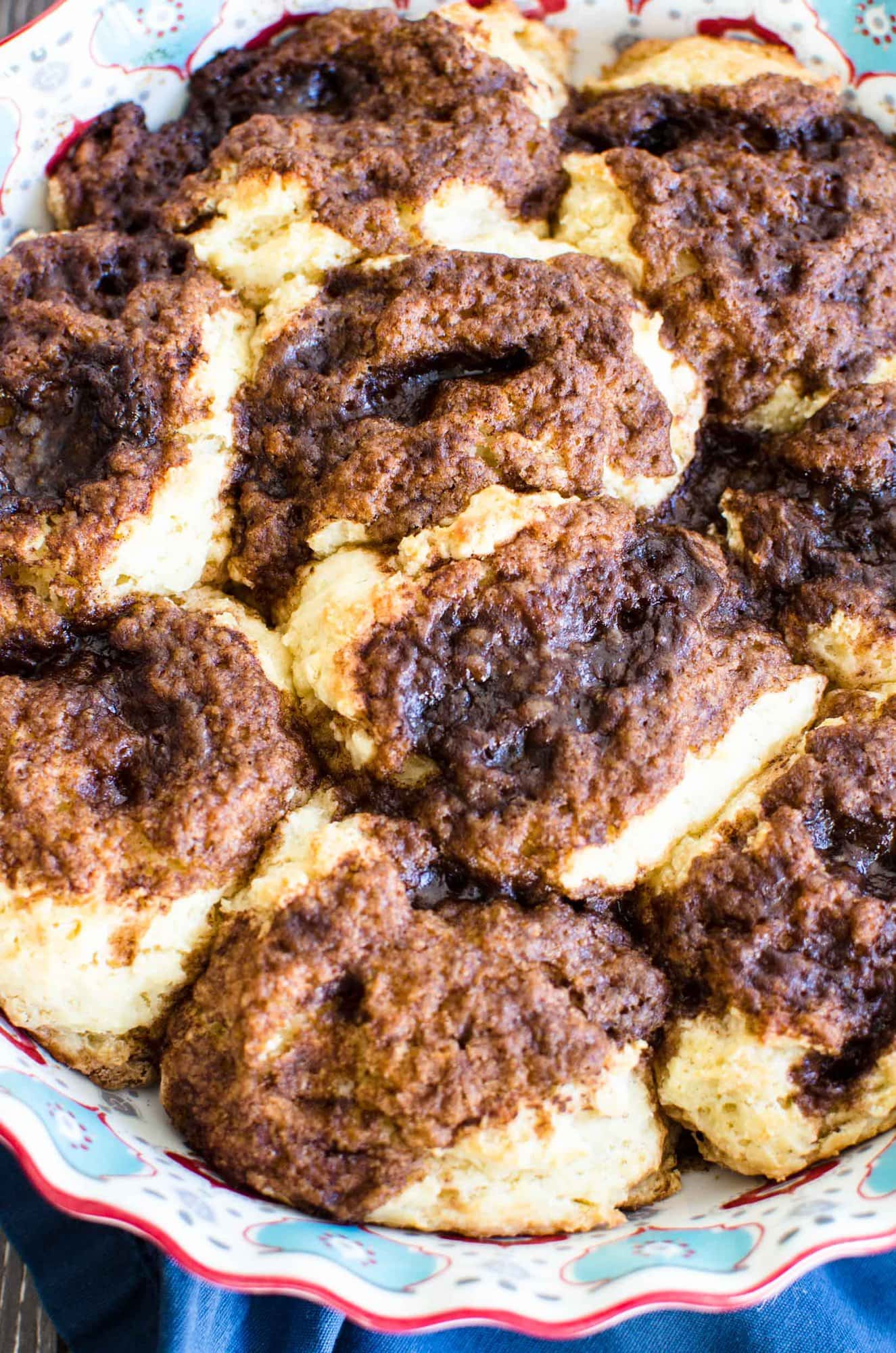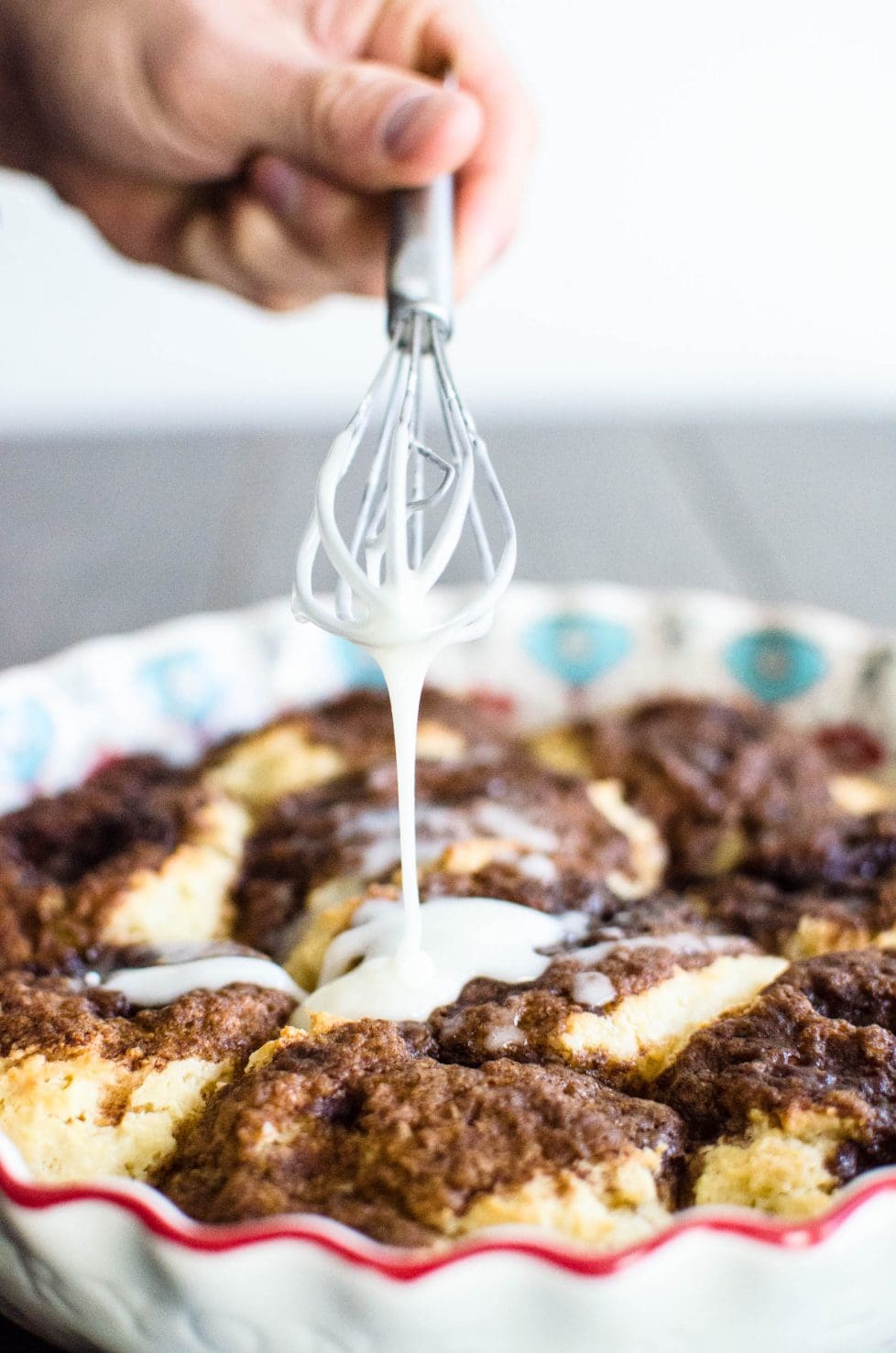 Most recipes for cinnamon biscuits require you to cut butter into the flour mixture, roll out the biscuit dough, spread cinnamon filling, and then roll + cut into individual biscuits. Not this one! I love it because it simplifies the process significantly – no cutting of butter OR rolling of dough! But the end product is extremely light and tender. That's the wonderful thing about drop biscuits!  I'm using my favorite drop biscuit from Cook's Illustrated in this version but adding my own cinnamon-y eggnog twist. If you don't have eggnog on hand or don't prefer the flavor, feel free to use whole milk to make the glaze.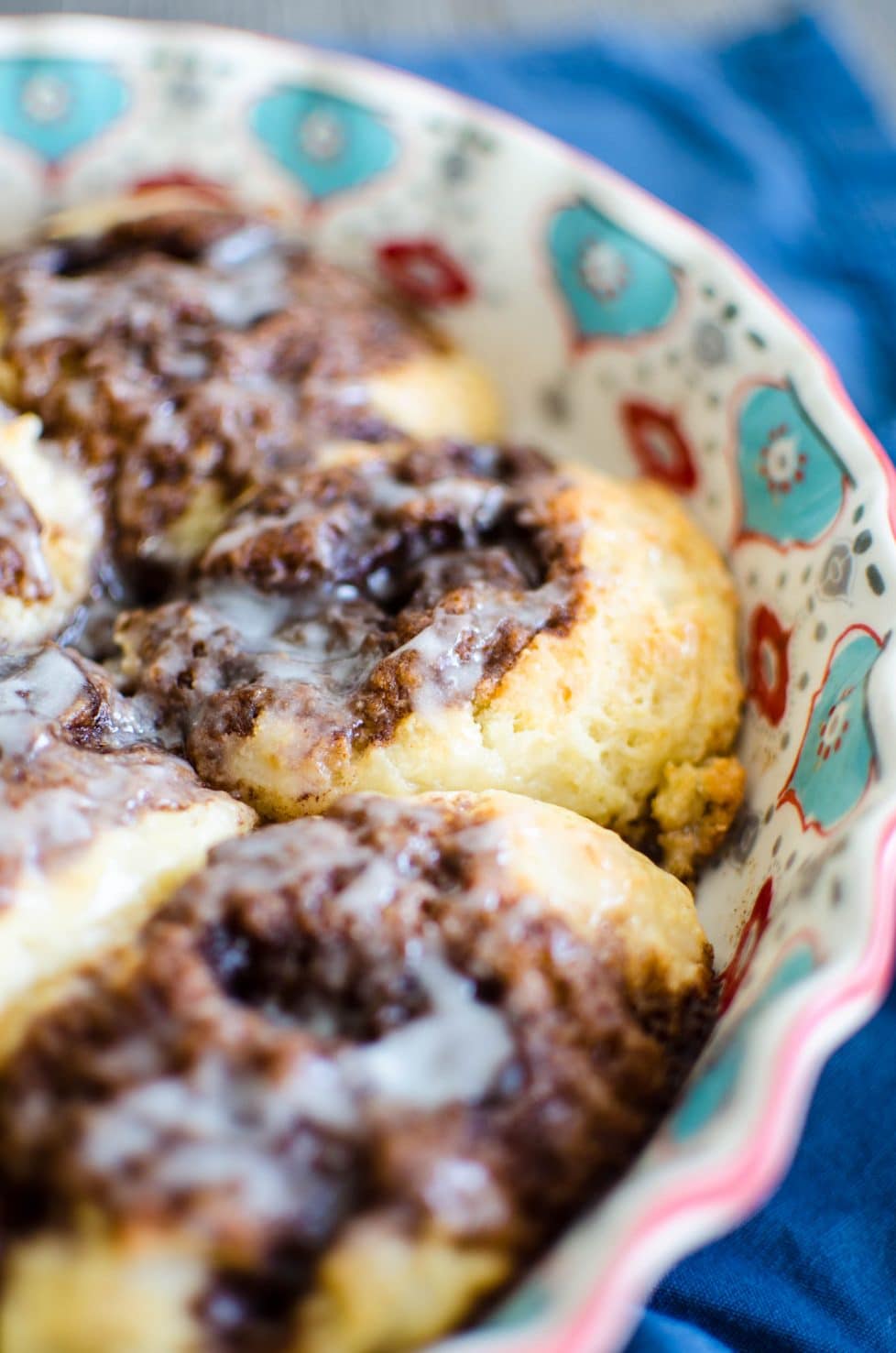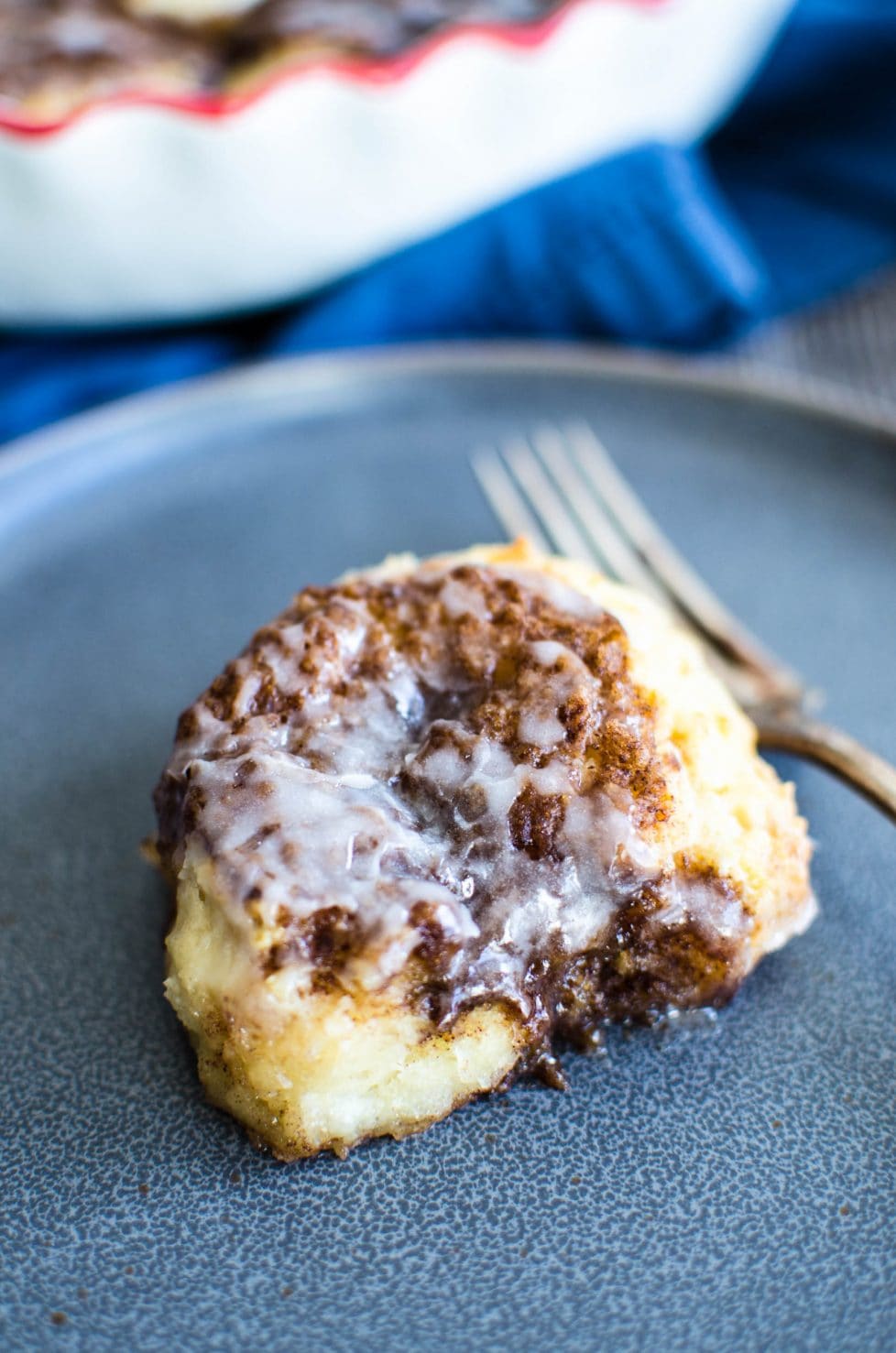 And if you just adored the pie pan in the photos, you can find one like it at Anthropologie. I bought mine there in 2014, so they won't have the exact pie pan still available. They always have such lovely items though, so I am sure you will find one that will meet your needs.
Here's to a recipe that is super easy. Whoever you make these cinnamon biscuits for will love you forevermore!
So, if you do make these Cinnamon Drop Biscuits with Eggnog Glaze, I'd love to know how they turned out for you – upload a picture to Instagram or Twitter with the tag @sweetcayenne5. You can find more of my recipes on Pinterest at sweetcayenne5 as well. I'll be sure to give you a shout out if you do.
Looking for more festive recipes? I'm sure you would love my Pesto Cheesecake Christmas Wreath, Chai-Spiced Cinnamon Buns, or this fun tutorial on how to do a Build Your Own Holiday Pancake Bar! (A little personal secret about my husband I don't believe I've told you just yet, but Ryan loves pancakes!!!!)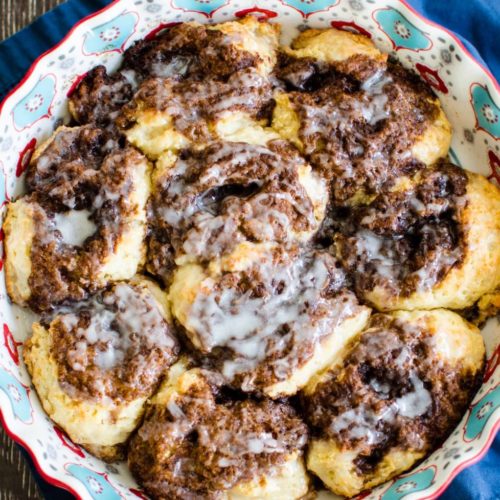 Cinnamon Drop Biscuits with Eggnog Glaze
Keyword:
cinnamon biscuits, cinnamon drop biscuits, cinnamon roll biscutis, drop biscuits, holiday breakfast
Ingredients
For the drop biscuits:
2

cups

all-purpose flour

2

teaspoons

baking powder

½

teaspoon

baking soda

1

teaspoon

granulated sugar

½

teaspoon

table salt

1

cup

cold buttermilk

6

tablespoons

unsalted butter, melted and cooled slightly for 5 minutes
For the cinnamon filling:
2

tablespoons

unsalted butter, melted and cooled slightly for 5 minutes

⅓

cup

dark brown sugar

2

teaspoons

ground cinnamon
For the eggnog glaze:
½

cup

powdered sugar

1-2

tablespoons

eggnog
Instructions
Preheat oven to 450℉. Grease a deep dish pie pan or 8 x 8 square baking pan with cooking spray. Set aside.

In a medium bowl, whisk together the flour, baking powder, baking soda, sugar, and salt.

Add the melted butter to the buttermilk and let stand for 2 minutes. Stir to combine until small clumps form into the mixture.

Add the clumped buttermilk mixture to the flour mixture. Use a rubber spatula to lightly fold the ingredients together until just combined. Be careful not to overmix.

Use a 4-ounce dough scoop or a ⅓ cup measuring cup to drop the dough into the prepared pan, placing the dough mounds about ½'' apart. You should have 9-10 biscuits.

In a small bowl, stir together the 2 tablespoons melted butter, brown sugar, and cinnamon. Drop about 1 teaspoon of this mixture into the center of each biscuit mound, using the back of a spoon to gently press into the dough.

Bake the biscuits for 12-15 minutes until the biscuits are set and the edges are golden brown. Remove from oven and set aside while you make the glaze.

In a small bowl, combine the powdered sugar and eggnog by stirring with a whisk. Add more eggnog as needed until the glaze is the consistency of honey.

Drizzle the glaze on top of the still hot biscuits. Serve warm!