This Elote-Style Roasted Corn and Poblano Peppers is a Mexican side dish or salad that is perfect for summer or pretty much any time of year!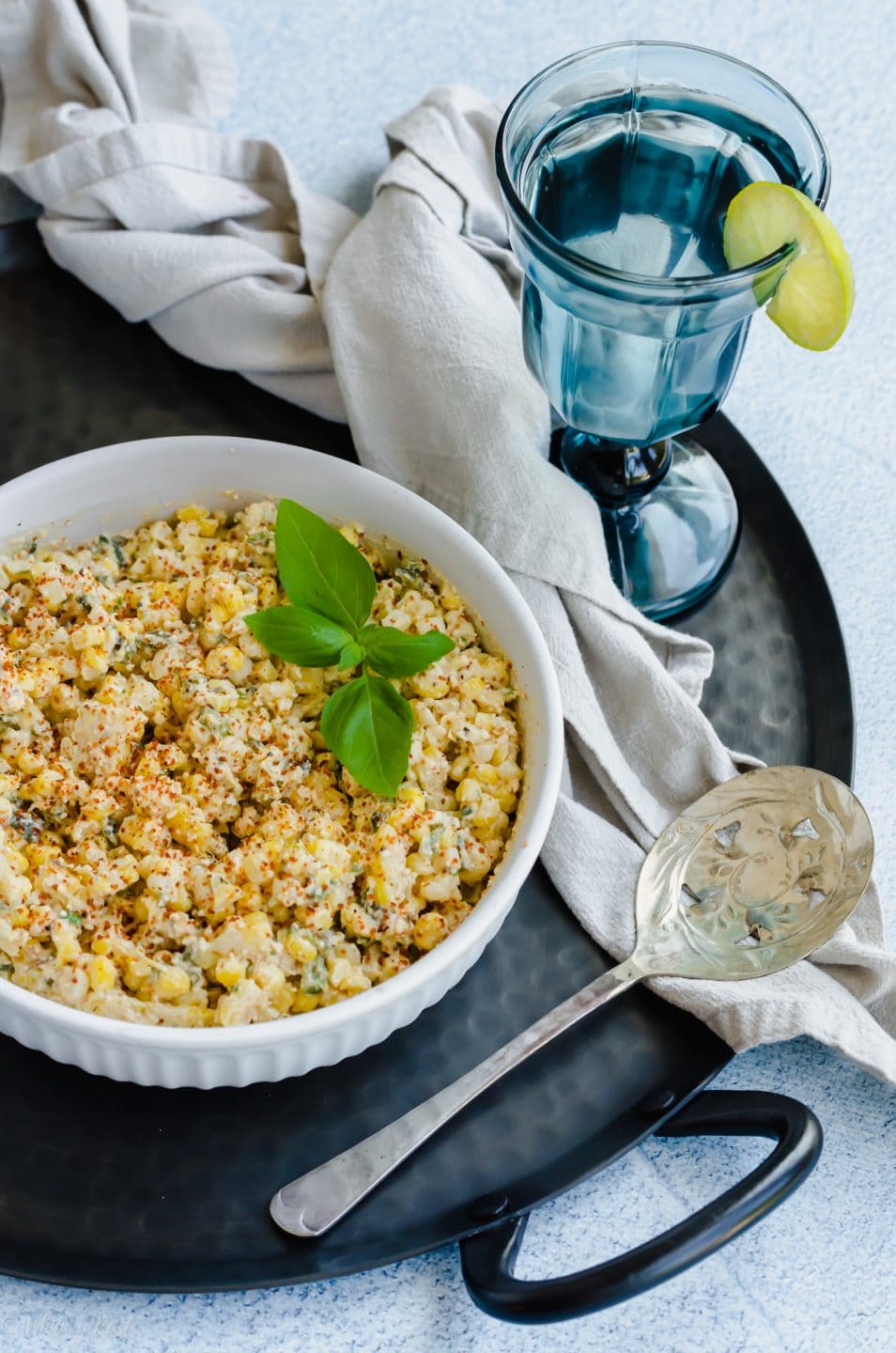 Well my friends, we have made it to the end of the Sweet Cayenne Veg Fest! Today's dish is the final recipe of the 8-part series. We've pickled veggies, roasted them, served them in fun and flavorful salads, and breaded them for crispy oven-frying. Have you had a chance to try any of these dishes? I hope so! If at any point you do get a chance to make something, I'd love to see it and know how it turned out for you! Simply leave a comment below, or upload a pic to Twitter or Instagram with the tag #sweetcayennevegfest.
On to today's recipe: Elote-Style Roasted Corn. Or in more common terms, Mexican street corn! This dish has made its way all through the trendy restaurant scene the past few summers, and for good reason! Nothing beats sweet, crunchy corn covered in mayo or butter and showered with salty Cotija cheese, lime juice, and chili powder. It's such a delicious dish and an all-time favorite of mine that I knew I had to make my own version! Let's talk about the recipe, shall we?
Ingredients for Elote-Style Roasted Corn
Fresh, sweet corn in the husks - fresh corn is in peak season from May-September, so you should have plenty of time in the summer to make this recipe! Try and get corn that's just been picked the day of or day before you purchase it - the corn will be much sweeter!
Poblano peppers - in my book, poblanos are the best kind of chili pepper. They are so versatile - smoky, a hint of heat, and tons of flavor. I love to roast them under the broiler to enhance their flavor, then chop them up for salads and pizza toppings.
Mayo and butter - mayo and/or sour cream are traditionally what Mexican street corn is coated in so that the Cotija cheese and chili powder have something to stick to. For this recipe, I'm using a combination of olive oil mayo and butter to maximize flavor.
Cotija cheese - if this is your first time to try Cotija cheese, then you are in for a real treat! It's essentially the Mexican equivalent of Parmesan, and its salty butteriness is irresistible on tacos, enchiladas, fruit, and more!
Tajin chile-lime seasoning - YOU GUYS. This stuff is the real deal. I'm obsessed with it, and have pretty much been putting it on everything this summer. Watermelon, mangoes, pineapple. Grilled chicken. Popsicles. Sorbet. Avocado toast. Move over, Everything But the Bagel seasoning!
Fresh lime juice - for tart, bright acidity and a bit of sweetness.
Fresh basil - I know, I know. Basil is supposed to be in Italian food, right? Not on my blog. I'm one of those unlucky people who got the gene that makes cilantro taste like soap - bummer. You won't find any cilantro in my recipes. But I love basil as a substitute, and think it tastes amazing on corn!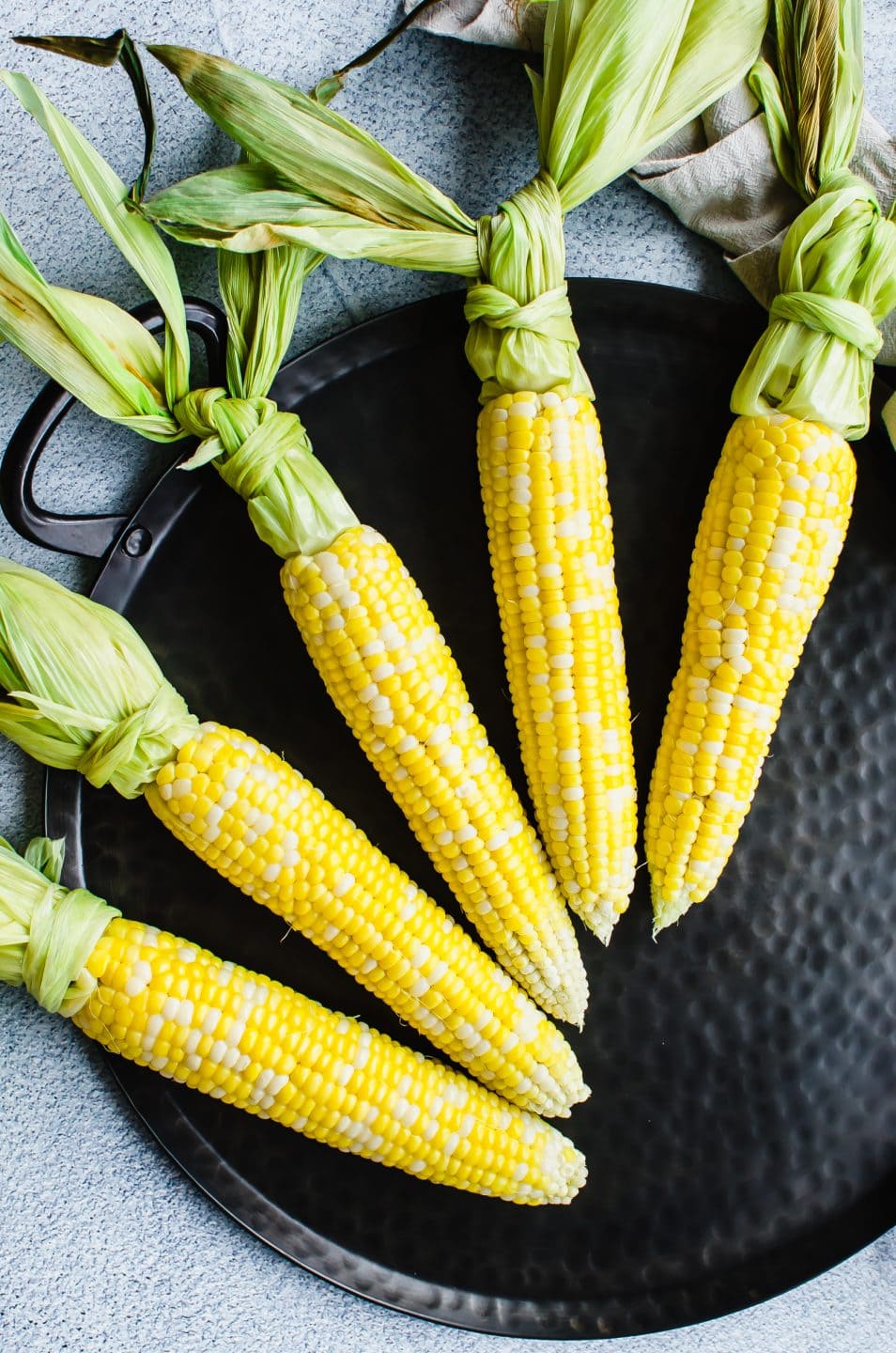 How to Make Elote-Style Roasted Corn
Roast the corn in the husks - when you don't have access to a grill or just don't want to mess with grilling, roasting corn in the oven is a super easy alternative. When you roast it in the husks, it gets perfectly tender and keeps all the juices inside the kernels, lending super tasty and juicy corn for our salad!
Broil the poblano peppers - you will want to place whole peppers on a baking sheet, then place them about 6-12'' from the broiler element. Broil on high for 5-7 minutes per side, until the peppers have a nice char on all sides.
Shuck the corn - at this point, the corn has cooled somewhat, and you can more easily remove the husks and silk from each corn cob.
Sear the corn - this step is optional, but if you want a nice char on your corn kernels, you can sear the corn on the cob in a hot cast-iron skillet over medium heat for 2-3 minutes per side. If you are anxious to be done cooking though, go ahead and skip this step.
Cut the corn off of the cob - I find the best way to go about this is to use a serrated knife and cut the corn off the cob into a rimmed baking sheet. The rim will keep the corn from going all over your countertop. Set the baking sheet on a towel to keep it from sliding around as you cut.
Dice the peppers - there is no need to remove the skin from the peppers in this case. But if you want to, by all means, go ahead! I like where gloves when slicing peppers to avoid skin irritation and use my fingers to scrape the seeds off of each side of the pepper before I chop it.
Mix it all together - once the corn kernels are removed and the peppers are chopped, it's time for the easy part! You can mix them in a large bowl with the remaining ingredients and get on to eating!
What to Pair With This Recipe
Mmmmmm what NOT to pair with this recipe should be more like it, because it is delicious with so many things! I'd serve it with:
File this under your Cinco de Mayo menu options - this one is a keeper for sure!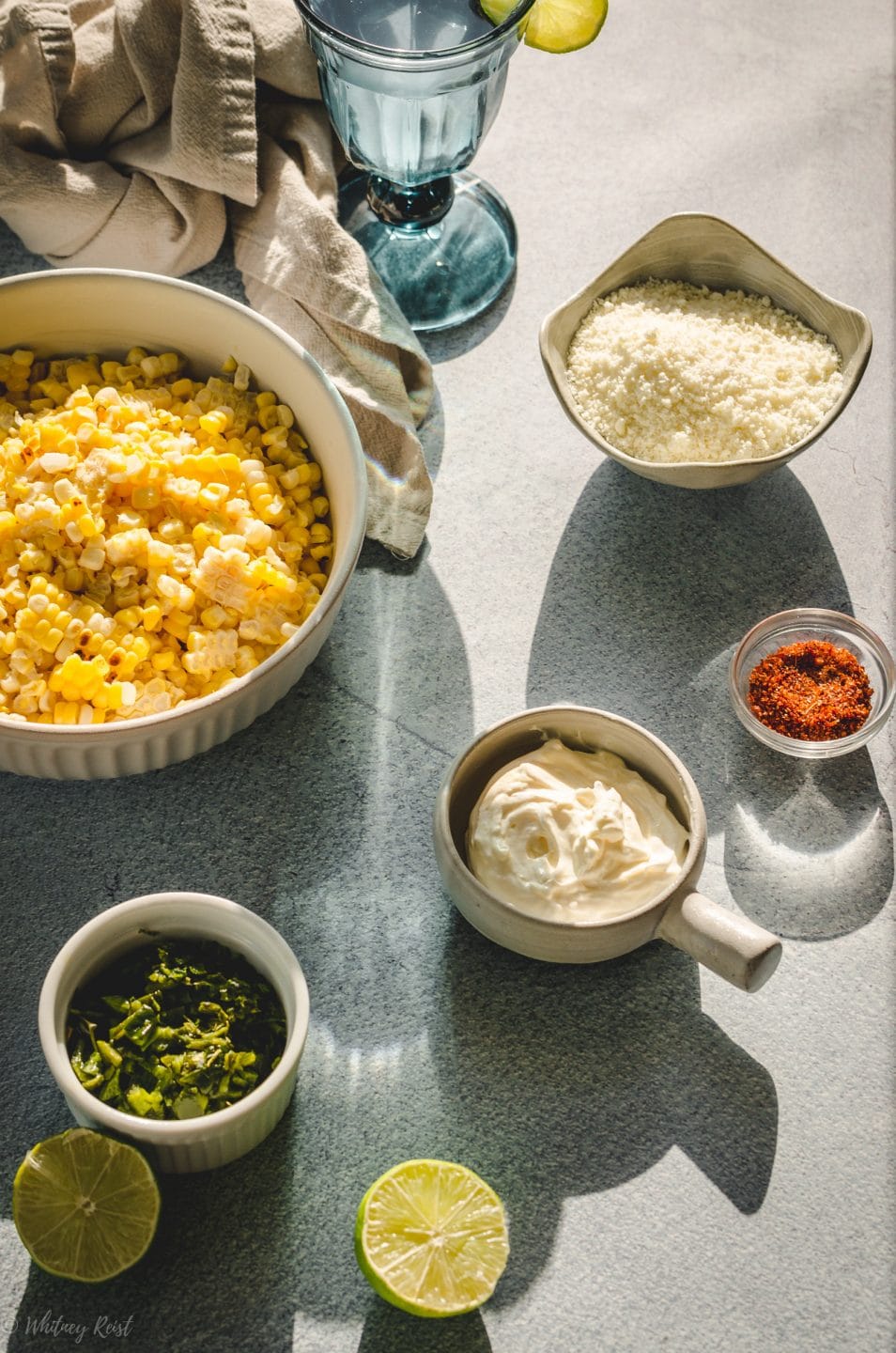 Are you ready to make this Elote-Style Roasted Corn and Poblano Peppers? I'm so excited for you to try this recipe. Once you get the chance to make it, please let me know how it turns out for you! Leave a comment and rate the recipe below. This will help me with the creation of future recipes! I'd also love to feature your creation in my monthly newsletter, so you can upload a photo to Instagram or Twitter with the tag @sweetcayenne5 to be featured!
Recipe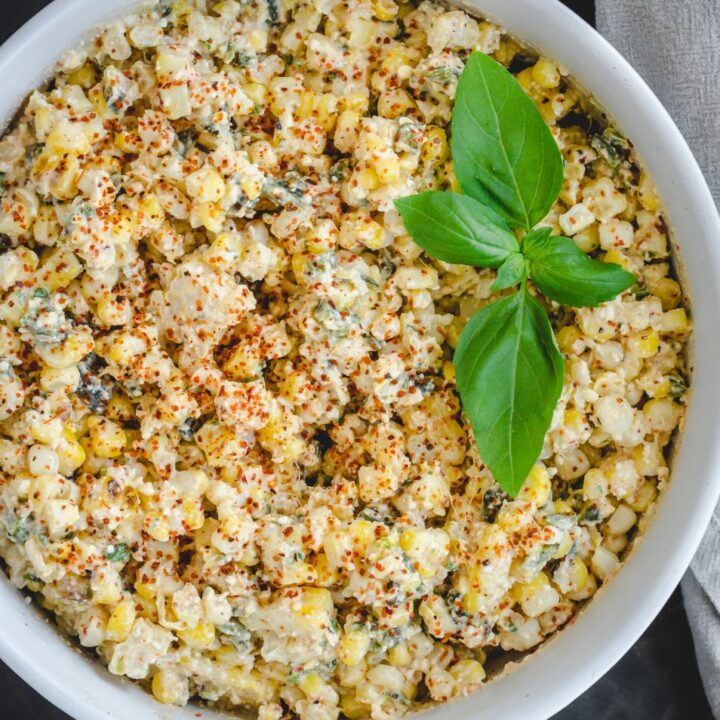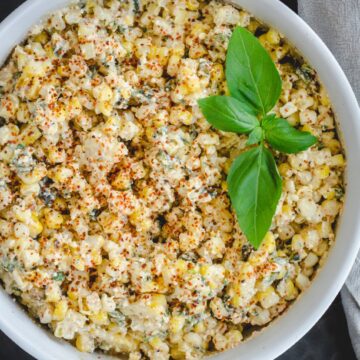 Elote-Style Roasted Corn and Poblano Salad
Elote-style roasted corn, an homage to Mexican street corn. Gluten-Free | Vegetarian | Mexican
Print
Pin
Rate
Ingredients
6

ears

of corn (roasted, seared, shucked, and kernels cut off)

2

medium

poblano peppers (roasted under broiler 8-10 minutes)

2

tablespoons

salted butter

2

tablespoons

olive oil mayo

3

tablespoons

fresh lime juice (about 2 limes)

1

tablespoon

Tajin chile-lime seasoning

½

teaspoon

black pepper

¼

teaspoon

salt

½

cup

Cotija cheese

⅓

cup

basil leaves, roughly chopped (or cilantro)
Instructions
Preheat oven to 350℉. Place whole ears of corn on a baking sheet. Roast for 30 minutes. Remove from oven and let cool for 15 minutes before handling.

While the corn is cooling, preheat your broiler on high. Place the poblano peppers on the baking sheet. Broil (with the rack placed 12 inches from the broiler for 4-5 minutes on each side until all sides of the pepper are lightly charred. Remove from oven and let cool.

Shuck to corn husks and remove all silk. Sear the corn lightly on all sides in a skillet over medium-high heat, about 1 minute per side. Rub the butter all over each ear of corn. Use a serrated knife to carefully remove the corn kernels from the cob. Place kernels in a large bowl.

Finely chop the poblanos, discarding the core and seeds (no need to peel the pepper). Add the chopped pepper into the bowl of corn.

In a small bowl, combine the mayo, lime juice, Tajin, black pepper, salt, cheese, and basil. Add to the corn and peppers. Toss lightly to combine thoroughly. Serve immediately or chill for up to 4 hours before serving.

Leftovers will keep for up to 3 days in the fridge.
Notes
Serving:
1
cup
|
Calories:
246
kcal
|
Carbohydrates:
31.8
g
|
Protein:
9
g
|
Fat:
11.7
g
|
Saturated Fat:
5.6
g
|
Cholesterol:
27
mg
|
Sodium:
413
mg
|
Potassium:
491
mg
|
Fiber:
4.6
g
|
Sugar:
6
g
|
Calcium:
109
mg
|
Iron:
4
mg
Pin this, pretty please: