Leave a comment and rate the recipe below. This will help me with the creation of future recipes!
This post has been sponsored by Birds Eye®, Gardein®, and Earth Balance®. All thoughts and opinions are my own.
Get ready for everything you could want in a breakfast burrito: meal prepable? Check. Freezer friendly? Check. Loaded with flavor? Check. Packed with powerful protein and nutrients? Check check.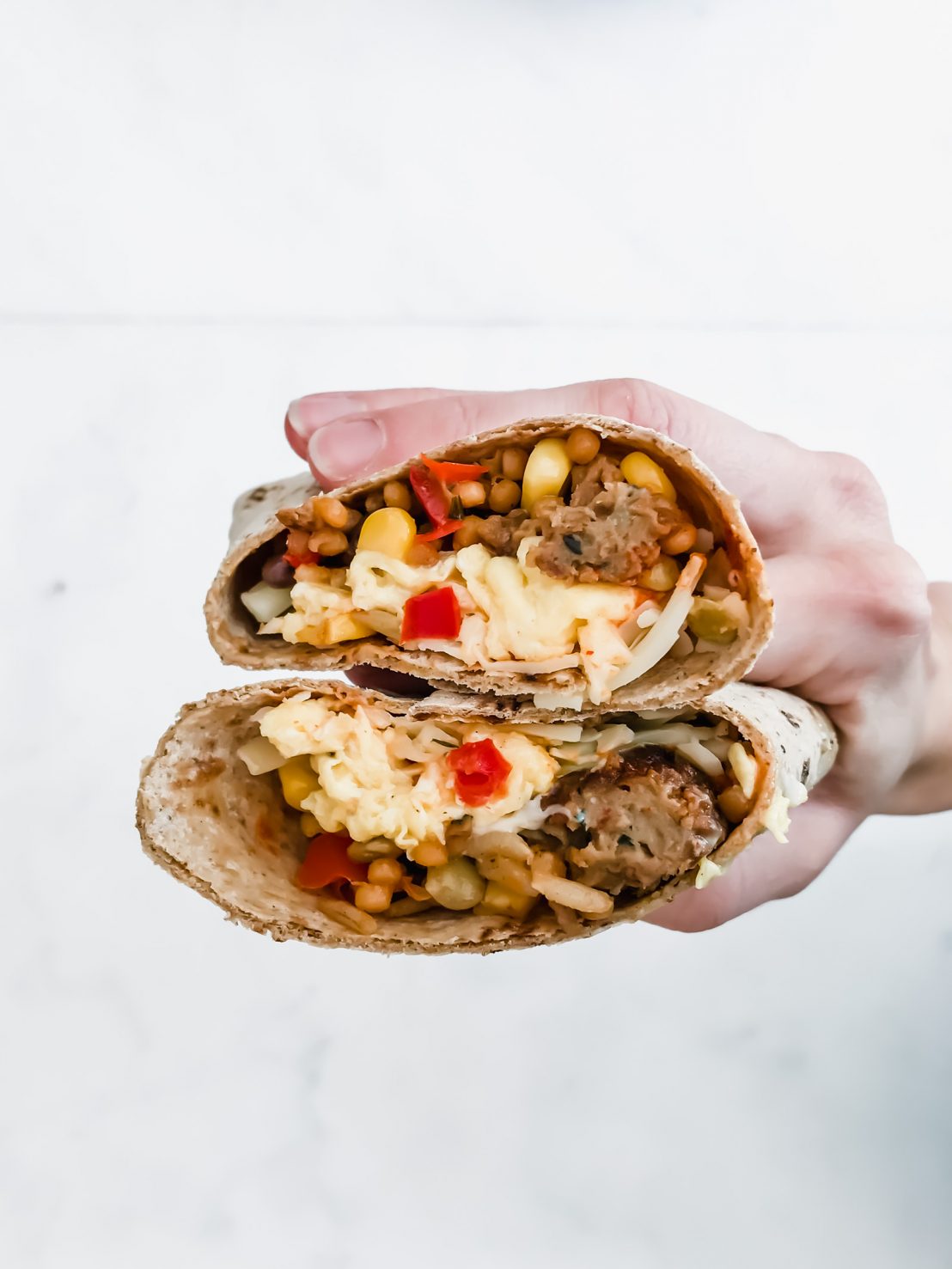 Is it just me or is social media BLOWING UP with all things related to meal prep lately? From Pinterest meal prep menus to Facebook Lives, Instagram stories with recommendations for meal prep containers, everyone is getting in on the meal prep bandwagon. And honestly, I couldn't be happier about it. First of all, I've been meal prepping for 8+ years now and have really enjoyed getting fresh inspiration for everyone who is just putting this way of life into practice. Second, it's so nice to know that people are caring for their bodies more by adopting a strategy that saves you time, money, but ensures you will be getting a healthy and balanced meal!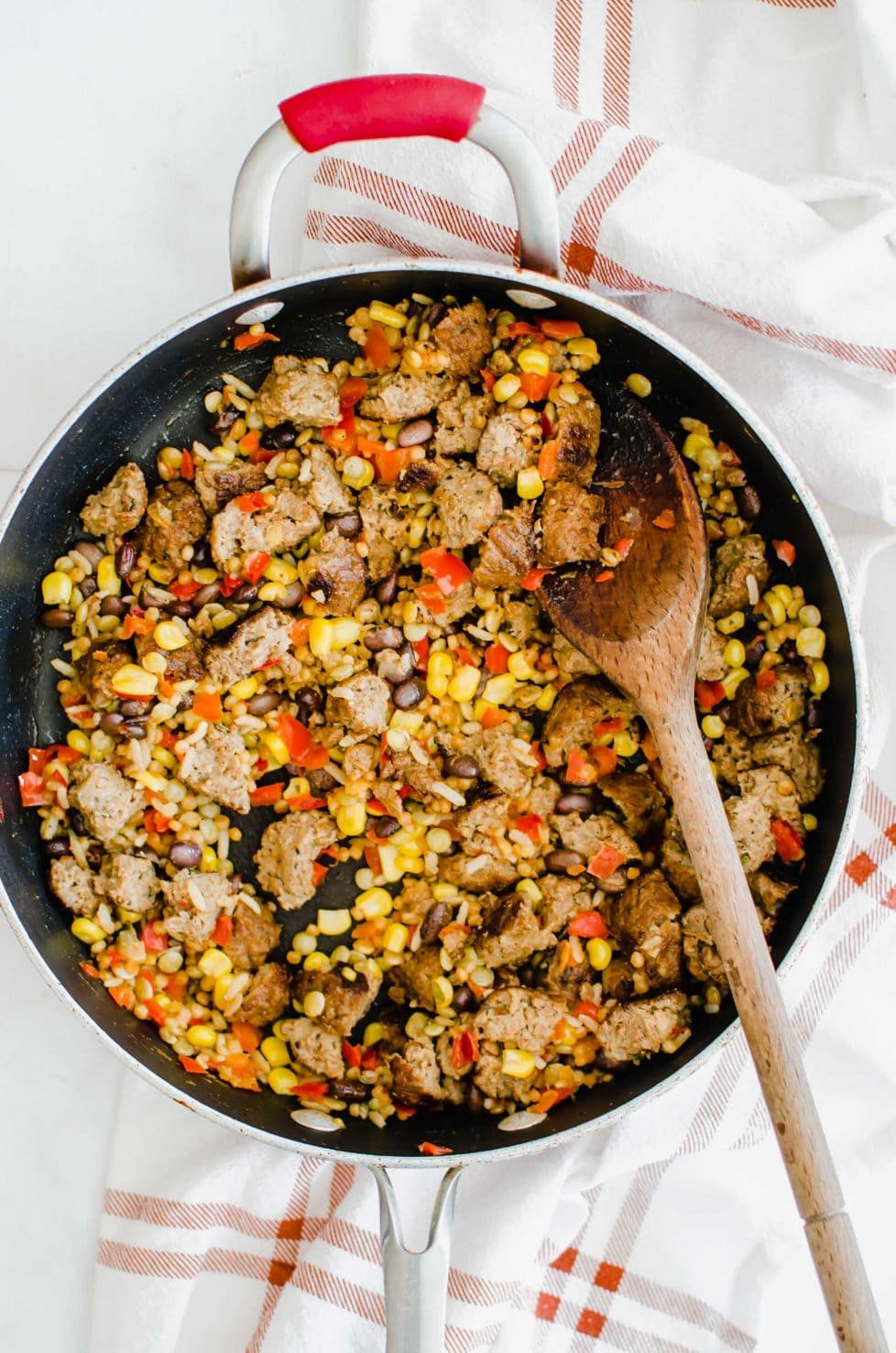 When it comes to setting aside a ½ day or so to prepping meals for the week and dividing them up into containers for Ryan and me, Walmart Online Grocery order and pickup has been a GAME CHANGER. Have any of you tried it yet (you can find a location with online grocery here.)? Most of the friends I've talked to about it have been hesitant to try it, especially when it comes to fresh produce, meat, and dairy because they are nervous to let someone else choose those items for them.  I totally get this and the concern that your items might not be the quality you would choose. However, whenever I have included these types of items in my online order, I've been extremely impressed with the quality of items in my pickup order. It's just as if I had done the shopping myself!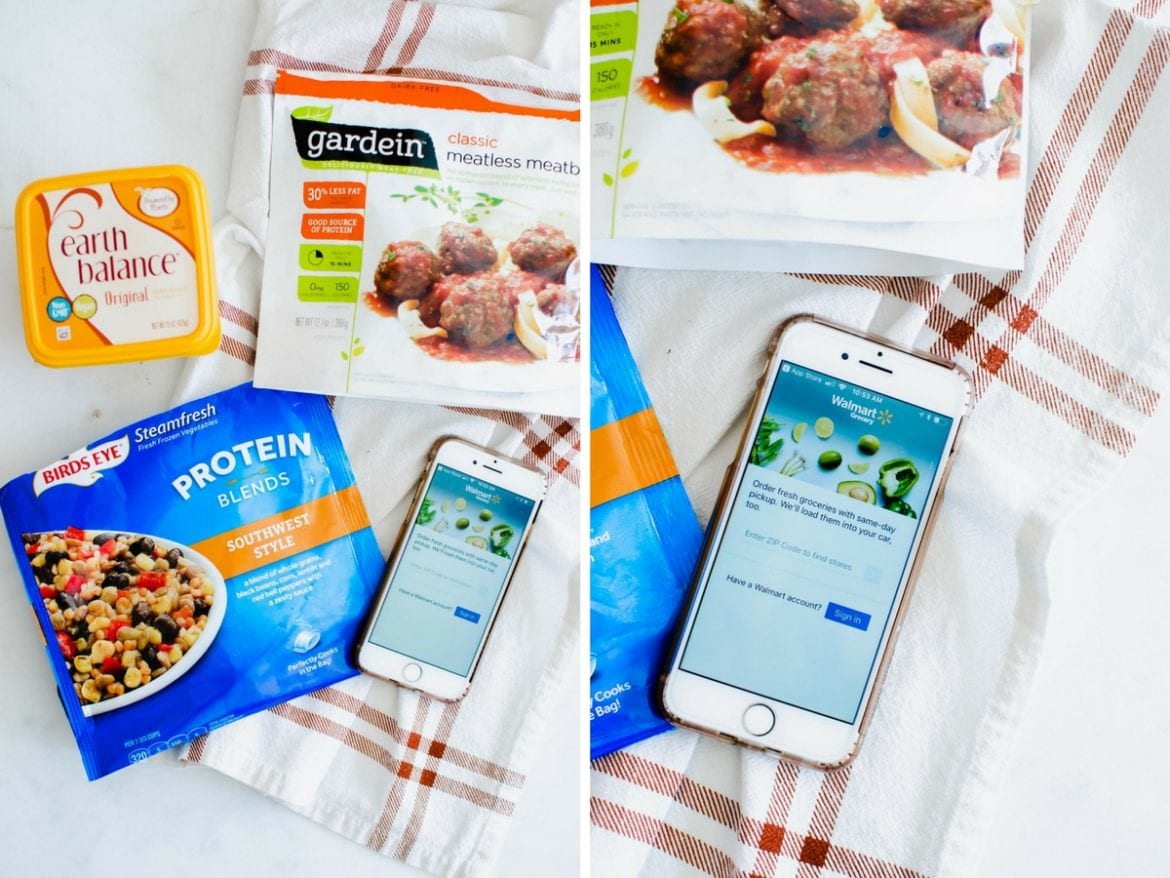 Another thing I love about shopping online is that I've discovered some new products I wouldn't typically notice when shopping for my usual items in the grocery store. I love that with Walmart online grocery, I can compare the nutrition fact labels and ingredients of products right in the comfort of my home!  In an attempt to incorporate more high protein, plant-based foods into my meal prep recipes, I've recently discovered Gardein® Classic Meatless Meatballs and Birds Eye Steamfresh Protein Blends Southwest Style Veggies. The products are so versatile and tasty!
I love to simmer the meatballs in my favorite marinara sauce and serve on a toasted roll with melted provolone as a slider. And the southwest veggies are a favorite topping for taco salads! I love when I find great products like this that save so much time in my efforts to meal prep and cannot help but share them with you!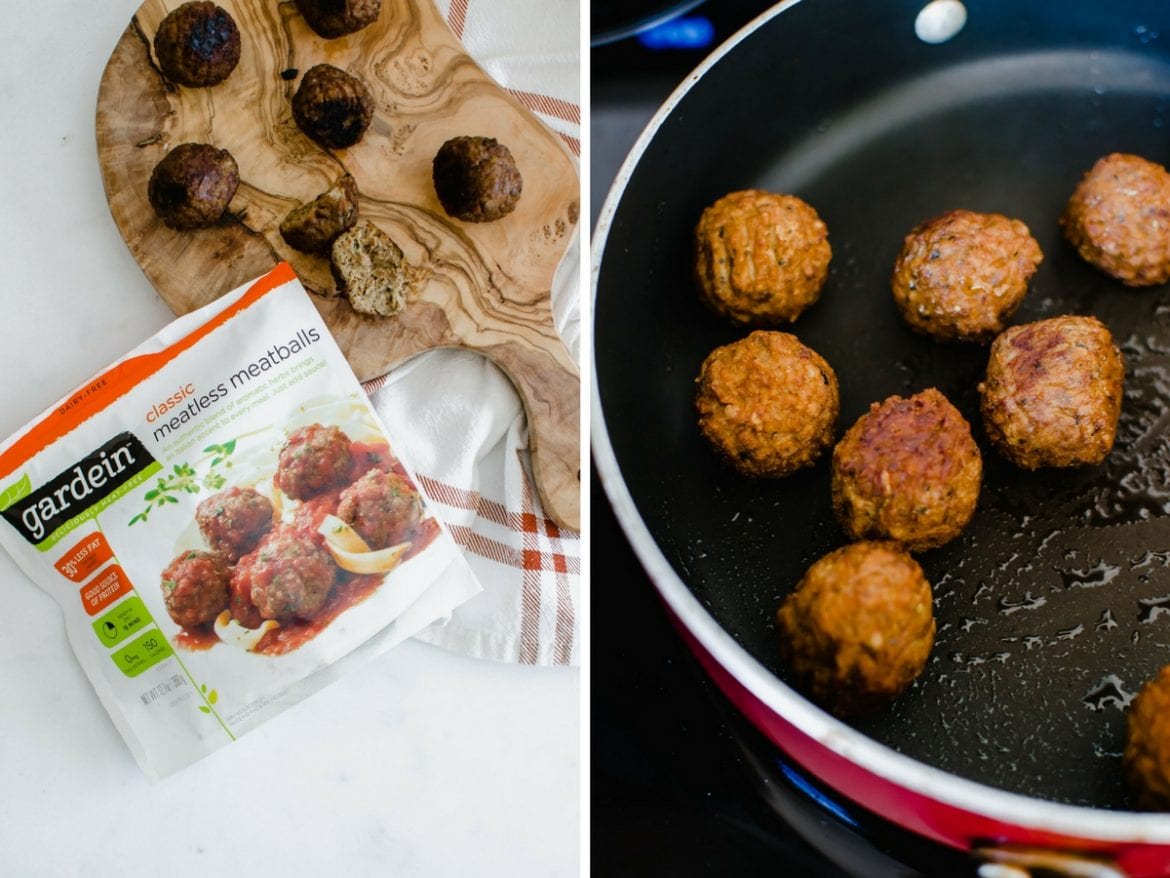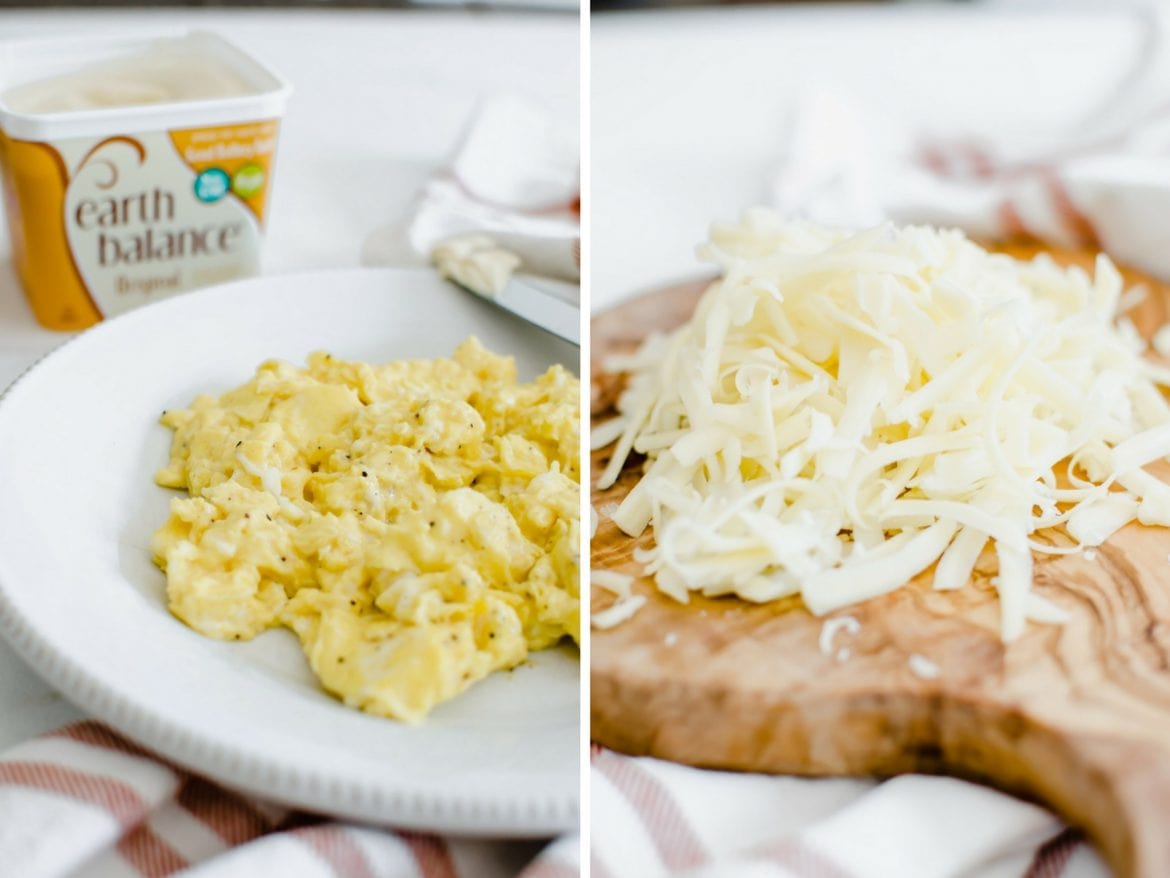 Another way I recently thought of in my meal prep endeavors was to use the meatballs and veggie blend in a hearty breakfast burrito that I could make ahead and freeze for busy mornings during the week. I decided to saute the meatballs by themselves a bit to add flavor, then I diced them up into bite-sized pieces and added them to a big pan with the sauteed southwest veggies. I added some soft scrambled eggs cooked in Earth Balance® Original Buttery Spread  (which has been a favorite for me for several years now!) and added them, along with the "meat" + veggie mixture, to my favorite whole grain wrap and topped with a little cheese.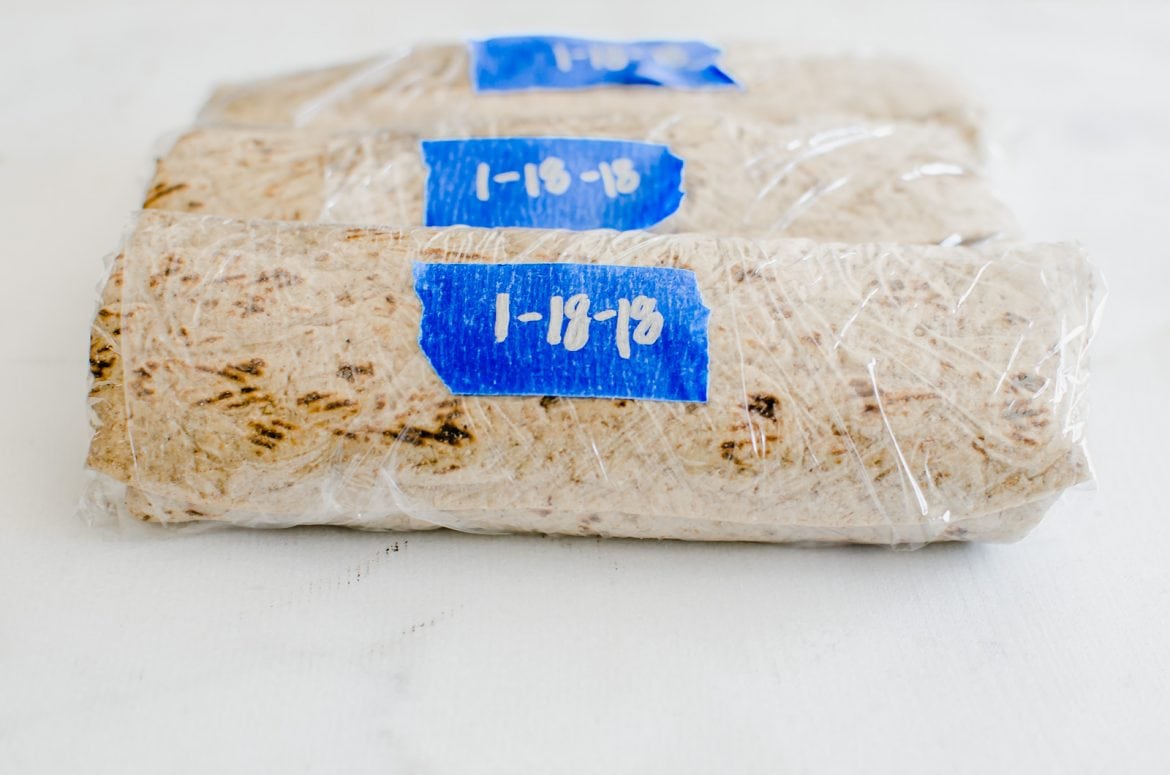 It is such a simple breakfast to throw together, wrap up tightly, and freeze. Ryan takes one to work and heats it up in the microwave, but my favorite way to eat them at home is in a skillet with some of the Earth Balance Buttery Spread. It gives such a nice flavor to the whole grain wrap, and I love the crispness of the wrap when it is cooked like a grilled cheese! It's a hot, hearty, plant-based and protein-rich breakfast that satisfies and energizes us for hours. Seriously, I get so much accomplished when I fuel myself up with a breakfast like this!
If you decide to give these breakfast burritos a try, please leave a comment below.
I'd also love to feature your creation in my weekly newsletter, so you can upload a photo to Instagram with the tag @sweetcayenne5 to be featured! Quick and easy recipe videos are available on my YouTube channel, and you will find lots of menu inspiration on my Pinterest boards.
You can find my top 10 freezer-friendly meals, and these can help you build out a successful meal-prep strategy if that is your goal.
Recipe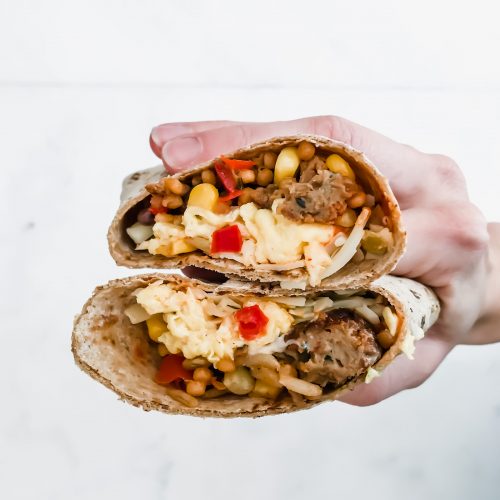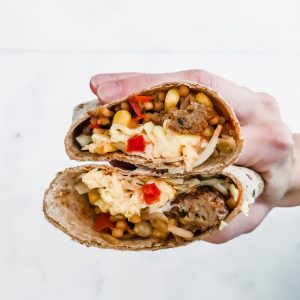 Meal Prep Breakfast Burritos
This recipe for Meal Prep Breakfast Burritos is a great make-ahead option for breakfast. They are packed with plant-based protein and full of Southwest flavor! This freezer-friendly breakfast is a go to for those looking to save time.
Print
Pin
Rate
Ingredients
Earth Balance Original Buttery Spread

12

Gardein Classic Meatless Meatballs

1 (12.7 oz)

bag

Birds Eye Protein Blends Southwest Style Veggies

3

large

eggs and 3 egg whites

1

cup

shredded white cheddar cheese

Your favorite hot sauce

6

of your favorite whole grain wraps

should be about 8''

Plastic wrap

Freezer gallon bags or freezer-friendly storage containers
Instructions
Place a large skillet over medium heat. Add 2 teaspoons of the Earth Balance Original buttery spread to the pan. Add the frozen Gardein Classic Meatless Meatballs, and saute for 2 minutes per side until they are brown and slightly crispy on the outside. Reduce heat to low and continue to cook for 6-8 minutes or until heated through. Remove from pan and let cool slightly on a cutting board.

While the meatballs cool, return the skillet to medium heat. Add the entire bag of the Birds Eye frozen veggie blend with 1 teaspoon of the buttery spread and saute until heated through.


While the veggies saute, sliced the meatballs into bite-sized pieces. Add to the heated veggie blend and toss to combine. Transfer to a bowl and let cool completely.

While the meatball mixture is cooling, return the skillet to low heat. Add 1 teaspoon of the buttery spread. Combine the eggs and egg whites in a bowl with a fork, then add them to the skillet. Scramble over low heat for 3-4 minutes until the eggs are just cooked through. Remove from heat and let cool completely.

Once all of the ingredients have cooled to room temperature (about 10 minutes - cooling is necessary to prevent ice crystals from forming as the burritos freeze), divide them evenly into the centers of 6 whole grain wraps. Divide the cheese on top of each. Add hot sauce if desired. Fold the long ends of the wrap in towards the center, then roll from the end of the wrap nearest you towards the opposite end. Wrap tightly in plastic wrap, label and date the burritos, and then freeze in a freezer-safe bag or container.


To thaw in the microwave: remove plastic wrap from burrito. Place on a microwave-safe plate and cover with a damp paper towel. Microwave on high for 1 ½ - 2 minutes or until heated through.

To heat in a skillet: thaw the burrito in your fridge overnight. Heat a skillet over medium heat. Cook burrito in 1 teaspoon of the Earth Balance Buttery Spread for about 2 minutes on each side or until golden brown and crispy.
Notes
Burritos will keep in the freezer for up to 6 months.
Serving:
1
burrito
|
Calories:
362
kcal
|
Carbohydrates:
29.2
g
|
Protein:
31.2
g
|
Fat:
17.4
g
|
Saturated Fat:
5.4
g
|
Cholesterol:
113
mg
|
Sodium:
771
mg
|
Potassium:
131
mg
|
Fiber:
11.8
g
|
Sugar:
2.6
g
|
Calcium:
193
mg
|
Iron:
3
mg