Pickled okra is one of my favorite treats to serve on a cheese board, and this easy recipe for spicy refrigerator pickled okra is a great way to preserve fresh okra in the summertime!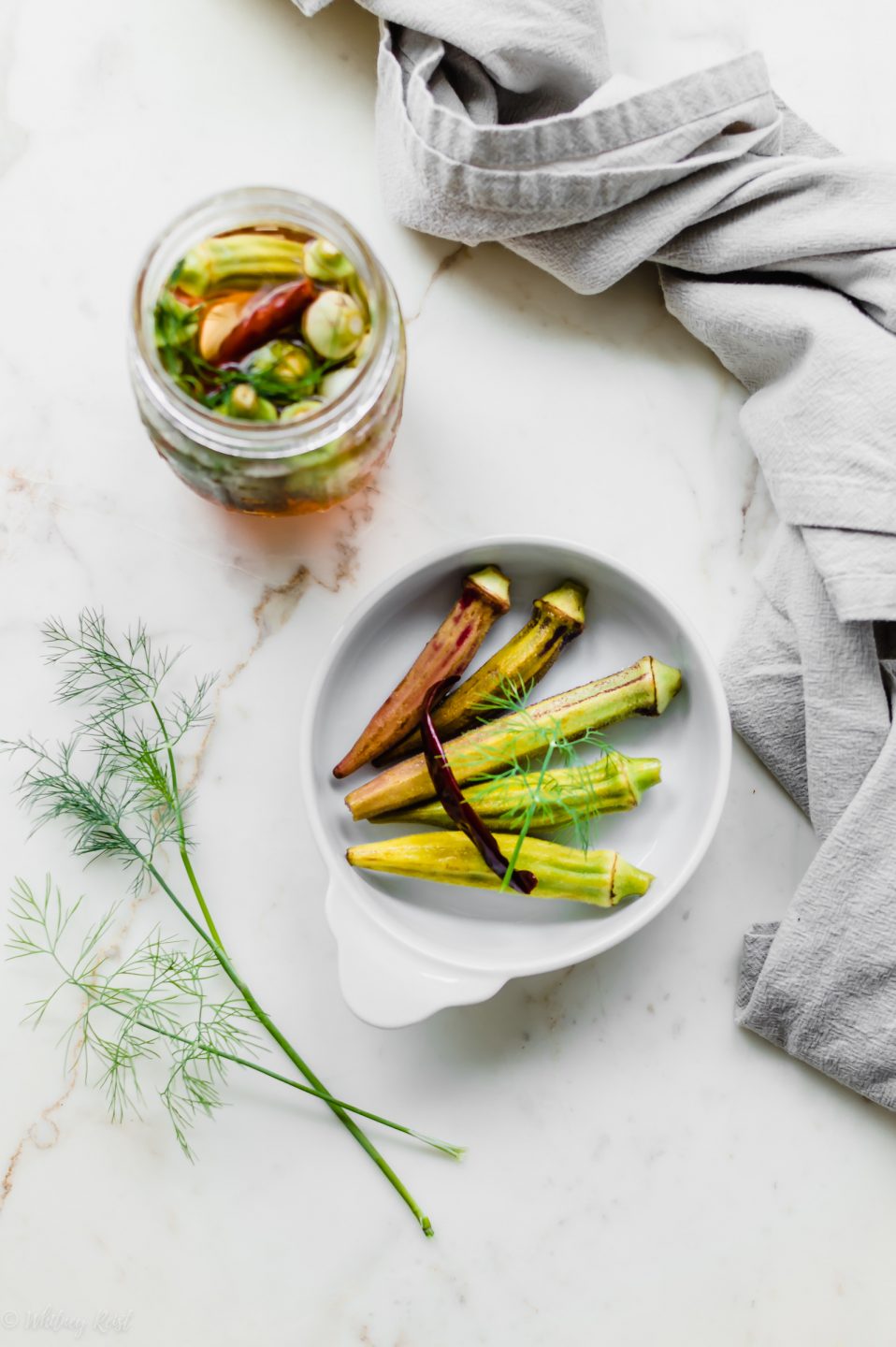 Welcome to week 3 of the Sweet Cayenne Veg Fest! I hope you are enjoying the series. So far, we've celebrated fresh summer produce by making Easy Pickled Cherry Tomatoes, BLT Panzanella Salad, Simple Roasted Okra, and Oven-Fried Green Tomatoes with Hot Sauce Aioli. Have you gotten a chance to try any of the recipes??? If you do, please share a picture with the tag #sweetcayennevegfest so I can see it!
Pickled okra is one of my favorite things to put on a snack board - be it cheese board, antipasti board, or just a smorgasbord of things I've scrounged around in the pantry or fridge for. The tangy, briny, crunchy-ness of pickled okra is just so satisfying and tastes good paired with so many things! Sometimes when Ryan and I are having burgers or BLT's, I'll just serve up a plate of pickled foods like okra, cucumbers, tomatoes, or giardiniera veggies as the side dish. The zesty acidic flavor is the just the thing to cleanse the palate between bites of a meaty sandwich. YUM!
A week after I purchased some okra from the farmer's market for roasting in my Simple Roasted Okra, I went back and purchased more to try my hand at quick-pickling the veggie. I chose not to can it for dry storage, simply because I knew Ryan and I would want to enjoy it during the last few weeks of summer. And pickled okra is just so good, it doesn't seem to last long in our house! This recipe for Spicy Refrigerator Pickled Okra is so simple and easy to make - it's a great place for a beginner pickler to start. Let's make some!
Ingredients for Spicy Refrigerator Pickled Okra
Fresh okra pods - fresh okra is in season from July-September and can be readily found at many local farmer's markets. Choose pods that are firm and 2-4'' in length for pickling.
Fresh dill - Ryan and I spent so much money last year buying fresh dill for pickling project that this year, we wised up and planted some of our own. And I'm SO glad we did because fresh dill is an essential ingredient in so many pickling recipes. Your pickling brine really won't taste the same (or have a nice clear color) if you substitute with dried dill, so try your best to only use fresh!
Garlic - whole garlic cloves are a common ingredient in many pickling recipes, and you can add more or less to a recipe depending on how much you like the flavor of garlic. I have more of a preference for a mild garlic flavor, so I typically just add 1-2 small cloves per pint-sized jar in my recipes.
Dried or fresh peppers - I used dried whole red peppers in this recipe (what red pepper flakes are made from), but if you've got some fresh jalapeno or serrano peppers lying around, use them! Plan to use 1-2 peppers per pint-sized jar, and slice the pepper into rounds or just in half, depending on how much heat you want to infuse into the pickling liquid. My recipe is written for a mild-moderate amount of heat.
Whole mustard seeds - another essential ingredient for many standard pickling recipes! I like to buy whole yellow mustard seeds in the bulk section of stores that sell whole spices. You will save a lot of money this way, and whole spices will keep for 2-3 years.
Whole peppercorns - again, another essential pickling ingredient! I always have these on hand to refill my pepper grinder, because the flavor of freshly-cracked pepper is so much more vibrant in recipes than ground pepper.
Apple cider vinegar - the vinegar is what "pickles" the vegetable, and apple cider or white vinegar are the most common pickling vinegar. I love the golden color that it lends to the pickling brine!
Sugar - just a hint of sugar will balance out the acidity of the vinegar in the pickling brine. Not enough to make the pickles taste sweet by any means - just a hint for flavor balance. You likely won't recognize that it's there when you taste the pickles.
Salt - you can use pickling/canning salt or Kosher salt for most pickling recipes. Pickling salt is much finer than iodized table salt and dissolves quickly into brines, making it ideal for canning. Pickling salt is free of iodine, which can make pickles really dark. It's also free of anti-caking agents, which can make your pickle brine cloudy. If you use kosher salt, just check the ingredients label to make sure it is free of anti-caking agents.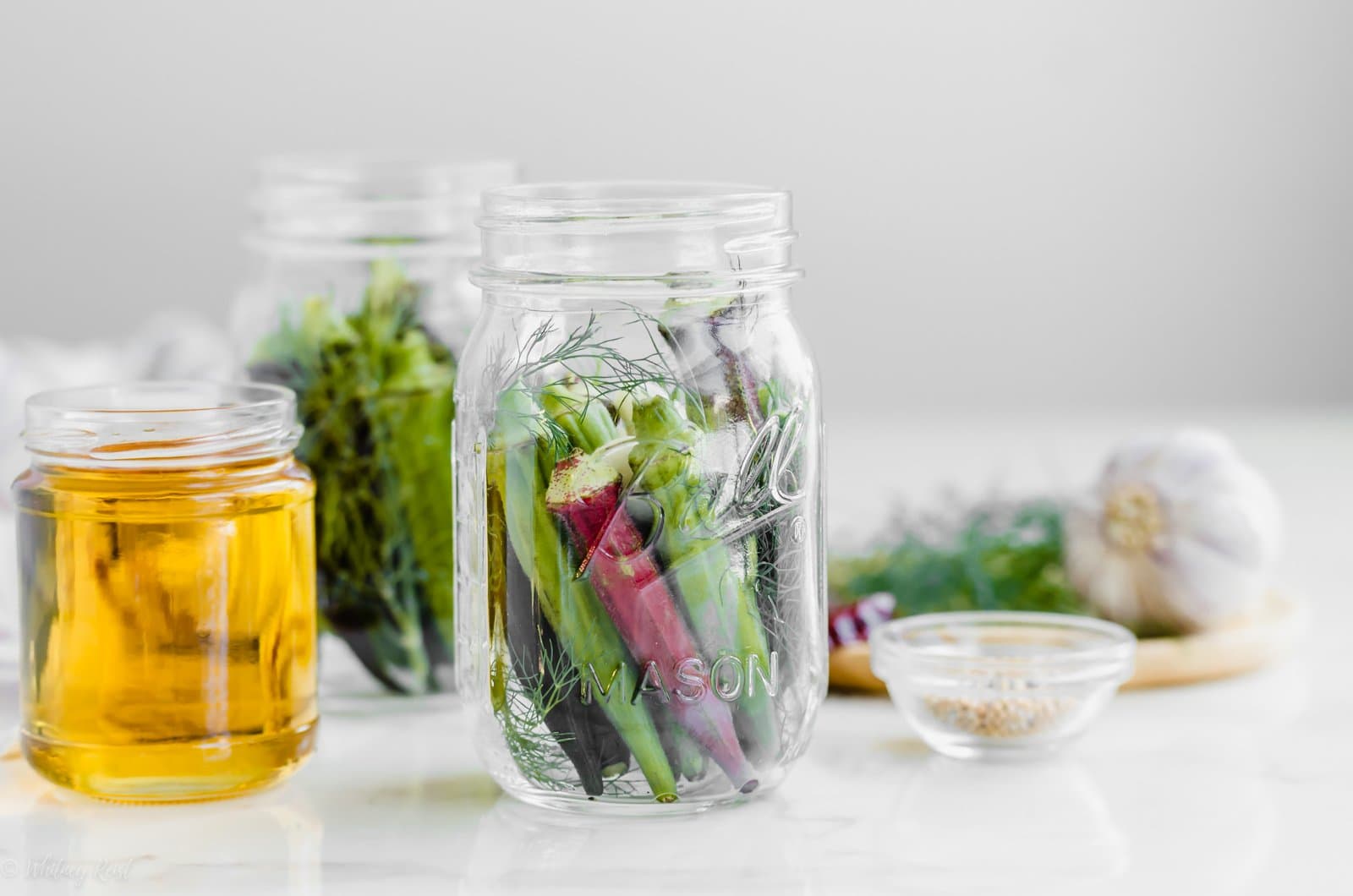 How to Make Spicy Refrigerator Pickled Okra
Place fresh ingredients in a clean canning jar - this would include the okra, dill, and garlic. Since you won't be boiling the jars in a water bath and therefore don't need lids that seal, you can reuse old lids and canning rings. Just be sure they are clean!
Bring vinegar, salt, sugar, whole spices, and peppers to a boil - once it starts to boil, remove from heat and pour evenly over the fresh items in your jars.
Fill the remainder of the jars up with water. Then let your jars cool for about 30 minutes before putting the lids on.
Label and date your lids, then refrigerate. Your refrigerator pickles will keep for 2 months, so be sure to label them with the date you made them and what the item is.
Let okra pickle for 3-5 days before eating them. I tried mine at 2 days and the okra had somewhat of a slimy texture. I kept pickling them and tried them on day 5, and they were perfect! The okra needs a while in the vinegar to get rid of the slimy texture. After day 5, the okra was perfectly crisp with NO sliminess!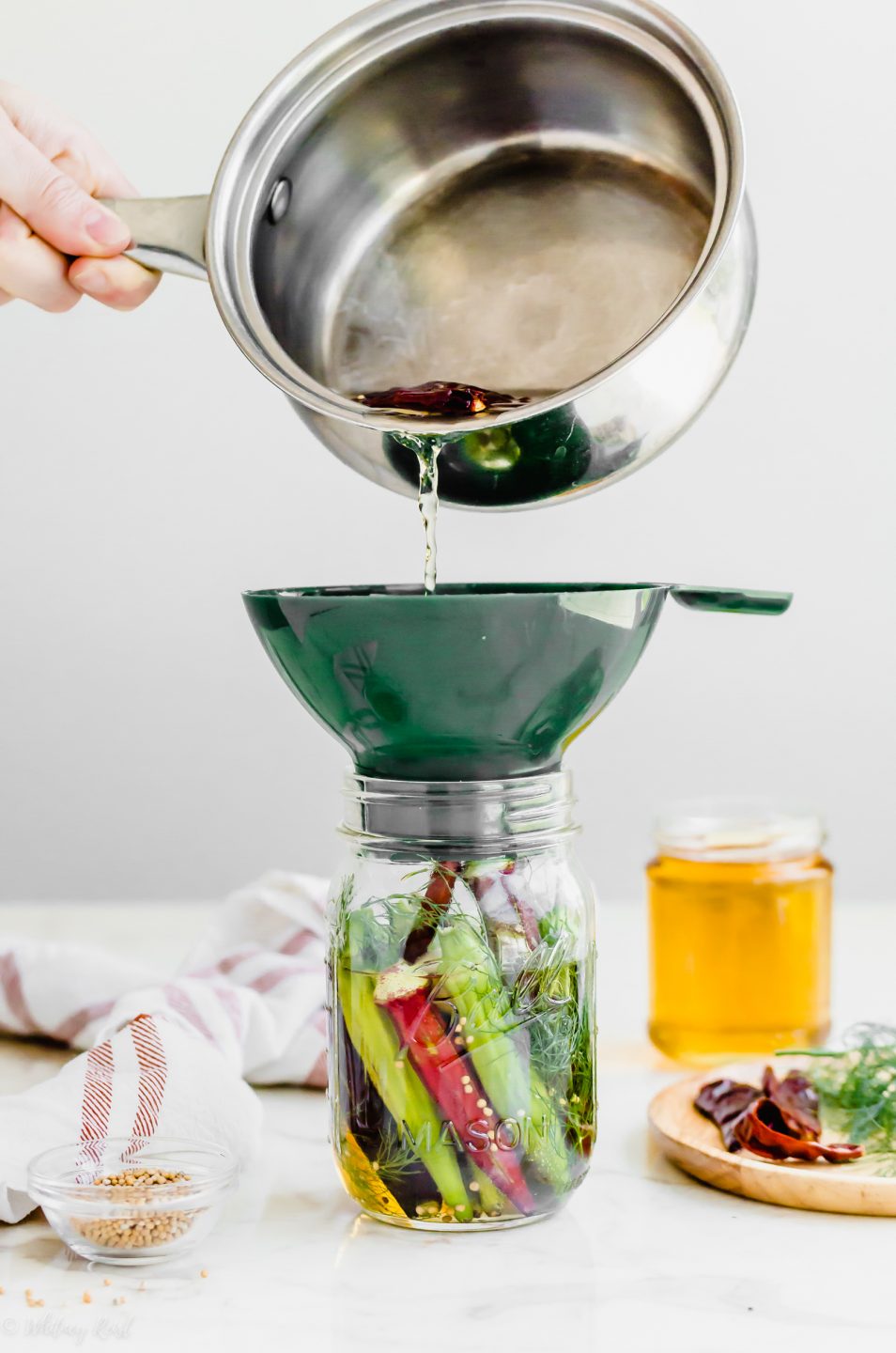 Ways to Use Spicy Refrigerator Pickled Okra
On a cheeseboard - pickled okra is perfect on any type of cheese or antipasti board because you need a tangy element to pair with salty meats and cheeses. I particularly enjoy pickled okra paired with Havarti cheese, pimento cheese, pickled peaches, and oven-baked green tomatoes for a summery, Southern-themed board.
As a side dish - as I mentioned earlier in the post, I love to serve pickled veggies as a simple side dish with burgers or BLT' sandwiches. Since these tend to be heavier, hearty sandwiches, I like to keep things balanced by serving a simple but really delish veggie side dish. We are always excited about pickled veggies at my house!
In a salad - when chopped up into little coins, pickled okra is delicious as a salad topping! Use it in place of other briny ingredients like olives, pepperoncini, or capers. I'll be posting a pea salad with pickled okra later this week, so be sure to check back for that.
As a snack - serve pickled okra as a snack with hummus or cheese and crackers!
In gumbo - the briny acidity of pickled okra is the perfect hint of un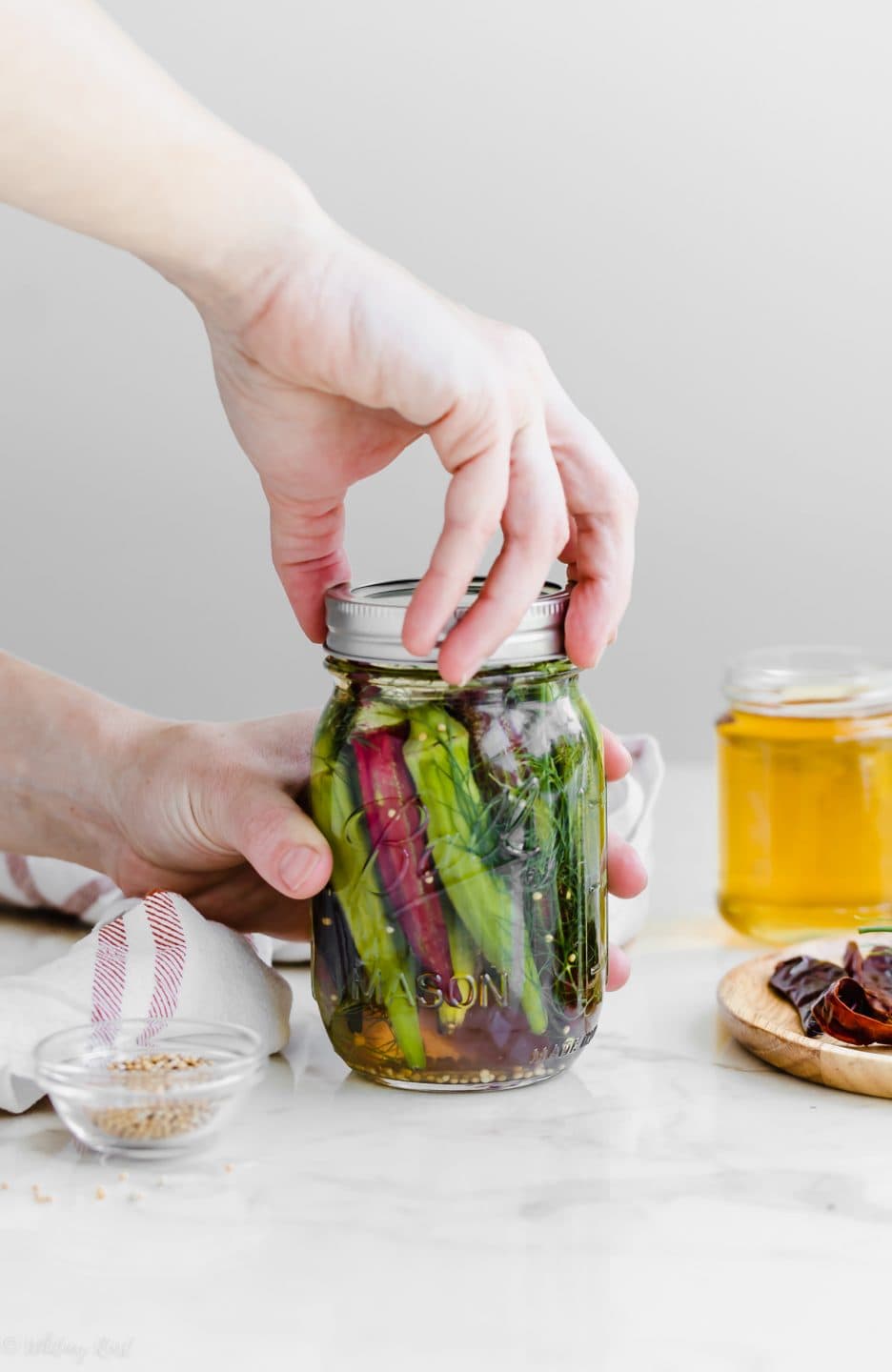 Similar and Complementary Recipes
Are you ready to make these Spicy Refrigerator Pickled Okra? I'm so excited for you to try this recipe. Once you get the chance to make it, please let me know how it turns out for you! Leave a comment and rate the recipe below. This will help me with the creation of future recipes! I'd also love to feature your creation in my monthly newsletter, so you can upload a photo to Instagram or Twitter with the tag @sweetcayenne5 to be featured!
Recipe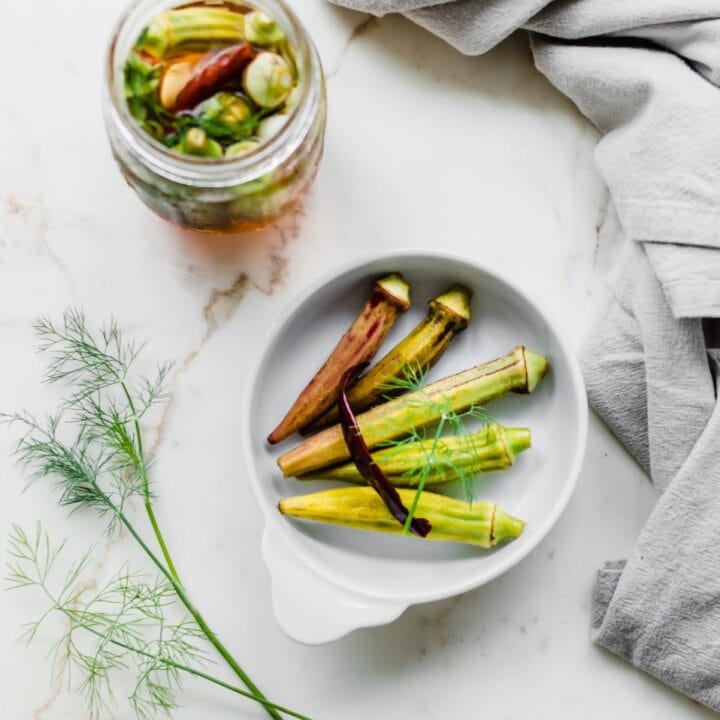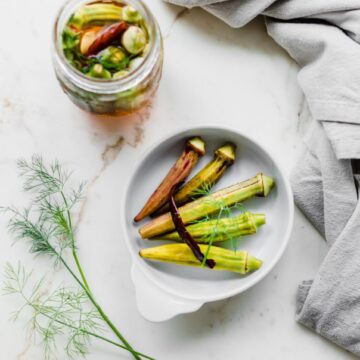 Spicy Refrigerator Pickled Okra
This easy recipe for spicy refrigerator pickled okra is one of the BEST ways to preserve fresh summer okra. The pickling process with vinegar makes the okra crunchy, not slimy!
Print
Pin
Rate
Ingredients
1

pound

(2-3 inch fresh okra, stems trimmed to ½'', washed and dried thoroughly

4

small

garlic cloves, peeled

8

small

sprigs of dill (about ½ cup)

1 ¼

cup

apple cider vinegar

2

teaspoons

sugar

2

teaspoons

Kosher salt

1

teaspoon

whole yellow mustard seed

1

tablespoon

whole peppercorns

3

whole

dried red chile peppers, cut in half lengthwise

Water
Instructions
Divide the okra, garlic cloves, and dill amongst two sterilized pint-sized canning jars.

In a small saucepan, combine vinegar, sugar, salt, mustard seed, peppercorns, and chili peppers halves. Bring to a boil over medium-high heat. Pour the hot liquid and spices over the contents of the jars. Fill the rest of the jars up with water to ½'' of the jar rim. Let the jars cool for about 30 minutes before closing jars with lids and rings.

Lable and date the jars before refrigerating the jars for 3 days before eating the pickles. If they are slightly slimy, let them pickle a few days more before consuming. Store for up to 2 months.
Serving:
1
oz
|
Calories:
15
kcal
|
Carbohydrates:
3
g
|
Protein:
1
g
|
Sodium:
250
mg
|
Fiber:
2
g
|
Vitamin A:
200
IU
|
Vitamin C:
3.6
mg
|
Calcium:
40
mg
|
Iron:
0.4
mg
Pin this, pretty please: