This cheesy golden baked beet chips recipe uses nutritional yeast, turmeric, and rosemary sea salt as a savory alternative to regular potato chips. It's a healthy, gluten-free, vegan snack that makes a delicious addition to any menu!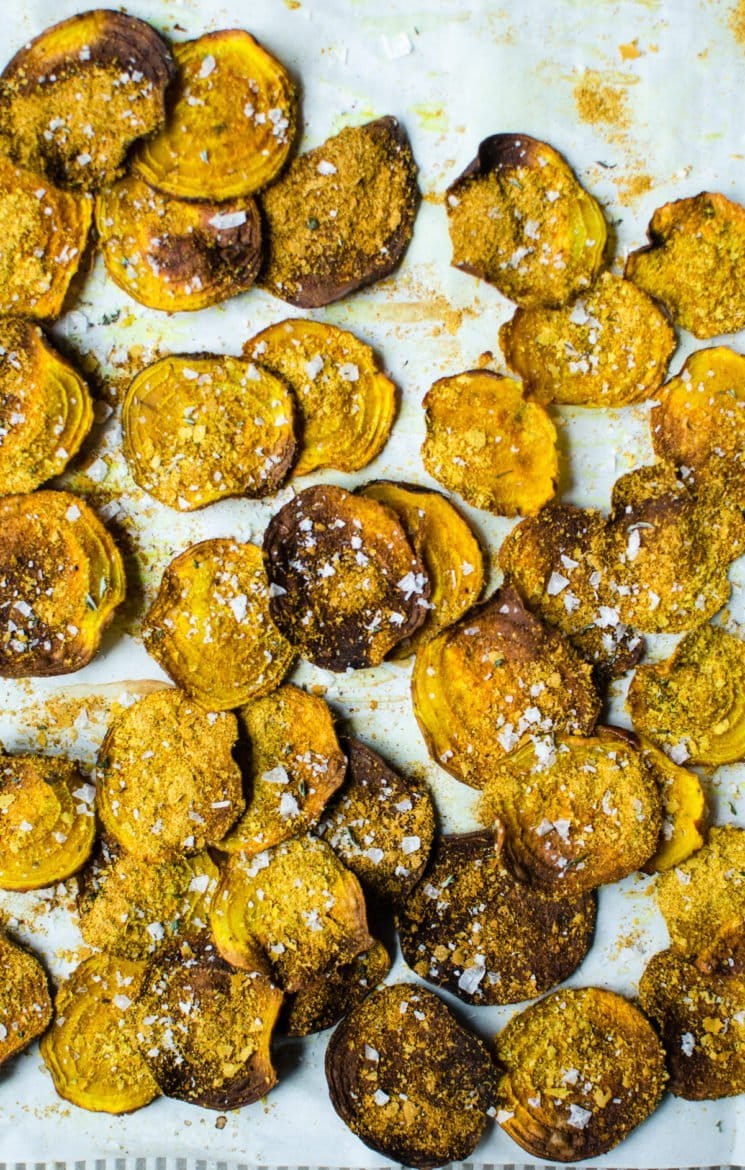 Jump to:
About the recipe
Beets are definitely on my laundry list of foods I'd rather avoid. Truth be told, I think they taste like dirt. I want so badly to like them though! They are some of the most gorgeous and stunning foods to look at - what colors can compare to ruby and golden beets?
Beets are also affordable to buy, easy to prepare and loaded with antioxidants. So in an effort to incorporate them into my diet, I'm sharing these Cheesy Beet Chips and saying that they're a pretty decent and enjoyable way to eat beets. Truly!
I will confess that the "cheesy" part of this beet chip recipe does not involve cheese at all, but a yellow powder that I mentioned above called nutritional yeast. Vegans often use this to replace cheese. In my opinion, it doesn't taste like cheese at all. But it's a great way to add an umami flavor component to your beet chips.
Add some smoked paprika, garlic powder, and a little rosemary sea salt to the mix and your beet chip is going to taste startlingly similar to something you might want to eat while watching the Super Bowl. Right before you reach for a buffalo wing....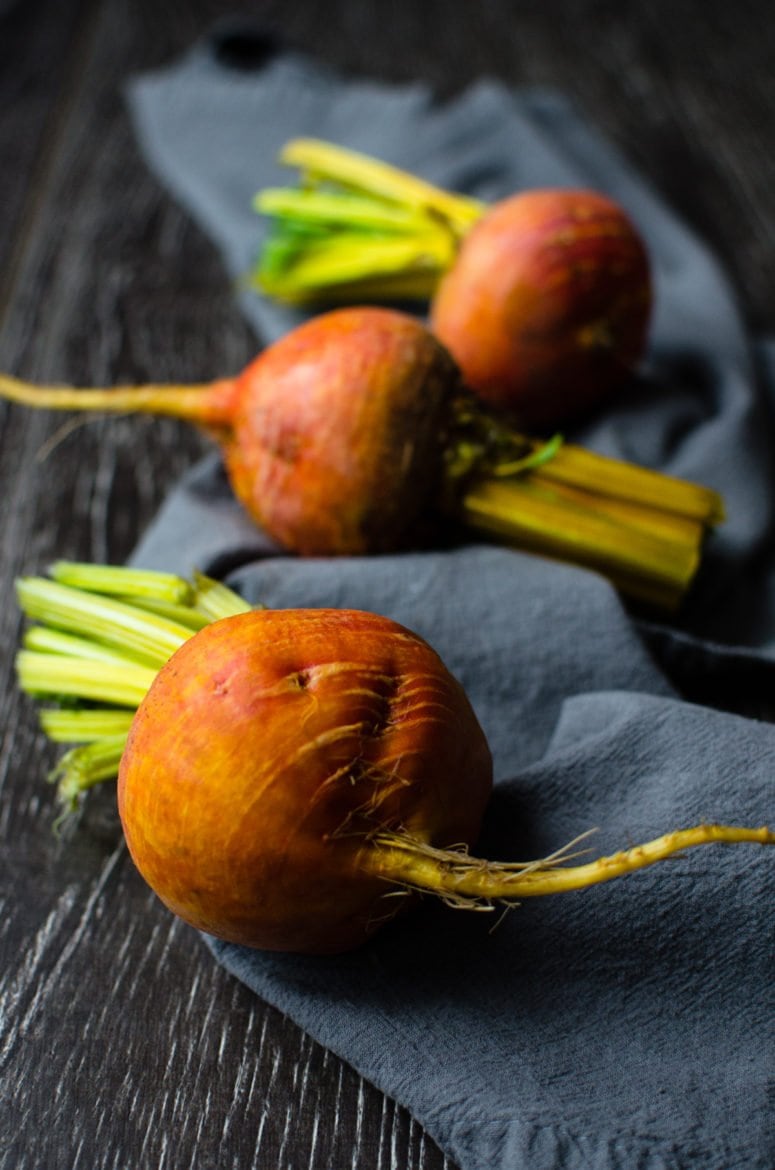 Ingredients
Golden beets (or red beets)
Olive oil
Kosher salt
Garlic powder
Smoked paprika
Turmeric
Fresh rosemary
Instructions
Step 1: Slice the beets with a mandoline or carefully slice with a knife into 1/16-inch rounds. Toss with olive oil and salt, then sweat the beets between layers of paper towels for 15 minutes to draw out moisture.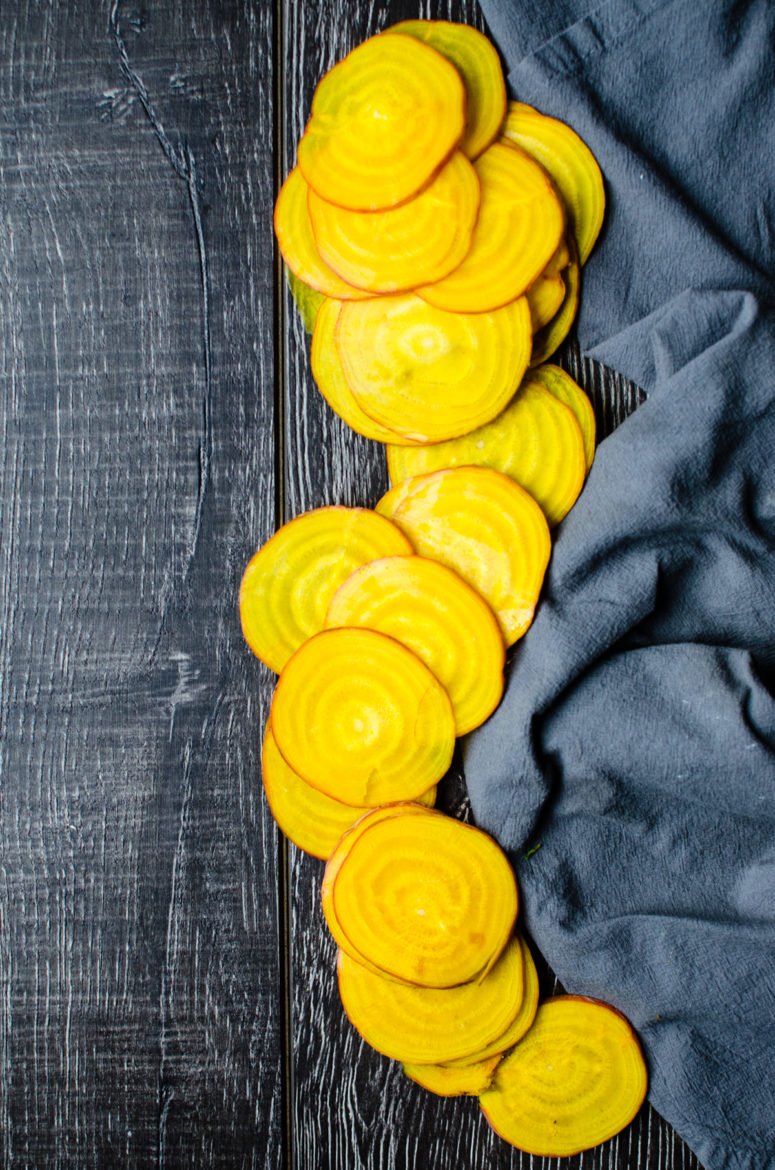 Step 2: Combine the seasonings. The nutritional yeast, garlic powder, smoked paprika, and turmeric will go in one bowl, then the sea salt flakes and fresh rosemary will go in another.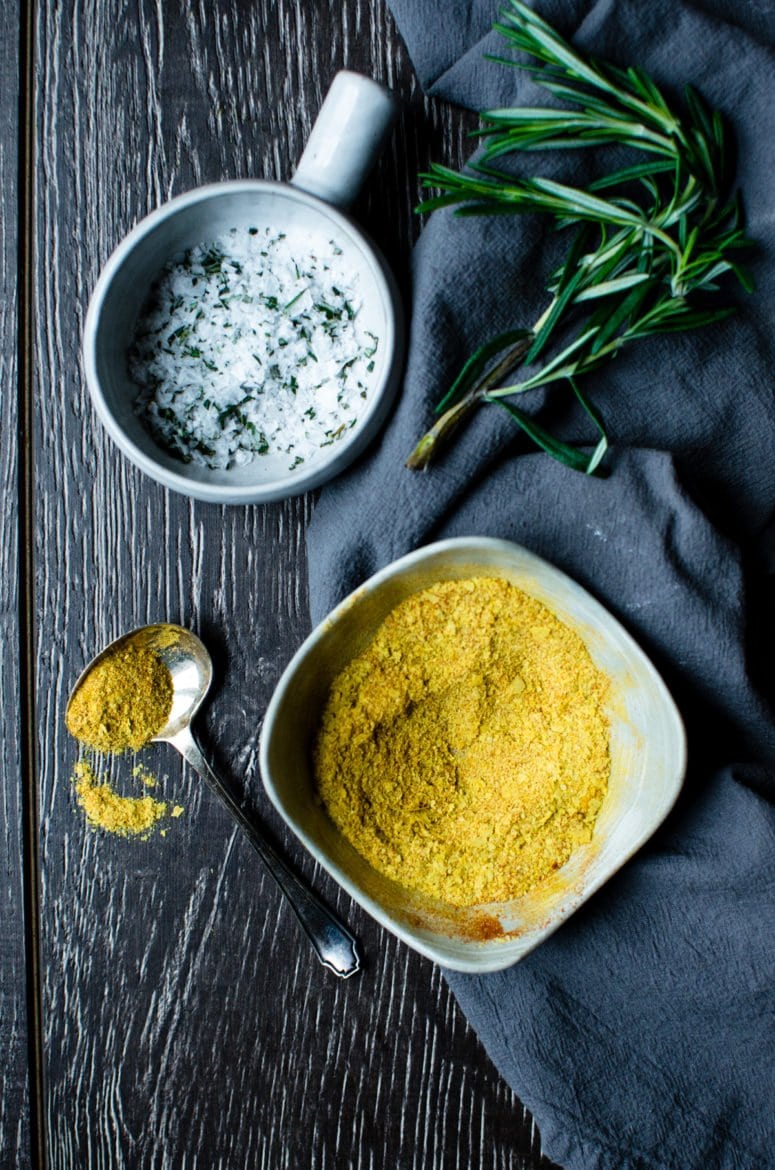 Step 3: Place the beets on a parchment paper-lined baking sheet, then sprinkle the "cheese" mixture on top. Bake at 400°F for 25-35 minutes or until golden and crisp.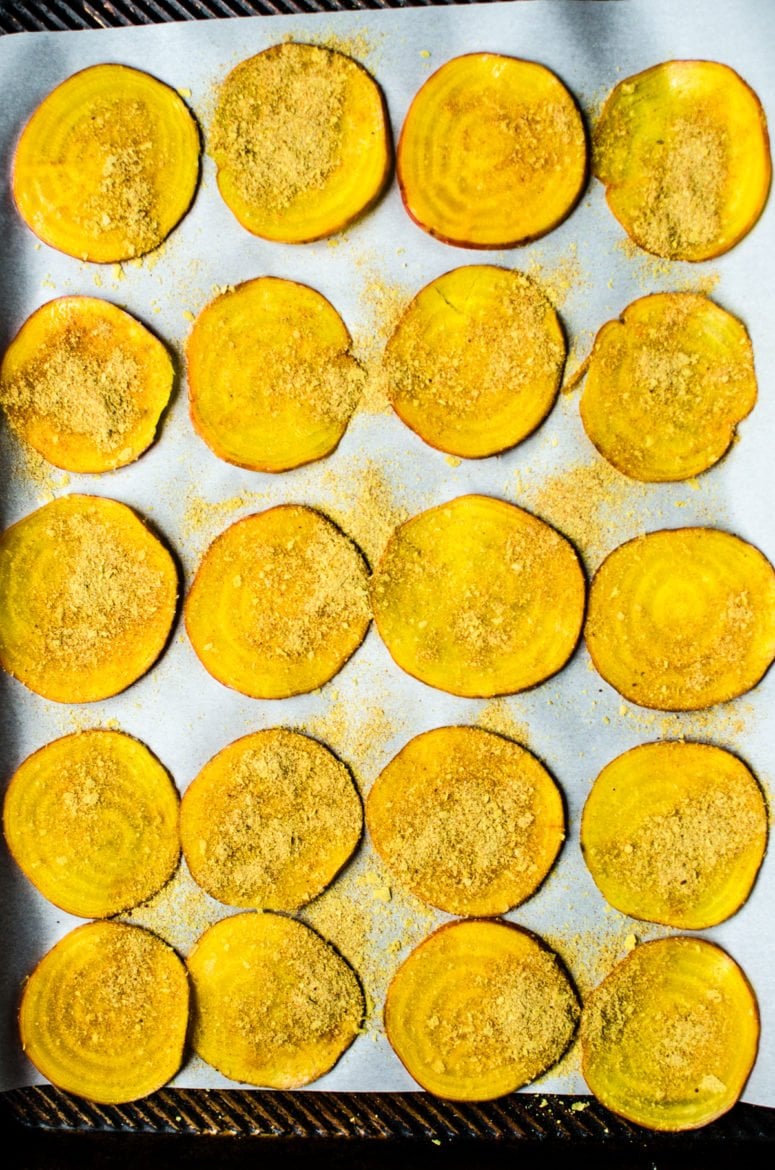 Step 4: Let the chips cool a bit, then sprinkle the rosemary sea salt on top. Serve right away and enjoy!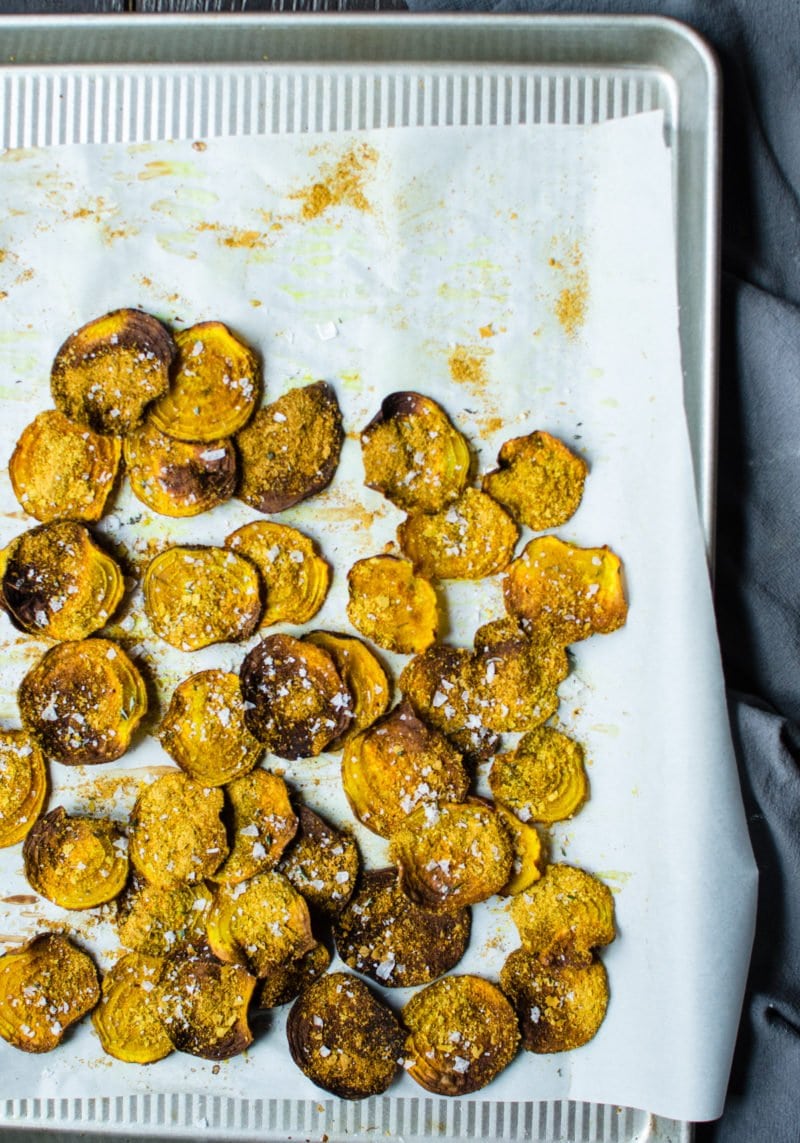 Top tips
Below are some of my best tips for making this beet chips recipe, as well as some answers to commonly asked questions!
Are beets good for you?
Beets are an amazing and highly nutritious food. In addition to being a good source of folate, potassium, manganese, and fiber, beets are very high in phytonutrients, which have great antioxidant benefits to fight inflammation in the body.
One cup of beets has about 13 grams of carb, making them a great choice for diabetics, and 3.8 grams of fiber. Whether you eat them in chip form, roasted, or shaved thinly onto salads, beets make for a great snack or side dish any time!
Slicing the beet chips
Since beet chips need to be sliced very thinly - about 1/16 of an inch thick - in order to crisp, a mandoline slicer is the fastest and most effective way to cut them. Use extreme caution when using one, however, as the blades are very, very sharp.
If you don't have a mandoline, you can use a good, sharp chef's knife to carefully slice the beets. Be sure your cutting board cannot move around while doing this.
Do I need to peel beets?
Beets do not need to be peeled for most uses - including making chips! The peel of the beet contains a lot of fiber and antioxidants, so leave the peel on and just give them a good scrub, like you would a potato.
How do I make beet chips crispy?
There are several techniques you can use to help get beet chips crispy:
Sweat the chips before cooking - brushing the beet slices with olive oil, sprinkling with salt, and letting them rest between layers of paper towels will draw some of the moisture out before cooking, resulting in a crispier chip once baked.
Bake in a single layer - if your baking sheet is overcrowded with beet slices, it will create a lot of steam on the pan and prevent them from crisping. Place the beet sliced as a single layer, and leave some room between rows on the baking sheet. You may need to use two pans.
Cool on a wire rack - beet chips will continue to crisp as they cool, and using a wire rack will ensure even cooling and crispness all the way around the chip.
Serving suggestions
I'd suggest making these little chips as a side to a slider, wrap, or favorite sandwich. Some recipes that would go perfectly with these beet chips include:
Similar recipes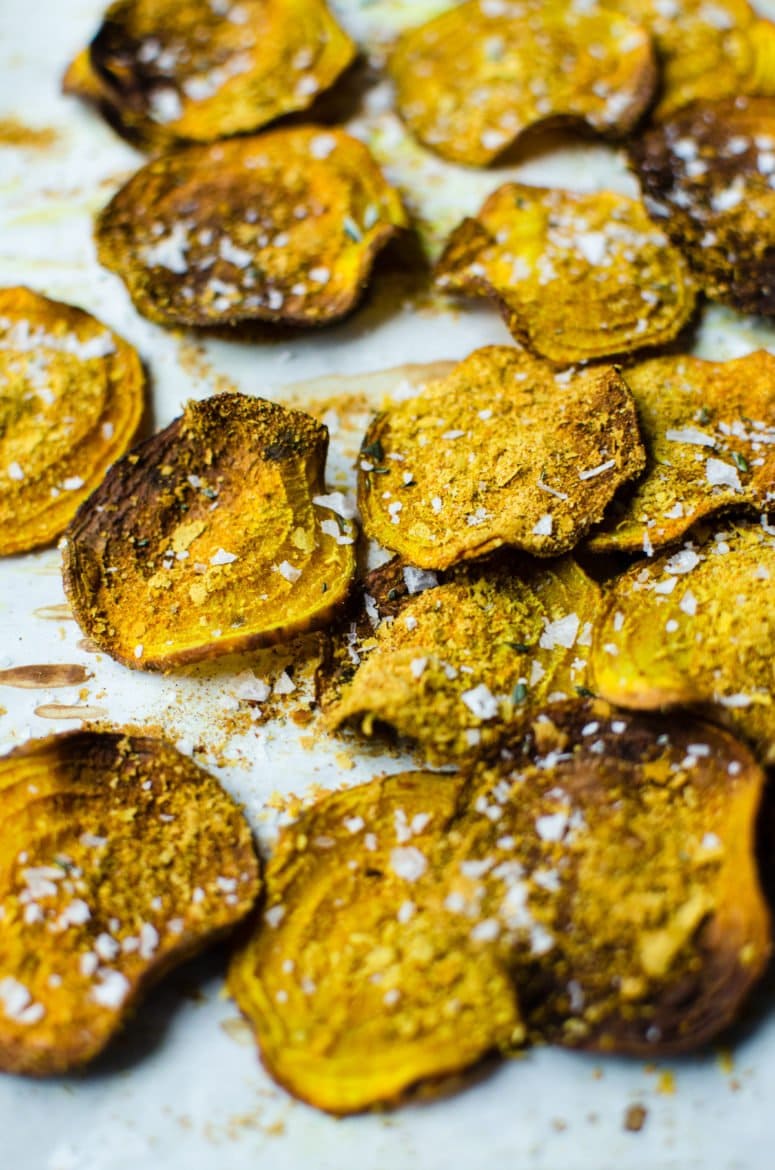 Are you ready to make these Cheesy Golden Beet Chips? I'm so excited for you to try this recipe. Once you get the chance to make it, please let me know how it turns out for you!
Leave a comment and rate the recipe below. This will help me with the creation of future recipes!
I'd also love to feature your creation in my monthly newsletter, so you can upload a photo to Instagram or Twitter with the tag @sweetcayenne5 to be featured!
Recipe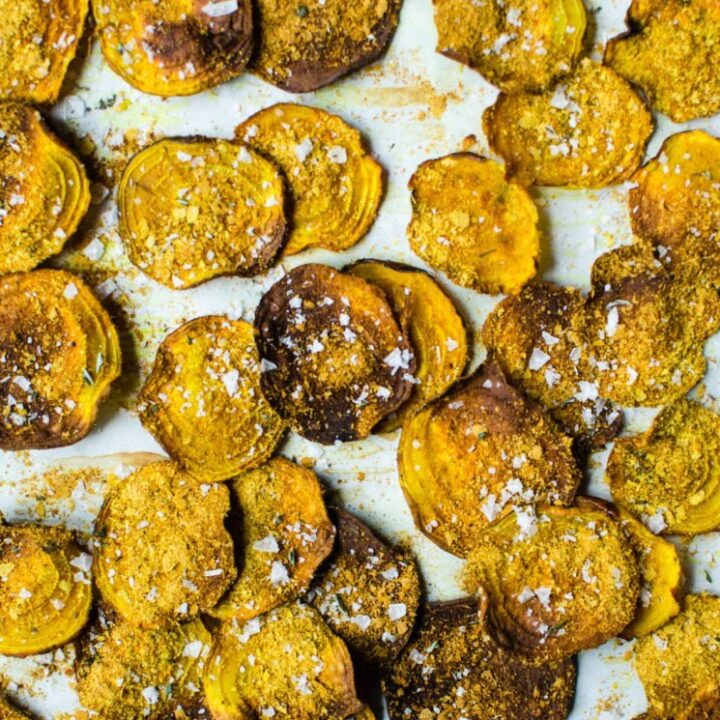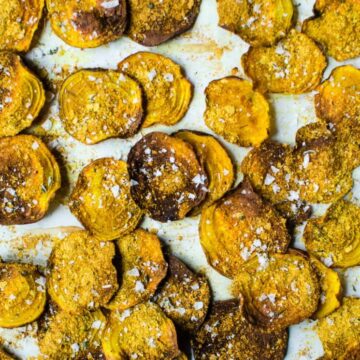 Cheesy Golden Beet Chips with Turmeric and Rosemary Sea Salt
These Cheesy Golden Beet Chips are a great way to enjoy beets and work well as a veggie side for burgers, sandwiches, pitas and wraps! Gluten free, vegan, and super easy to make!
Print
Pin
Rate
Ingredients
For the beet chips:
3

medium

golden beets, washed thoroughly and ends cut off (do not peel them)

½

teaspoon

kosher salt

2

tablespoons

olive oil

Parchment paper
For the "cheese" seasoning:
2

tablespoons

nutritional yeast flakes

¼

teaspoon

garlic powder

1

teaspoon

smoked paprika

1

teaspoon

ground turmeric
For the rosemary sea salt:
1

tablespoon

sea salt flakes

½

teaspoon

finely minced fresh rosemary
Instructions
Preheat oven to 400°F. Line two baking sheets with parchment paper and set aside.

Using a mandoline, carefully slice the beets into 1/16'' rounds. Place the rounds in a bowl and sprinkle with salt and the olive oil. Toss to coat evenly.

Place the beet round in layers on top of a surface lined with paper towels (you can place one layer of beets on top of another layer with paper towels in between, ending with a paper towel on top). Let the beets rest for 15 minutes.

While the beets rest, combine the nutritional yeast, garlic powder, smoked paprika, and turmeric in a small bowl. Set aside.

Combine the sea salt flakes and fresh rosemary in another small bowl. Use your fingers to rub the rosemary into the salt flakes - this will release the natural oils from the herb. Set aside.

Dabbing any excess moisture off of the beets, place them on a single layer on your parchment paper lined baking sheet. Sprinkle the rounds with the cheese seasoning.

Bake for 15 minutes, then rotate your pans. Bake 10-20 minutes more (depending on the thickness of your slices). Remove any chips to a platter that are crisp and continue to cook the other chips until they are golden brown and crispy.

Remove the chips from the oven and sprinkle with the rosemary sea salt. Let them cool for 10 minutes before transferring to a wire rack to cool completely. The chips will continue tp crisp as they cool on the wire rack.

Extra rosemary sea salt can be stored in an airtight container in the fridge up to a week - use on roasted veggies, potatoes, chicken, fish, pork, or beef!
Notes
Beets tend to release a lot of moisture during cooking, which can lead to a soggy beat chip. To help with this, the recipe uses a technique called "sweating" that involves using salt and a light oil marinade to help the beets release some of their juices before baking. I learned of this technique through A Spicy Perspective's recipe.
Serving:
1
Serving
|
Calories:
115
kcal
|
Carbohydrates:
10.7
g
|
Protein:
3.7
g
|
Fat:
7.6
g
|
Saturated Fat:
1.1
g
|
Sodium:
1238
mg
|
Potassium:
379
mg
|
Fiber:
3.2
g
|
Sugar:
6.1
g
|
Calcium:
21
mg
|
Iron:
2
mg