Here's to a 2017 resolution for trying foods in new ways that will make me like/tolerate a particular food more. You know, for the sake of getting more variety in my diet. Or being adventurous. Or not being a pain for other people to cook for. Cheesy Golden Beet Chips, I'm relying on you to help me like beets more.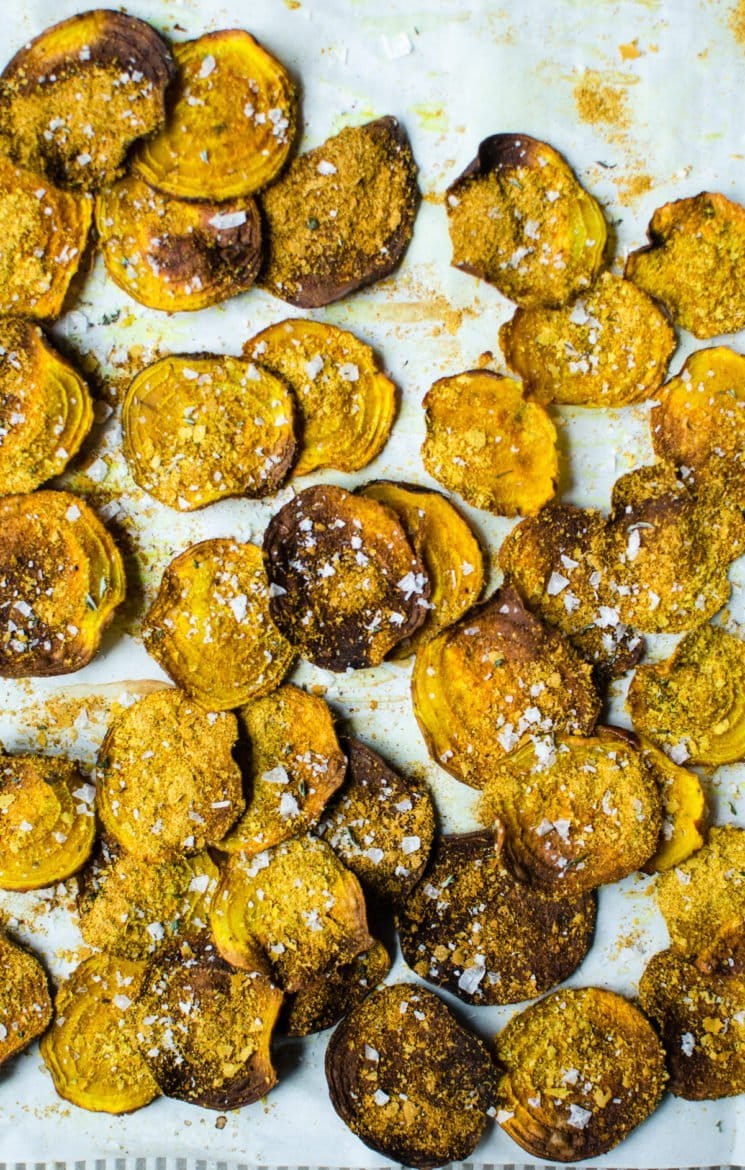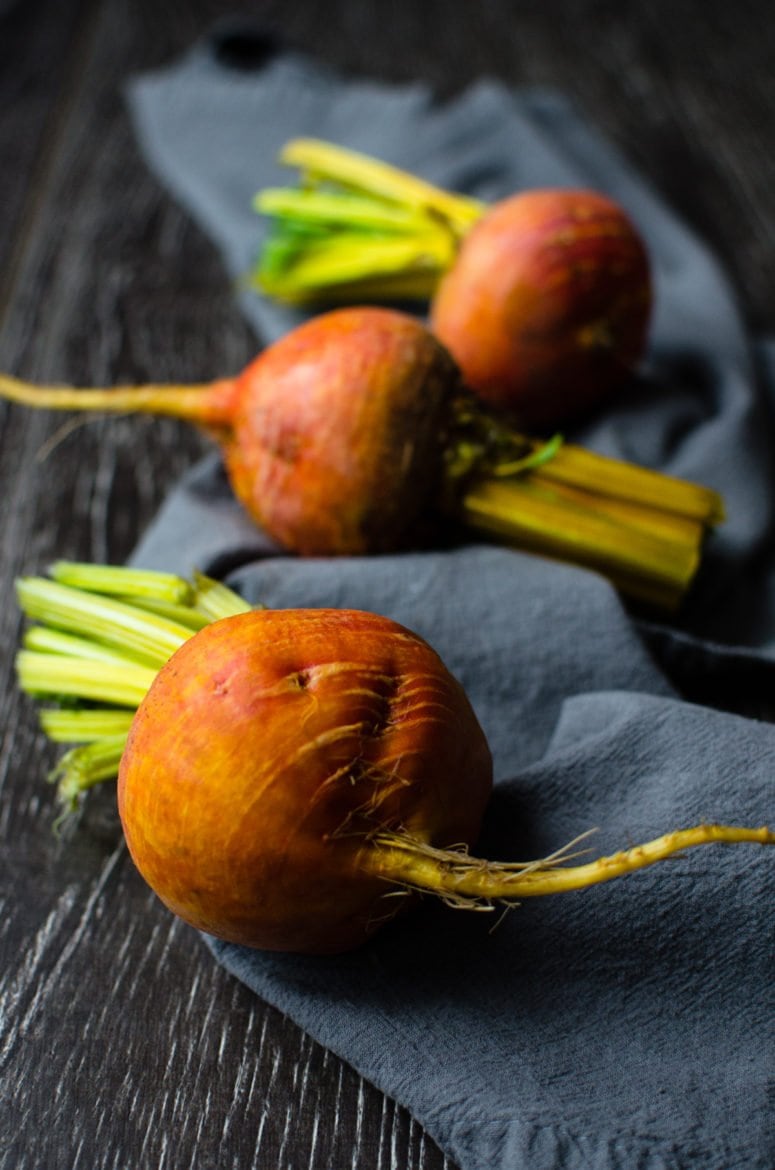 Beets and I have never been close. To get to the point and be brutally honest, I think they taste like dirt. When I look at trendy blogs and restaurant menus and see the word "beet puree" or "roasted beets" or "beet hummus" I roll my eyes and wrinkle my nose. I gag at the thought of putting beets in a smoothie.
So why am I sharing a recipe for beet chips? Well, let's just have a second helping of honesty here. The truth is, I'm a very picky eater. Yes. The type of person that chefs and dietitians and food bloggers and even the beloved people who attempt to cook for me would rather avoid.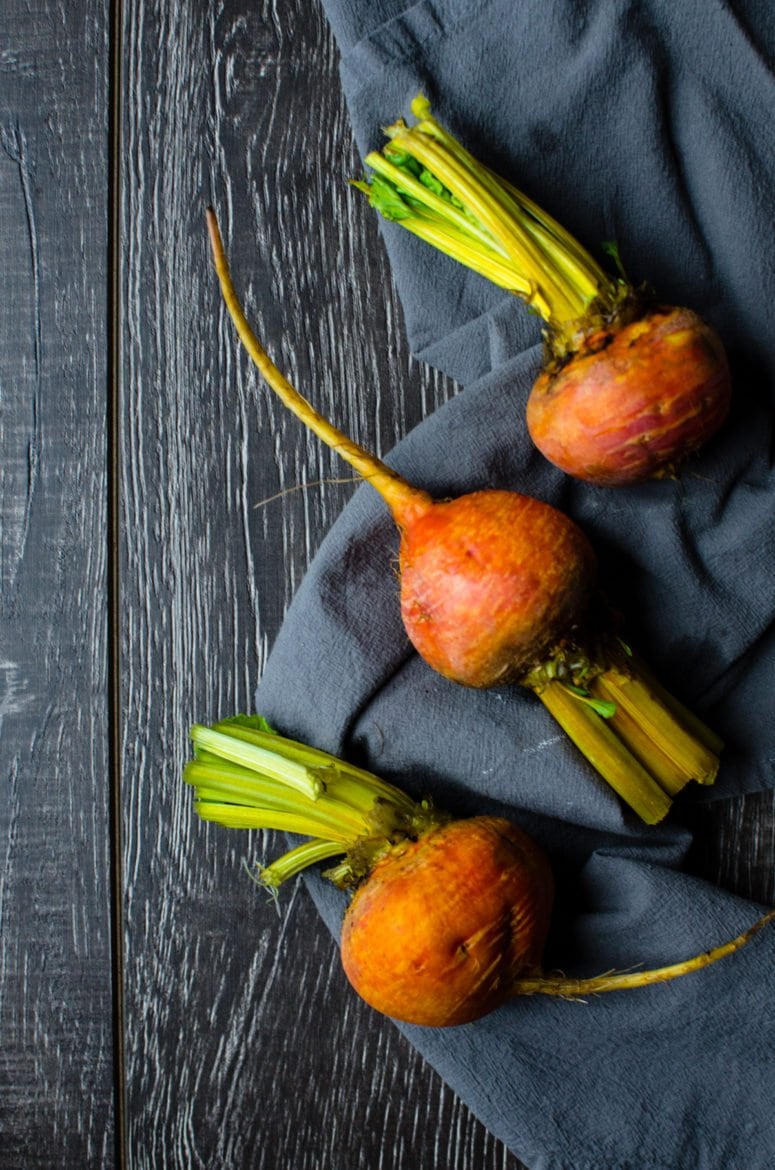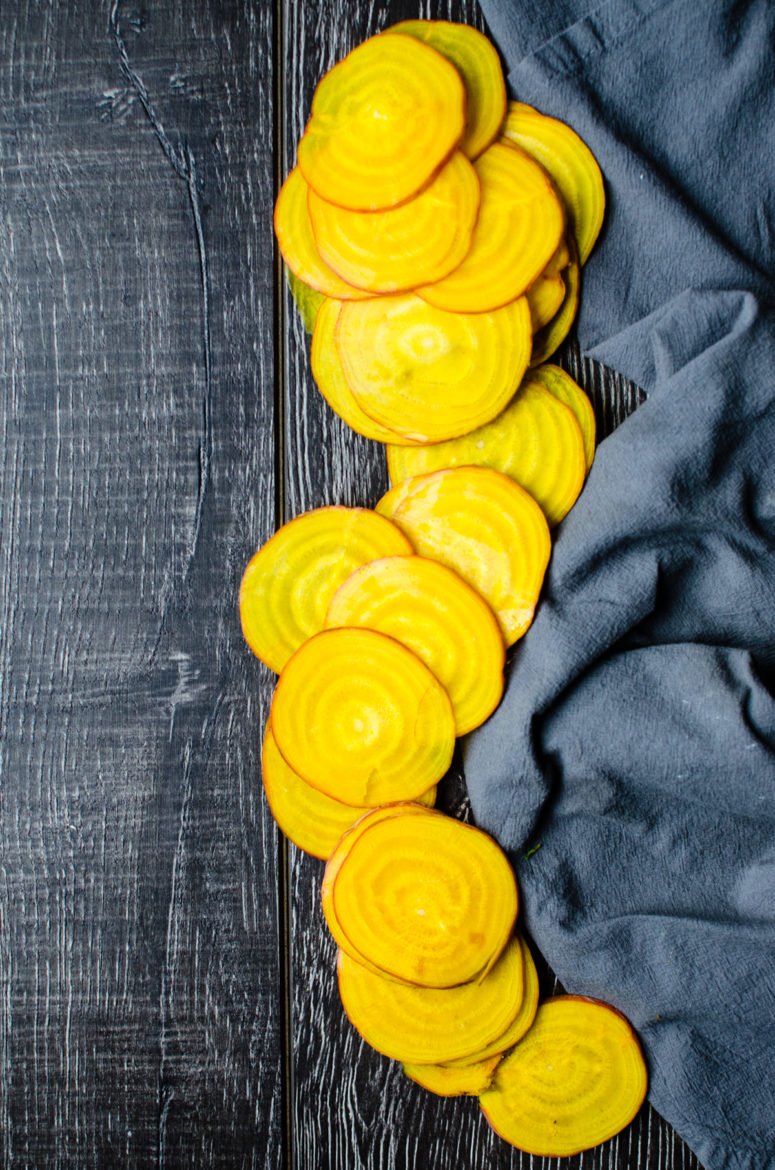 Here I am – 29+? years old – and I won't touch guacamole if it has onions in it. I'd rather never eat dessert again if the only desserts left involved marshmallows, meringue, whipped cream, or anything with a "foamy" texture. I can't stand to eat eggs in any form except breakfast casseroles or majorly cheesed-up scrambles. It was a major life milestone for me when I learned to eat pizza with tomato sauce on it.
Beets are definitely on my laundry list of foods I'd rather avoid. I want so badly to like them though. I mean, they are some of the most gorgeous and stunning foods to look at – what colors can compare to ruby and golden beets? They are affordable to buy and fairly easy to prepare. So today I'm sharing these Cheesy Beet Chips and saying that they're a pretty decent/enjoyable way to eat beets. Truly!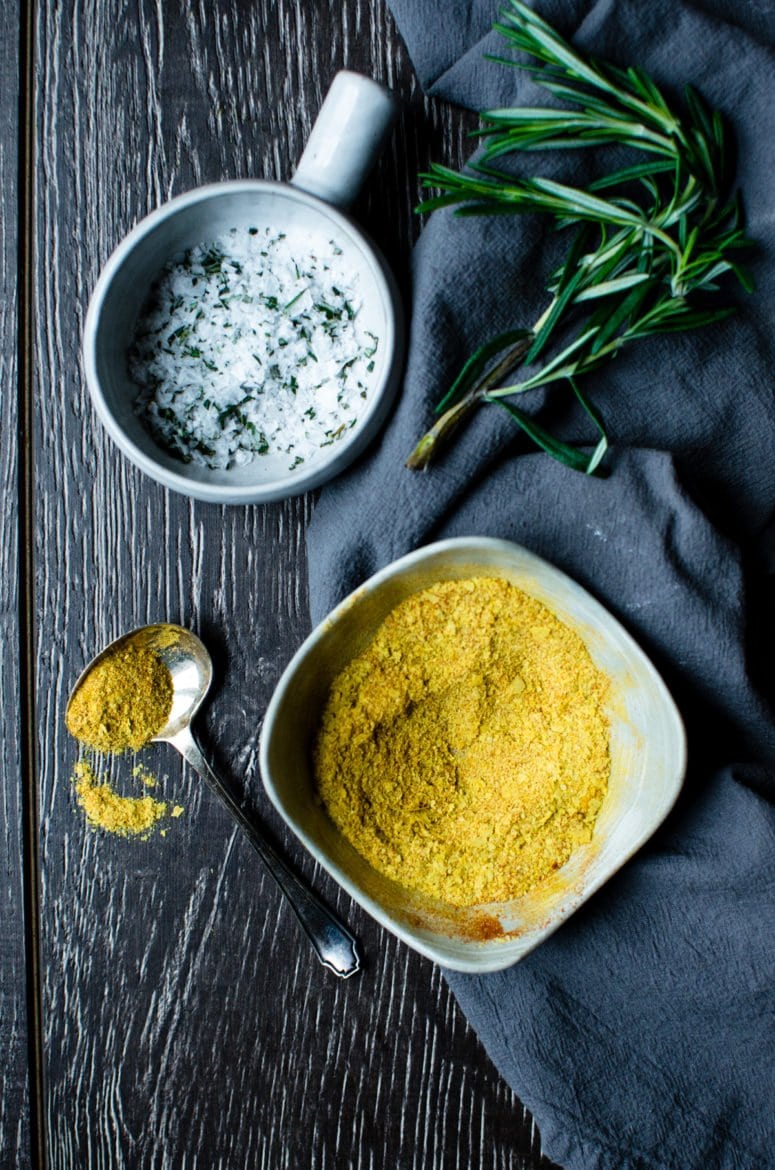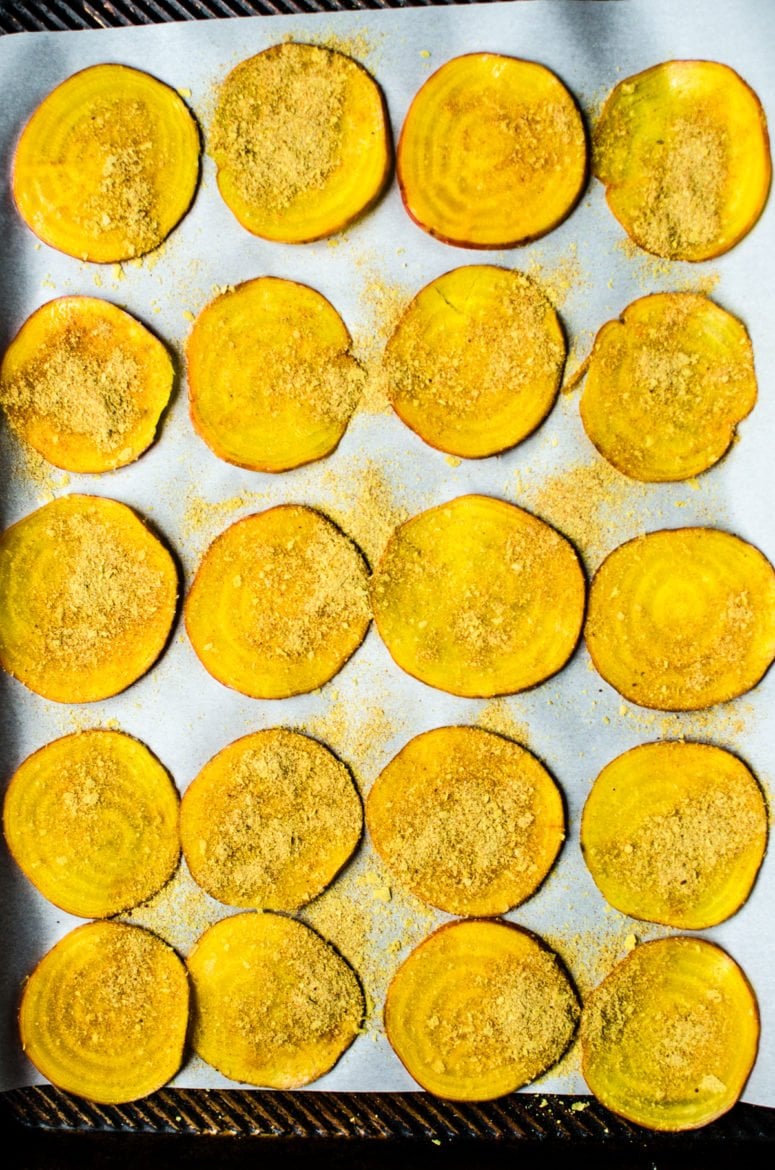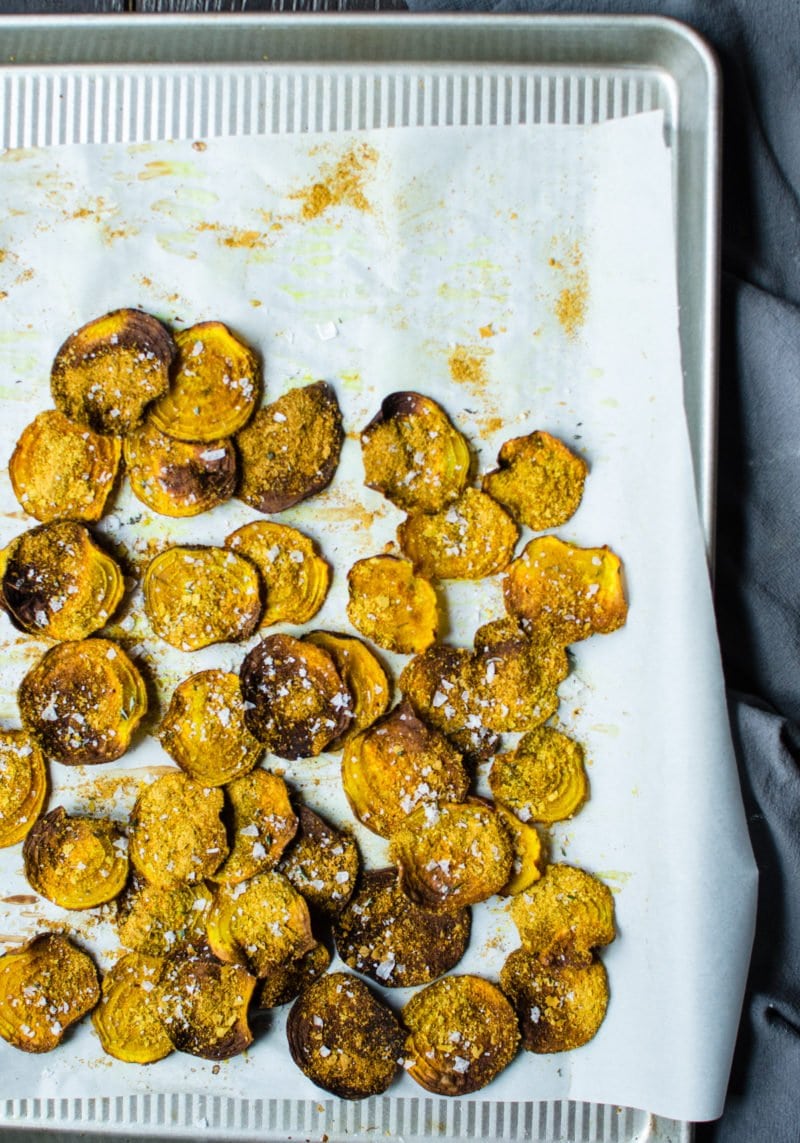 I will confess that the "cheesy" part of this recipe does not involve cheese at all, but a yellow powder called nutritional yeast that vegans try and talk themselves in to thinking it tastes like cheese. It doesn't taste like cheese at all. But it's a great way to add an umami flavor component to your beet chips. Yay for umami!!! Add some smoked paprika, garlic powder, and a little rosemary sea salt to the mix and your beet chip is going to taste startlingly similar to something you might want to eat while watching the Super Bowl. Right before you reach for a buffalo wing….
I'd suggest making these little chips as a side to a slider, wrap, or favorite sandwich. The savory + salty crunch will be satisfying and you'll get a good dose of fiber, folate and manganese. Plan to eat them the day you make them, as they tend to soften up in storage (you could just bake the leftovers another day to crisp them up again).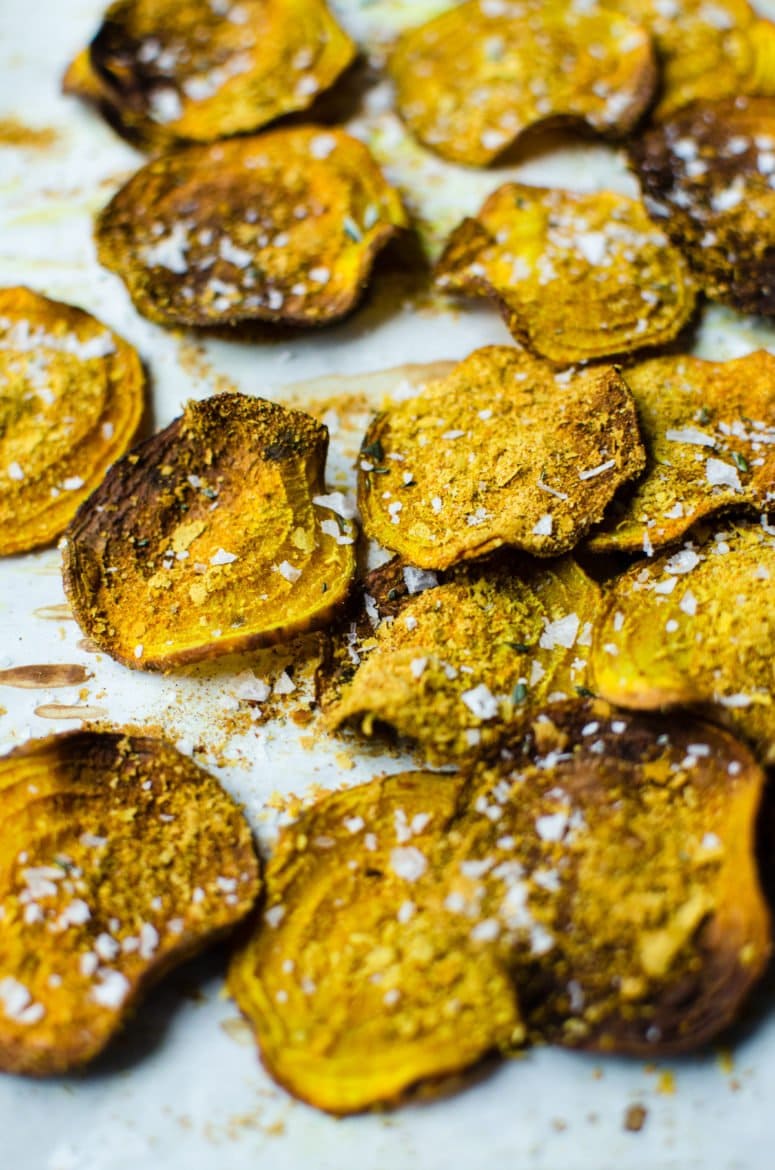 Cheesy Golden Beet Chips with Turmeric and Rosemary Sea Salt
These Cheesy Golden Beet Chips are a great way to enjoy beets and work well as a veggie side for burgers, sandwiches, pitas and wraps! Gluten free, vegan, and super easy to make!
Print
Pin
Ingredients
For the beet chips:
3

medium-large size beets

washed thoroughly and ends cut off (do not peel them)

1/2

teaspoon

kosher salt

2

tablespoons

olive oil

Parchment paper
For the "cheese" seasoning:
2

tablespoons

nutritional yeast flakes

¼

teaspoon

garlic powder

1

teaspoon

smoked paprika

1

teaspoon

ground turmeric
For the rosemary sea salt:
1

tablespoon

sea salt flakes

½

teaspoon

finely minced fresh rosemary
Instructions
Preheat oven to 325 degrees F. Line two baking sheets with parchment paper and set aside.

Using a mandoline, slice the beets into 1/16'' rounds. Place the rounds in a bowl and sprinkle with salt and the olive oil. Toss to coat evenly.

Place the beet round in layers on top of a surface lined with paper towels (you can place one layer of beets on top of another layer with paper towels in between, ending with a paper towel on top). Let the beets rest for 15 minutes.

While the beets rest, combine the nutritional yeast, garlic powder, smoked paprika, and turmeric in a small bowl. Set aside.

Combine the sea salt flakes and fresh rosemary in another small bowl. Use your fingers to rub the rosemary into the salt flakes - this will release the natural oils from the herb. Set aside.

Dabbing any excess moisture off of the beets, place them on a single layer on your parchment paper lined baking sheet. Sprinkle the rounds with the cheese seasoning.

Bake for 30-45 minutes or until crisp. Check at the 30 minute mark and remove any chips to a platter that are crisp and continue to cook the other chips until they are golden brown and crispy.

Remove the chips from the oven and let them cool for 10 minutes. Sprinkle rosemary sea salt on top as desired and serve at room temperature. Store chips in an airtight container up to 1 week.

Extra rosemary sea salt can be stored in an airtight container up to a week - use on roasted veggies, potatoes, chicken, fish, pork, or beef!
Notes
Beets tend to release a lot of moisture during cooking, which can lead to a soggy beat chip. To help with this, the recipe uses a technique called "sweating" that involves using salt and a light oil marinade to help the beets release some of their juices before baking. I learned of this technique through A Spicy Perspective's recipe.