This Easter Brunch Grazing Board is filled to the brim with traditional Easter breakfast favorites and is the perfect balance of savory and sweet!
Grazing boards are all the rage right now, and for good reason! While it looks impressive, it's pretty chill and no-fuss when it comes to time spent in the kitchen and effort required. This is the winning option for those of us that want to prep ahead, have little to no cooking to do, and have something for everyone. That's the amazing thing about grazing boards! You can make as little or as much from scratch as you'd like. The variety offered ensures that you and your guests will enjoy food that they love.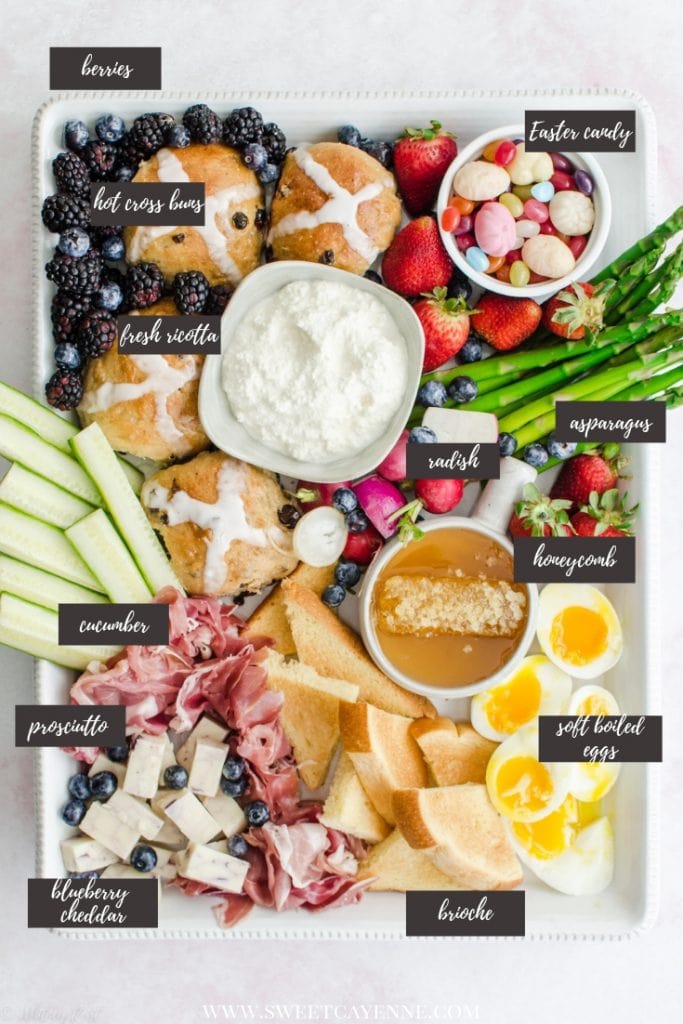 I had so much fun making my St. Patrick's Day grazing board last month to share with friends, and I've been planning this Easter one for weeks now! Keep reading for all of the yummy details...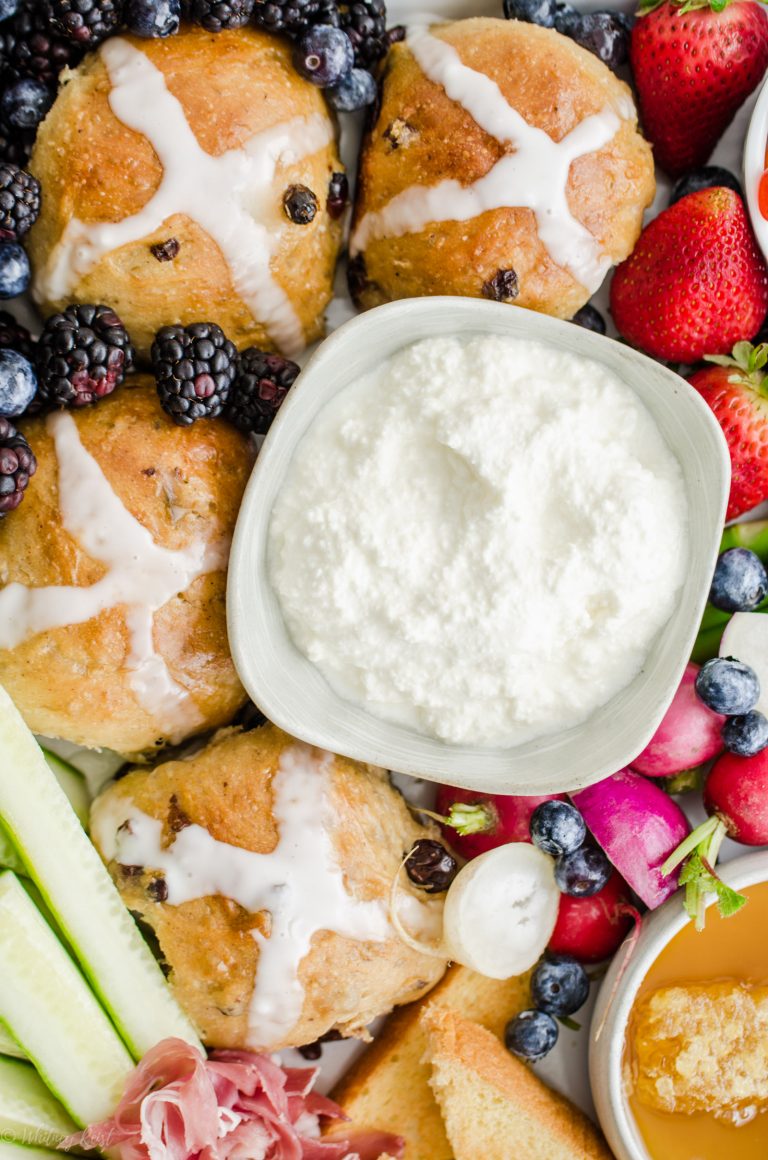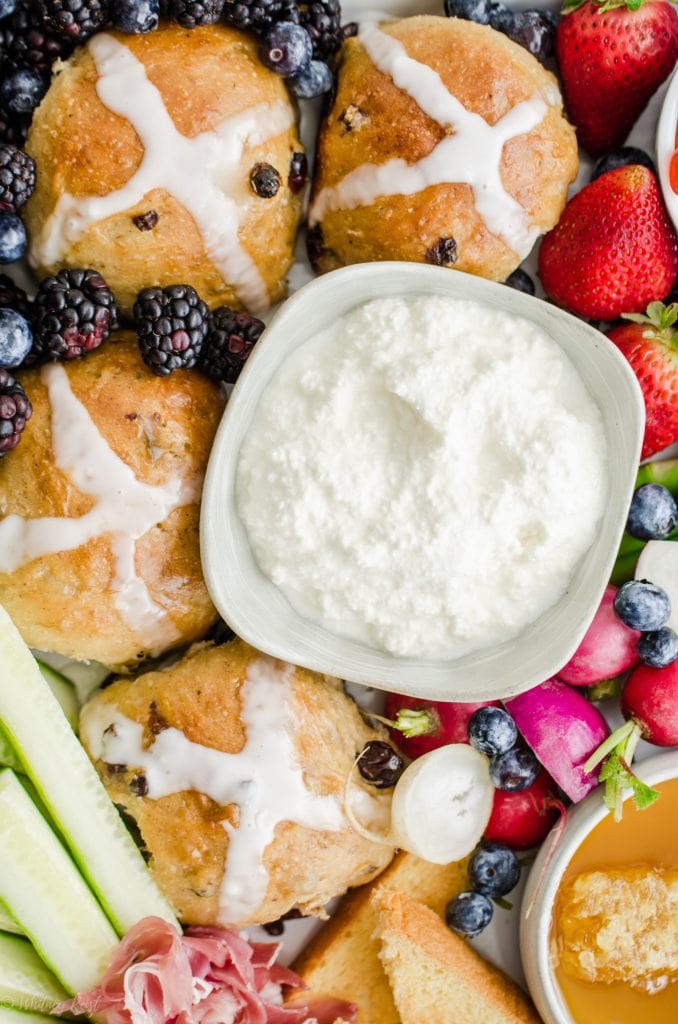 Ingredients
I was able to purchase all of my Easter board ingredients at two of my favorite stores: Trader Joe's and Sprouts. They always have the best selection of fun, fresh, seasonal items. A lot of times, I will go into their store not knowing what I want to put on a board. They make it easy to look around and get lots of inspiration!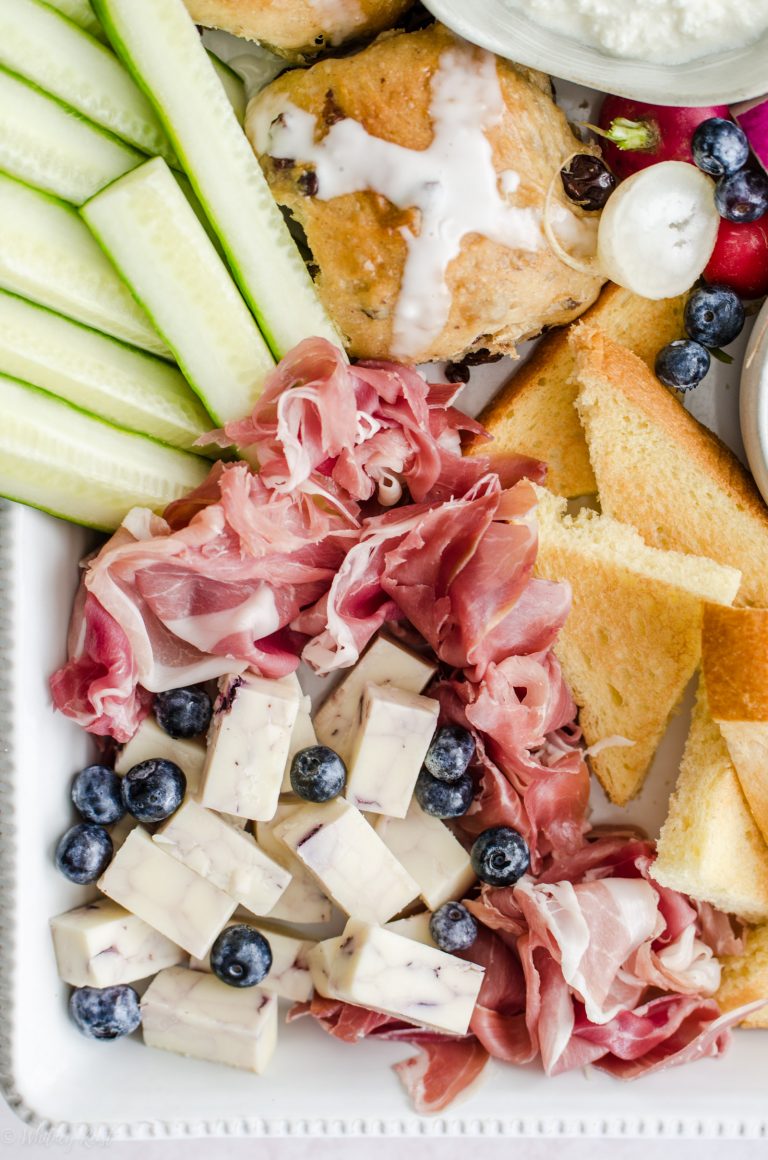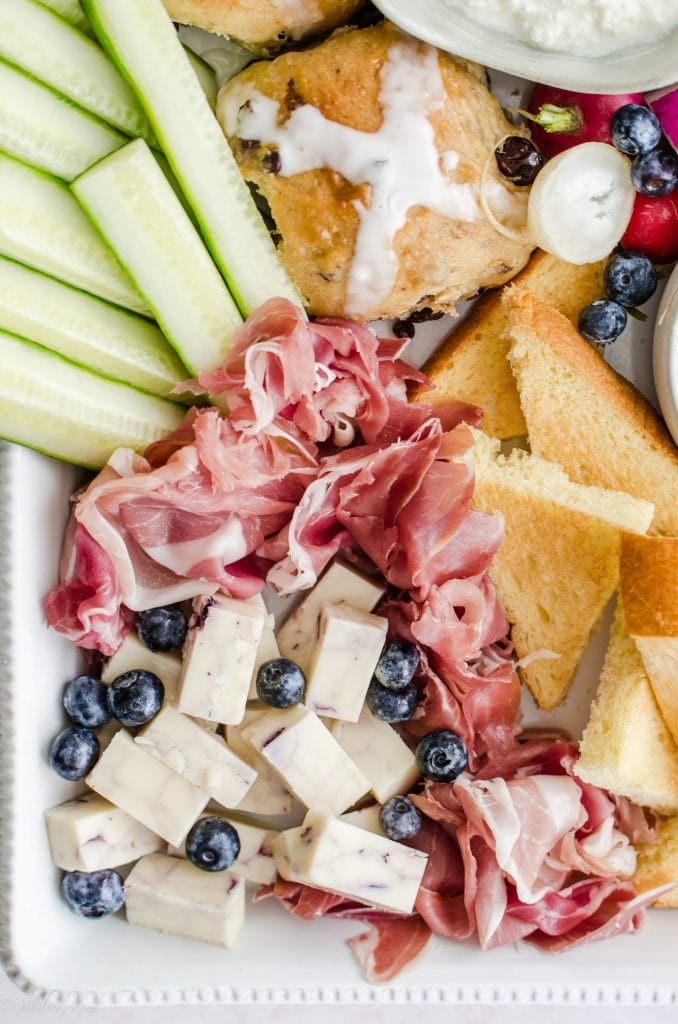 Fresh berries - I used a combination of blackberries, blueberries, and strawberries for my board. Plan to purchase these the day before your gathering to ensure optimum freshness!
Easter candy - I chose the Easter gummies and jelly beans from Trader Joe's. They have natural flavors and pastel colors that look so good on the board. Having this option on the board will keep the kids and kids-at-heart very happy!
Spring veggies - on a spring-themed board, I love multi-colored radishes, lightly blanched asparagus (see this crudites post for details), and English cucumber. All of these are delicious paired with the fresh ricotta and prosciutto.
Honey with honeycomb - this just looks like spring! And it is so dreamy drizzled on the ricotta after you spread it on a slice of brioche toast. YUM!
Soft boiled eggs - because of EASTER! These are delicious with the brioche toast and prosciutto and are one of the main protein options on the board. I followed these instructions for making soft boiled eggs and it worked perfectly!
Brioche toast - I purchased a store-bought loaf of brioche for my board, cut each slice into triangles, and lightly toasted them with butter for my board.
Prosciutto, Serrano, or country ham - since ham is traditional at Easter, feel free to use any of those versions! Either choice will be delicious paired with the asparagus, soft boiled eggs, brioche, and cheese.
Seasonal cheese - I purchased a block of blueberry cheddar at an Amish market on a recent road trip, and cut it into small cubes for my board. Trader Joe's has several versions of berry cheese available at different times of the year, so I would recommend looking there.
Fresh ricotta - I chose to make TWO of the items on my board completely from scratch, including this homemade ricotta, just to add a special touch. Feel free to use whole milk ricotta if you choose not to make your own.
Hot cross buns - I made the Easy Hot Cross Buns from King Arthur Flour and love how they turned out. If you make these, be sure to read to the bottom of the recipe and do the modification for making the buns ahead of time! You can also find hot cross buns at many a grocery store and local bakery around Easter time.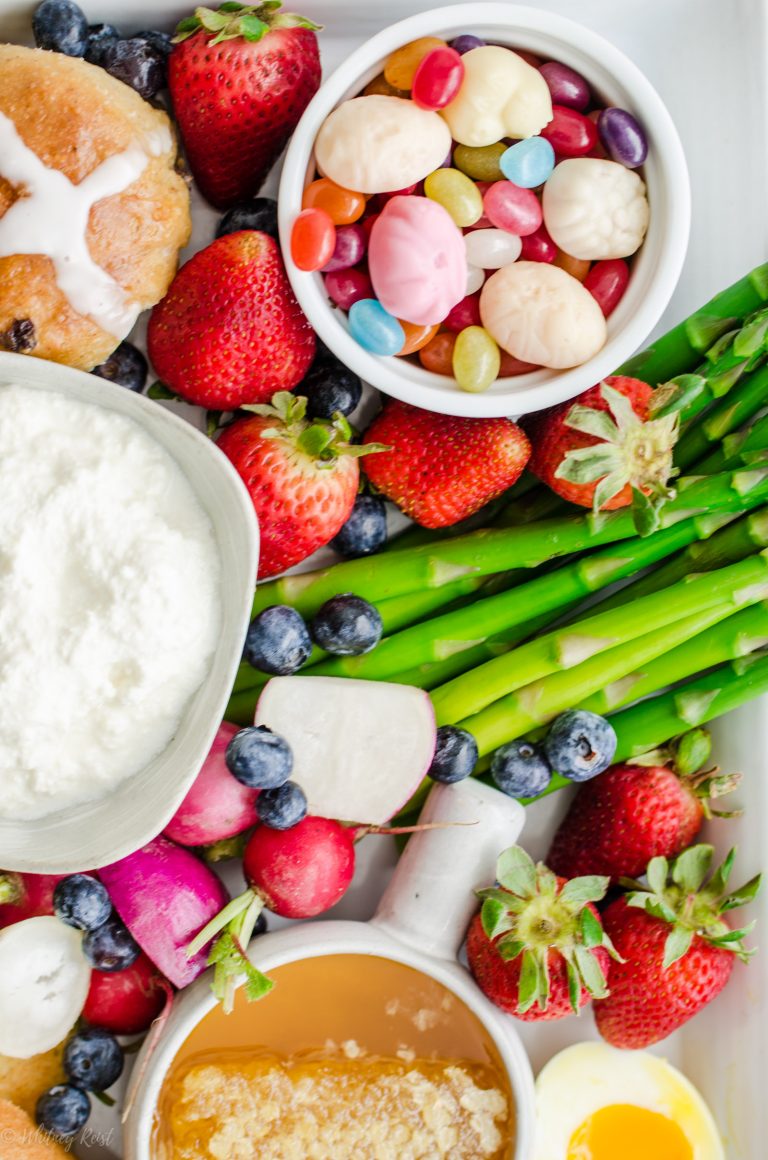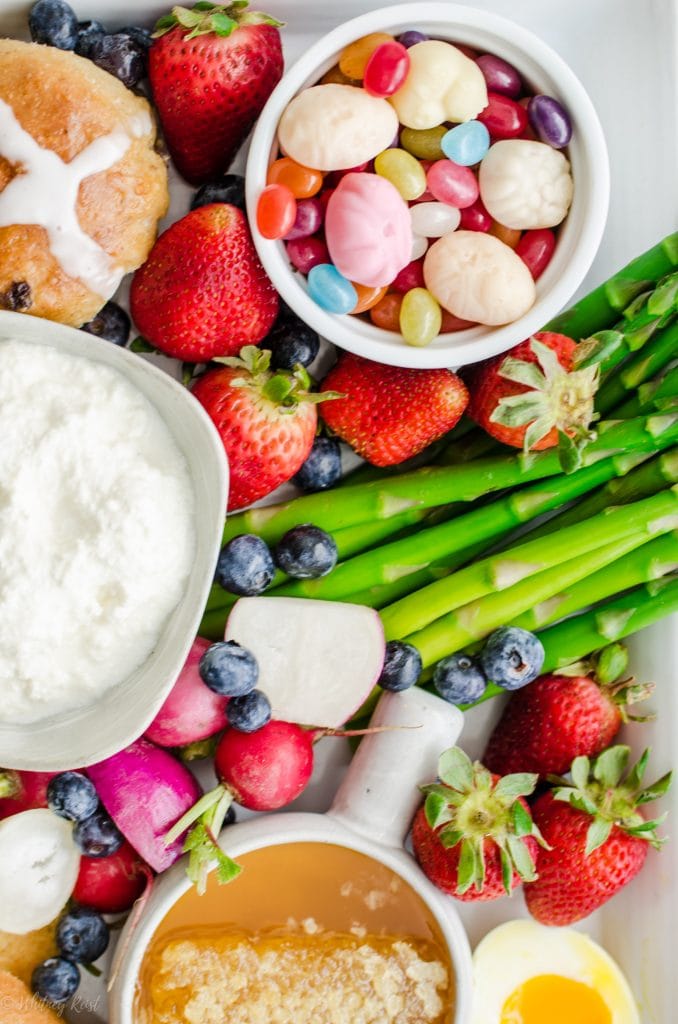 Styling tips
Place ingredients that need to be in containers first - this will help to anchor your board and give a little structure to style other ingredients around. Any dip, spread, or small items like nuts or candy are great options for small containers. An egg or bunny shaped bowl would be perfect here!
Put ingredients that go together near each other - this will suggest to your guests what they should pair together. I chose to put my soft boiled eggs near the toast, blueberries near the blueberry cheese, and honeycomb near the ricotta.
Have a few "scatter" ingredients you can tuck in nooks and crannies - items like berries, nuts, or candy are great for tucking into spaces to make your board look full and whimsical!
Utilize mini utensils, holiday-themed accessories, or edible flowers for interest - this bunny shaped bowl would be perfect for this board. These bunny card holders are a great option for labeling items on your table, and if you can find them, edible flowers like nasturtium or pansies would be beautiful on an Easter board!
Pairings with your board - I would highly recommend serving lemonade in a pretty drink dispenser with this strawberry lavender syrup for guests to mix in it! Also, Ryan and I have the tradition of decorating these Spring Cutout Cookies with family and friends after brunch on Easter and I can't wait to make them again this year!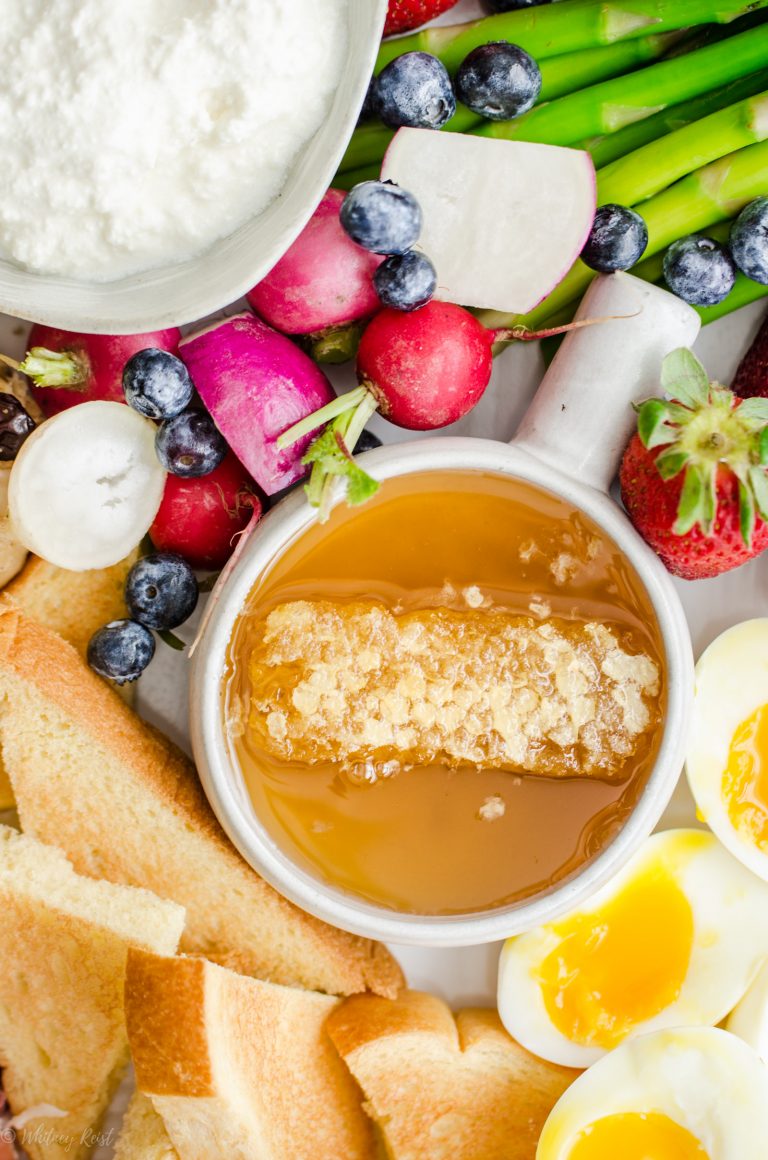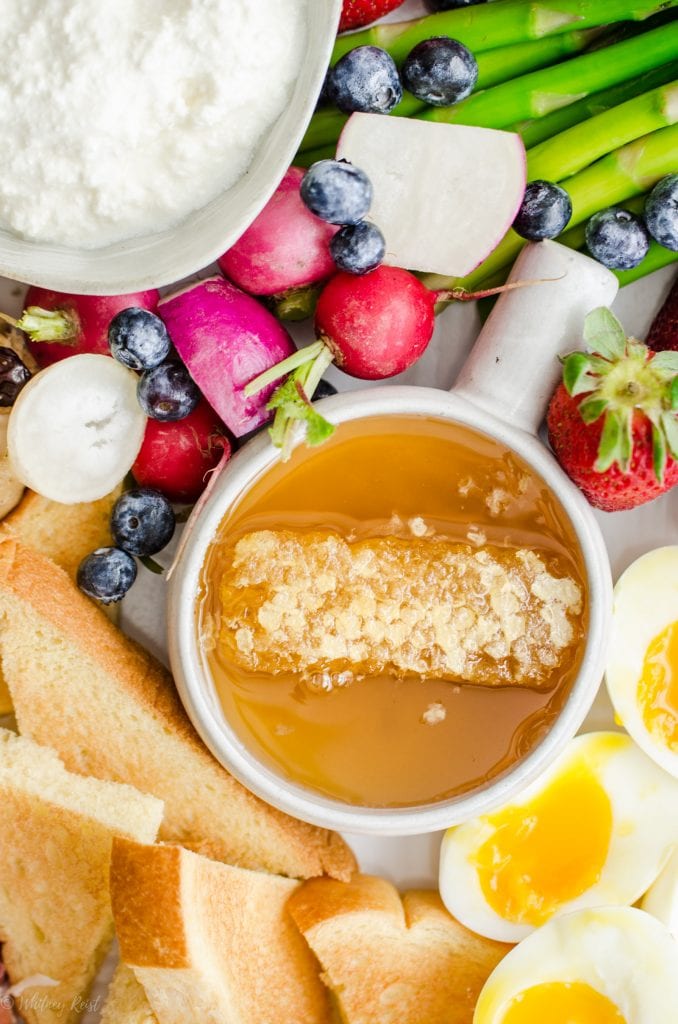 Are you ready to try this Easter Brunch Board? I'm so excited for you to try this recipe. Once you get the chance to make it, please let me know how it turns out for you!
Leave a comment and rate the recipe below. This will help me with the creation of future recipes!
I'd also love to feature your creation in my weekly newsletter, so you can upload a photo to Instagram with the tag @sweetcayenne5 to be featured! Quick and easy recipe videos are available on my YouTube channel, and lots of menu inspiration on my Pinterest boards.
Recipe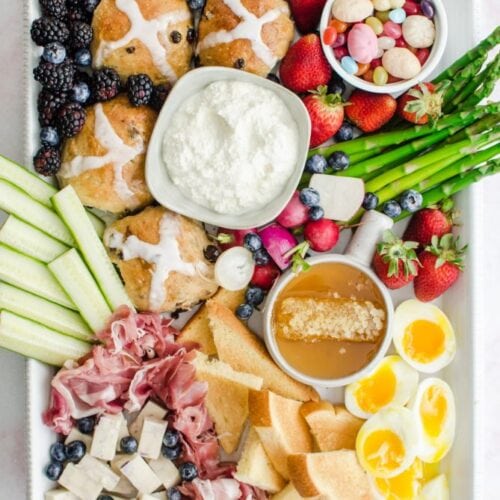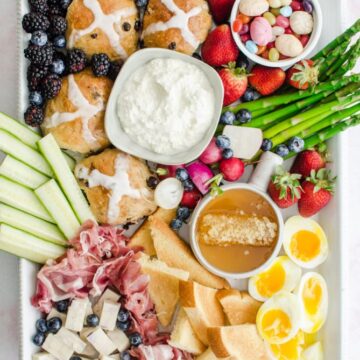 Easter Brunch Board
This Easter Brunch Grazing Board is perfect for any spring gathering and features the perfect balance of savory and sweet brunch ingredients.
Print
Pin
Rate
Ingredients
Fresh berries - ⅓ cup per person

Easter candy - 2 tablespoons per person

Spring vegetables - cucumber spears, asparagus, radishes - ¾ cup per person

Honey with honeycomb

Soft boiled eggs - 2 halves per person

Brioche toast - 2-3 triangles per person

Prosciutto, Serrano, or country ham - 2 ounces per person

Seasonal cheese - blueberry cheddar - 1 ounce per person

Fresh ricotta cheese - 2 tablespoons per person

Hot cross buns - 1 per person
Instructions
The morning of:
Slice cheese and veggies. Make soft boiled eggs. Keep all ingredients chilled until ready to serve.
30 minutes before serving:
Toast brioche triangles.

Place the candy, ricotta, and honey in small serving vessels or bowls. Spread them out on your charcuterie board or platter to make a frame or anchors to arrange the other ingredients around. I like to put my brioche toasts and hot cross buns in the center line of the board, then arrange the other ingredients around them. Use items like berries or candy to tuck in nooks and crannies of your board to make it look full. Serve and enjoy!
Serving:
1
Serving
|
Calories:
753
kcal
|
Carbohydrates:
86
g
|
Protein:
40
g
|
Fat:
27
g
|
Saturated Fat:
12
g
|
Cholesterol:
225
mg
|
Sodium:
1660
mg
|
Potassium:
450
mg
|
Fiber:
9.3
g
|
Sugar:
35
g
|
Calcium:
320
mg
|
Iron:
4
mg
Pin this, pretty please!