This easy baked mac and cheese is made in a cast iron skillet and does not require making a bechamel sauce! It's so simple to make and is the perfect balance of creaminess and cheesy goodness.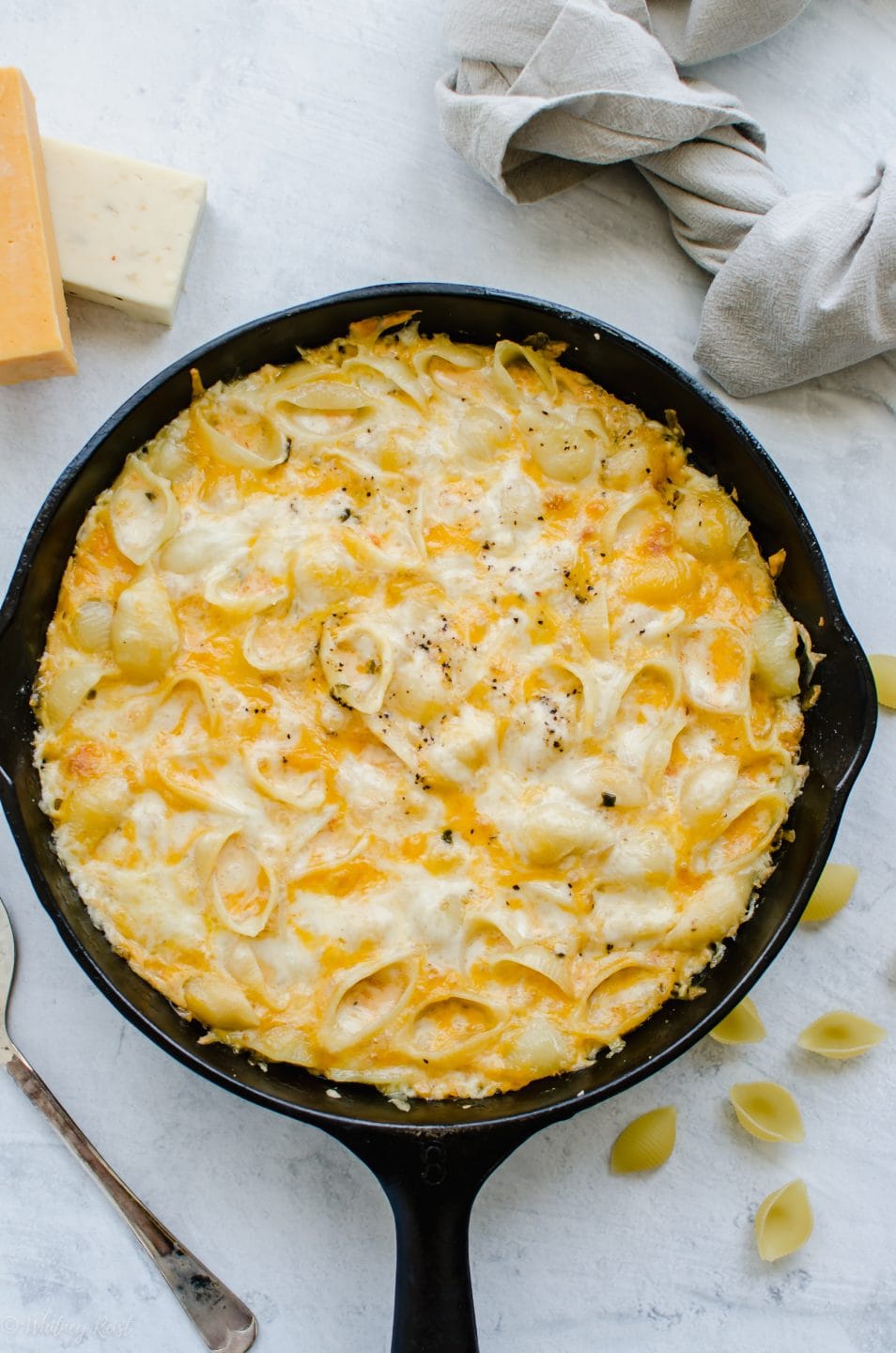 Jump to:
About the recipe
Happy first week of summer everyone! We have *officially* entered into the season of cookouts, pool parties, bonfires, and barbecues. Whoop!
And speaking of barbecues, I have to say that the men in my family are becoming quite the crew of pitmasters! It all started with my dad, who has loved smoking meats ever since I can remember.
While the guys in our group seem to dominate the smoked meat realm (which I am totally fine with), I felt it was time for me to come up with some tried-and-true barbecue-worthy sides. Preferably sides that can also be smoked.
Enter an easy baked mac n' cheese that you cook in a cast iron skillet. This makes it perfect for the smoker, but also easy to bake in the oven for all of us indoor folks.
This mac and cheese is awesome because it doesn't require slaving over a hot stovetop to make a bechamel. Nope! We are getting the creaminess from a simple blender mixture of evaporated milk, eggs, and spices. You can assemble this ahead of time, then bake when ready.
Vary the cheeses if you like, add a breadcrumb topping or your own custom mix-ins. We like variety around here! Are you ready for the specifics? Let's get to it!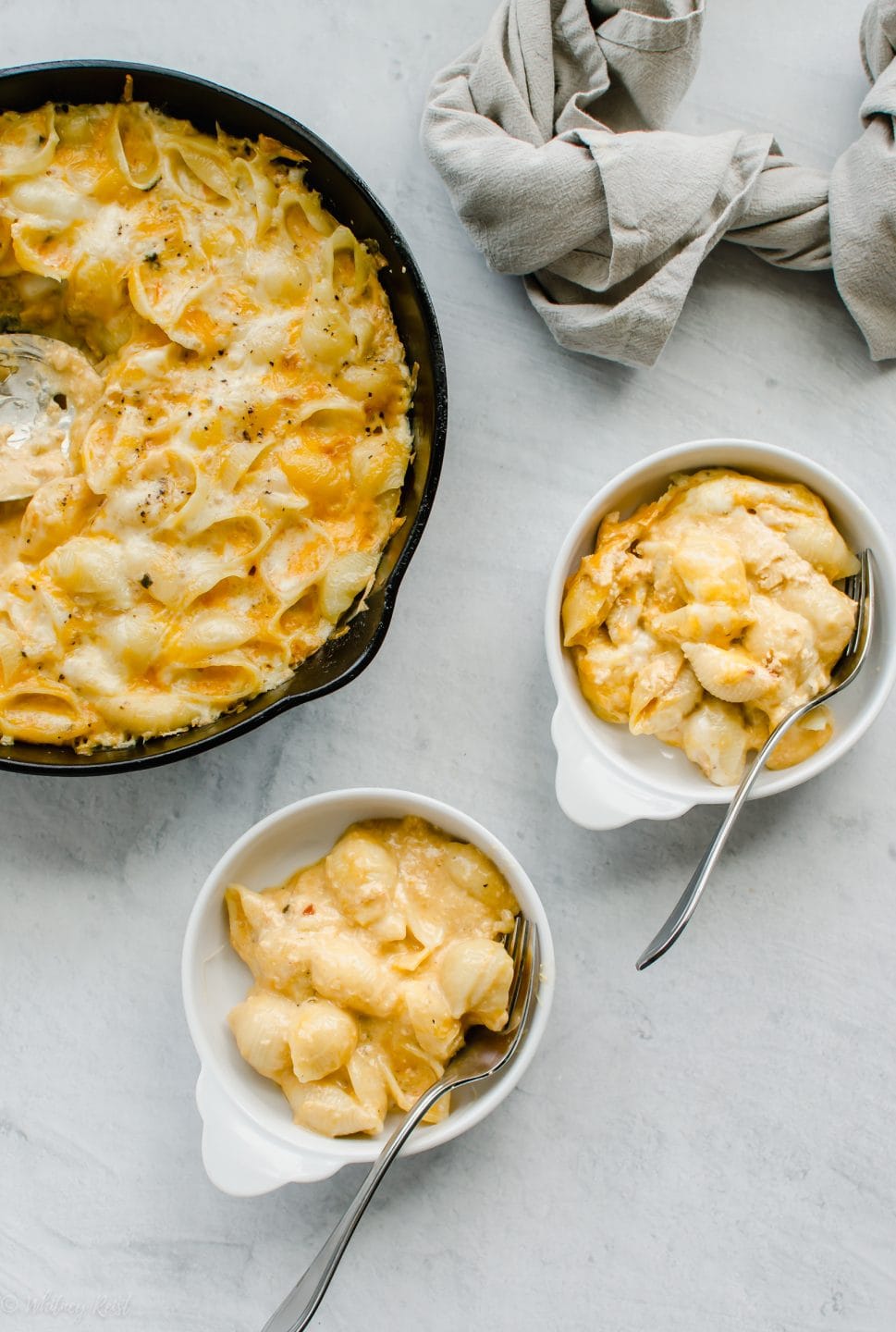 Ingredients
Dried pasta shells - because in my world, shells and cheese are better than elbows and cheese. A shell holds more of the ooey, gooey, cheesy magic we all love in mac and cheese. And it just seems a little extra special.
A blend of cheeses - we want a good balance of flavor and melty-ness here. I've found the perfect combo to be equal parts Pepper Jack, sharp cheddar, and part-skim mozzarella.
You MUST buy blocks of cheese and grate it yourself for this recipe. Pre-grated cheese has anti-caking agents added to it that decreases the ability of the che]ese to melt nicely, which is not a good thing in the case of mac and cheese!
Evaporated milk - using a can of evaporated milk over regular milk decreases the likelihood of your milk curdling at high temperatures. It also ensures a smooth, silky coating of sauce around the noodles.
Eggs - a few eggs will help hold the pasta mixture together as it bakes. But not so much that the mac and cheese isn't creamy. This recipe is not as creamy as stovetop noodles with sauce, but it's also not as casserole-like as most recipes for baked mac and cheese. It's a nice balance of both worlds!
Spices - to enhance the flavor of the cheese and add a little interest to the dish, I like to add a little pinch of this and that. Meaning, smoked paprika, dry mustard powder, hot sauce, and Worcestershire sauce. These are the secret ingredients!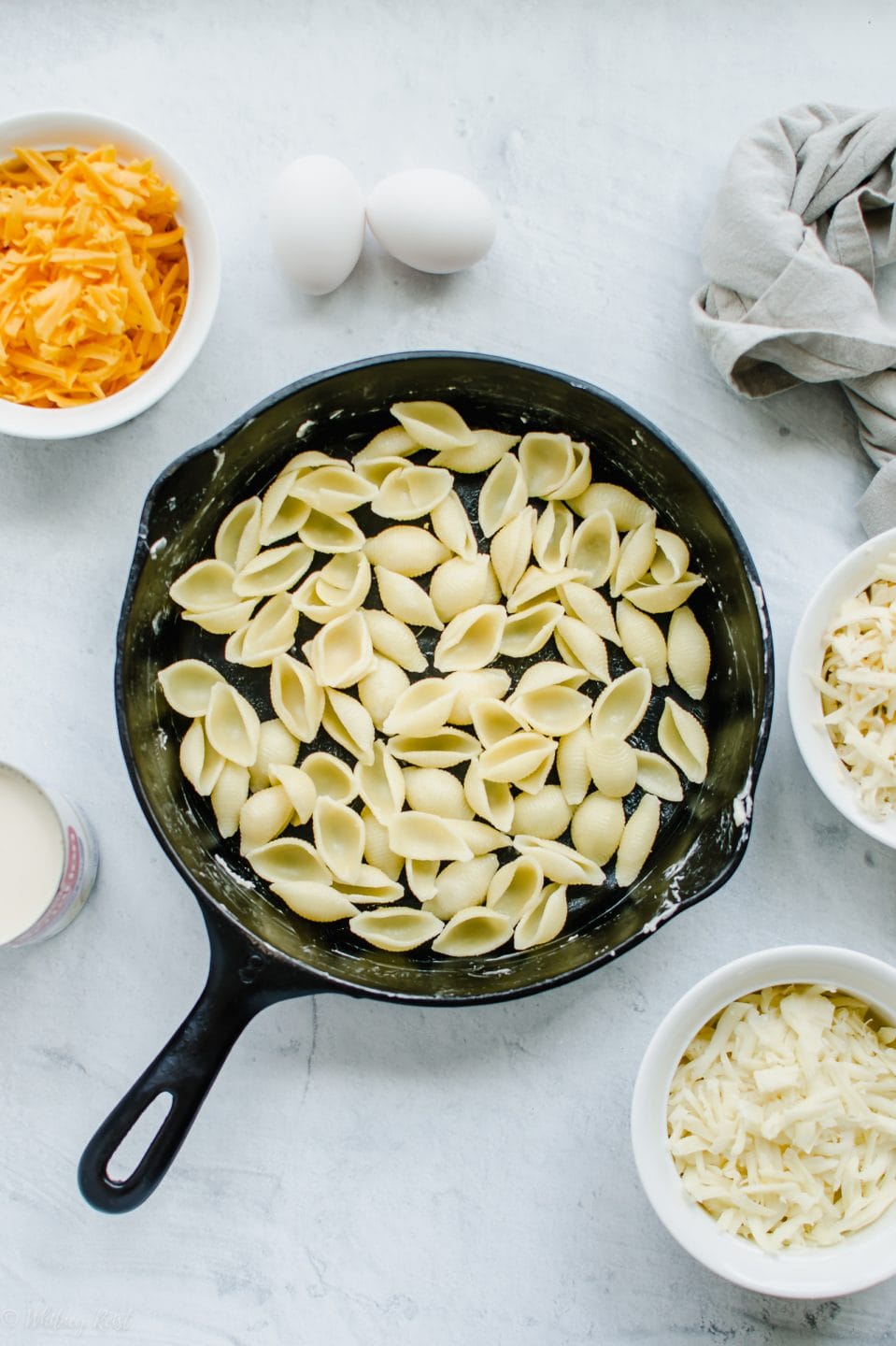 Instructions
Cook your noodles - you want them to have some toothiness/texture - in other words, be "al dente" - so aim for the lower end of the recommended cooking time on the box and taste as the noodles cook. The noodles will continue to be cooked in the final dish, so avoid overcooking them in the boiling water step!
Grate your cheese - like I mentioned earlier, your mac and cheese will have a meltier, creamier texture if you buy blocks of cheese and shred it yourself vs. buying pre-shredded cheese. This is an easy task to do while your noodles boil.
Blend your milk mixture - instead of making a bechamel on the stovetop, we blend evaporated milk with eggs and spices. This is is a welcome change in the summertime when it's hot outside and you'd rather be lounging by the pool!
Layer the noodles and cheese - start by adding a layer of cooked noodles to a buttered cast iron skillet. Add some cheese, then repeat, ending with cheese on top.
Pour the milk mixture on top - the blender mixture gets poured evenly over the layers of cheese and noodles before baking.
Bake or smoke to creamy, cheesy perfection - there are instructions for baking in an oven or in a smoker in the recipe below. The choice is up to you!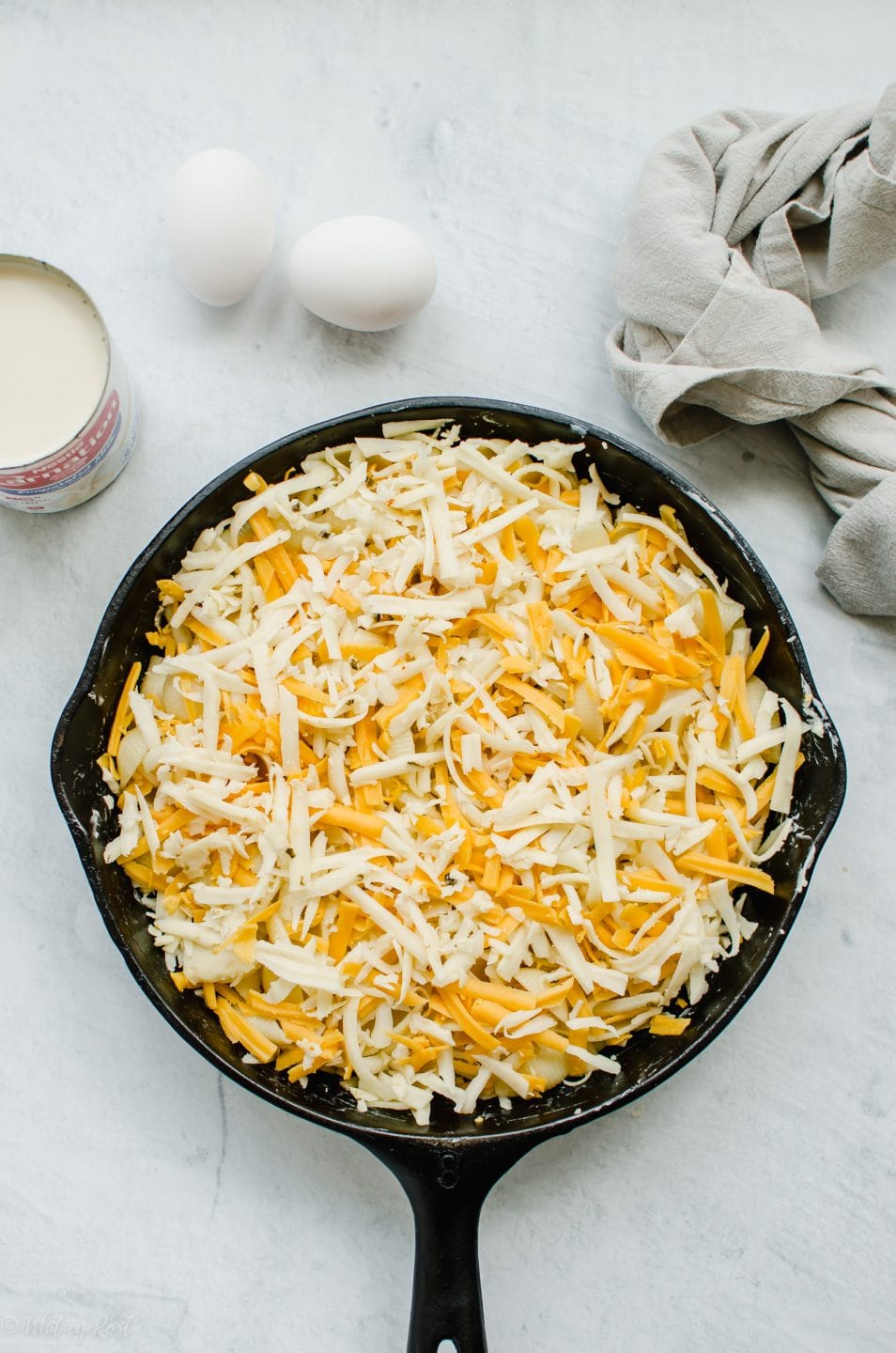 Possible modifications
Make it gluten-free - I recommend using Banza chickpea pasta for a gluten-free version of this dish.
Make it heart-healthy - you can use all part-skim cheeses and part-skim evaporated milk to decrease some of the saturated fat in this recipe. It may not be as luscious or creamy, but it will still taste good!
Change up the cheeses - you want to use cheeses that melt well in this dish, so Gruyere and Monterrey Jack would make great substitutes. For added flavor, you could incorporate blue cheese, fontina, asiago, or parmesan into the layers of noodles and cheese.
Add mix-ins - since this recipe is layered and baked, it would be deliciously simple to make a complete meal by layering in chopped chicken breast, roasted broccoli, butternut squash, Brussels sprouts, sauteed greens, caramelized onions....there are so many tasty possibilities!
Add a topping - you could top the final dish before baking with any type of breadcrumb or finely chopped bacon if you like!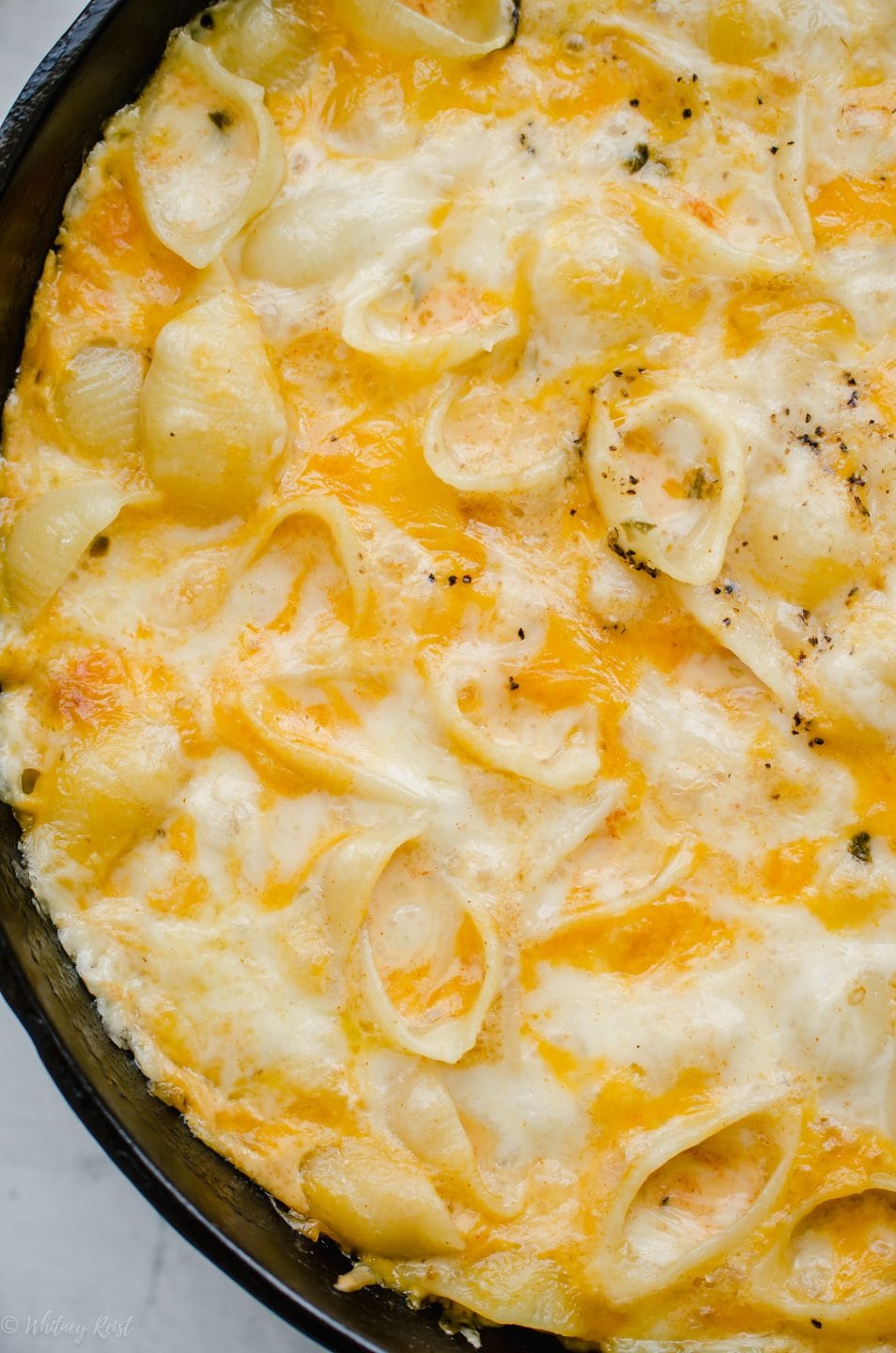 What to Pair with Easy Baked Mac and Cheese
This recipe makes a delicious accompaniment to "cookout" food, like hamburgers, hot dogs, brisket, pulled pork, grilled chicken, or kabobs! Check out some of my favorite pairing options below: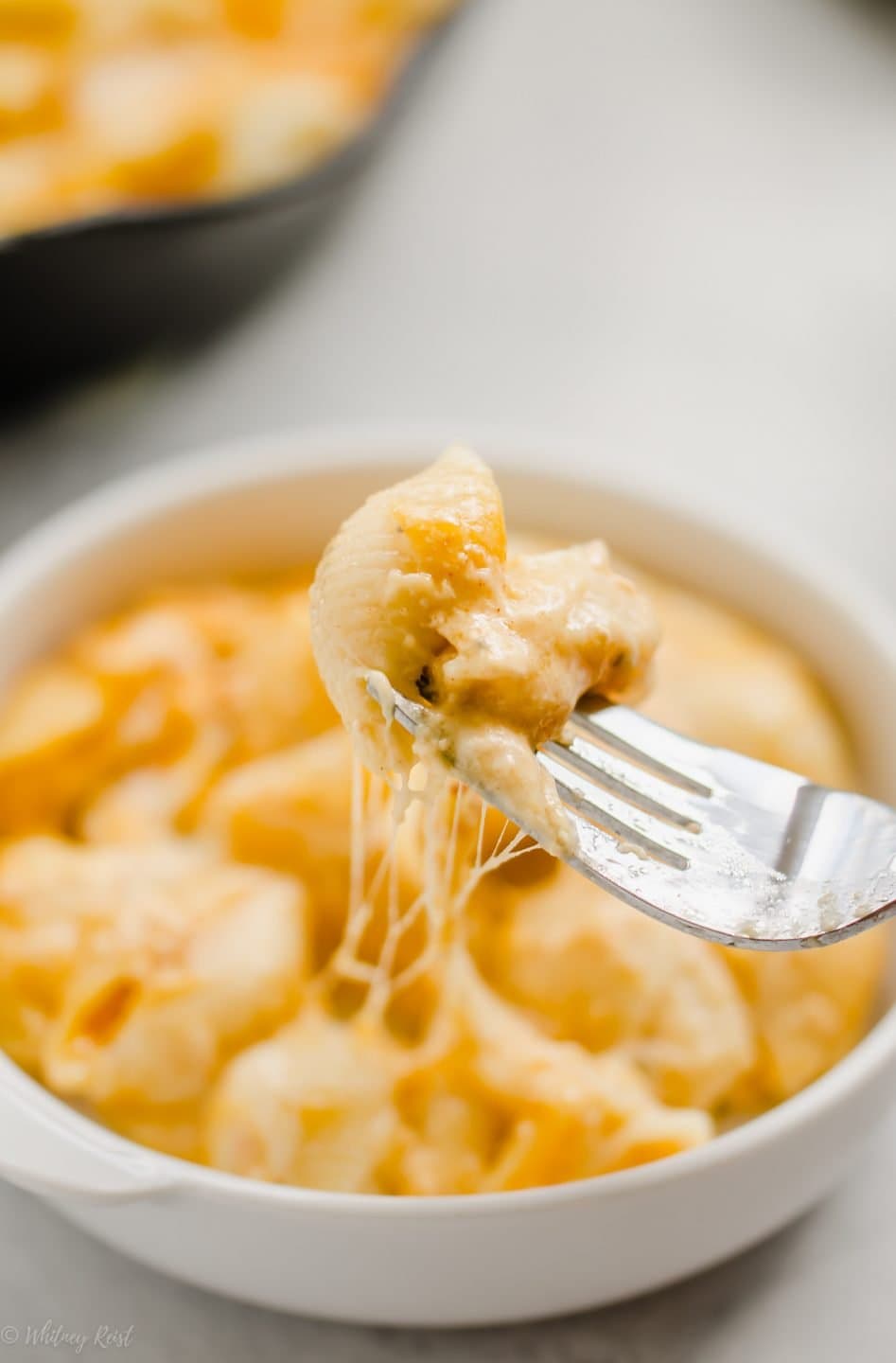 Are you ready to try this Easy Baked Mac and Cheese? I'm so excited for you to try this recipe. Once you get the chance to make it, please let me know how it turns out for you!
Leave a comment and rate the recipe below. This will help me with the creation of future recipes!
I'd also love to feature your creation in my monthly newsletter, so you can upload a photo to Instagram or Twitter with the tag @sweetcayenne5 to be featured!
Recipe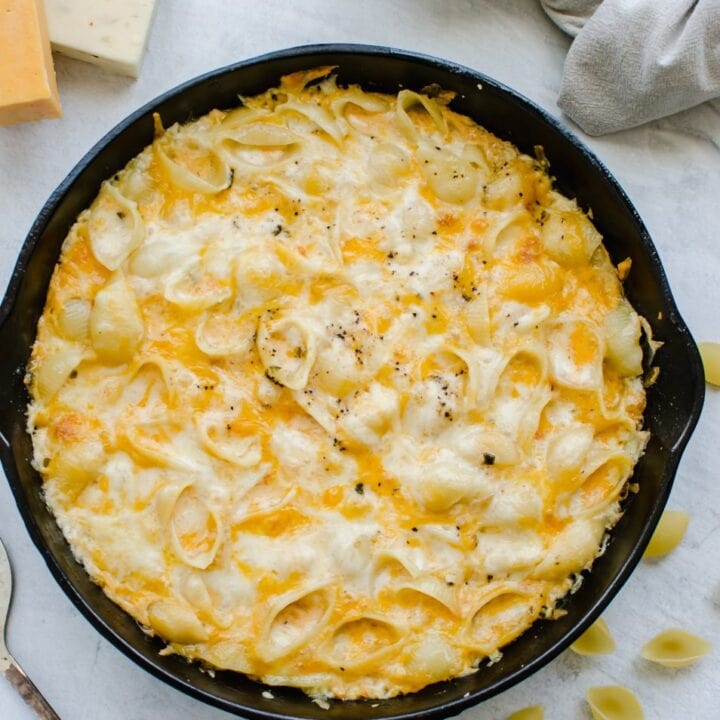 Easy Baked Mac and Cheese
This easy baked mac and cheese is made in a cast iron skillet and does not require making a bechamel sauce! It's so simple to make and is the perfect balance of creaminess and cheesy goodness.
Print
Pin
Rate
Ingredients
8

ounces

dried shell pasta

2

tablespoons

salted butter, cut into cubes, plus more for the dish

4

ounces

pepper jack cheese, shredded

4

ounces

sharp cheddar cheese, shredded

4

ounces

part-skim mozzarella, shredded

2

large

eggs

1

can

(12 ounces) whole evaporated milk

¼

teaspoon

smoked paprika

½

teaspoon

salt

½

teaspoon

pepper

½

teaspoon

dry mustard powder

2

teaspoons

hot sauce (such as Louisiana)

2

teaspoons

Worcestershire sauce
Instructions
Preheat the oven to 375℉. Butter the inside of a 10'' cast iron skillet. Set aside.

Cook noodles according to the package instructions until just under al dente (use the lower end of the cooking time). Drain, then transfer to a bowl. Toss with cubes of butter until butter is melted.

While the noodles are cooking, grate the cheeses with a box grater or the grating attachment disk of a food processor.

In a blender, combine the eggs, milk, paprika, salt, pepper, mustard powder, hot sauce, and Worcestershire sauce. Set aside.

Layer cooked noodles with a blend of cheese (pepper jack, cheddar, mozzarella). Layer back and forth, starting with noodles and ending with cheese. You should have two layers of each in a standard 10'' cast iron skillet.

Pour the milk mixture on the noodles. Cover and bake for 20 minutes. Uncover, and bake 10 minutes more until brown and bubbly. Remove from oven and let sit for 5 minutes before serving and enjoying!
Notes
This recipe can easily be doubled and baked in a 3 quart enameled cast iron pot to serve 8-12 people. Simply double the ingredients and layer into a larger dish. If using a 3-quart Dutch oven, you will have four layers of shells and cheese. Alternatively, you can reduce the recipe ingredients by 1/2 to serve 2-4 people.
Make smoked mac and cheese: bake the mac and cheese on a grill or smoker heated to medium heat (350-375℉). Bake, covered, for 20 minutes. Uncover and continue to cook for 10-15 minutes until the top is brown and bubbly.
Make ahead for the freezer - prepare the recipe through layering the cooked noodles and cheese in a buttered dish (do not make the egg and milk mixture). Cover tightly and freeze up to 6 months. Thaw the dish in the refrigerator the night before you plan to use the dish. Proceed the next day by making the egg and milk mixture and baking according to the recipe.