This sumptuous slow cooker beef roast with sweet potatoes and cider gravy screams fall and cozy weeknights at home. You will LOVE the simplicity of this recipe and your loved ones will love the flavor!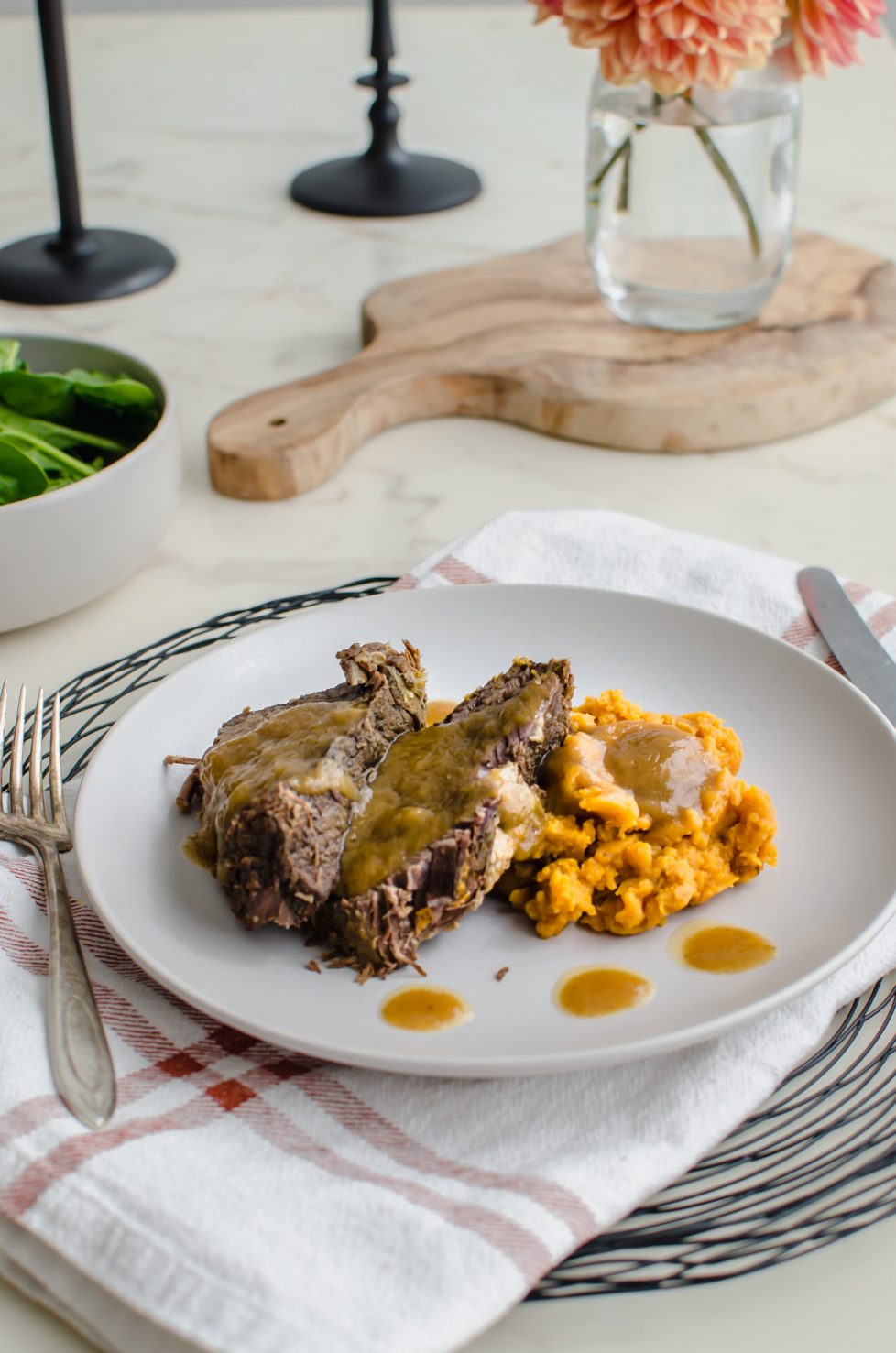 Video
My mouth is literally watering as I write this post and remember how amazing my house smelled as I was making this dinner. The sweet and savory aroma could be enjoyed from my basement living room all the way to our bedroom two floors above! I'm super excited that I get to have some of the leftovers for lunch today - it'll be such a nice reward for completing the writing of this post!
This particular recipe is tied to some really fun memories for me. When I worked with the Missouri Beef Council, this was the annual fall-themed dinner that we would order from a local caterer and serve to dietetic interns after a 2-day media training workshop. My role was to give a presentation on beef and nutrition, then to oversee the interns in the kitchen as they put together a dish to demo as part of a mock TV interview. It was such a fun couple of days, and I looked forward to it every year! We would cap off the day with this hearty meal, and everyone always raved about how good it was.
Since I now live in TN and can no longer be part of this annual feast, I thought it was imperative to recreate it at home so that Ryan and I can enjoy it and hopefully share with friends and family at some point! The original recipe is from The Healthy Beef Cookbook, and I've adapted it for the slow cooker with some changes. This is such a wholesome weeknight meal with lots of lean protein and is a great source of ten essential vitamins and minerals (especially iron, vitamin b12, and zinc!) that you need to power through the work week! Ryan and I always love how we feel when we get to have a meal like this after a really tough workout at the end of the workday.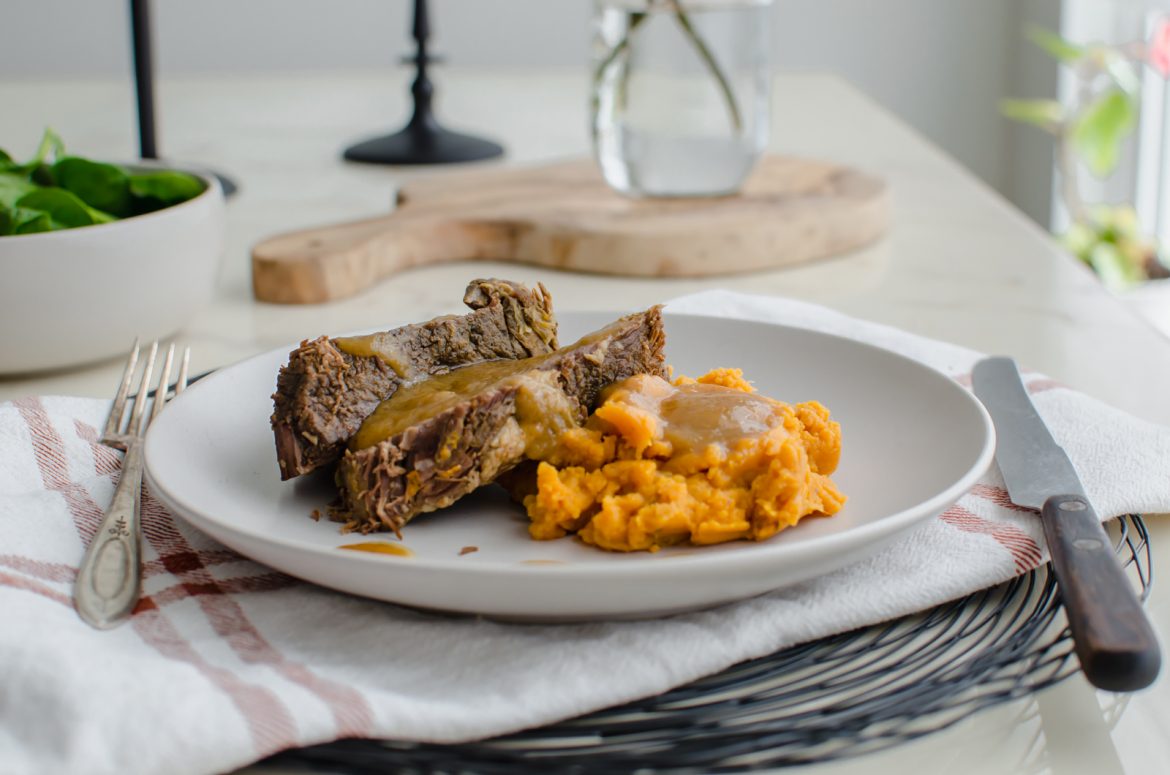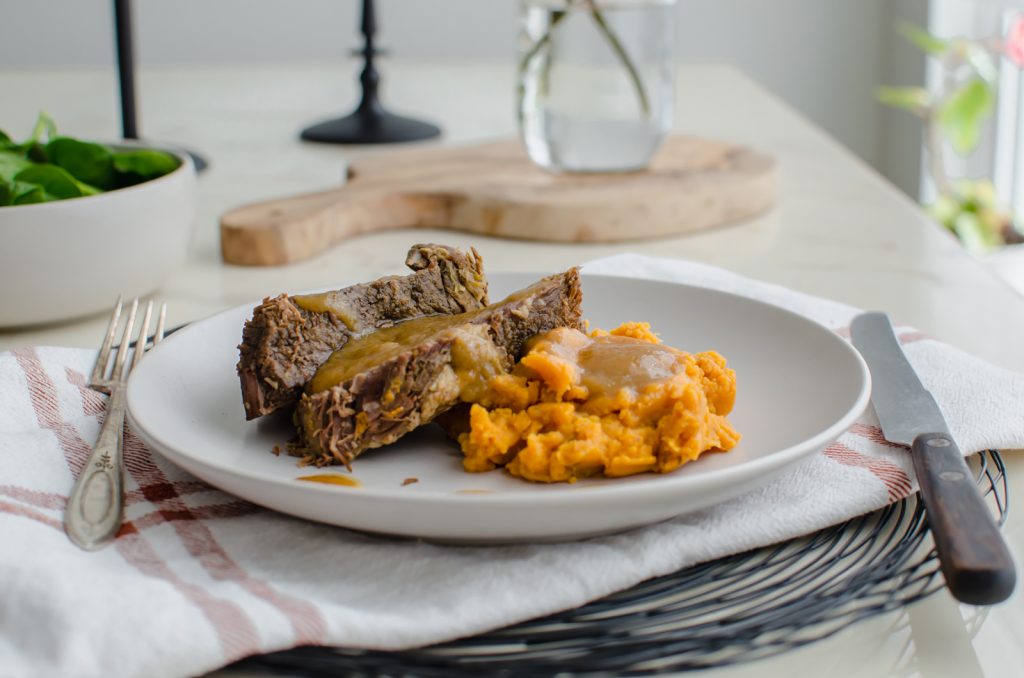 Tips
My favorite roast cut for the slow cooker is a chuck tender roast, which comes from the shoulder of the animal. It is considered a lean cut when trimmed of outer fat and has lots of good marbling throughout the connective tissue that breaks down and tenderizes as you cook the roast. Searing the meat before you place it in the slow cooker deepens the flavor of the dish through the caramelization that occurs when the meat is subjected to the high heat of the pan.
The sweet potatoes cook right along with the beef - be sure to have large quarters of potato so they don't overcook. If your potatoes are on the smaller side, just cut them in half before placing them in the slow cooker. Maple syrup is added to the potatoes once they are cooked, which helps balance the meaty flavor they have after cooking with the beef.
This juices from the slow cooker that you strain once the roast is done make the BEST gravy!!! I've allowed for extra gravy to be made in writing the recipe because extra gravy is always good! It a simple process of dissolving some cornstarch in apple cider to thicken the beef juices as they simmer for a bit.
AMAZING leftovers are to be had after making this recipe - we love to portion them out in meal prep containers for lunch over a few days.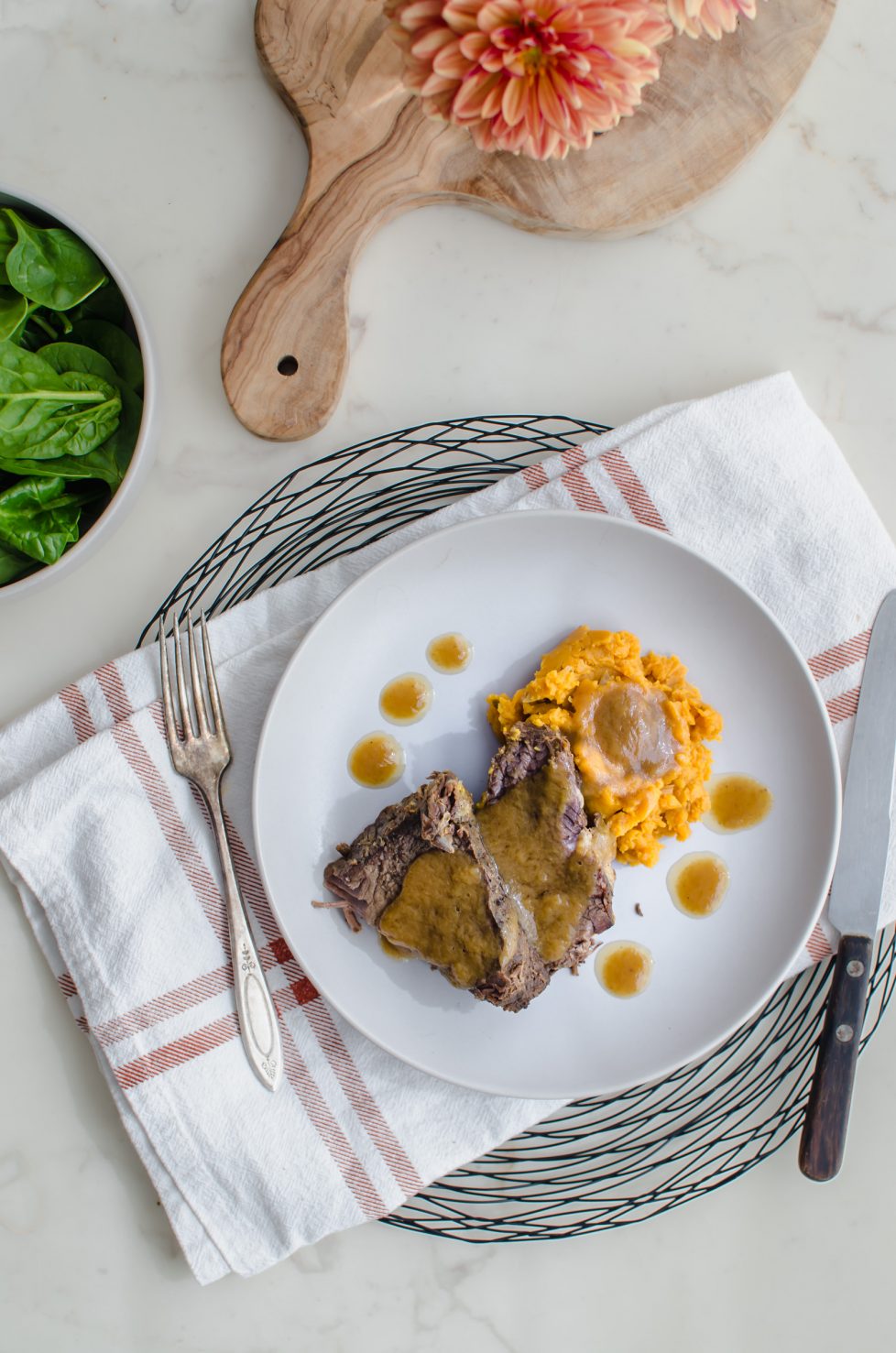 More Slow Cooker Recipes
If you are on the hunt for more healthy beef recipes, be sure to check out my Instant Pot + Slow Cooker Italian Beef Sandwiches, Beef and Root Vegetable Stew, or my Maple Bourbon Flat Iron Steak! All of these are some of my MOST POPULAR recipes on the blog and ones that I make again and again!
Are you ready to get make this Slow Cooker Beef Roast with Sweet Potatoes and Cider Gravy? Good! I'm so excited for you to try this recipe. Once you get the chance to make it, please let me know how it turns out for you! Leave a comment and rate the recipe below. This will help me with the creation of future recipes!
I'd also love to feature your creation in my weekly newsletter, so you can upload a photo to Instagram with the tag @sweetcayenne5 to be featured! Quick and easy recipe videos are available on my YouTube channel, and lots of menu inspiration on my Pinterest boards.
Recipe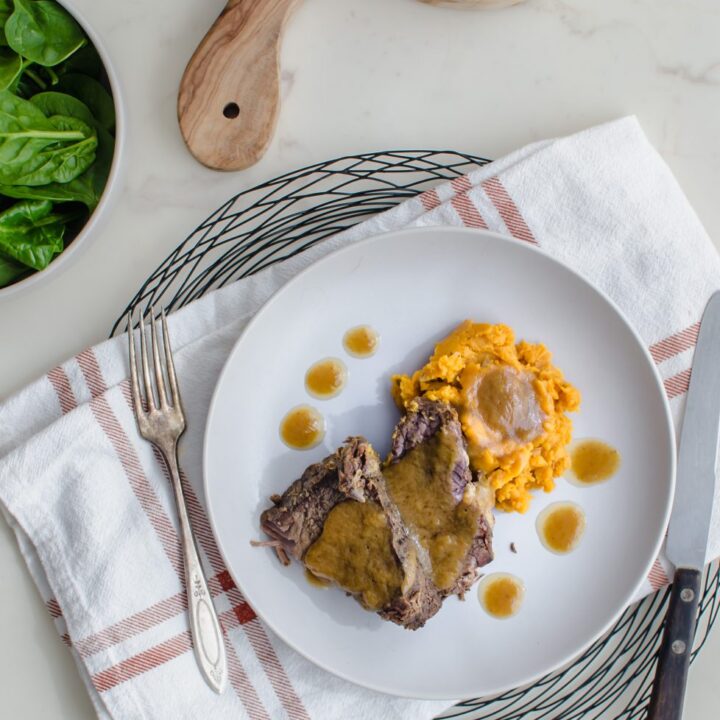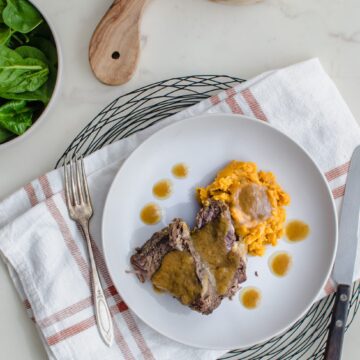 Slow Cooker Beef Roast and Sweet Potatoes with Cider Gravy
Print
Pin
Rate
Ingredients
2

teaspoons

olive oil

2

teaspoons

butter, plus 2 tablespoons

1

(3-3 ½)

pound boneless beef chuck shoulder roast or bottom round roast

Kosher salt and coarse ground pepper

1

cup

diced leeks

1

cup

beef stock or broth

1 ¼

cup

apple cider, divided

3

large

large sweet potatoes, about 3 pounds, peeled and cut into four quarters each

2

teaspoons

minced garlic

6

sprigs

fresh thyme

⅓

cup

maple syrup

2

tablespoons

cornstarch
Instructions
Heat the oil and 2 teaspoons of butter in a heavy-bottomed pot or Dutch oven on medium heat. Season all sides of the roast liberally with salt and pepper. Sear each side of the roast in the pot for about 2 minutes per side.

While the roast sears, place the sweet potato quarters in the bottom of a slow cooker. Place the seared roast on top of the potatoes. Reduce the heat of the pot to low and add the leeks. Saute for about 2 minutes until softened.

Add the beef stock and ¾ cup of the apple cider. Use a wooden spoon to scrape any brown bits from the bottom of the pot. Transfer this mixture to the slow cooker. Add the minced garlic and sprigs of thyme.

Cook on low for 8-10 hours on LOW (5-6 hours on HIGH) until the beef is tender and almost falling apart.

Remove the roast from the cooker and place on a cutting board. Cover with foil.

Remove the roast from the cooker and place on a cutting board. Cover with foil.

Remove the potatoes from the cooker with a slotted spoon and transfer to a mixing bowl. Add the 2 tablespoons of butter and maple syrup. Cover the bowl with foil to keep warm.

Pour the liquid contents of the cooker through a fine mesh strainer and into a large saucepan (alternatively, add the unstrained liquids to a saucepan and blend smooth with an immersion blender), Dissolve the cornstarch into the remaining ½ cup of apple cider with a whisk. Add to the strained juices in the pan. Bring to a simmer over medium and cook, stirring occasionally, for 10 minutes.

While the gravy simmers, cream the sweet potato mixer with a hand mixer until smooth. Season to taste with salt and pepper, if needed. Keep warm on the stovetop covered with foil. Slice the roast into 1'' thick pieces. Keep warm until ready to serve by covering with foil.

Serve the hot roast in slices on top of the creamed sweet potatoes. Spoon hot cider gravy over the top and enjoy!
Notes
Serving suggestions: I love to give several handfuls of baby spinach a quick saute in olive oil in a skillet while the gravy simmers. It's a fast and easy side dish! Baked apples or cornbread would also be delicious!
Serving:
1
Serving
|
Calories:
568
kcal
|
Carbohydrates:
24.3
g
|
Protein:
54.7
g
|
Fat:
26.4
g
|
Saturated Fat:
9.2
g
|
Cholesterol:
176
mg
|
Sodium:
748
mg
|
Potassium:
462
mg
|
Fiber:
3.1
g
|
Sugar:
9.7
g
|
Calcium:
22
mg
|
Iron:
11
mg
Pin this, pretty please!