For 9 summers of my life, I spent a good bit of time working at a local, old-fashioned soft-serve ice cream stand owned by some friends from our church.  Custard Corner was my very first job at 14 years of age, and the fun memories I have of working there with best friends and even family members could probably fill a novel.   It was a dream job – Custard Corner was a hot spot for all of the locals in Christiansburg, VA.  Most of the customers, myself included, had been coming there for frozen treats, intriguing pink colored hot dogs, and BBQ sandwiches since their childhood days.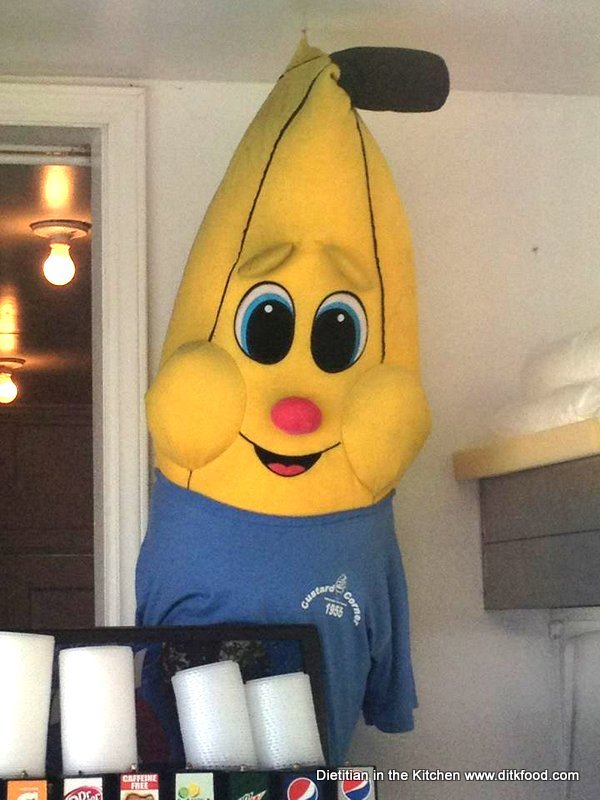 Picture a little white box of  a building, big enough for 2-3 people to work at one time, with lines out to the road and sometimes wrapping around the building.  Drool-worthy treats passed out of the tiny walk-up and place your order windows included banana spilts, sundaes-on-a-shake (just what it sounds like),and cones dipped in brightly-colored flavors of chocolate, cherry, butterscotch, blue-raspberry, and lemon lime (we even had bubble gum at one point!).
One of my favorite Custard Corner treats were the frozen bananas dipped in delicious chocolate coating that hardened into a crunchy shell.  These were a great "light" alternative to the ice cream treats we offered.  After a long night of ice cream serving fun (and some ice-cream throwing fights), they made for a refreshing and refueling snack.
Once I started my nutrition major at Virginia Tech, I was made well-aware of the dangers of trans fats and learned how to look for them in labels.  I was quite dismayed to learn that my beloved chocolate dip topping at Custard Corner was loaded with trans fats (partially-hydrogenated oils were a primary ingredient). so I reluctantly cut back.  Unfortunately, the Magic Shell you buy in the grocery store contains hydrogenated oils as well, so you can imagine my exuberance when I learned that you could make your own trans-fat-free dip topping at home.
This homemade wonder is not something I would call healthy by any means, but it makes for a cleaner alternative to the crunchy ice cream topping.  And you can't beat a banana for a quick and healthy kid-friendly snack!  You only need a tablespoon to coat half a banana, and you can use any brand of chocolate hazelnut spread for the same results.  My favorite is Trader Joe's Chocolate Almond Spread, but you could also try an organic chocolate spread from Whole Foods.  Coconut oil is what makes the chocolate harden on the banana, and a 16 ounce jar of Organic Virgin Coconut Oil can be purchased at Trader Joe's for a mere $5.99 (love that store)!
Notes on the recipe:
Nutella Magic Shell adapted from the delightful food and home design blog Inspired by Charm.
Magic Shell will keep for 2 weeks when stored at room temperature in an airtight container.  Simply warm for about 10 seconds in the microwave to get a dipping consistency.
Frozen Bananas Dipped in Homemade Nutella Magic Shell
Frozen bananas are a cool and refreshing summertime treat, and these get an extra special coating of homemade Magic Shell.
Print
Pin
Total Time:
8
hours
10
minutes
Ingredients
3

large bananas

cut in half width-wise (leave the peel on for easy insertion of wooden sticks)

1/3

cup

chocolate-hazelnut spread

I prefer Trader Joe's Chocolate Almond Spread

2

Tablespoons

Organic Virgin Coconut Oil

Optional: assortment of sprinkles

chopped nuts or toasted coconut

Special equipment: wooden popsicle sticks
Instructions
For bananas:
1. Cut bananas in half width-wise to make 6 halves. Leave the peel on while you insert the wooden sticks into the bottom of each half, then remove the peel carefully.

2. Place the bananas on a plate or tray lined with wax paper, then freeze until solid, about 6-8 hours.
For Magic Shell:
1. Place coconut oil and chocolate spread in a microwave-safe bowl and heat for 30 seconds. Stir vigorously until the two are combined, microwaving in additional 10 second increments until a dipping consistency is reached.
For dipped bananas:
1. Dip frozen bananas in cooled Magic Shell, holding for about 10 seconds until dry. If you are dipping in candy, dip in candy immediately after dipping in chocolate before it dries.

2. If not serving bananas immediately, place in an airtight container lined with wax paper and keep frozen for up to 5 days.