This Old-Fashioned Peach Jam is a classic in my kitchen and a recipe that I look forward to making every summer. It's slowly simmered in small batches, thickened with the natural pectin in apples, and filled with small, jammy pieces of juicy summer peaches!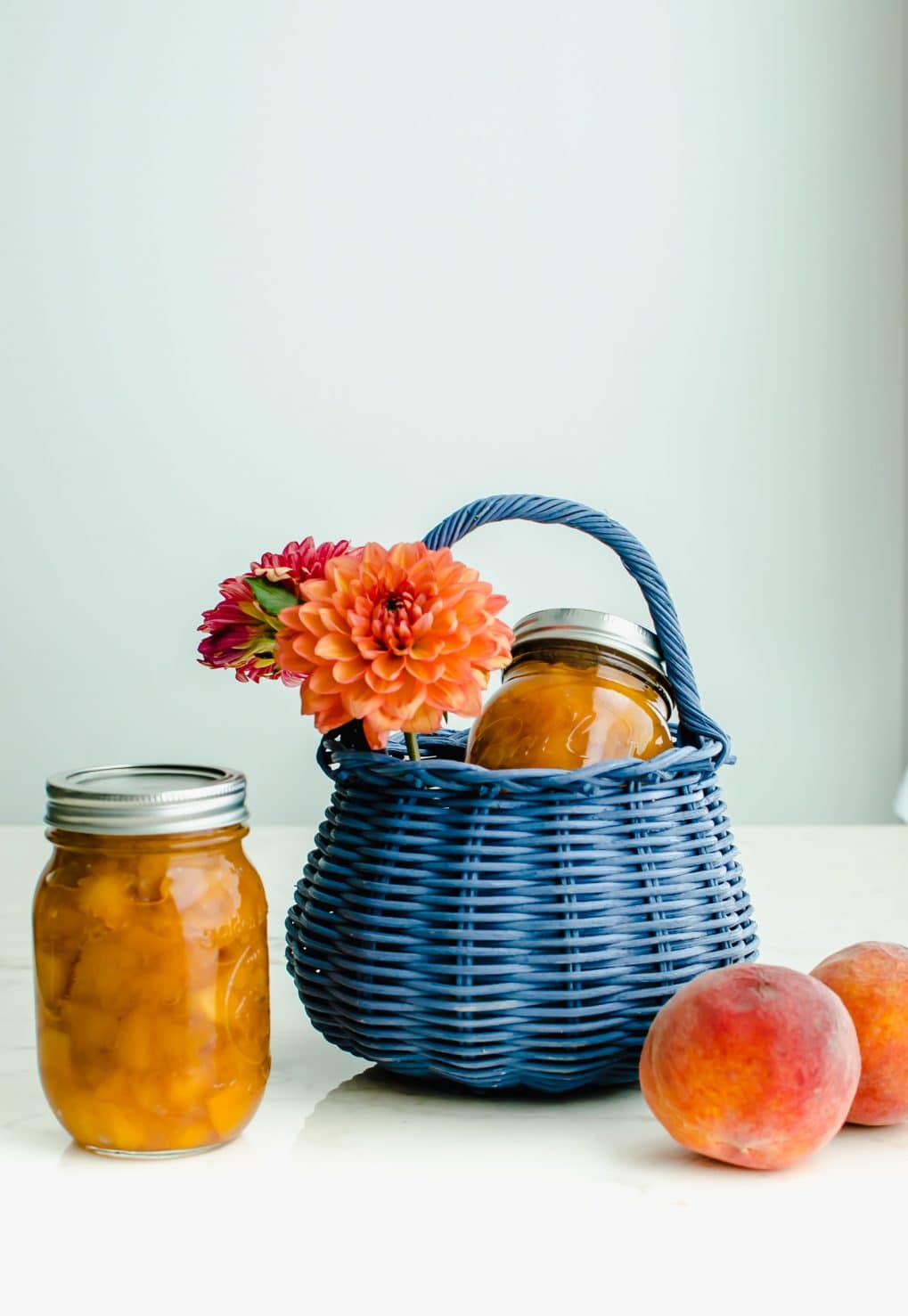 The past two years I've been blessed to come in contact with THE best peaches I've ever eaten – those from The Peach Tree Farm in Columbia, MO, and Georgia freestone peaches sold by The Peach Truck in Nashville, TN. Both of these growers have produced peaches that I've found to be the best for eating, baking, and preserving – and I just can't seem to buy enough to satisfy my peach tooth!
In early August, I hit an all-time record for peach purchasing and bought a HUGE 25-pound box of peaches from The Peach Truck. It was their last week to sell, and I bought with the intention of making loads of my favorite peach jam, a couple of peach cakes, and some blanched peaches for the freezer. Ryan was recruited at my kitchen confidante, and we spent 3 1/2 hours on a Sunday afternoon making jam with 16 pounds of the peaches. It was quite the production, but WELL worth the effort!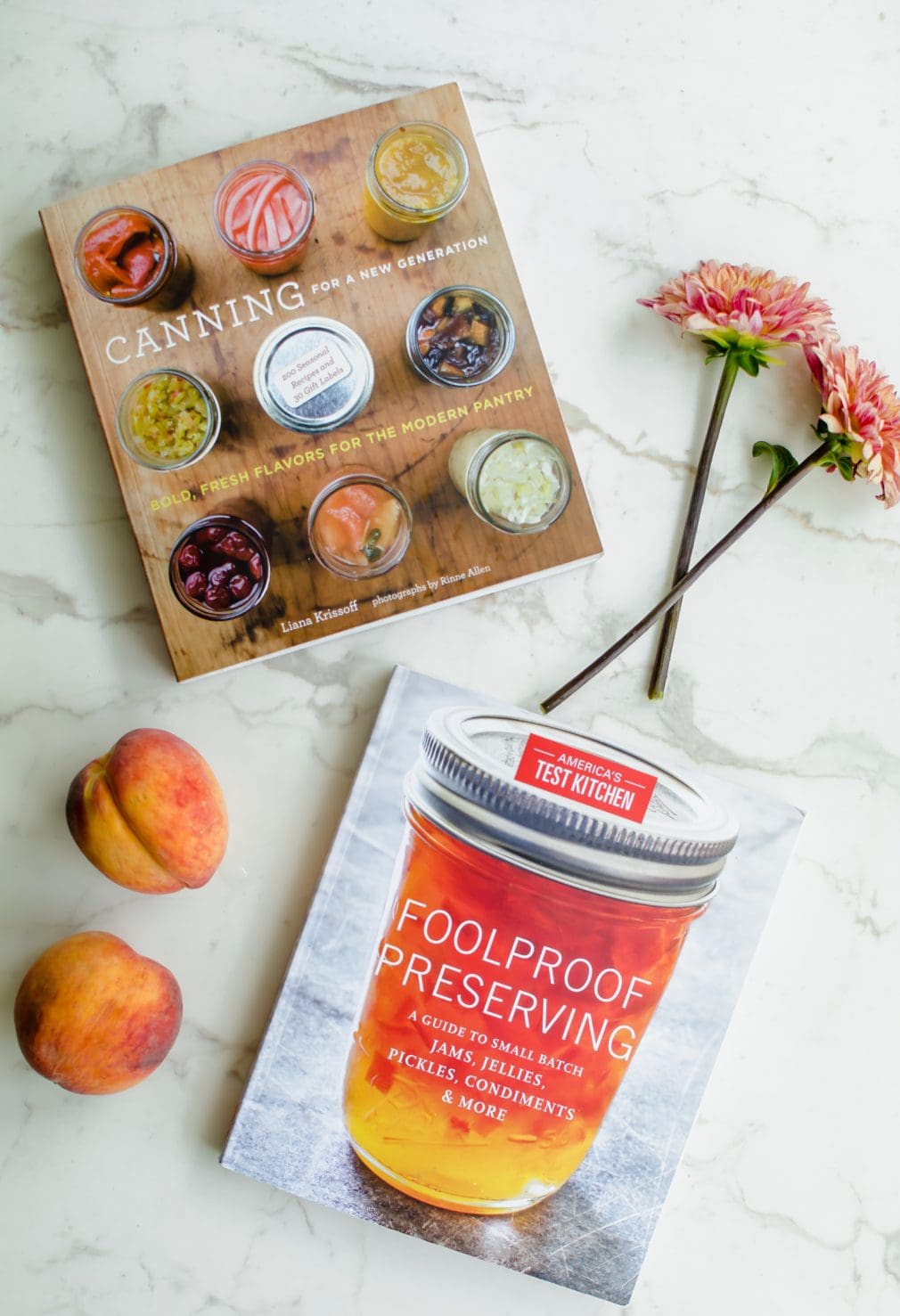 My Favorite Canning and Preserving Tools
To really enjoy canning/preserving in a fun and safe way, you must have the right tools! My attempts at canning were made much more successful when Ryan purchased a canning kit for us. I've listed our favorite canning cookbooks and essential tools below:

Preparing Peaches for Canning
To get peaches ready for canning and preserving, you'll more than likely need to peel them. I find that the easiest way to do this is to cut a small "X" at the bottom of the peach, boil it for 30 seconds, and then quickly transfer the peaches to an ice water bath for about 2 minutes to stop the cooking. Once removed from the ice water, the skins come right off. No need to use a knife or peeler – plus it saves so much time! One little caveat though – if your peaches aren't perfectly ripe, you may have a little trouble removing the skin – even with the blanching method. Ripeness helps the skin release more easily from the peach flesh, so just keep that in mind!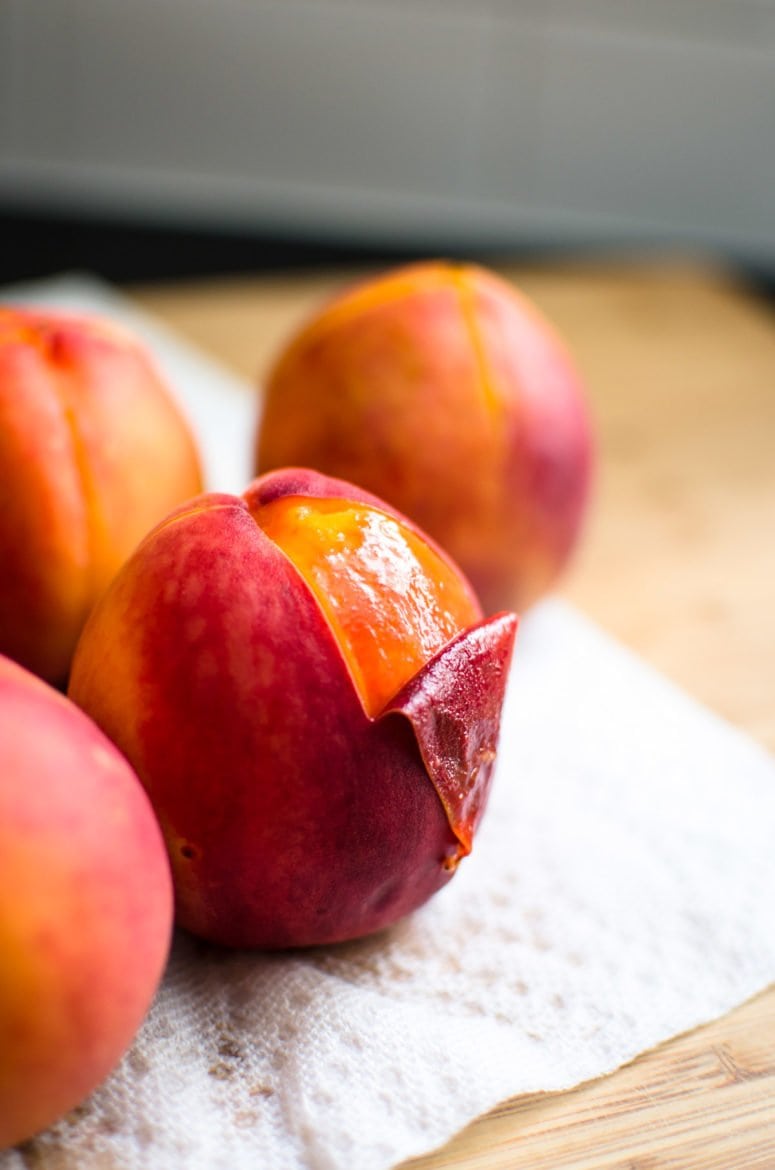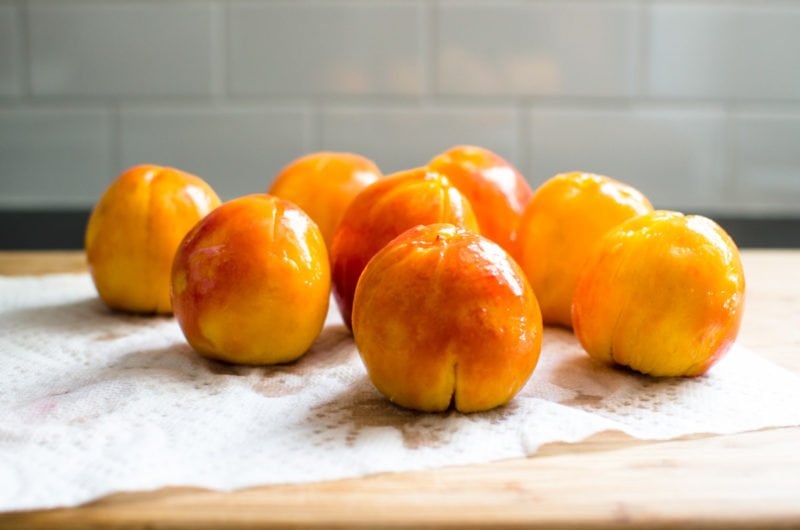 Tips for Making Old-Fashioned Peach Jam
The type of peach jam that I enjoy the best is not too sweet, has a looser texture, and small chunks of peach throughout the spread. My favorite recipe is from Canning For a New Generation and fits my taste preferences perfectly. The jam is thickened naturally with pectin from Granny Smith Apples, which also give the finished product a bright, clean flavor profile that I think makes the jam taste more like a fresh peach. This particular recipe also calls for about 1/3 less sugar than other recipes I've compared, which I like!
Here are a few of my best tips for making the jam:
Prepare for canning by having all of your ingredients, tools, and equipment in place before you start. This will streamline the cooking process and help ensure you have all that is needed before you get started.
Do not attempt to double or triple this recipe. The jam will not thicken properly. I know this sounds strange, but I tried to do this once and my jam would never get thick! The flavor and texture will be much more consistent if you cook the jam in small batches. Since my mistake, I cook 2-3 separate batches in separate pots and haven't had any problems with thickening.
Although not necessary, freestone peach varieties are easiest to work with when cutting the peaches and will help the process go faster.
Do not adjust the amounts of apple, sugar, or lemon juice called for in this recipe. Ingredients for canning recipes are carefully tested in the development stage to ensure that the finished product has a proper and safe pH to prevent the formation of botulism. Always follow the recipe and use a food scale to weigh ingredients when necessary.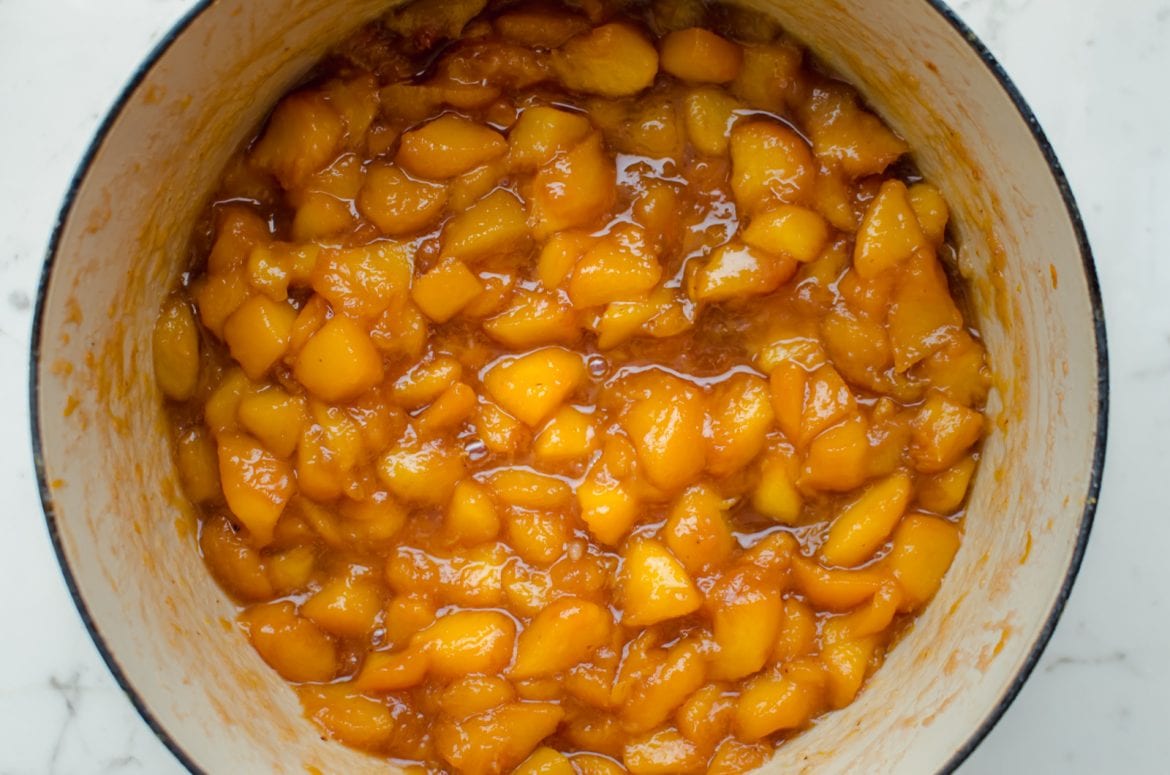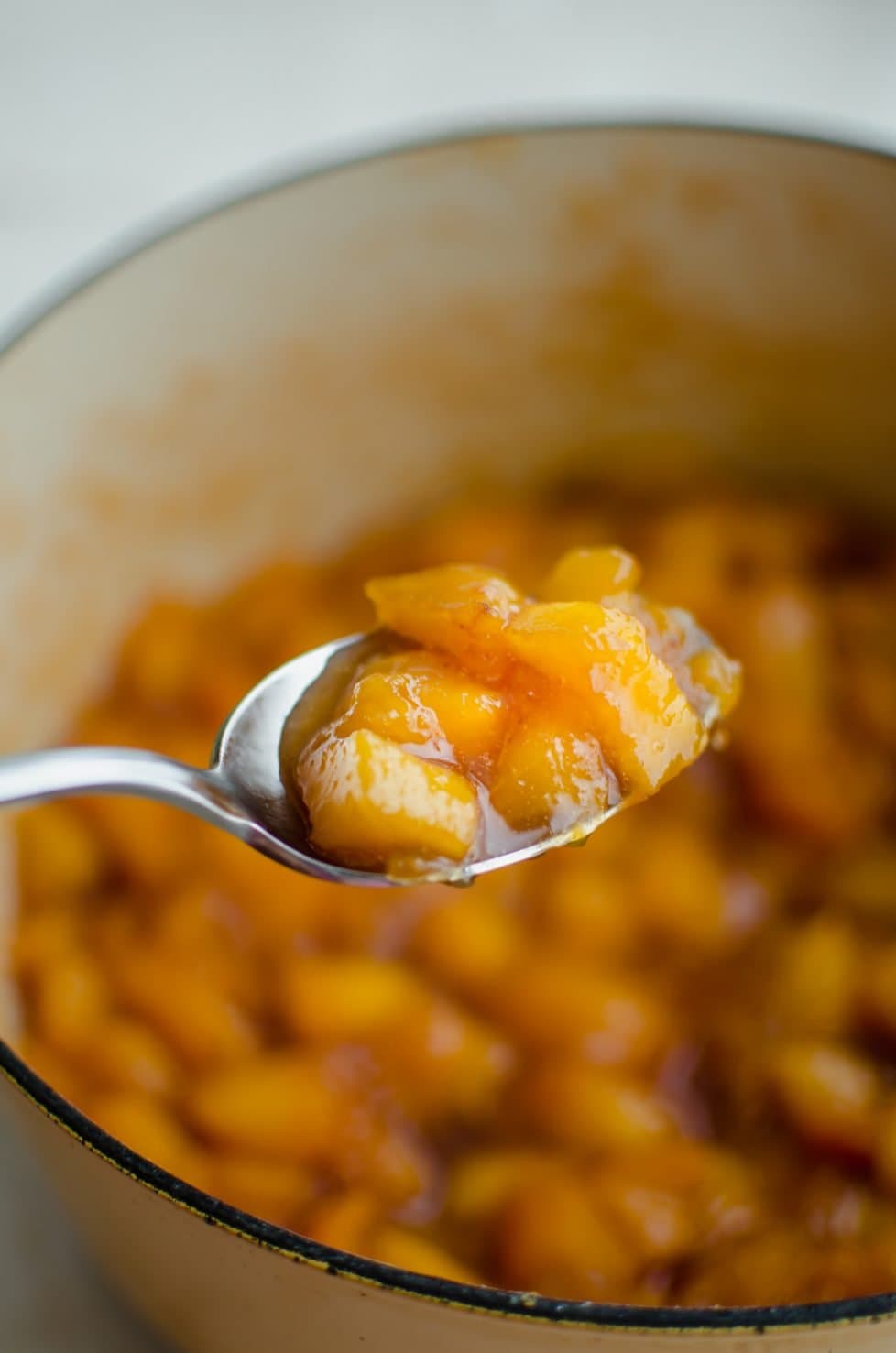 Storing and Using Old-Fashioned Peach Jam
When it comes to knowing if a jar sealed properly, how to long to store canned items, and other canning-related questions, my favorite resource is the National Center for Home Food Preservation website. They recommend storing homemade jams for one year, being sure to note any change in color or the presence of leaks, odors, or bubbles throughout the storage time. Ideally, canned goods should be stored in a dark, cool, dry location with a temperature between 50-70 degrees F. So any pantry or closet shelf should be just fine!
Once you've made your peach jam, here are some of my favorite ways to use it, aside from a delicious piece of hot bread/toast with jam and butter!
And I'm sure you can think of many more ways to use it! If you get a chance to try this classic Old-Fashioned Peach Jam, I'd love to know how it turns out for you. So leave a comment below! I'd also love to feature your creation in my monthly newsletter, so you can upload a photo to Instagram or Twitter with the tag @sweetcayenne5 to be featured!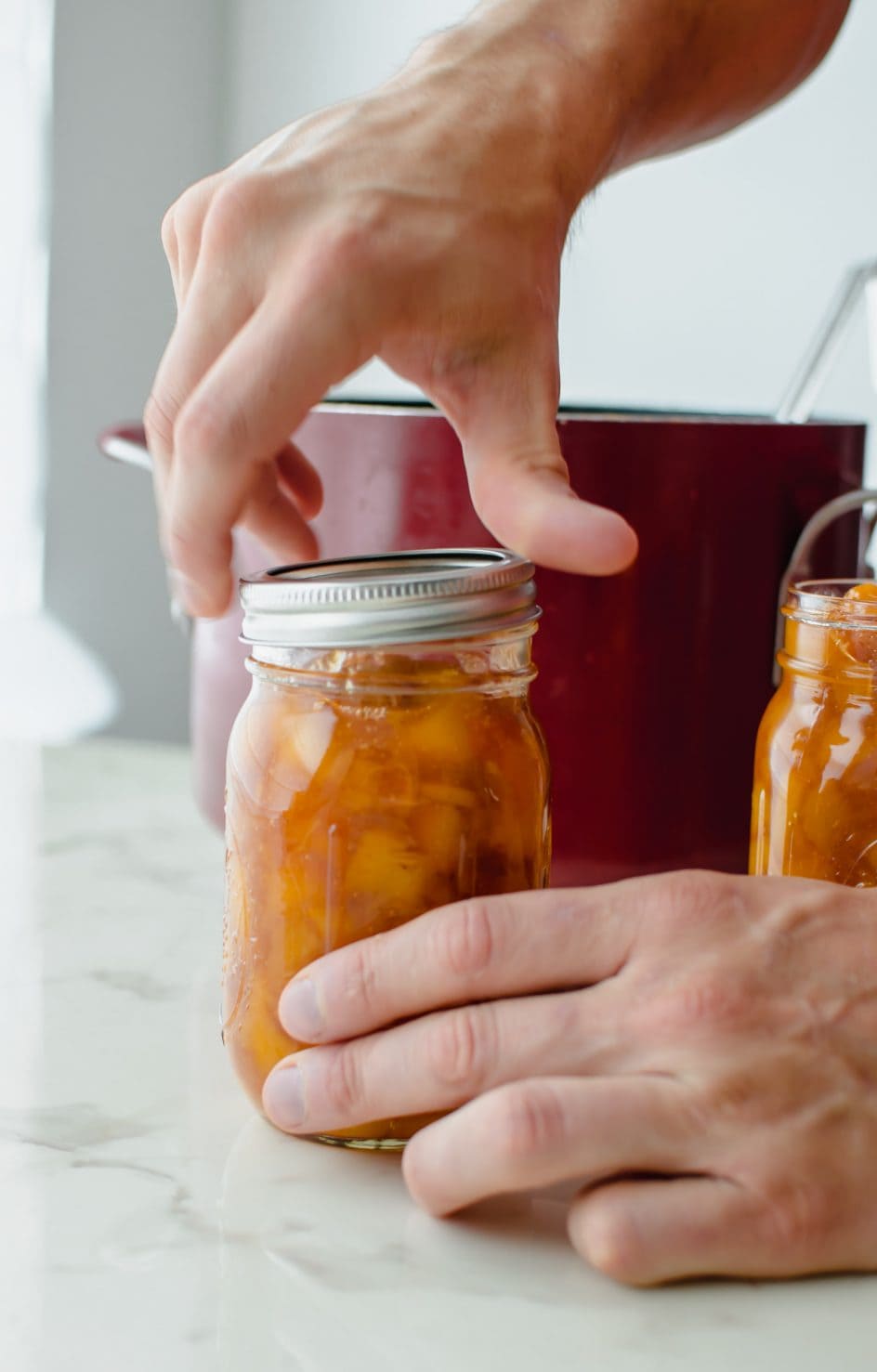 Shop my essential tools for canning here:

Old-Fashioned Peach Jam
Print
Pin
Cook Time:
1
hour
15
minutes
Total Time:
1
hour
45
minutes
Ingredients
12

ounces

Granny Smith Apples

about 2 large

4

pounds

peaches

preferably freestone

2

cups

granulated sugar

3

tablespoons

fresh lemon juice

strained
Instructions
Preparing for Canning
Sterilize

canning jars

by placing them in a boiling water bath (I do this in my

canning pot

) for ten minutes. Keep them warm in the water until ready to use. Place the lids in a heatproof bowl and ladle a few spoonfuls of boiling water on top. Keep them warm in the bowl until ready to use. For more information on hot water bath canning, see this article.

Core the apples and cut them into quarters. Place the cores in a square of

cheesecloth

and tie it inside with

kitchen twine

.

Place a small plate in the freezer and chill for later.

Bring a large pot of water to a boil. Prepare a large bowl with ice and water. Wash each peach and cut a small "X" into the bottom of each one. Use a slotted spoon to lower peaches, 3-4 at a time, into the boiling water. Boil for 30-45 seconds. Transfer the peaches to the ice water bowl and let them soak for a minute. Transfer to a towel and repeat this process with the remaining peaches.
Making the Jam
Remove the peels from the peaches, pit them, and dice the fruit into rough 1'' pieces. Transfer them to a large 6-8 quart

Dutch oven

or heavy-bottomed, wide-rimmed pot.

Add the sugar and to the peaches and stir to combine. Place the pot over medium heat. Bring the mixture to a simmer and cook, stirring occasionally, until the the peaches have released enough juice to cover the pieces.

Use a

strainer

or slotted spoon to remove the peach chunks from the juice, transferring the fruit to a heatproof bowl.

Add the apple quarters and core in the cheesecloth to the peach juice. Bring to a boil over medium-high heat and cook, stirring often, until the juice is thick and syrup-like, about 15 minutes.

Return the peaches to the pot with the reduced juice, apples, and add the lemon juice. Bring the mixture to a simmer and cook, stirring frequently, until the peaches are very tender and the mixture is thick and jammy. To test for doneness, place a small dab of the peach mixture on the plate from the freezer. Freeze for a minute, and then test with your finger. The mixture should be somewhat firm and will not slide across the plate when tilted (however, it will not gel). Continue cooking the jam and doing the plate test until the jam reaches the desired consistency.
Preserving the Jam
Using a

jar lifter

, carefully remove the jars from the hot water canning bath and place them upright on a towel. Remove the lids from the bowl of water and pat them dry.

Ladle the hot jam into the sterilized jars, leaving ¼ inch of headspace at the top. Remove air bubbles with an offset spatula as needed. Use a damp paper towel or cloth to wipe the rims of the jars clean. Place the lid on top, followed by the jar ring, and adjust the ring until it is finger-tight (do not force it).

Return the jars to the water bath, being sure that each is covered by at least 1 inch of water. Bring the water to a boil and boil for 5 minutes. Use the jar lifter to carefully remove the jars from the water and transfer them to a towel. Do not disturb the jars for 12 hours.

After one hour of resting, make sure the jar lids have sealed by pressing down on the center of the lid. If the center can be pressed down, the lid has not sealed and the contents of the jar should be refrigerated immediately for use within 1-2 weeks.

Label the sealed jars and store in a dark, cool, dry place for up to 1 year.