I think these Apple Dumplings with Sparkling Cider Sauce may just be one of the BEST desserts I've ever tasted. I was speechless at first bite. This recipe is actually something my grandmother used to make for me when I was little.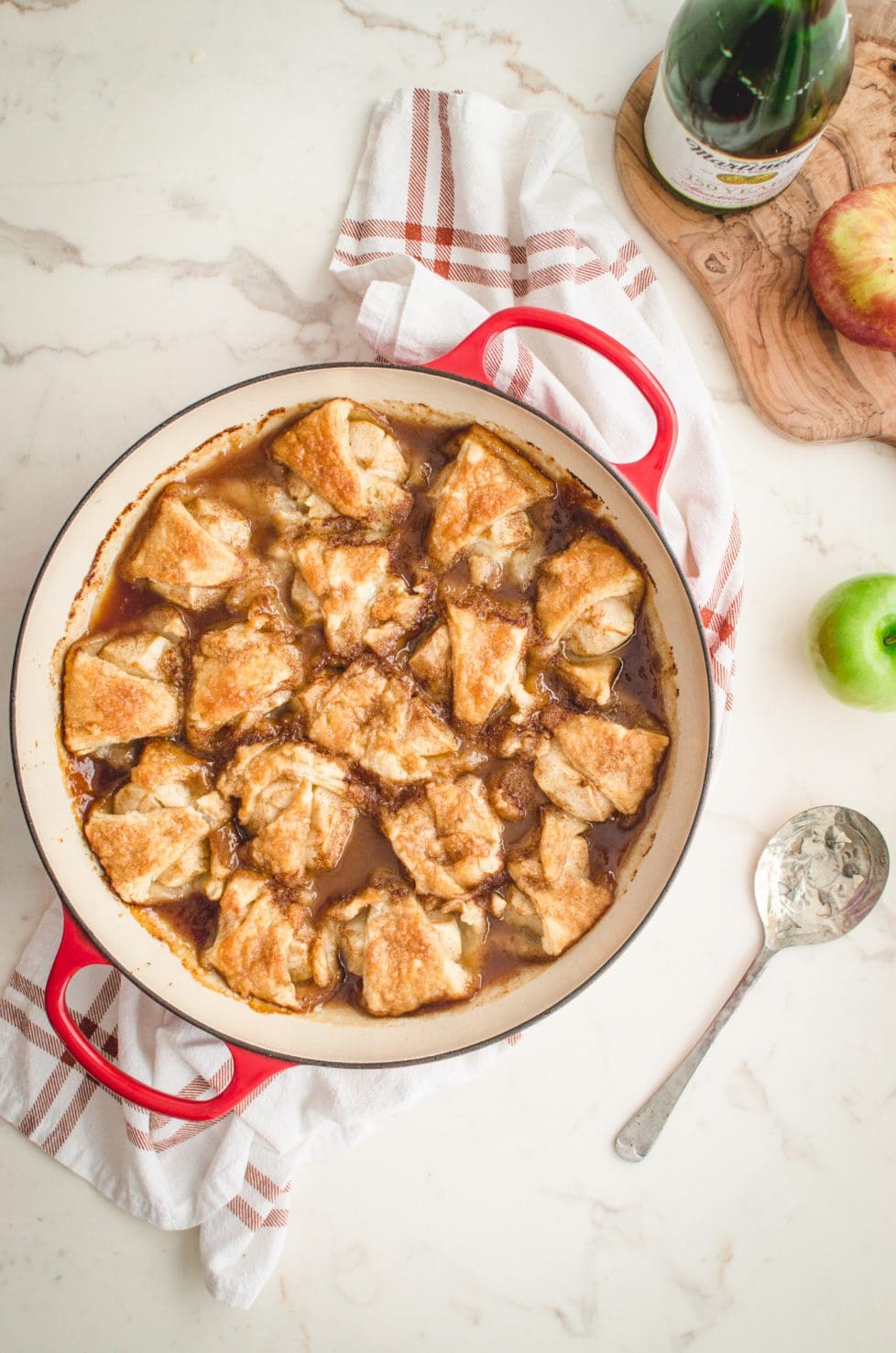 My Special Dessert Heritage
I almost titled this post "Granny's Apple Dumplings." One of my best food memories of things my Granny made for me was her special apple dumplings. She had a special dessert that she knew was the favorite of each person in my family. For my dad, it was coconut cake. My mom's favorite was Granny's boiled custard. My brother would always get a peanut butter pie. My sister always requested biscuits and chocolate gravy. I had two favorite desserts that Granny would make in my honor (of course, because I was the favorite!), blueberry pie, and apple dumplings. She'd make a blueberry pie for me when I visited in the summer, and apple dumplings when I'd come to see her for the holidays.
Video
On some visits, if we stayed long enough, Granny would have ALL of the favorite desserts made over the course of our stay. She wanted each person to know they were so special to her! My other grandmother, Nana, was like this too. She would spend days in the kitchen making all of our favorites before we arrived for a visit. sausage balls and spiced tea were always hot and ready upon our arrival. Both of my grandmothers left a rich legacy for us of showing love and affection through cooking. And I think that might just be why I enjoy it so much!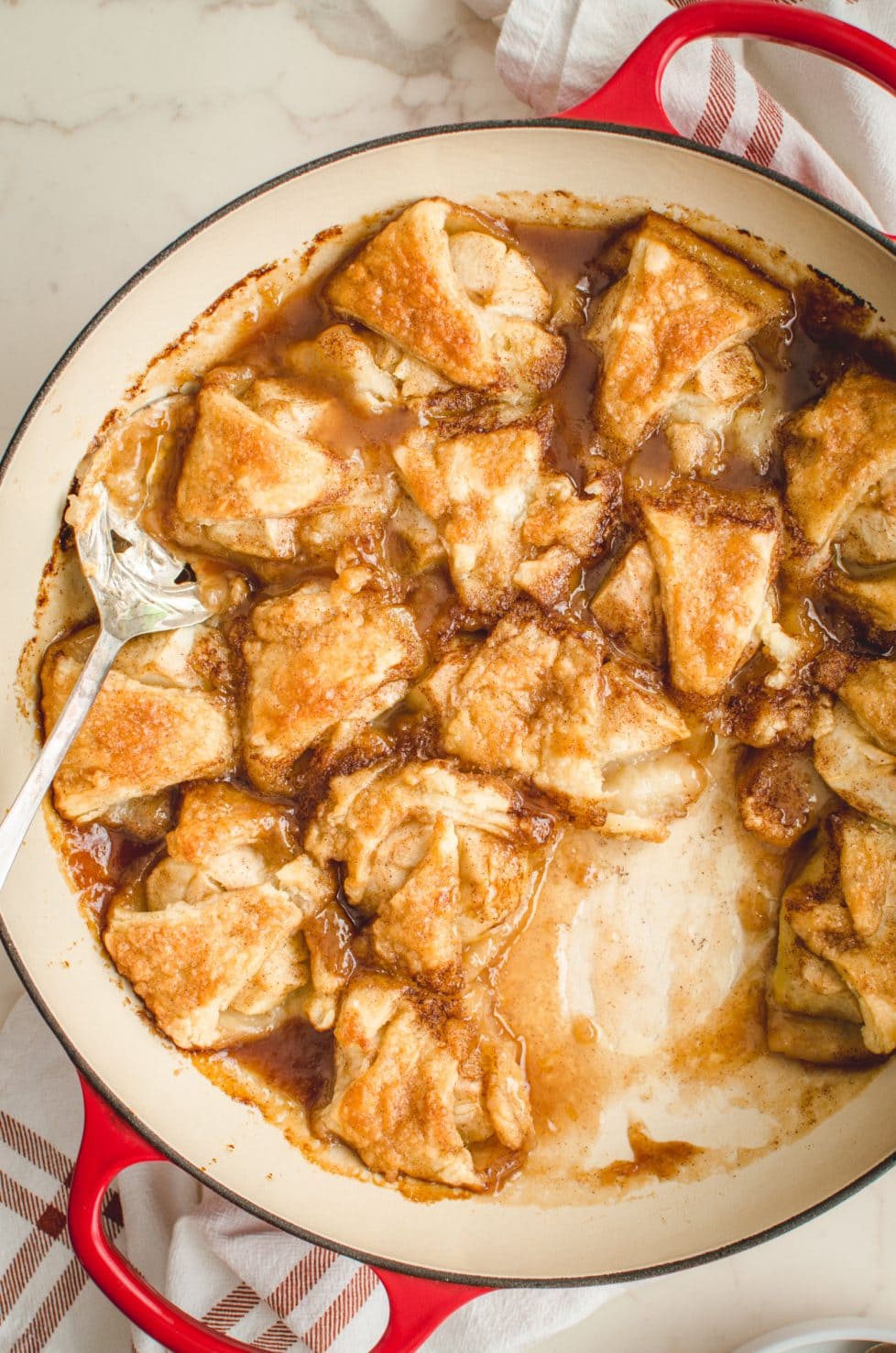 How to Make Apple Dumplings with Sparkling Cider Sauce
Now once I got older and interested in cooking, I learned that Granny's apple dumplings had two secret ingredients that you would likely see in many a Southern country church cookbook: cans of crescent rolls and Mountain Dew soda. Yes, you read that correctly. The original version of the dumpling recipe calls for you to wrap the apples in a triangle of crescent roll dough and then pour Mountain Dew in the baking dish as part of the sauce. Bless her heart!
For the sake of more "natural ingredients," and for those of us that like to get our hands dirty with from-scratch baking techniques, I've remixed Granny's recipe to include a homemade simple puff pastry for the dough. It's a fairly easy recipe I found on the King Arthur blog that I've used in the past for hand pies. I love to make a few batches when I have time on a laid-back weekend and freeze it for a special occasion. The recipe uses way less butter than the puff pastry I learned to make in culinary school but is certainly not short on flakiness or flavor!
For the dumpling sauce, I've cut back on the butter and sugar just a tad - but not enough to be skimpy about things! And I had an inkling that sparkling cider would be the perfect substitute for the Mountain Dew. And you know what??? I was right! The sauce tastes almost identical to my grandmother's. I used Martinelli's Sparkling Cider in this recipe, which is not a spiced cider. I like this because then I can control the amount of spices more in the recipe. I wanted the crisp, tart flavor of the apples to shine through, and this cider has such a bright apple flavor.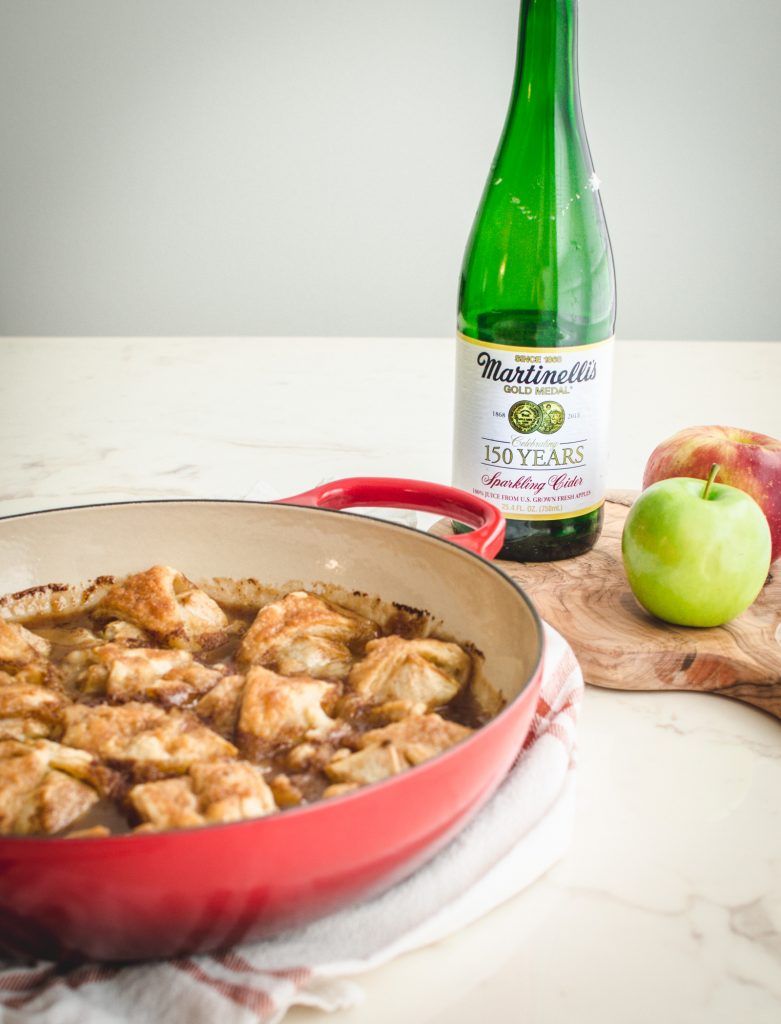 I'm not going to lie - this recipe is a bit of a labor of love. But it seriously it just so mind-blowingly delicious that it's totally worth the effort. Here are a few of my tips for tackling it with confidence:
Do yourself a huge favor and make the dumpling dough in advance. Way in advance, if you have to. It can be frozen and thawed in the fridge overnight before the day that you need it.
If you really want to be relaxed, roll out the dough and cut it into triangles early in the morning on the day you plan to bake the dumplings. Place the dough triangles on a pan lined with a sheet of parchment, and pop them back in the fridge until you are ready to roll and bake.
Once the dough is rolled out and ready, it's all downhill from there! The sauce is literally a stir, pour, and dump situation. Then bake and just try to keep your wits about you as THE. MOST. HEAVENLY. smell fills your house. At that point, you know it was all worth it!
Tools for Making Apple Dumplings with Sparkling Cider Sauce
[show_shopthepost_widget id="3274428"]
Are you ready to get make these Apple Dumplings with Sparkling Cider Sauce? Good! I'm so excited for you to try this recipe. Once you get the chance to make it, please let me know how it turns out for you! Leave a comment and rate the recipe below. This will help me with the creation of future recipes! I'd also love to feature your creation in my monthly newsletter, so you can upload a photo to Instagram or Twitter with the tag @sweetcayenne5 to be featured!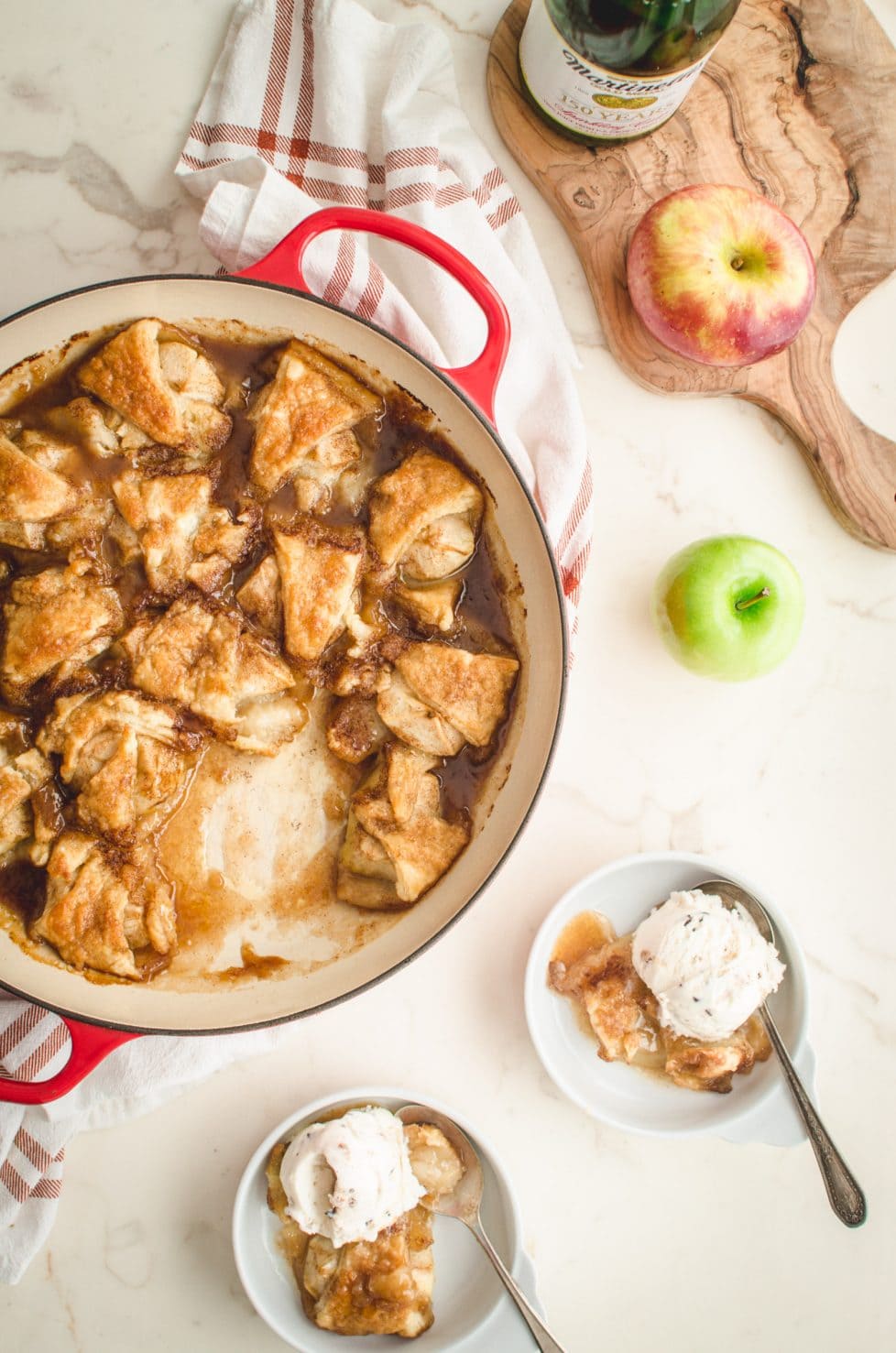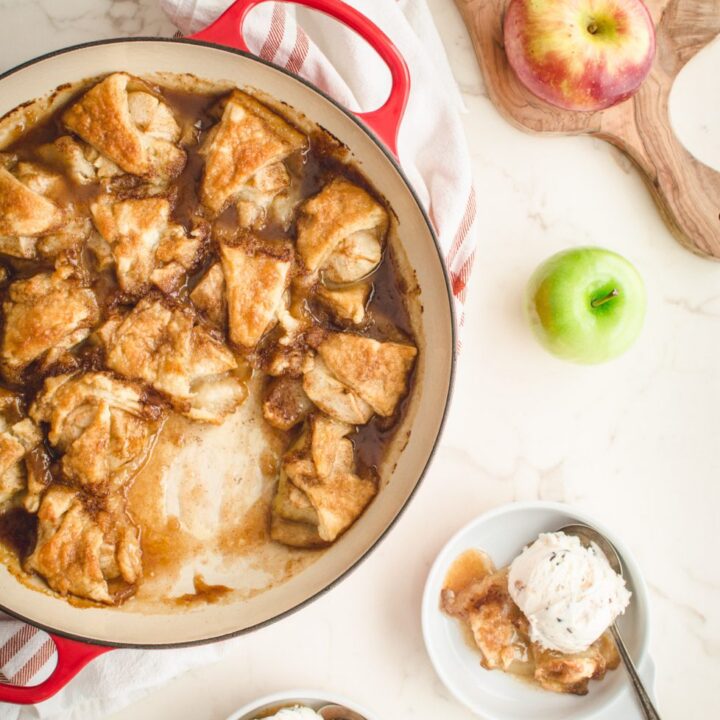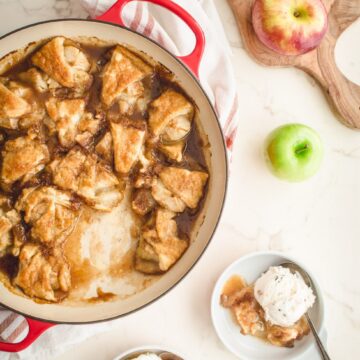 Granny's Apple Dumplings
This recipe for Apple Dumplings with Sparkling Cider Sauce is a scratch-made version of the old-fashion apple dumplings made with Mountain Dew!

Print
Pin
Rate
Ingredients
For the dumpling dough:
2

cups

all-purpose flour

(I recommend King Arthur brand)

¾

teaspoon

salt

½

teaspoon

of baking powder

1

cup (2 sticks)

unsalted butter, cut into ½'' cubes

½

cup

cold sour cream
For the dumplings:
½

cup (1 stick)

unsalted butter

¾

cup

packed brown sugar

1

teaspoon

vanilla

1

teaspoon

ground cinnamon

Pinch

of salt

4

whole

Granny Smith apples, peeled, cored, and quartered (you should have 16 pieces total)

1 ½

cup

sparkling apple cider

(recommend: Martinelli's brand)
Instructions
For the dumpling dough:
In a large bowl, combine the flour, salt and baking powder. Add the butter, and use two fingers to smush each cube into the flour mixture. Repeat until all of the cubes have been smushed into the flour.

Create a well in the center of the flour mixture. Add the sour cream. Use a rubber spatula to fold it into the flour. The mixture will be very loose. Turn the loose dough onto a well-floured surface and use your hands to gently press and work it all into one large square.

Sprinkle the square with flour, then use a rolling pin dusted with flour to roll the square into a rectangle. Fold the rectangle in thirds like you would a letter. Repeat this process of rolling and folding one more time.

Wrap your folded dough in plastic wrap and refrigerate for at least an hour before using.
For the dumplings:
Preheat the oven to 375℉. Prepare a 9x13'' casserole dish or large cast iron pan by greasing with butter or cooking spray. Set aside.

Place the butter, brown sugar, cinnamon, and salt in a small saucepan. Melt together over medium-low heat until combined. Remove from heat and cool for 10 minutes.

Remove the chilled dough from the fridge and place on a well-floured surface. Roll the dough into a rectangle that is 10'' wide and 18'' long. Cut the dough into 4 strips, then cut each strip in two squares, then cut each square into triangles. You should have 16 triangles total.

Wrap each apple slice in a triangle of dough and roll like you would a crescent roll. Tuck the sides of the dough into the center and place the dumpling into the prepared pan.

Pour the melted butter mixture over the tops of the dumplings. Pour the sparkling cider along the sides of the pan and between the dumplings, but not on top.

Bake the dumplings for 15 minutes. Reduce the oven temperature to 350℉ and bake for an additional 45 minutes or until the dumplings are golden brown and the sauce is thick and bubbly.

Remove from heat and serve warm. Cold leftovers are delicious as well!
Video
Serving:
1
Dumpling
|
Calories:
292
kcal
|
Carbohydrates:
29.6
g
|
Protein:
2.2
g
|
Fat:
19.1
g
|
Saturated Fat:
11.9
g
|
Cholesterol:
49
mg
|
Sodium:
238
mg
|
Potassium:
146
mg
|
Fiber:
1.9
g
|
Sugar:
15
g
|
Calcium:
32
mg
|
Iron:
1
mg
Pin this, pretty please!