This old-fashioned apple dumpling recipe is my take on the classic apple dumplings that my Granny used to make with crescent rolls and Mountain Dew! I love the buttery homemade pastry dough and caramel-like sparkling cider sauce.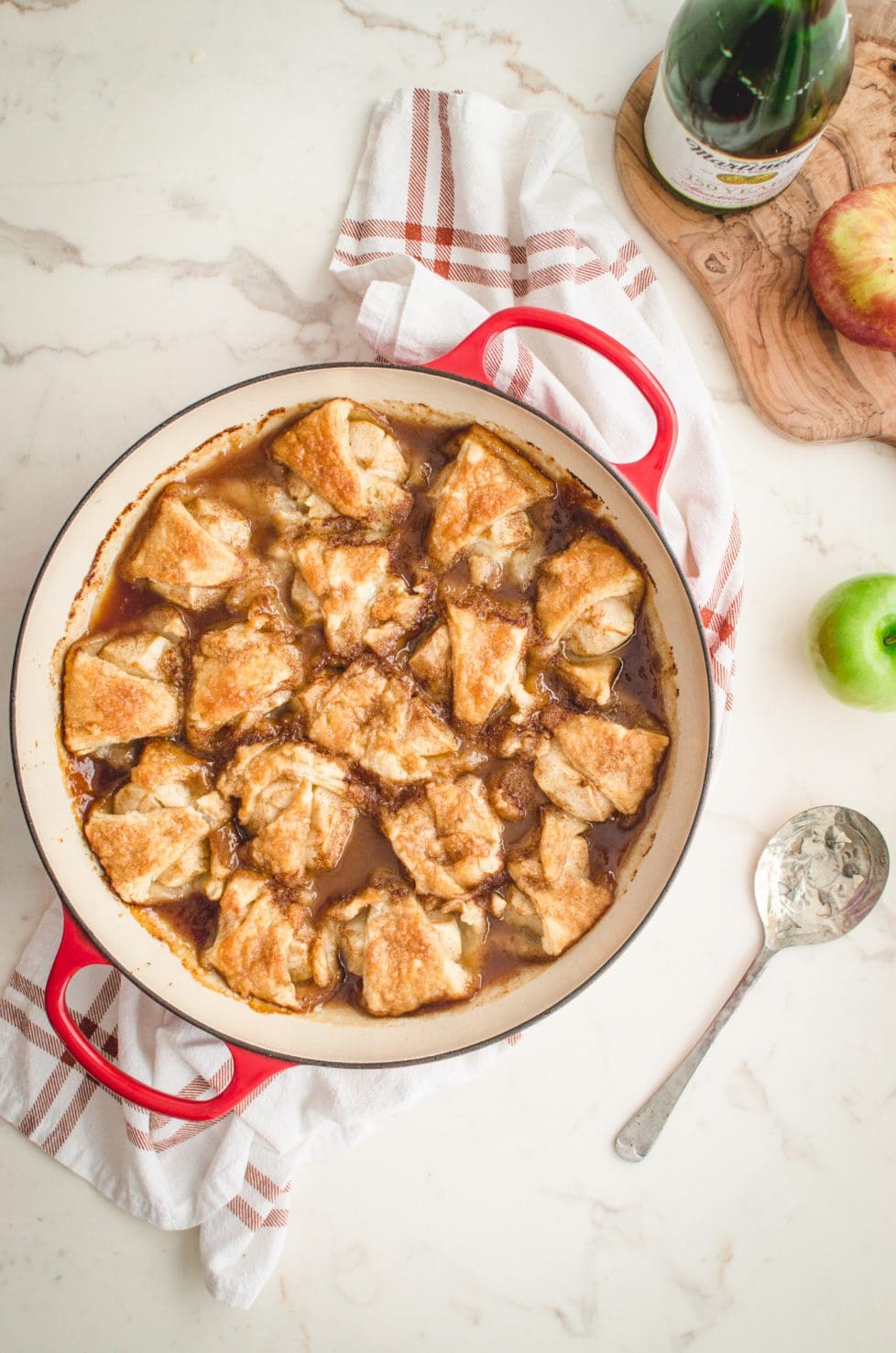 Jump to:
About the recipe
I almost titled this post "Granny's Apple Dumplings." One of my best food memories of things my Granny made for me was her special apple dumplings. She had a special dessert that she knew was the favorite of each person in my family.
For my dad, it was a coconut cake. My mom's favorite was Granny's boiled custard. My brother would always get a peanut butter pie. My sister always requested biscuits and chocolate gravy. I had two favorite desserts that Granny would make in my honor (of course, because I was the favorite!), blueberry pie, and apple dumplings. She'd make a blueberry pie for me when I visited in the summer, and apple dumplings when I'd come to see her for the holidays. It was just the best!
My grandmother's old-fashioned apple dumpling recipe called for rolling apple slices in triangles of crescent roll dough and baking the dumplings in a sauce made of Mountain Dew, butter, and brown sugar. It was quite an interesting recipe, but delicious just the same!
I've update Granny's recipe with a simple, puff pastry dough and a butter sauce made with sparkling apple cider. It tastes so much like hers and I'm happy to have my own version to pass down to friends and family!
Video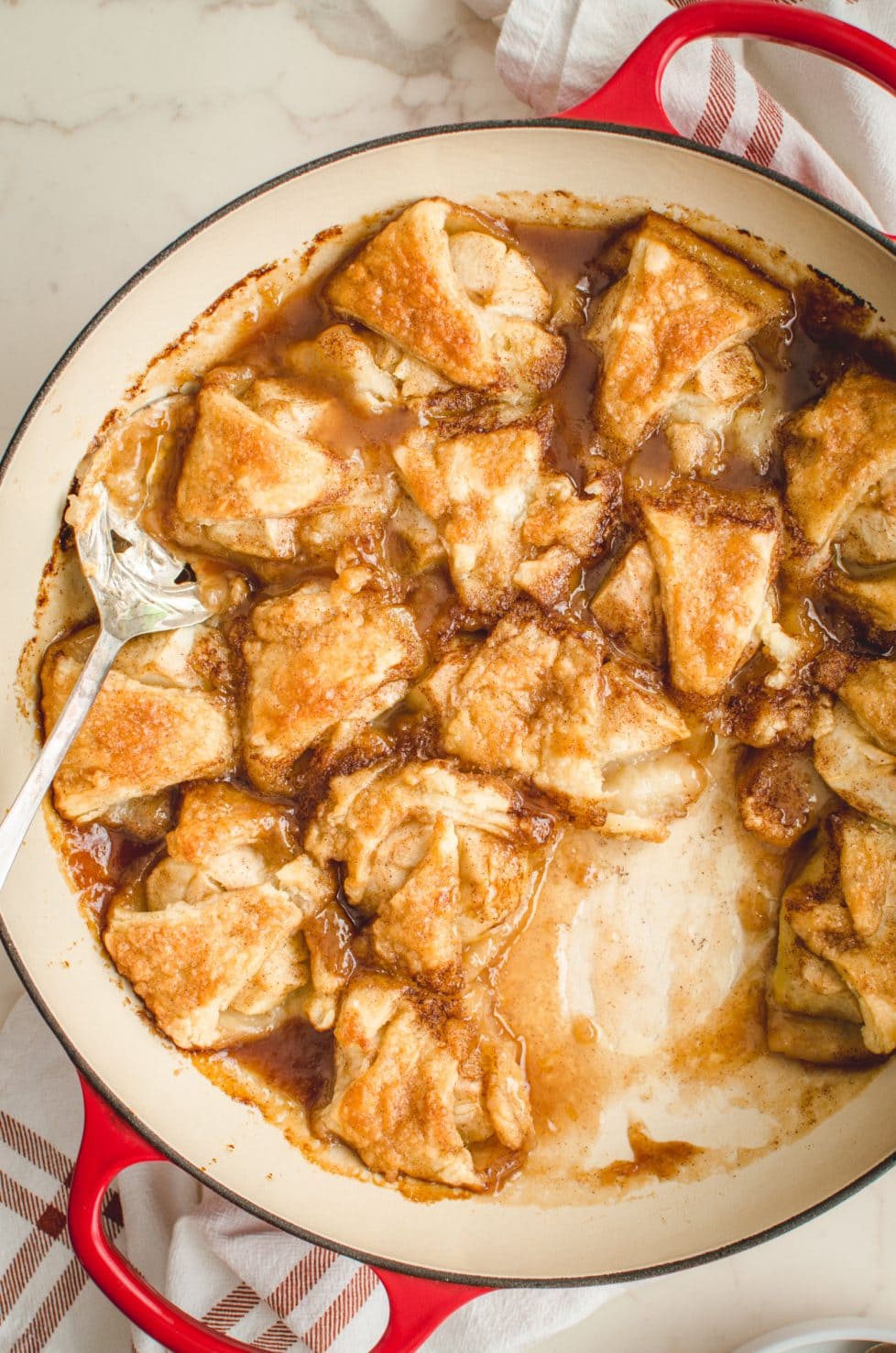 Ingredients
Baking powder, salt
Granulated sugar and brown sugar
Butter
Sour cream
Vanilla extract and ground cinnamon
Granny Smith apples
Sparkling apple cider
Instructions
Step 1: Make the dumpling dough. Do yourself a huge favor and make the dumpling dough in advance. Way in advance, if you have to. It can be frozen and thawed in the fridge overnight before the day that you need it.
Step 2: Peel and slice the apples. For large apples, I cut them into quarters. For smaller ones, I cut them into thirds.
Step 3: Make the brown sugar sauce. This is as simple as melting some butter, brown sugar, and cinnamon in a saucepan!
Step 4: Put the dumplings together. Wrap the apple slices in the dough triangle, then place them in your greased baking dish. Pour the brown sugar butter sauce over each dumpling, then pour the sparkling cider around the sides of each dumpling.
Step 5: Bake the dumplings then enjoy! These are best when they are hot and fresh outta' the oven, but they reheat well in the microwave too. A scoop of vanilla ice cream on top is a must!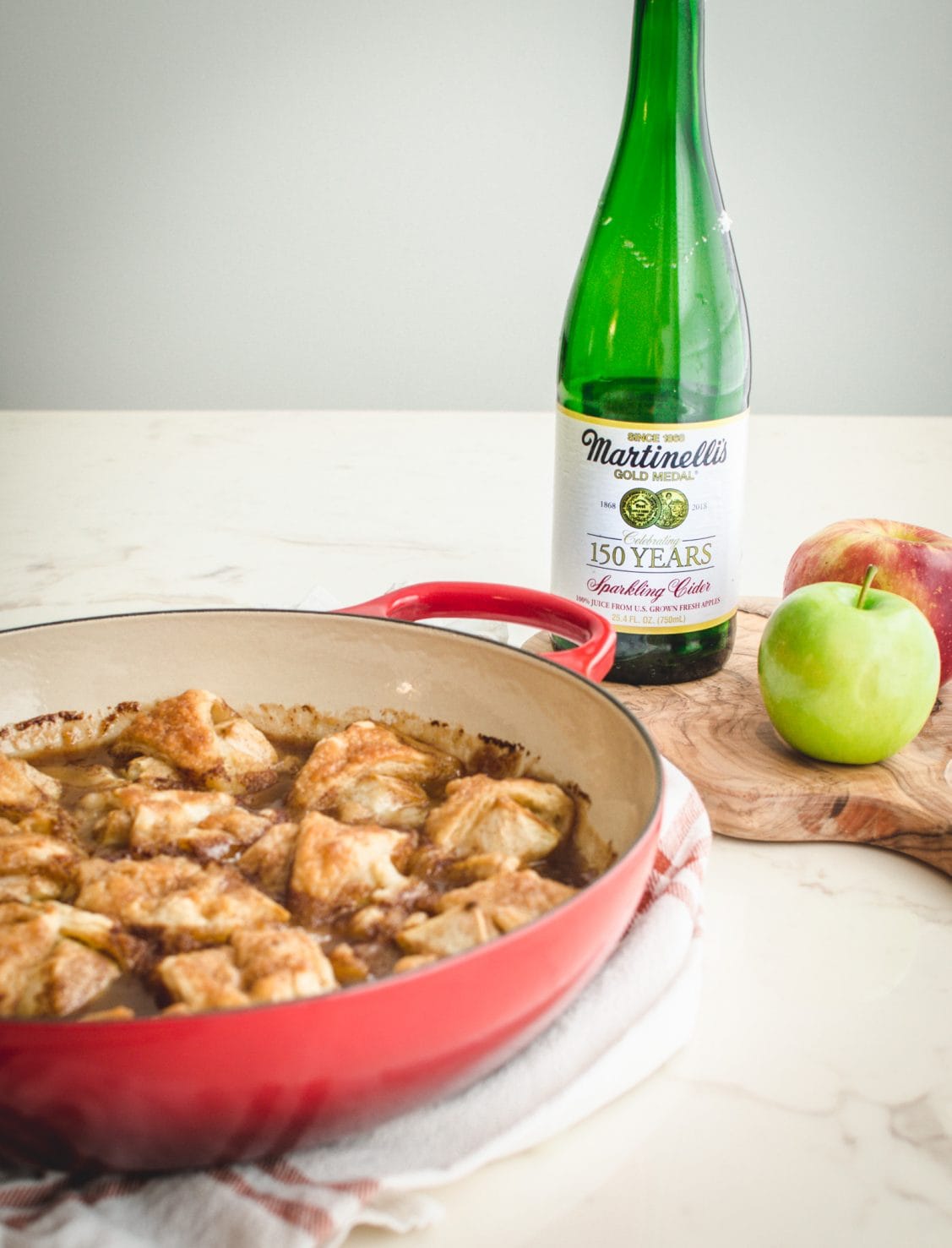 Top tips
Below are some of my best tips for making these bell pepper nachos, as well as some answers to commonly asked questions!
What are the best apples for apple dumplings?
An all-purpose baking apple that will somewhat retain it's shape when baked is best for making apple dumplings. Granny Smith is my apple of choice for this, but Honeycrisp or Pink Lady would also work.
Do apple dumplings need to be refrigerated?
I think it's best to refrigerate leftover apple dumplings to preserve their freshness. Once the dumplings are refrigerated, you can enjoy them up to 5 days.
How to reheat apple dumplings:
The easiest way to reheat the dumplings is to microwave an individual serving for 30-40 seconds. Alternatively, you could reheat them in the oven at 375°F for 15 minutes or so until the are heated through and the top is slightly crisp.
Tools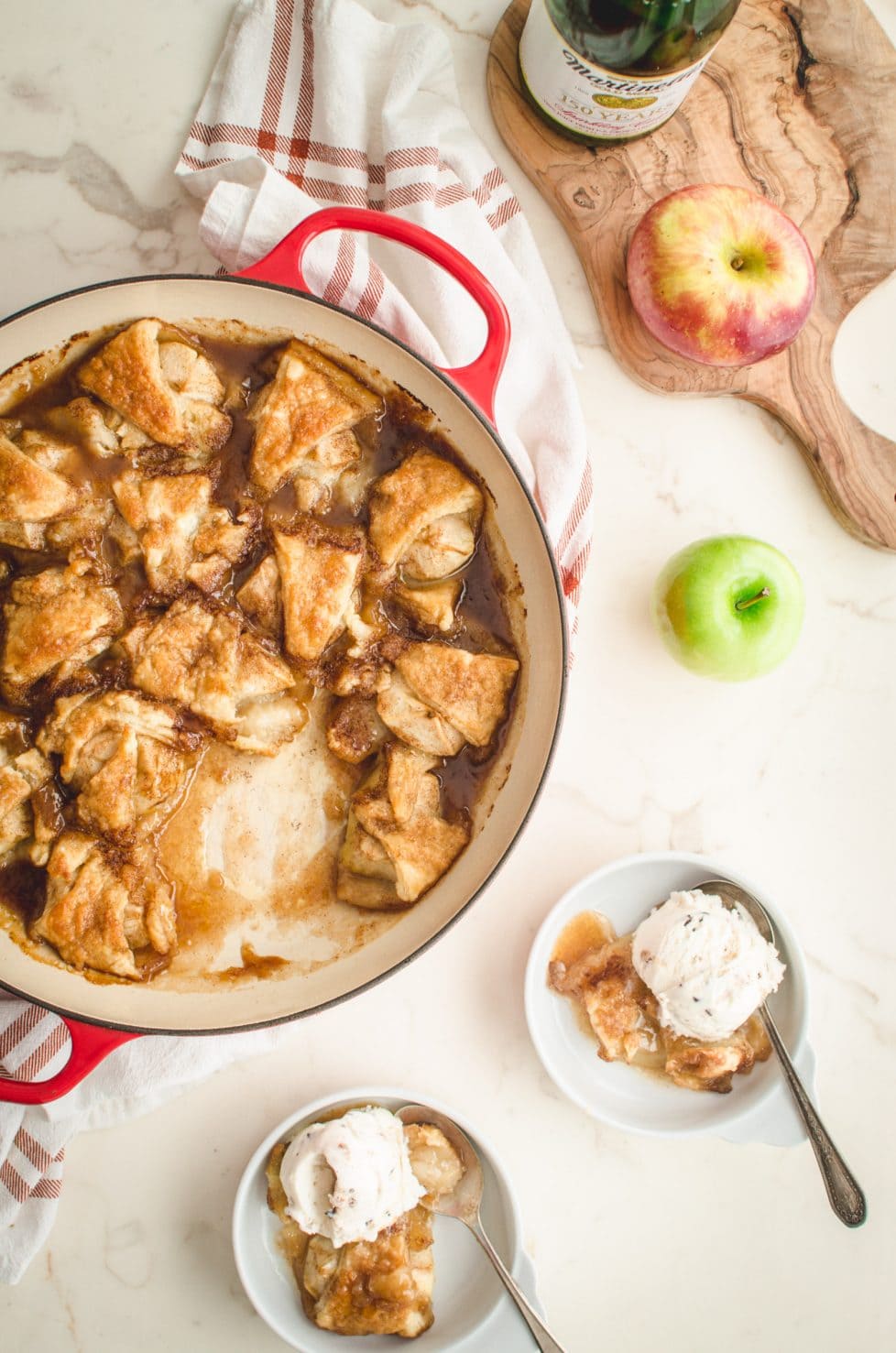 Similar recipes
Are you ready to get make these Apple Dumplings with Sparkling Cider Sauce? Good! I'm so excited for you to try this recipe. Once you get the chance to make it, please let me know how it turns out for you!
Leave a comment and rate the recipe below. This will help me with the creation of future recipes!
I'd also love to feature your creation in my weekly newsletter, so you can upload a photo to Instagram with the tag @sweetcayenne5 to be featured! Quick and easy recipe videos are available on my YouTube channel, and lots of menu inspiration on my Pinterest boards.
Recipe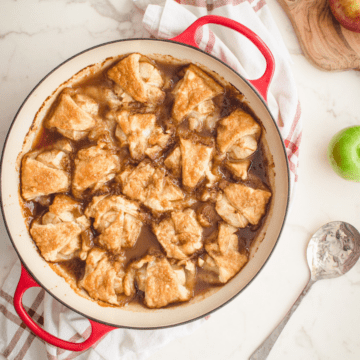 Granny's Apple Dumplings
This recipe for Apple Dumplings with Sparkling Cider Sauce is a scratch-made version of the old-fashion apple dumplings made with Mountain Dew!

Print
Pin
Rate
Ingredients
For the dumpling dough:
2

cups

all-purpose flour

¾

teaspoon

salt

½

teaspoon

of baking powder

1

tablespoon

granulated sugar

1

cup (2 sticks)

unsalted butter, cut into ½'' cubes

½

cup

cold sour cream

Buttermilk, as needed
For the dumplings:
½

cup (1 stick)

unsalted butter

¾

cup

packed brown sugar

1

teaspoon

vanilla

1

teaspoon

ground cinnamon

Pinch

of salt

4

large

Granny Smith apples, peeled, cored, and quartered (you should have 16 pieces total)

1 ½

cup

sparkling apple cider

(recommend: Martinelli's brand)
Instructions
For the dumpling dough:
In a mixing bowl fitted with the paddle attachment, combine the flour, baking powder, salt, and sugar. Mix for a few seconds until combine. Place the mixture, paddle attachment, and butter in the freezer for 20 minutes. Keep the sour cream refrigerated until ready to use.

After chilling, add a few cubes of butter at a time to the flour mixture with the mixer on LOW speed. Wait 15 seconds or so before adding more butter. Keep doing this until all the butter has been added and the butter chunks are about the size of broken pieces of walnuts in the flour.

Create a well in the center of the flour mixture. Add the sour cream. Use a rubber spatula to fold it into the flour. The mixture will be very loose. Scoop up a bit of dough with your hand and press it together. If it breaks off in a few chunks, it is ready. If it is still very crumbly add a splash of buttermilk and mix for a few seconds, doing this until the mixture will for a few clumps in your hand.

Pour the dough mixture onto a sheet of plastic wrap. Wrap tightly, then chill for 8 hours or up to overnight.

Turn the loose dough onto a well-floured surface and use your hands to gently press and work it all into one large square.

Sprinkle the square with flour, then use a rolling pin dusted with flour to roll the square into a rectangle. Fold the rectangle in thirds like you would a letter. Repeat this process of rolling and folding one more time. 

Wrap your folded dough in plastic wrap and refrigerate for one hour.
For the dumplings:
Preheat the oven to 375℉. Prepare a 9x13'' casserole dish or large cast iron pan by greasing with butter or cooking spray. Set aside.

Place the butter, brown sugar, cinnamon, and salt in a small saucepan. Melt together over medium-low heat until combined. Remove from heat and cool for 10 minutes.

Remove the chilled dough from the fridge and place on a well-floured surface. Roll the dough into a rectangle that is 10'' wide and 18'' long. Cut the dough into 4 strips, then cut each strip in two squares, then cut each square into triangles. You should have 16 triangles total.

Wrap each apple slice in a triangle of dough and roll like you would a crescent roll. Tuck the sides of the dough into the center and place the dumpling into the prepared pan.

Pour the melted butter mixture over the tops of the dumplings. Pour the sparkling cider along the sides of the pan and between the dumplings, but not on top.

Bake the dumplings for 15 minutes. Reduce the oven temperature to 350℉ and bake for an additional 45 minutes or until the dumplings are golden brown and the sauce is thick and bubbly.

Remove from heat and serve warm. Cold leftovers are delicious as well!
Video
Serving:
1
Dumpling
|
Calories:
292
kcal
|
Carbohydrates:
29.6
g
|
Protein:
2.2
g
|
Fat:
19.1
g
|
Saturated Fat:
11.9
g
|
Cholesterol:
49
mg
|
Sodium:
238
mg
|
Potassium:
146
mg
|
Fiber:
1.9
g
|
Sugar:
15
g
|
Calcium:
32
mg
|
Iron:
1
mg