Today I'm sharing 5 of my favorite Christmas morning breakfast ideas - these menus are perfect for any holiday brunch or breakfast and are recipes I make every year!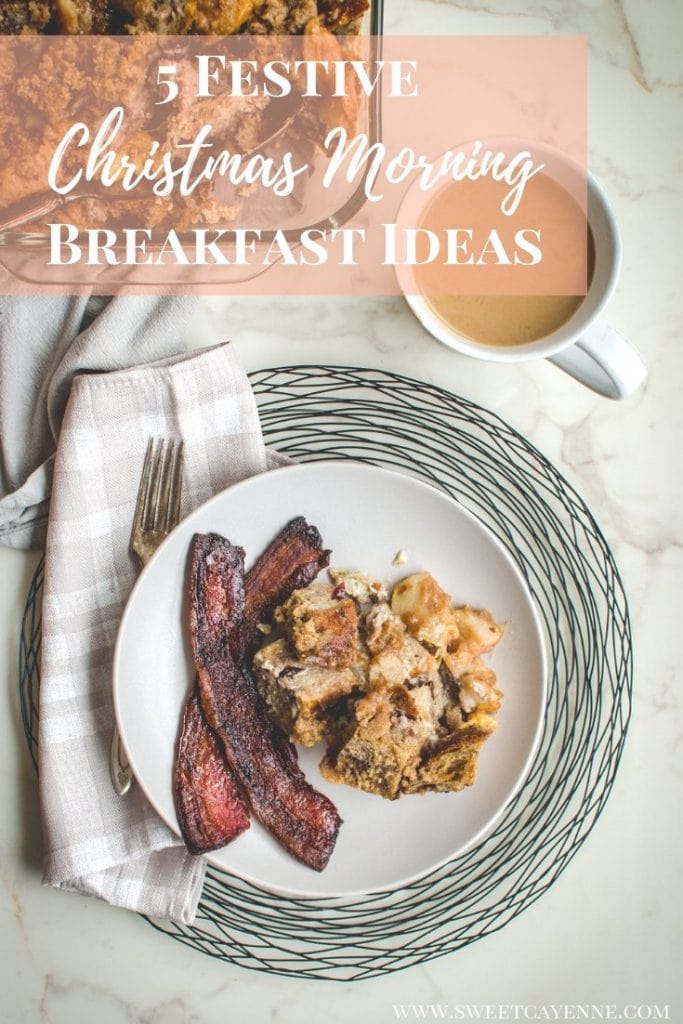 Last month, I submitted this post and recipe for my friend and fellow blogger, Emily. She was planning to schedule posts ahead of time for her maternity leave over the holidays, and thought a Christmas/holiday-themed breakfast option needed to be included!
Why I love it:
It makes great use of leftover bread. Overnight French toast recipes are a great way to use up bread you have in the freezer, or manager's special bread you get at a discount, or just any bread you have on hand!
This recipe is easy and quick to throw together the night before you plan to bake it. Just pop it in the oven the next morning!
It's easy to make a LOT of this for a crowd. Double or triple it to feed the masses!
It's just as tasty reheated the next day. I like to place a portion on some parchment paper on a pan and pop it in the oven at 350 for 10-15 minutes.
Serve it with: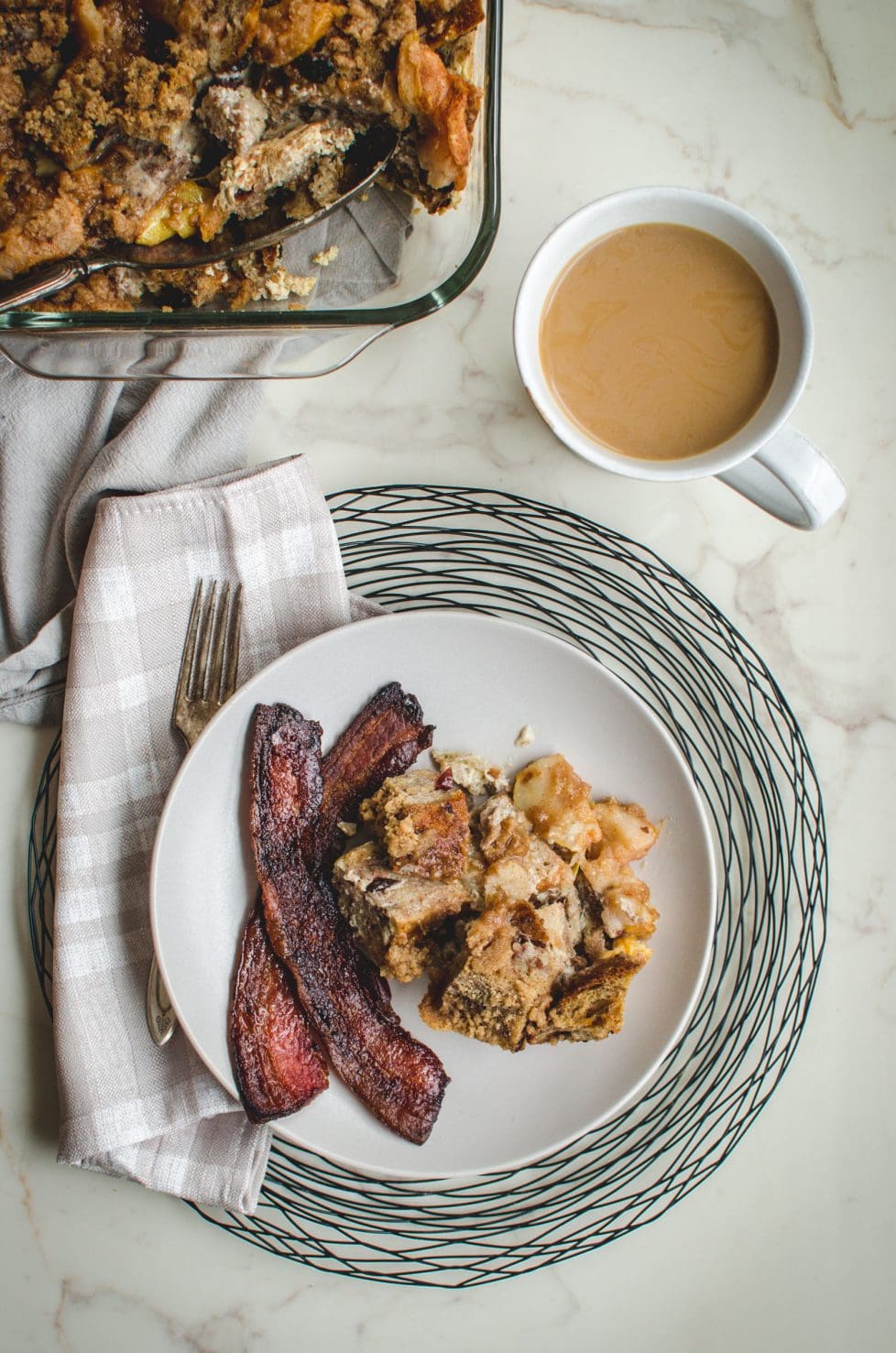 You may remember this post from a few weeks ago, and I can't wait to do this waffle bar again! I serve it for the first time to my family the Saturday morning after Thanksgiving, and it was a huge hit!
Why I love it:
Both the waffle batters can be made and portioned into cups the night before.
Everyone gets the chance to make and customize their own waffle, so the hostess can relax and watch the fun!
The brown butter pumpkin and chocolate white cranberry waffle flavors are so festive!
Serve it with:
Leftover Cranberry Sauce
Pomegranate Arils
Apple Butter
Nutella
Cinnamon Pears
Toasted Nuts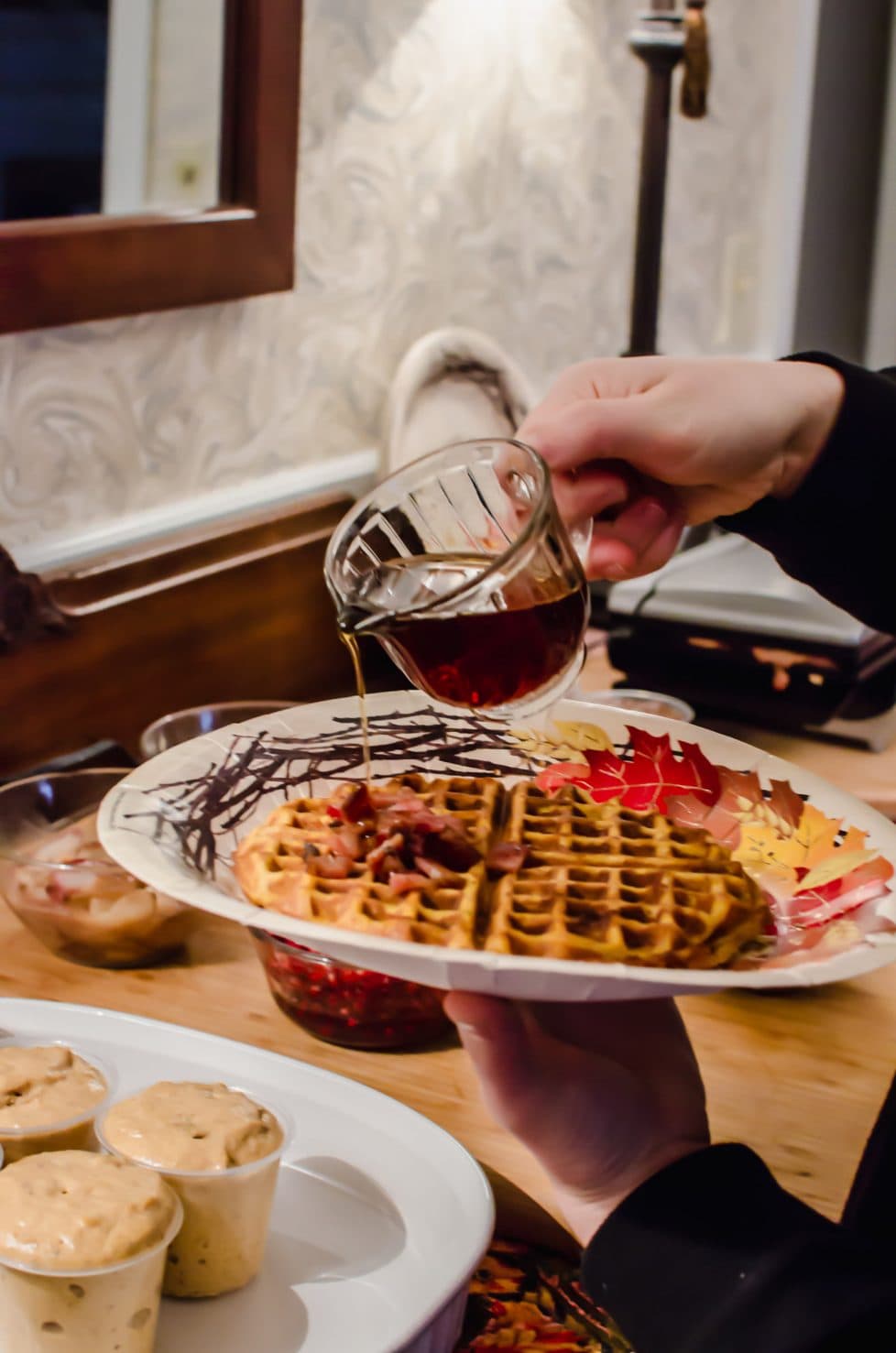 These have been a family favorite for years and if we don't have them specifically on Christmas morning, you can be sure they make an appearance at some point during the holiday season!
Why I love it:
Because cinnamon rolls...DUH!
The sweet potato in the dough results in the softest, most pliable dough that is easy to work with.
You can make these ahead and freeze for baking later.
Serve it with:
Winter fruit salad blend: clementine segments, ruby red grapefruit segments, sliced kiwi, pomegranate arils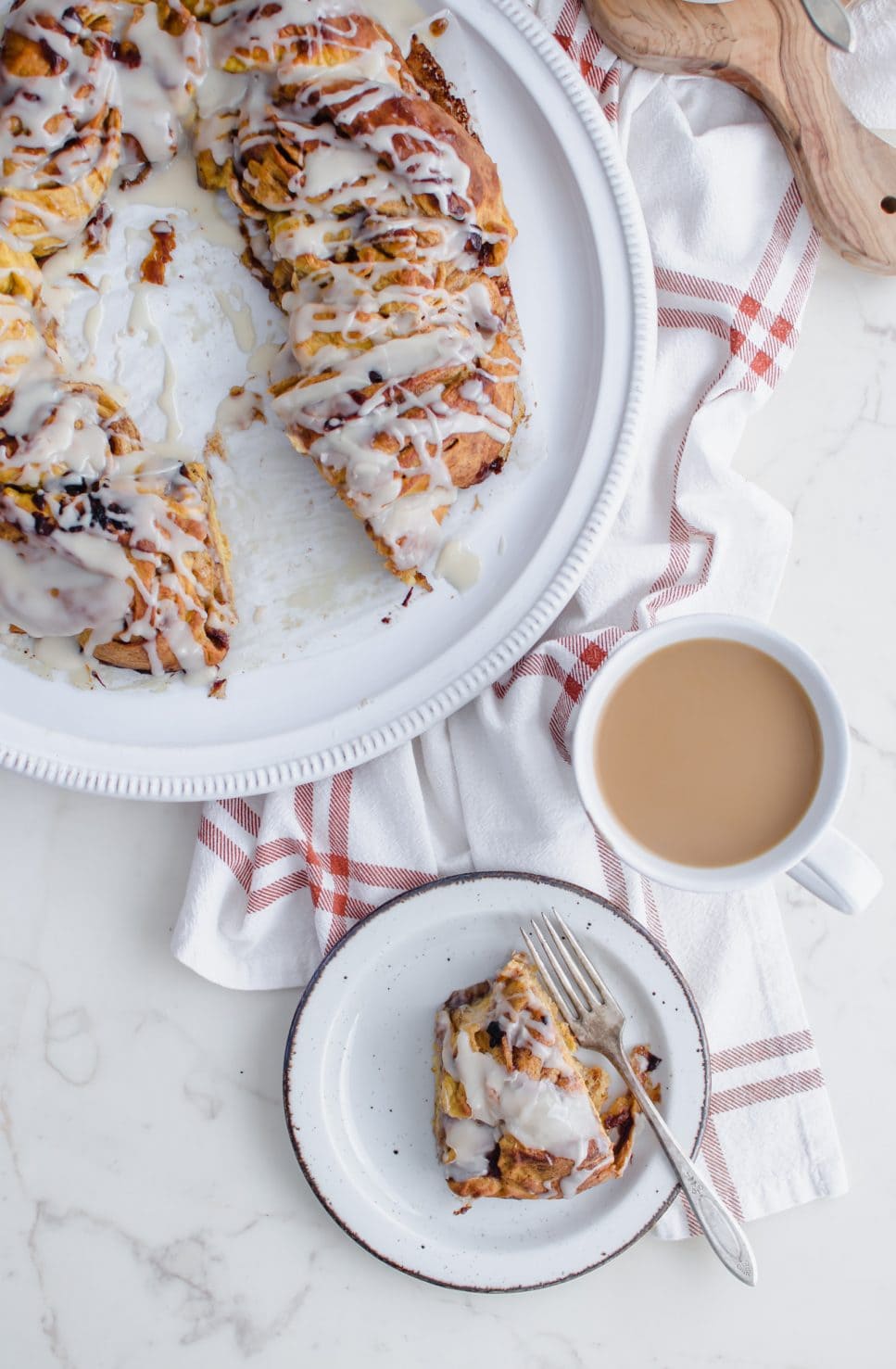 If you are planning a late-morning holiday brunch and have a big griddle, have a pancake breakfast! This pancake bar menu oozes festive flavor with recipes for gingerbread pancake and eggnog pancake batters that everyone will love!
Why I love it:
It's fun to include lots of toppings and watch everyone top their own pancake stack.
Super festive and Instagram-worthy photo opps are sure to be had with this menu.
Serve it with: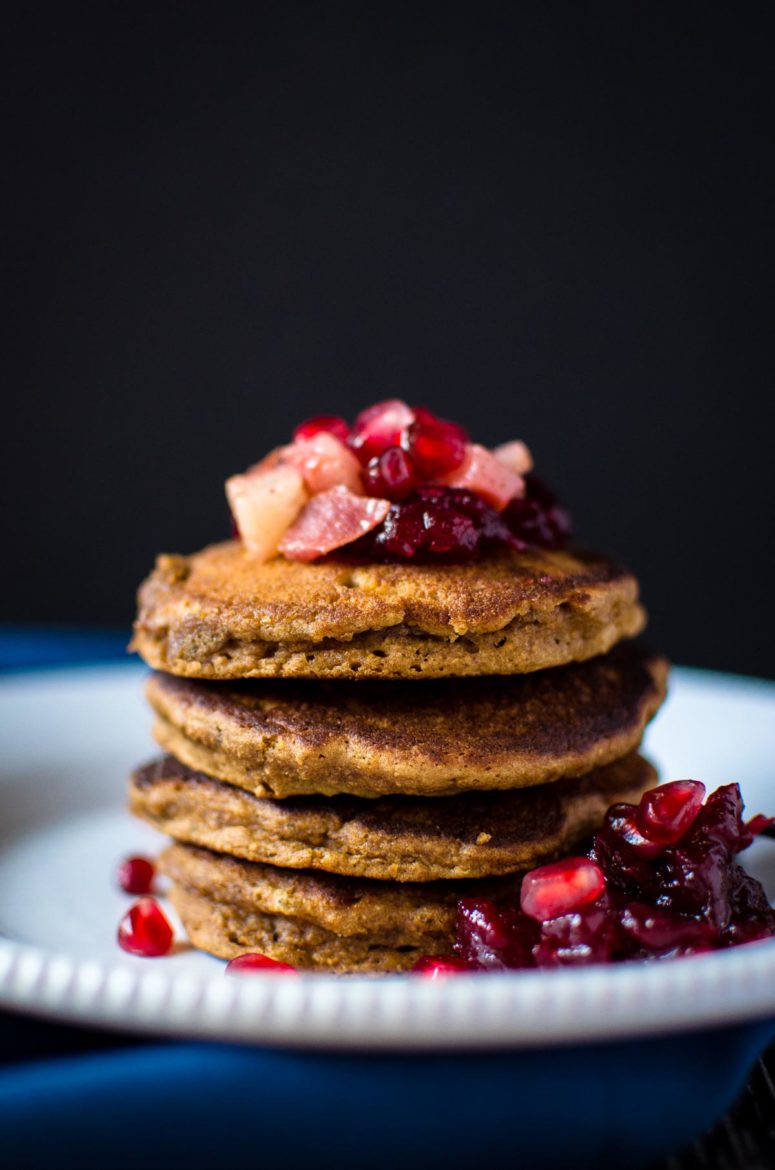 These light and flaky biscuits are my take on the scrumptious cinnamon biscuits from Bojangles. They have become a family favorite since their creation last year, and I've ended up making them for special occasions all throughout the year!
Why I love it:
These are drop biscuits, so no rolling and cutting is required!
You can make eggnog glaze or just glaze with half and half.
The recipe easily doubles to feed extra people and can be made quickly.
Serve it with:
Slices of country ham
Sliced green pears, sliced red apples, and red grapes (halved)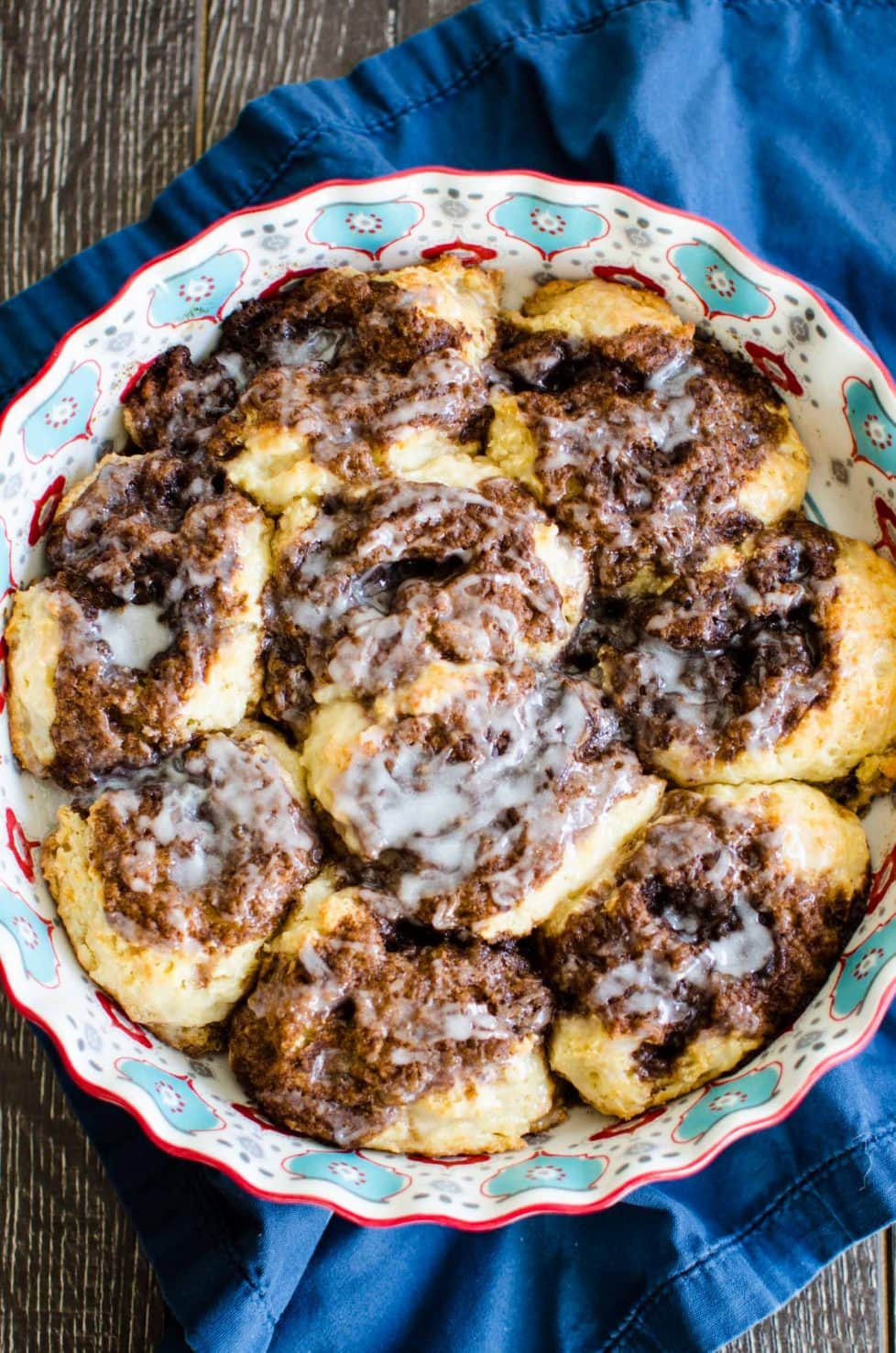 Why I love it:
Again, drop-style biscuits don't require rolling out or cutting the biscuit dough!
Chocolate gravy is a unique and drool-worthy alternative to traditional biscuits and gravy that just tastes extra-special!
Serve it with:
Traditional sausage gravy for a savory option
Scrambled eggs
Granola and yogurt parfaits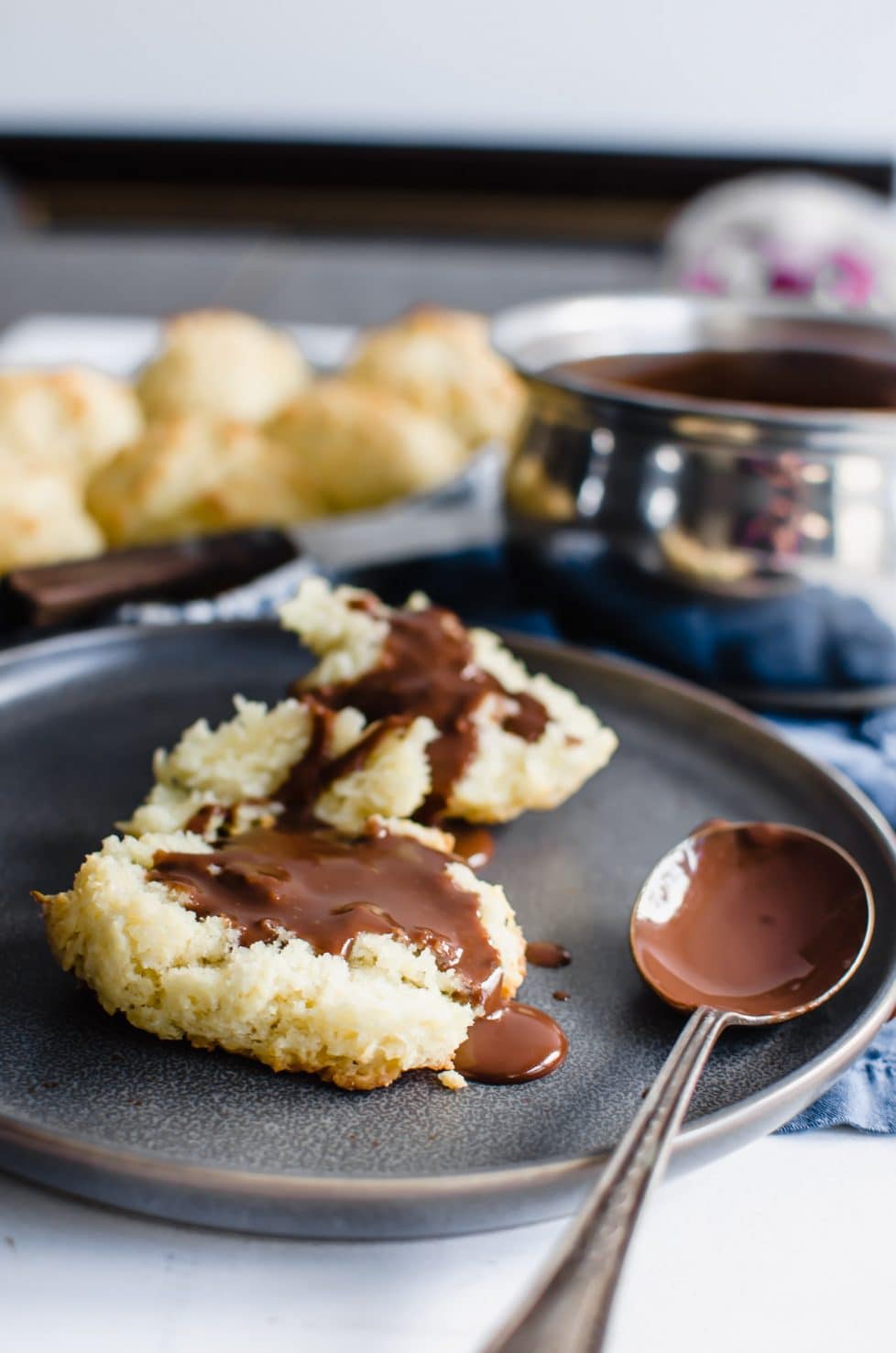 And there you have it! Are you planning to host or attend any holiday breakfasts or brunches this year? Hopefully, these menu options will give you some good inspiration! If you get a chance to try any of these recipes, please let me know how they turn out for you! Leave a comment and rate the recipe below. This will help me with the creation of future recipes!
I'd also love to feature your creation in my weekly newsletter, so you can upload a photo to Instagram with the tag @sweetcayenne5 to be featured! Quick and easy recipe videos are available on my YouTube channel, and lots of menu inspiration on my Pinterest boards.