This slow cooker apple butter recipe for canning yields a thick and velvety spiced apple butter that makes for a perfect foodie gift to surprise your family and friends. It's the perfect way to enjoy the flavor of spiced apples all year long!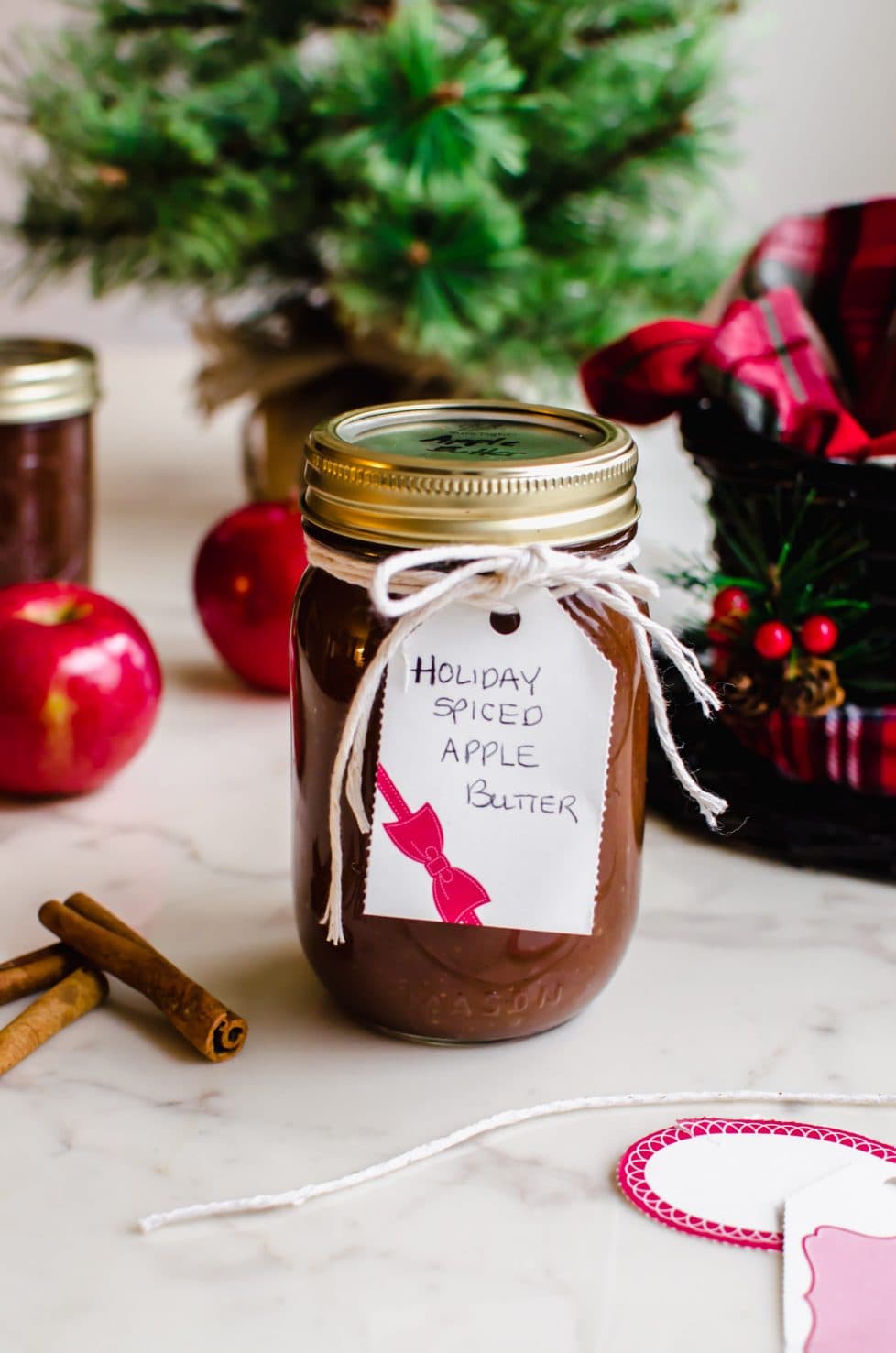 Jump to:
About the recipe
One of my favorite fall treats is apple butter, and I've always been a huge fan of the one that the Apple Barn sells in Pigeon Forge, TN. Whenever we open a jar, it's gone in 2-3 days because we love it so much! Their apple butter is nice and dark, silky smooth, and heavily spiced with cinnamon.
I've wanted to try and make my own version for quite some time, and this slow cooker version is by far the easiest apple butter recipe. Why the slow cooker?
Well, the key to achieving a velvety, buttery texture in any type of fruit butter is to cook it evenly and slowly so that the water from the fruit evaporates without causing the sugars to burn.
Of course, you could do this the old-fashioned way in a kettle over an open fire....or you could do it slowly on the stovetop and endure many hours of stirring....or, you could save yourself some time and worry by letting the slow cooker do the work! Slow cooker = less stirring, less mess, less chance of scorching, even cooking...bingo!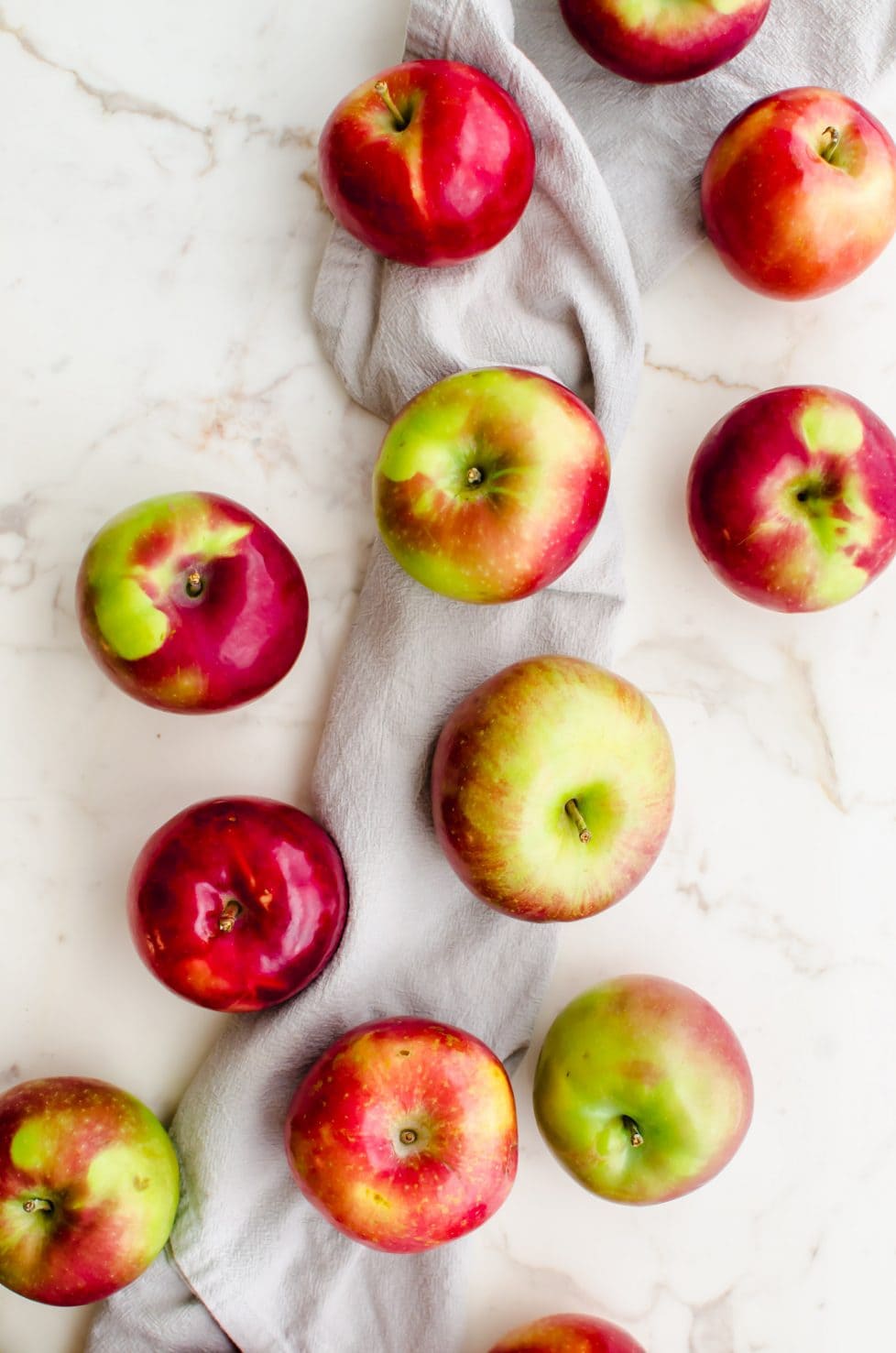 Ingredients
Fresh apples - I recommend a mix of McIntosh and Fuji
Apple cider
Granulated and brown sugar
Ground spices - cinnamon, cloves, allspice
Instructions
Making apple butter from scratch is fairly simple, and the majority of the work is at the beginning and end of the process. Things are pretty chill while the apple butter is cooking, so it's a great project for a day at home.
Step 1: Prep your apples. This will involve peeling, coring, and dicing 6 pounds of apple, and is the most labor-intensive part of making apple butter. After this, it's all down hill!
Step 2: Make your apple puree. You will cook the apples in apple cider in a large pot until they break down enough to be pureed, about 30 minutes. I like to do this the day before, chill it in the fridge overnight, and then cook it in the slow cooker with sugar and spices the next day.
Step 3: Cook your puree in the slow cooker. Measure your puree cup by cup into the slow cooker, and then add one tablespoon each of granulated sugar and brown sugar per cup of puree. Stir in the spices, then cook the apple puree on LOW for 8-10 hours, stirring every 1-2 hours.
Step 4: Can your apple butter. During the last ½ hour of cooking, you can prepare to can the apple butter by sterilizing your jars and lids in a hot water bath. Then, you will ladle the apple butter into the jars and boil it for 10 minutes. Once the jars are removed from the water, they will need to rest for 12 hours before opening.
Tools
To really enjoy canning/preserving in a fun and safe way, you must have the right tools! My attempts at canning were made much more successful when Ryan purchased a canning kit for us. I've listed our favorite canning cookbooks and essential tools. Here is what you need to make homemade apple butter: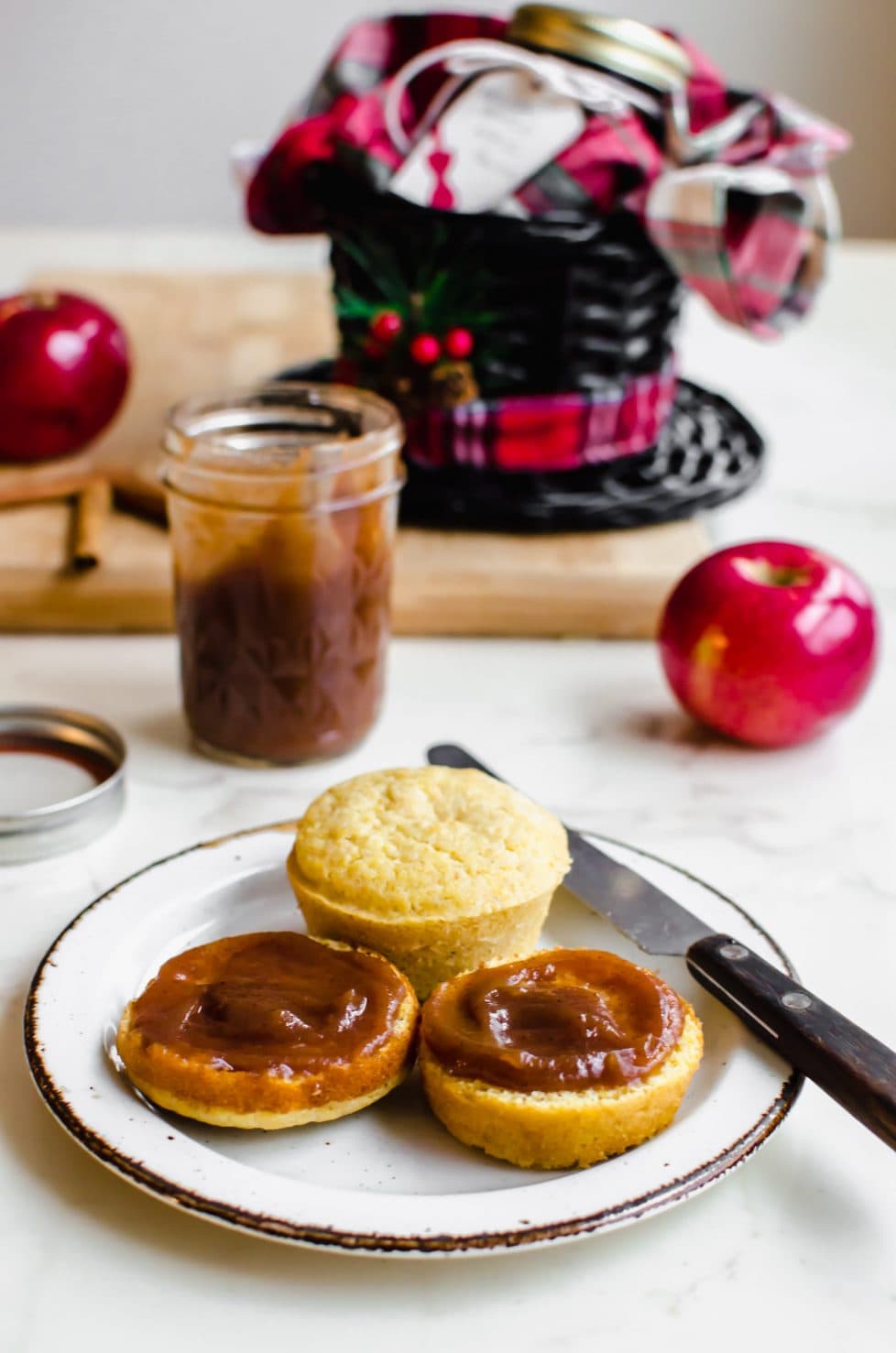 Top tips
Below are some of my best tips for making these bell pepper nachos, as well as some answers to commonly asked questions!
What types of apples are good for apple butter?
Apples with a softer flesh are best for making purees like applesauce and apple butter because they break down the fastest. You also want the apple to have a good amount of sweetness. McIntosh, Fuji, Golden Delicious, and Jonagold are all great options. I think it's nice to use a combination so you get a more nuanced flavor in the apple butter.
Can I cook the apple butter in the slow cooker overnight?
The short answer is no, I don't recommend cooking this overnight. Thanks to This Is Us, I'm just not comfortable leaving any cooking appliance on while unattended. And, if you must know the truth, I did cook apple butter in the slow cooker overnight once (pre-This Is Us era )and it scorched terribly.
You DO need to stir it some, every 2 hours or so to get an even cook. So, my best advice is to cook this on a cold, snowy, quiet day at home where you can soak in the mouth-watering aroma that is sure to fill your home as the apple butter cooks!
Is apple butter good for canning?
If you have never canned anything before, apple butter is a great place to start! It utilizes the simple water bath canning technique and doesn't require any pectin or special canning ingredients.
Be sure to prepare for canning by having all of your ingredients, tools, and equipment in place before you start. This will streamline the cooking process and help ensure you have all that is needed before you get started.
How do you store homemade apple butter?
Before you store your apple butter, make sure the jar lids have sealed properly. If the jars have not sealed, transfer your apple butter to the refrigerator right away and label/date it. You can use it refrigerated for up to 1 month.
When it comes to knowing if a jar sealed properly, how to long to store canned items, and other canning-related questions, my favorite resource is the National Center for Home Food Preservation website.
They recommend storing homemade jams for one year, being sure to note any change in color or the presence of leaks, odors, or bubbles throughout the storage time. Ideally, canned goods should be stored in a dark, cool, dry location with a temperature between 50-70 degrees F. So any pantry or closet shelf should be just fine!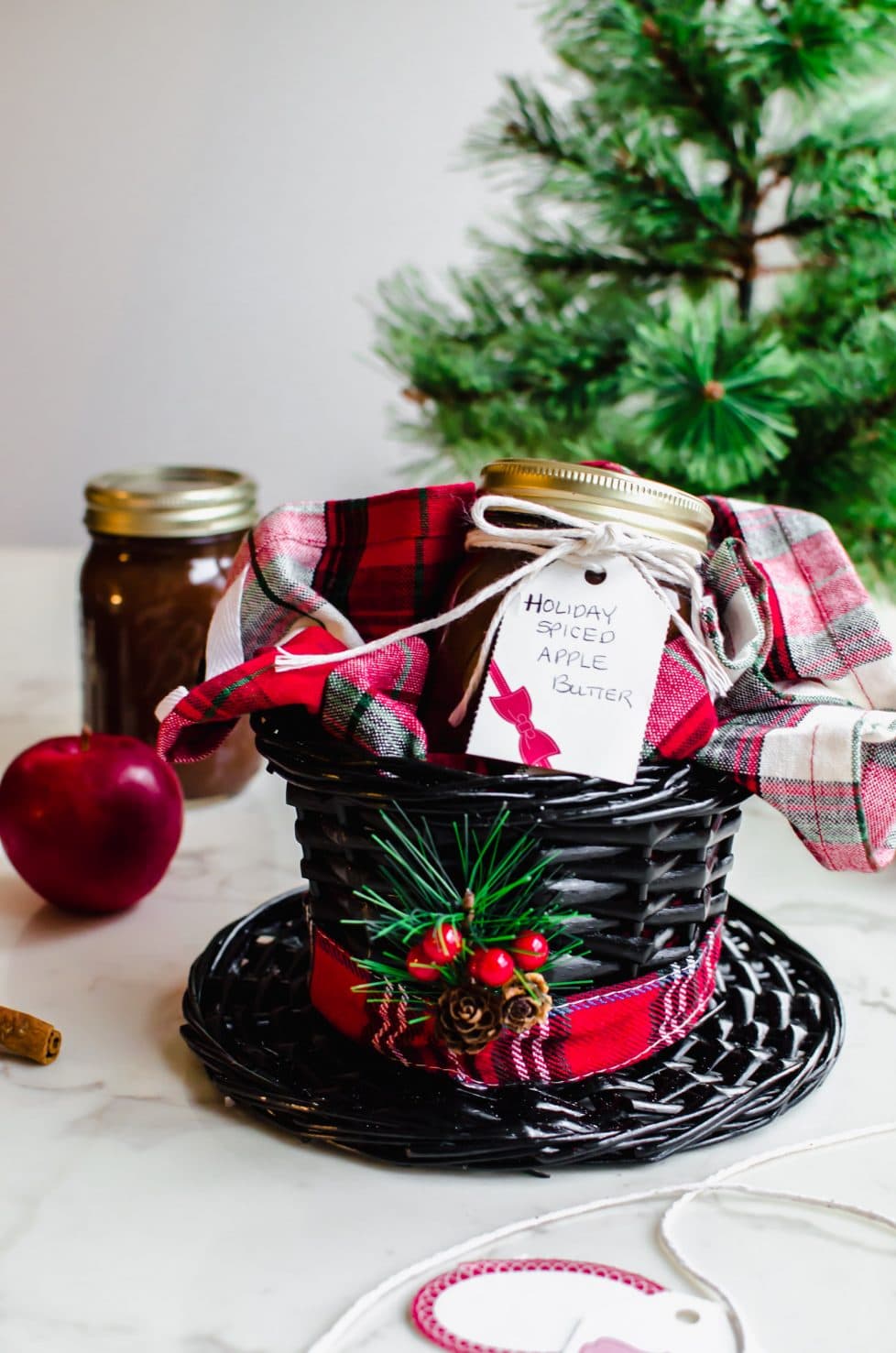 Serving suggestions
If you are wondering what you can use apple butter for, get excited, because there are SO many delicious foods you can add it to:
Apple butter is a delicious topping for toast, especially cheese toast
As a spread on paninis with turkey, cranberry sauce, and a sharp white cheddar
As a condiment on cheese boards
Or just enjoy it right out of the jar!
Similar recipes
If you love cooking with apples in the fall as much as I do, be sure to check out my recipes for Apple Dumplings, Whole Wheat Apple Cake, and Cheddar Grits Bowls with Apples and Turkey Sausage!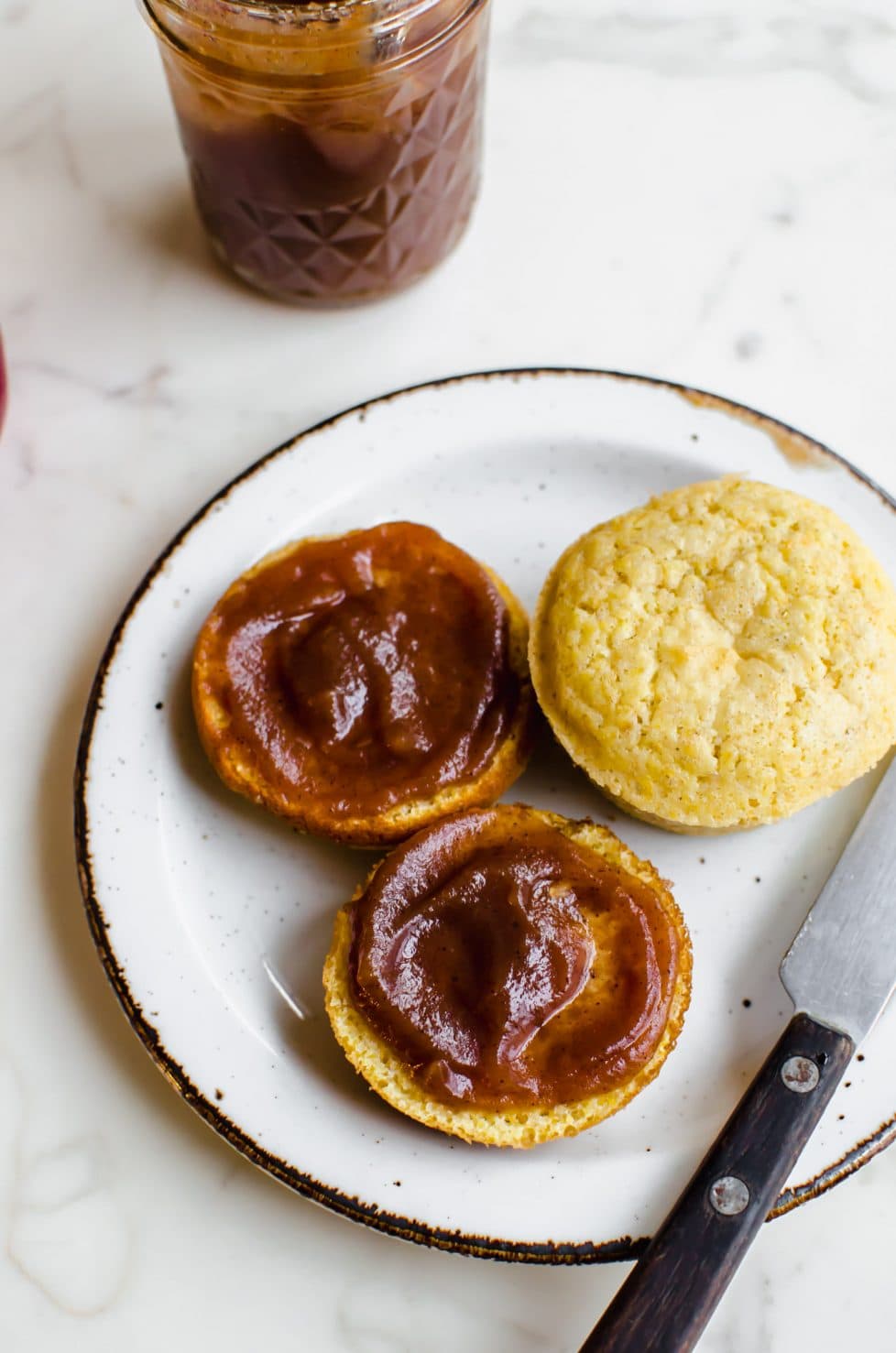 Are you ready to make this slow cooker apple butter recipe?
Leave a comment and rate the recipe below. This will help me with the creation of future recipes!
I'd also love to feature your creation in my weekly newsletter, so you can upload a photo to Instagram with the tag @sweetcayenne5 to be featured! Quick and easy recipe videos are available on my YouTube channel, and lots of menu inspiration on my Pinterest boards.
Recipe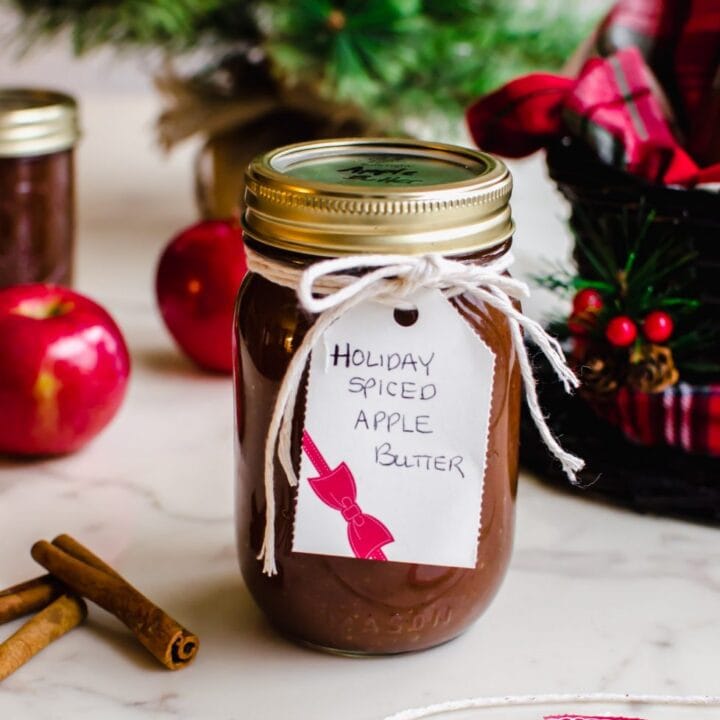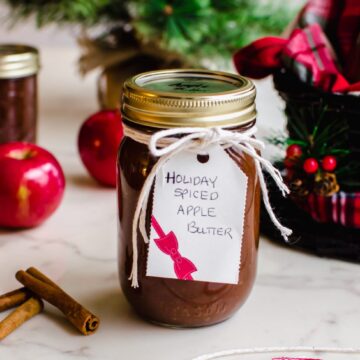 Slow Cooker Spiced Apple Butter
This thick and velvety spiced apple butter is a delicious recipe for cooking apple butter in the crockpot and canning it to enjoy all winter long. It makes for a perfect foodie gift to surprise your family and friends!
Print
Pin
Rate
Servings:
6
half-pint jars
Ingredients
6

pounds

of apples, cored, peeled, and cut into 1'' chunks (I recommend a blend of Macintosh and Fuji for the best texture and flavor)

2

cups

apple cider

¾

cup

granulated sugar, estimated amount needed

¾

cup

dark brown sugar, estimated amount needed

2

teaspoons

ground cinnamon

1

teaspoon

ground cloves

½

teaspoon

ground allspice
Instructions
Pre-prep a day ahead option (recommended):
Place the apples and cider in a 5 qt Dutch oven or heavy-bottomed pot along with 4 cups of water. Bring to a boil over high heat. Reduce heat to medium and boil, stirring occasionally, until the apples have broken down, about 30 minutes.

Remove the pot from heat and use an immersion blender to carefully puree the apples in the pot (this step can be done one day ahead, simply cover and chill the puree overnight before proceeding). 
The day of cooking:
Use a measuring cup to measure the amount of puree you have as you transfer the apple puree, cup by cup, into a 6-qt slow cooker.

For each cup of puree that you have, add one tablespoon of white sugar and one tablespoon of brown sugar. Stir the sugar and the spices into the puree.

Place the lid slightly ajar on the slow cooker and cook on LOW for 8-10 hours, stirring every 2 hours, until the puree is dark and thick enough to where a spoonful mounds up on a plate and liquid seeps out around the mound. 

During the last 30 minutes of slow-cooking, fill your large canning pot with water and bring it to a boil. Once the desired thickness is reached, place the slow cooker on HIGH to bring the apple butter to a boil while you prepare for water bath canning.

Sterilize canning jars by placing them in a boiling water bath (I do this in my canning pot) for ten minutes. Keep them warm in the water until ready to use. Place the lids in a heatproof bowl and ladle a few spoonfuls of boiling water on top. Keep them warm in the bowl until ready to use. For more information on hot water bath canning, see this article.

Using a jar lifter, carefully remove the jars from the hot water canning bath and place them upright on a towel. Remove the lids from the bowl of water and pat them dry.

Ladle the hot apple butter into the sterilized jars, leaving ¼ inch of headspace at the top. Remove air bubbles with an offset spatula as needed. Use a damp paper towel or cloth to wipe the rims of the jars clean. Place the lid on top, followed by the jar ring, and adjust the ring until it is finger-tight (do not force it).

Return the jars to the water bath, being sure that each is covered by at least 1 inch of water. Bring the water to a boil and boil for a full 10 minutes. Use the jar lifter to carefully remove the jars from the water and transfer them to a towel. Do not disturb the jars for 12 hours.

After one hour of resting, make sure the jar lids have sealed by pressing down on the center of the lid. If the center can be pressed down, the lid has not sealed and the contents of the jar should be refrigerated immediately for use within 1-2 weeks.

Label the sealed jars and store in a dark, cool, dry place for up to 1 year.

Notes
This recipe is adapted from the book Canning for a New GenerationCanning for a New Generation, by Liana Krisoff. I own and highly recommend this cookbook to anyone who wants to learn more about canning!
Serving:
2
Tablespoons
|
Calories:
49
kcal
|
Carbohydrates:
13
g
|
Protein:
0.1
g
|
Fat:
0.1
g
|
Sodium:
2
mg
|
Potassium:
57
mg
|
Fiber:
0.9
g
|
Sugar:
11.5
g
|
Calcium:
5
mg
|
Iron:
-20
mg