Today I'm going to walk you through planning a menu for Thanksgiving, as well as share some of my time, money, and sanity-saving tips that will ensure you enjoy the holiday with family and friends!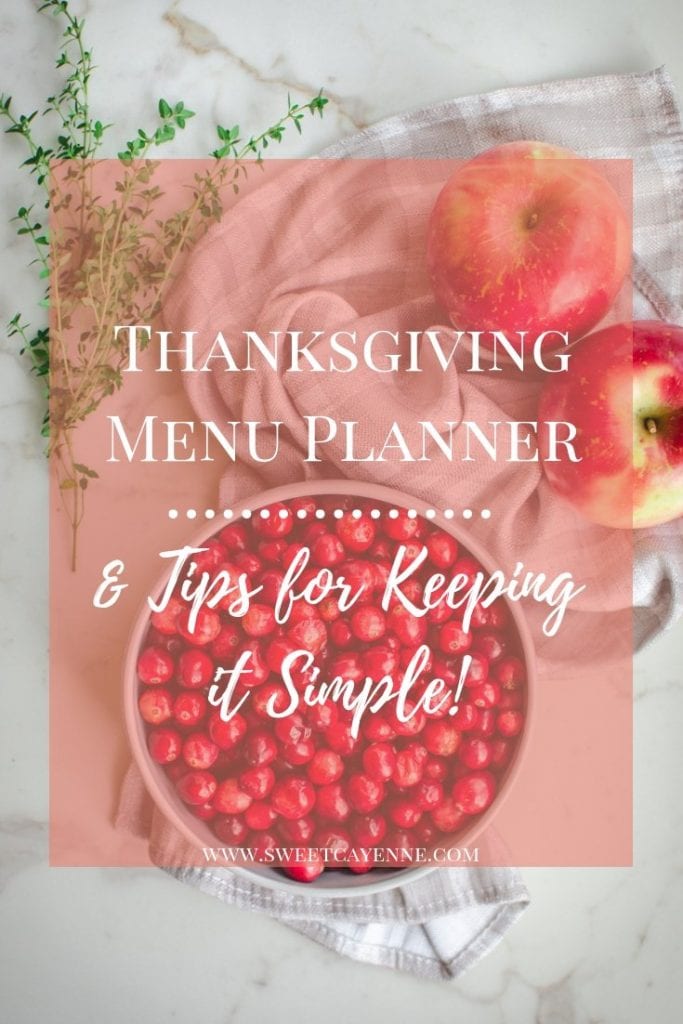 Let's get our Thanksgiving planning on! Whether you are hosting a family gathering, being part of a Friendsgiving, or just being a guest, there are tips for everyone here that will help keep your planning simple and attainable. Even if you aren't playing a big role in the planning, use some of these suggestions to encourage your host/hostess and be a help to them!
Most of our family Thanksgivings involve at least 10 people, and I've had the opportunity to host myself and help others host. Over the years, my mom and I have given a lot of thought to how to keep things simple yet make it special. Our goal is to not plan so much that we get stressed and so tied up with the work that we don't enjoy being with family. Below is the menu planner I will be using to keep us organized - keep reading for my tips on filling it out and making your game plan!
Ready to start planning? Download and print the 2-page planner and sign up for my weekly newsletter to get monthly menu planning sheets and a FREE e-cookbook!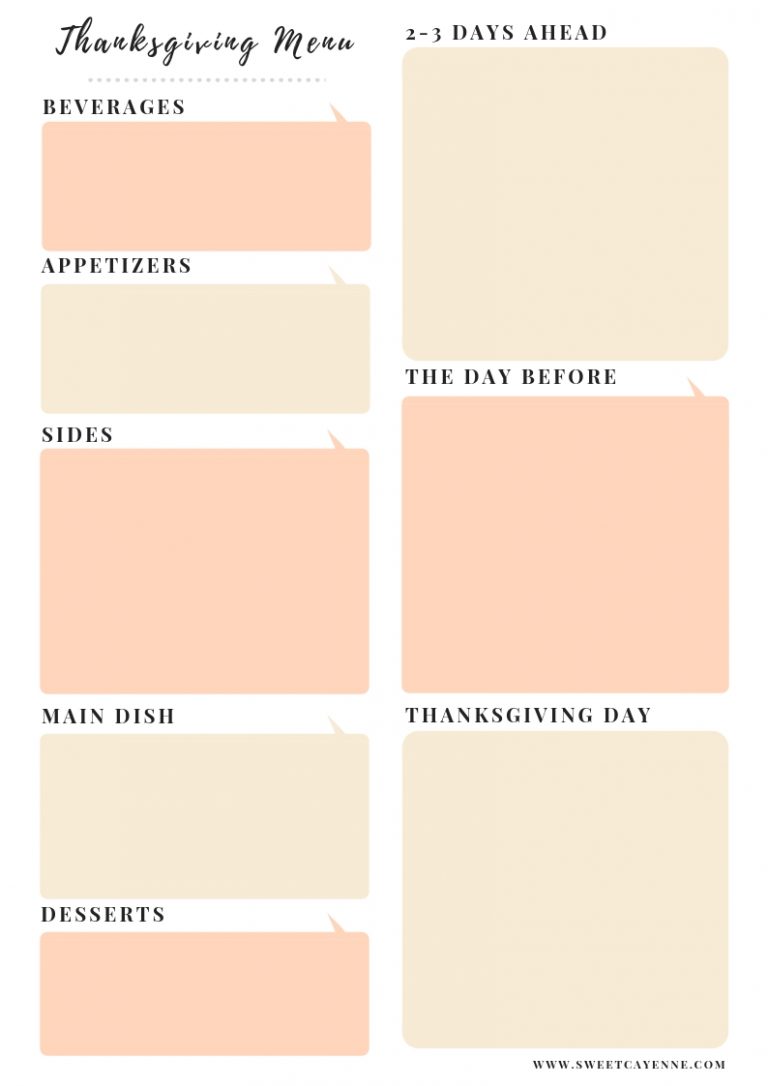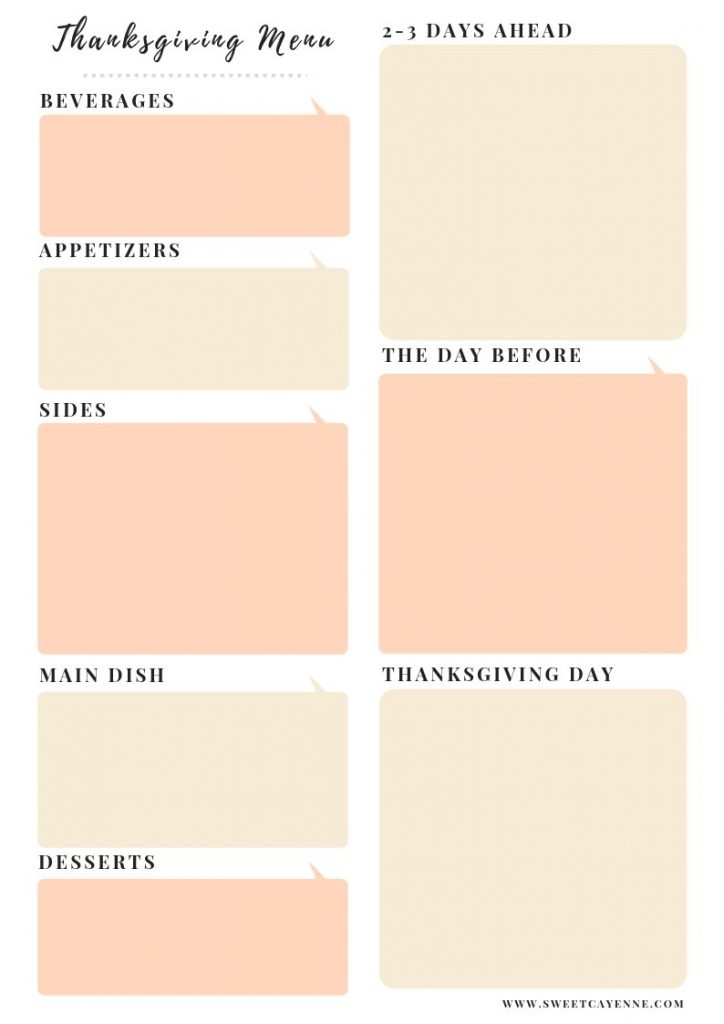 Planning the Menu
Beverages
Ask your guests to bring the beverages. This is a simple thing for people to bring that could potentially take up a lot of real estate in your fridge if you were providing it yourself. There are many guests who hate to cook and will jump at the chance to just bring a drink! Whether it is jugs of tea, lemonade, soft drinks, coffee or a slow-cooker filled with apple cider, drinks are a simple thing to check off your list and delegate to others without asking for too much.
Suggested recipes: Applepom Fizz, Spiced Tea, Dairy-Free Slow Cooker Hot Chocolate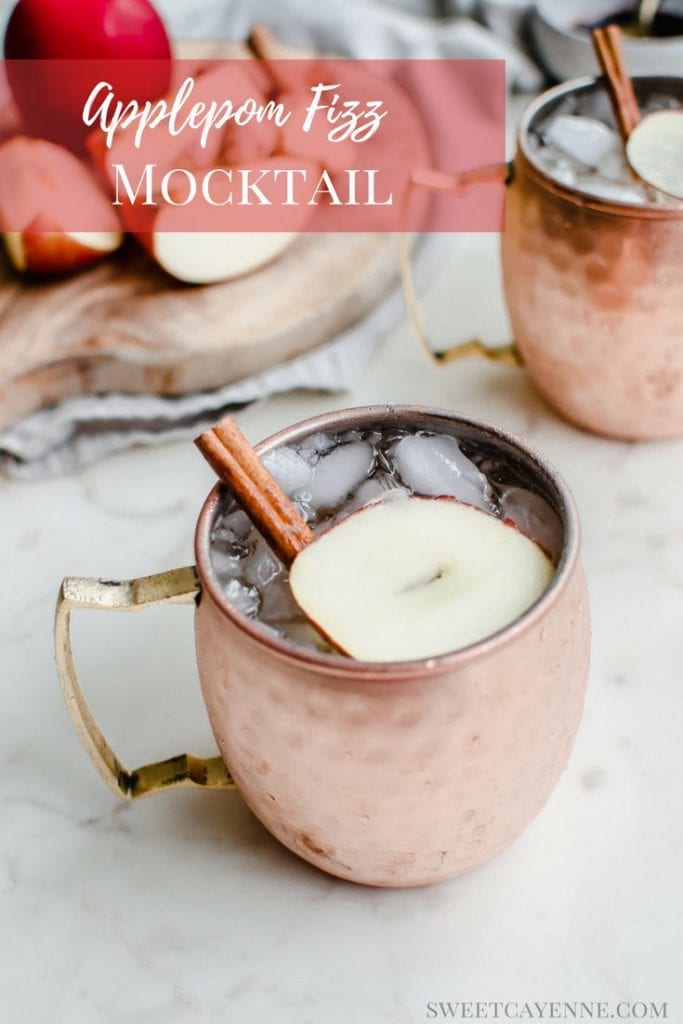 Appetizers
Choose no-cook appetizers and delegate to guests. If someone on your guest list asks if they can bring something, don't say no! People love to feel like they are contributing, and even if you'd like to control the main menu, specify a simple appetizer that a guest can bring that doesn't involve cooking. Your oven, stovetop, microwave, and toaster are likely going to be tied up!
Ask for: mixed nuts, platters of fruit, cheese and crackers, prosciutto-wrapped fruit, salami, and sliced cucumber, or a homemade party mix (like Chex).
Suggested recipes: Antipasto Board, Pumpkin Cream Cheese Dip with Fruit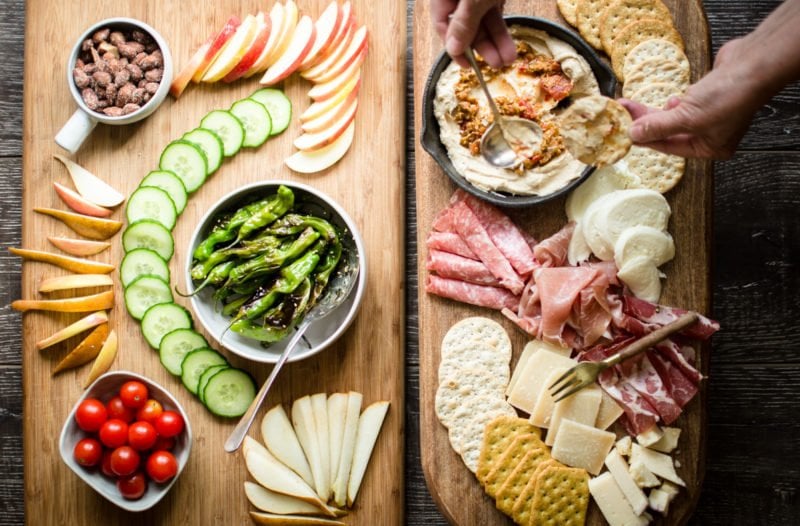 Sides
Keep it simple and stick to 3-4, plus rolls and cranberry sauce. People tend to think they need WAY more sides on Thanksgiving than can comfortably be consumed. My head spins when people tell me that plan to fix stuffing, mashed potatoes, sweet potatoes, green bean casserole, brussels sprouts, and mac and cheese - all for one meal! I think it's good to challenge yourself to stick with 3 sides - 4 at the max, and then maybe up the volume by focusing on really high-quality ingredients. Choose a stuffing and add veggies to it, one type of potato dish, a big platter of colorful roasted veggies, and maybe a big colorful salad!
Utilize appliances wisely - choose two sides that are cooked on the stovetop or Slow cooker, one for the oven, and one that doesn't require cooking and can be made ahead, like a salad.
Plan incredible leftovers with the rolls/bread option. I've observed many a Thanksgiving where the rolls are an afterthought and, as a result, barely touched. I choose the rolls or bread that I plan to offer based on the type of leftovers I'd like to have. With all of the carb and starch-heavy sides and desserts, people typically tend to skip the bread offering anyway. Fresh bakery brioche rolls or rustic boules make for incredible sandwiches the next day or overnight French toast over the holiday weekend, so that is typically what I plan to have on hand!
Main Dish
Purchase your turkey at least a week in advance, and set reminders to thaw it on time. Turkeys take a lot longer to thaw than you think - a minimum of 2 days and more like 3-4, so set a reminder on your phone to thaw it on time because it's easy to forget.
Make extra gravy - because you always will need it, and extra gravy can disguise a dry turkey if that ends up being the reality.
Just ask Ina. Her make-ahead turkey with gravy, truffle butter turkey, and herb-roasted turkey breast are all fantastic options - you won't go wrong with any of these!
Desserts
Stick to two desserts (or less) that you make, and delegate the rest! I'm picky about desserts and have to make sure that I have a chess pie and a chocolate pecan pie present on the table. After that, I really don't care what anyone else brings! Thanksgiving desserts are can be personal, so if someone wants to bring their favorite, by all means, let them!
Suggested recipes: Old-Fashioned Chess Pie, Apple Dumplings with Sparkling Cider Sauce, or this Easy Apple Tart!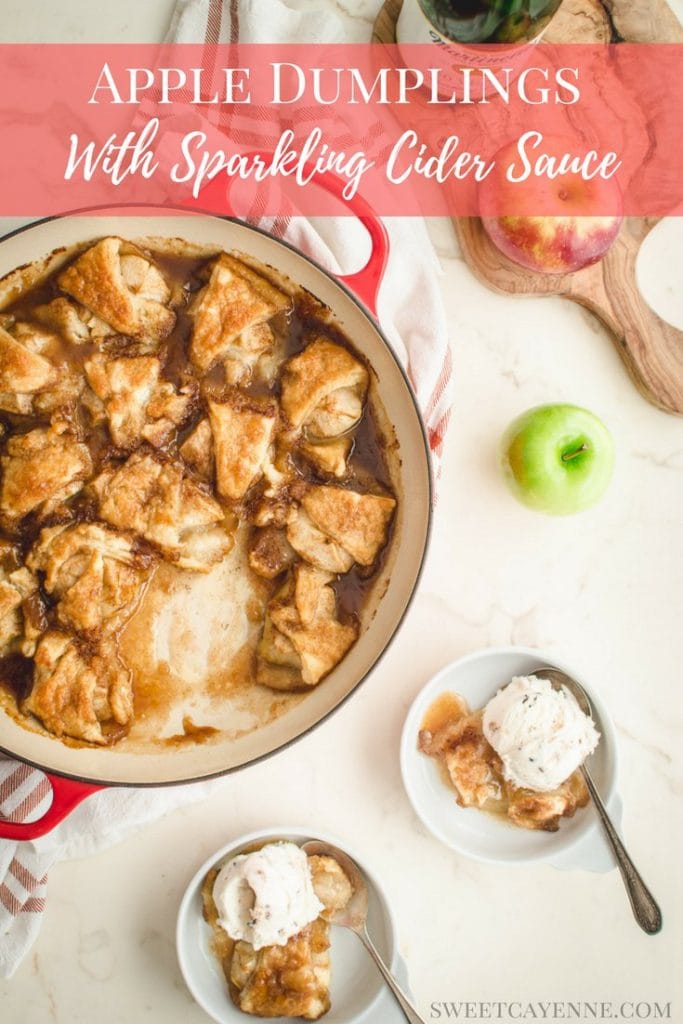 Setting a Schedule
On the menu planning sheet, I've left spaces for you plan tasks that can be done 2-3 days ahead, the day before, and the day of. Here's how I like to divide and conquer:
2-3 Days Ahead
Do a little shop (see below)
Set the table - see this post to see how I'm setting mine!
Make pie crusts, cranberry sauce, start drying out bread for stuffing
Wash, chop and prep veggies for cooking (2 days before)
The Day Before
Make-ahead mashed potatoes or sweet potato casserole
Make-ahead dressing or stuffing
Make desserts
Set up food and beverage serving areas
Put together any fresh flower arrangements
Thanksgiving Day
Cook turkey and gravy
Cook sides (like roasted veggies)
Warm make-ahead dishes (like stuffing and mashed potatoes)
Eat and enjoy!
Making a Shopping List
When it comes to shopping for a big day like Thanksgiving, I like to divide the work into two shopping trips. The first "big shopping trip" is for items that will be stored in the freezer, pantry, or that will keep in the fridge for over a week. Think things like flours, nuts, dairy products, potatoes, carrots, celery, stock, eggs, etc. The second "little shop" is something that I plan 2-3 days before Thanksgiving and will include items like fresh produce, flowers, and any incidentals I may have forgotten.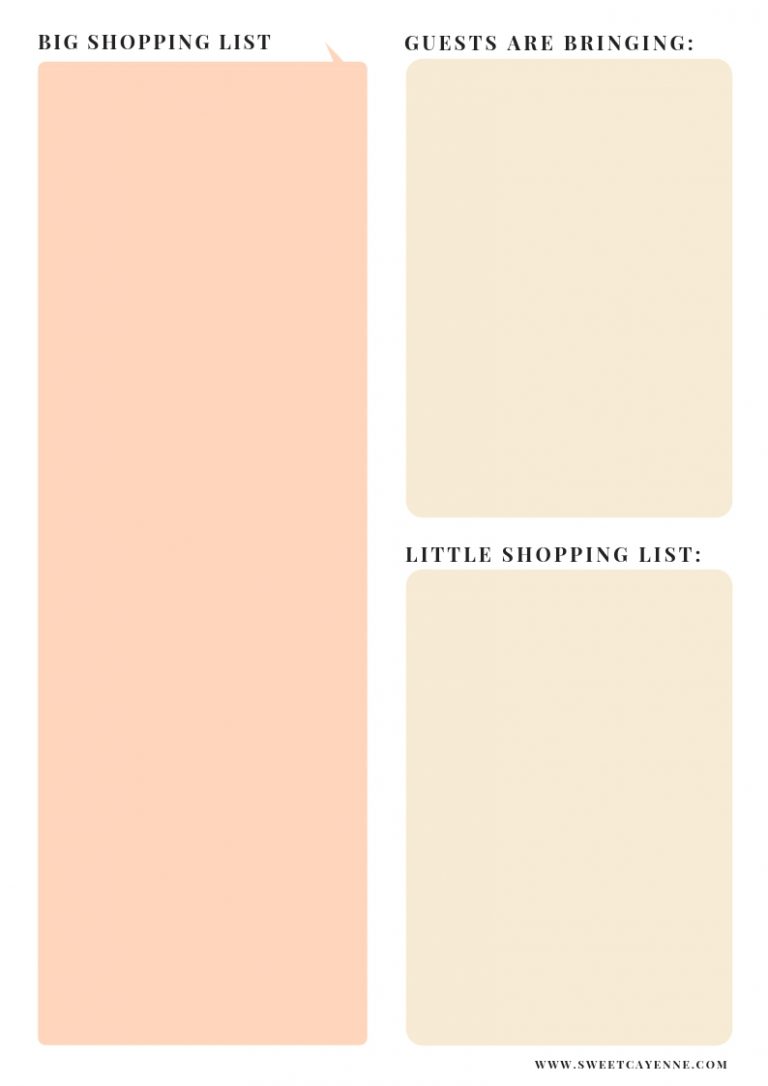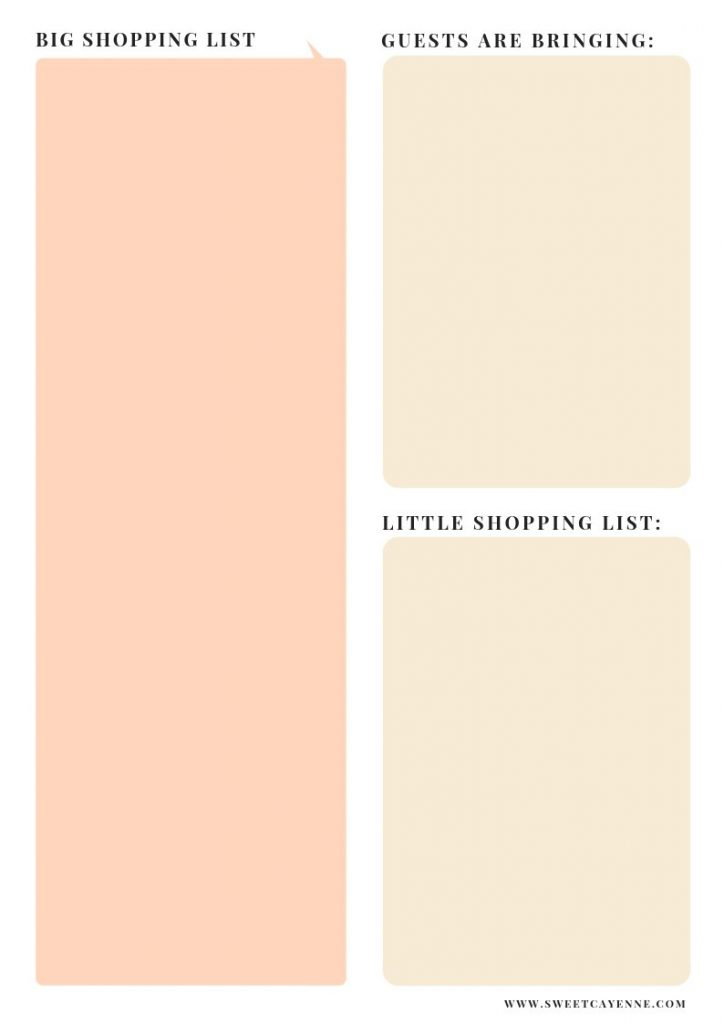 Ready to start planning? Download and print the 2-page planner and sign up for my weekly newsletter to get monthly menu planning sheets and a FREE e-cookbook!
Do you have any tips, tricks, or strategies you turn to when prepping for Thanksgiving? I'd love to hear about it - Leave a comment and rate the recipe below. This will help me with the creation of future recipes!
I'd also love to feature your creation in my weekly newsletter, so you can upload a photo to Instagram with the tag @sweetcayenne5 to be featured! Quick and easy recipe videos are available on my YouTube channel, and lots of menu inspiration on my Pinterest boards.
Videos