Let's go green and smother all of our favorite enchiladas, burritos, omelets, and quesadillas with this vibrant and flavorful Roasted Poblano Smother Sauce!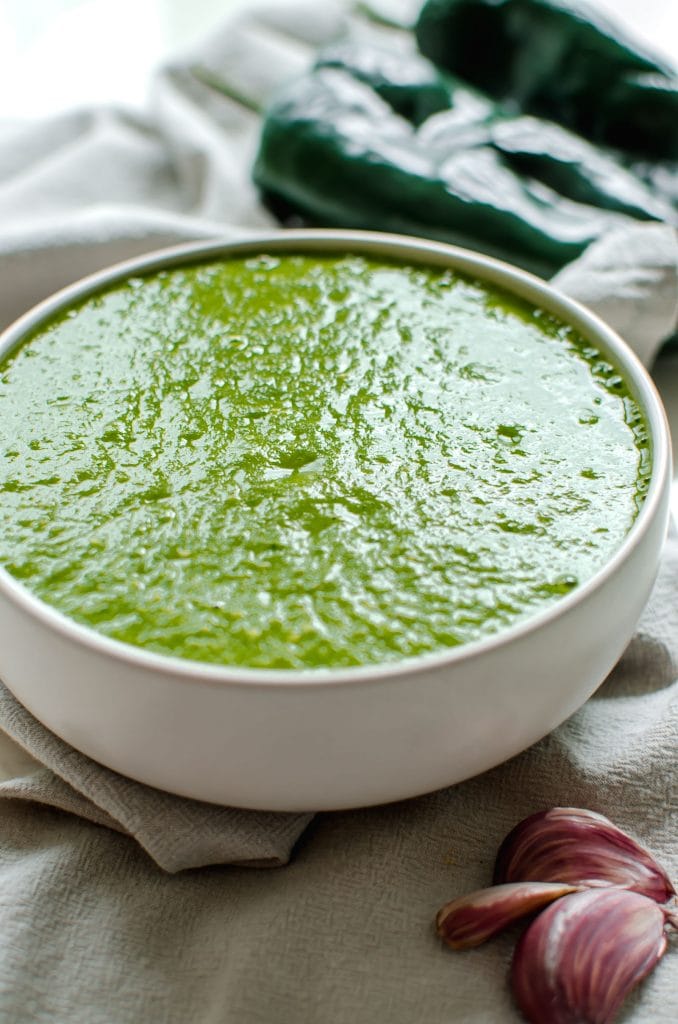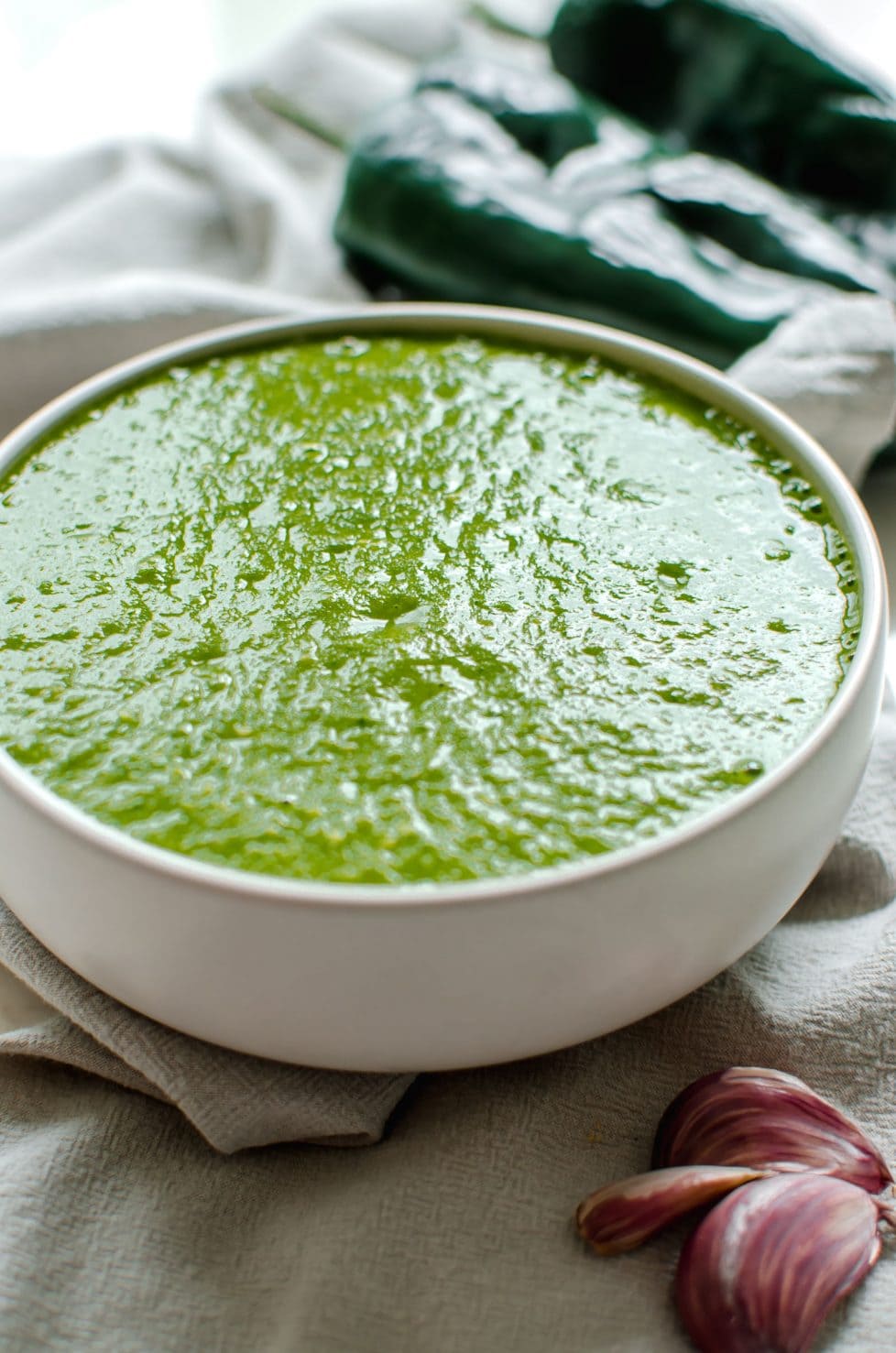 Jump to:
Video
Here's how I make the sauce:
For someone who married a Texan and LOVES Mexican food, I have come to the realization that there ARE NOT enough recipes on Sweet Cayenne that represent those two facts! Ryan and I have both been craving good Mexican food lately and are on the hunt for the freshest, most flavorful, most delicious Mexican offerings in Nashville. Do any of you have suggestions? Bonus points if the place makes a good brisket taco!
While we continue our search, I am on a quest to get more Mexican-inspired recipes on the blog. The Citrus-Chile Roasted Pork was a starting point, and the journey continues today with this Roasted Poblano Smother Sauce. Are you in for the adventure???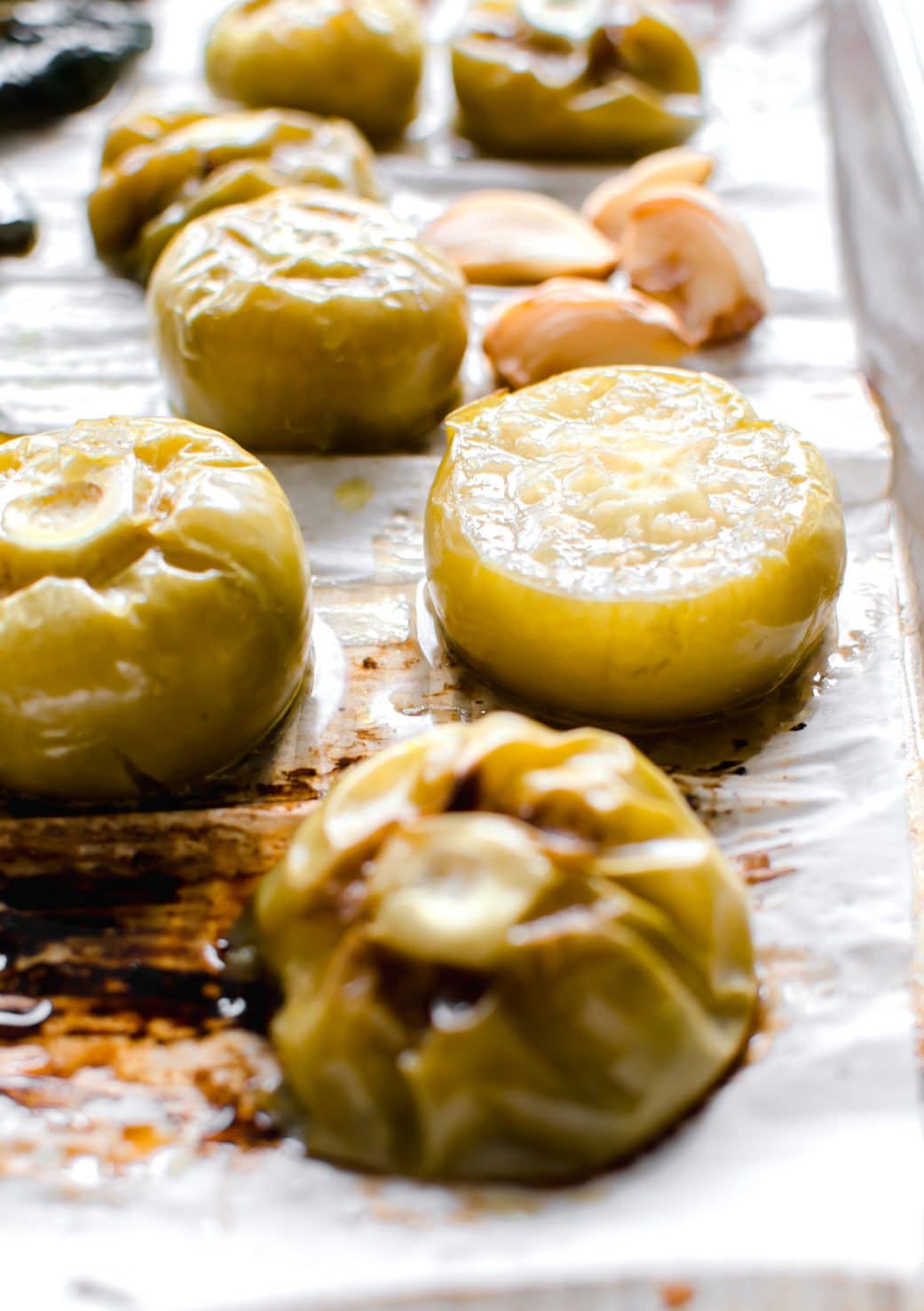 Friends, let me just tell you that when you roast a big tray of peppers, garlic, and tomatillos in the oven, your kitchen is going to smell AMAZING! You will really enjoy the experience more if you are noshing on chips, salsa, and a big bowl of guac while you make this smother sauce. So what exactly is a smother sauce, anyway???
What is a smother sauce
A smother sauce is a "mother sauce" that you create to take a basic recipe to the next level and really make it something special. Have you heard of the mother sauces? These sauces are the foundation of traditional French cooking and include:
Béchamel - a creamy white sauce with a thickened base of butter, flour, and dairy. This sauce is the foundation of macaroni and cheese as well as alfredo sauce!

Velouté - a velvety smooth base of butter + flour + and clear stock (typically chicken or a fish stock) that is the base of flavor in many soups and chicken pot pie.

Espagnole - a rich brown sauce that features beef or veal stock thickened with flour and butter. This sauce is often the foundation of beef stew or beef bourguignon.

Sauce Tomat - the French version of tomato that was traditionally flavored with pork and vegetables.

Hollandaise - I'm sure you are familiar with this one! This sauce is thickened with egg yolks instead of butter + flour, and is often found smothered on top of Eggs Benedict.
Even though these sauces are the foundation of French cooking, you can find a creative spin on each of them in almost any type of cuisine!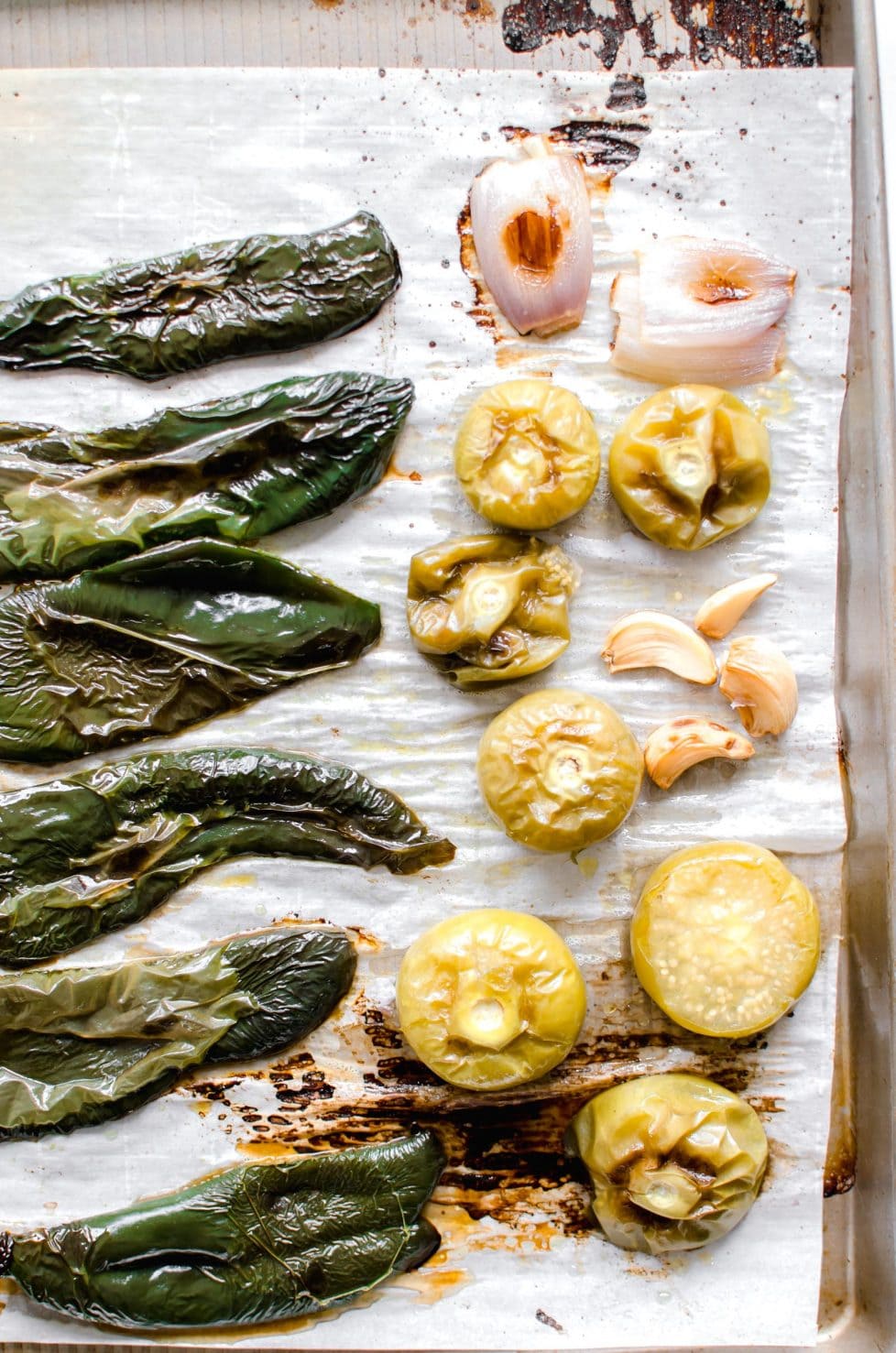 How to use
This Roasted Poblano Smother Sauce takes a traditional velouté as the base and adds delicious roasted peppers, tomatillos, aromatics, fresh cilantro, and seasonings to make a smooth and vibrant green sauce that is perfect for smothering on any of the following:
Enchiladas
Nachos
Burritos
Breakfast tacos
Quesadillas
Tamales
You get the picture, right? This sauce is so fun to make and lends itself to so many types of meals - I highly encourage you to make a big batch, divide into small containers, and freeze some portions for throwing a quick, flavorful, Mexican-inspired meal together in a pinch.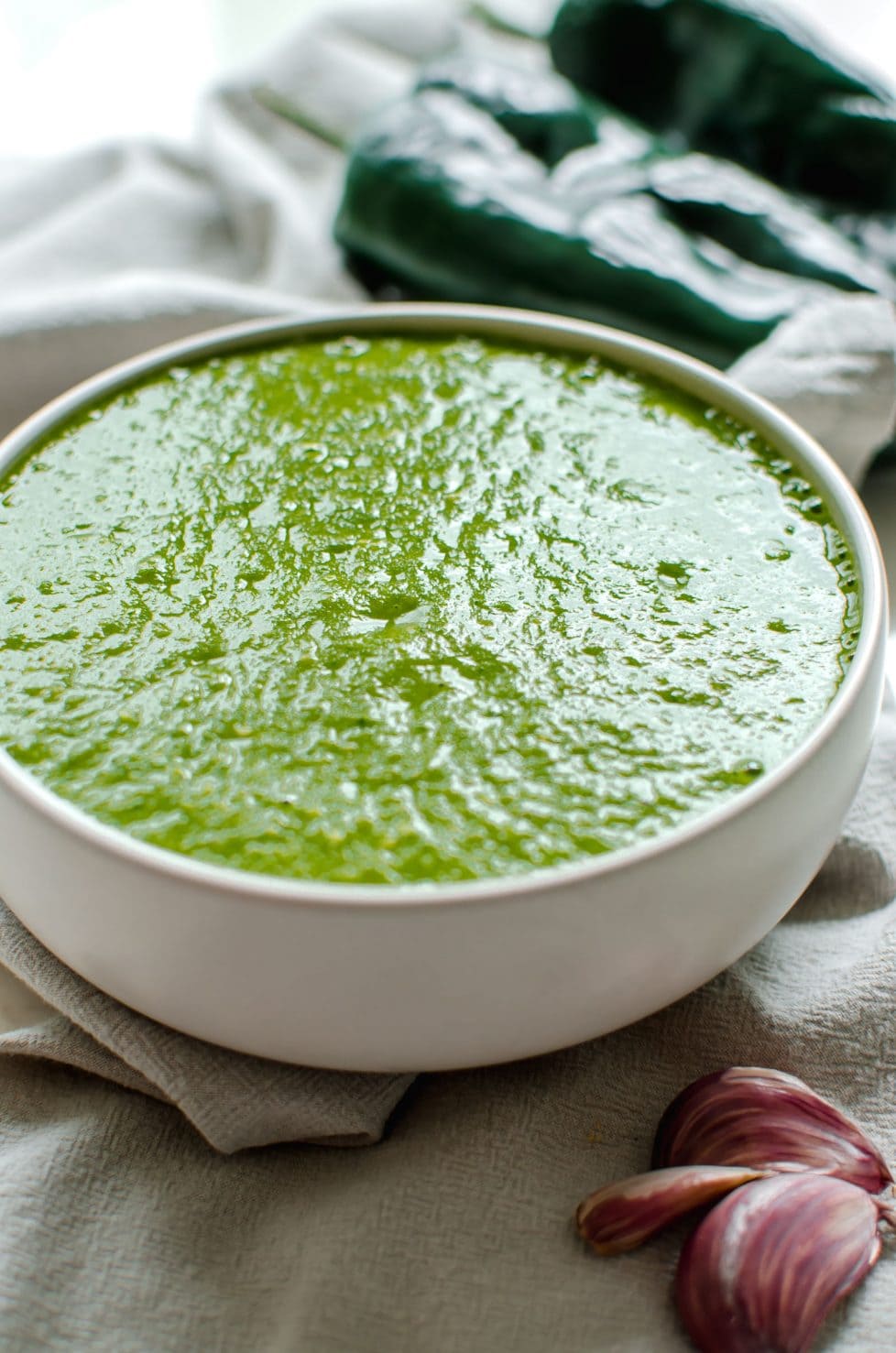 If you decided to give this Roasted Poblano Smother Sauce a try, I'd love to hear how it turns out for you in the comments below!
This will help me with the creation of future recipes!
I'd also love to feature your creation in my weekly newsletter, so you can upload a photo to Instagram with the tag @sweetcayenne5 to be featured! Quick and easy recipe videos are available on my YouTube channel, and lots of menu inspiration on my Pinterest boards.
Do you have a favorite sauce that takes your favorite dishes to the next level? Let me know in the comments below! If you like this recipe, be sure to check out my Mango Granita with Chile Lime Glaze or my Fresh Lime Tart with Blackberry Sauce. Both of these desserts make for an excellent finish to a Mexican-inspired meal!
Similar recipes
Recipe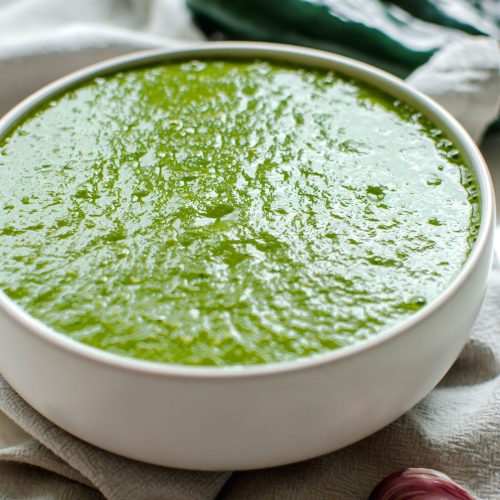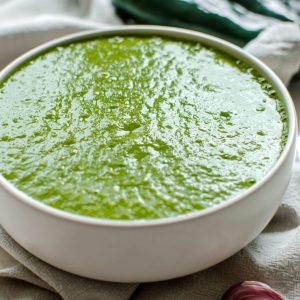 Roasted Poblano Enchilada Sauce
Roasted Poblanos are used to make this green enchilada sauce. This sauce can be used over enchiladas, to smother burritos, as a breakfast taco filling, or on omelets!
Print
Pin
Rate
Ingredients
2

whole

poblano peppers

seeded and sliced into thirds

6

whole

medium tomatillos

peeled

1

whole

shallot

peeled and halved

4

pieces

garlic cloves

peeled

Olive oil

1

tablespoon

butter

1 ½

tablespoons

all-purpose flour

1 ¾

cups

chicken stock

2

cups

loosely packed baby spinach leaves

2

teaspoons

of Kosher salt

½

teaspoon

black pepper

2

teaspoons

ground cumin

½

cup

fresh cilantro

leaves and stems
Instructions
Preheat oven to 400℉. Line a baking sheet with parchment paper.

Place the peppers, tomatillos and the shallot on the parchment paper. Wrap the garlic cloves in a small piece of foil and place that on the baking sheet.Drizzle the vegetables with a bit of olive oil.

Roast in the oven for 15 minutes. Remove the pan from the oven, flip all of the vegetables over (except the garlic), and roast an additional 15 minutes.

While the vegetables are roasting, melt the butter in a medium saucepan over medium heat. Whisk in the flour and cook for 3 minutes until the mixture is golden and fragrant. Slowly add in the chicken stock while whisking constantly. Bring the mixture to a simmer and cook over medium-low heat for 10 minutes. The mixture will thicken slightly. Remove from heat and cool for 10 minutes.

Combine all of the vegetables from the sheet pan and the cooled chicken stock in a blender. Add the spinach, salt, pepper, cumin, and cilantro. Blend until smooth. Adjust seasonings to your taste.

Transfer the sauce to an airtight container and refrigerate for up to 5 days or freeze for up to 6 months.
Notes
This sauce can be used over enchiladas, to smother burritos, as a breakfast taco filling, or on omelets!
Serving:
0.25
cups
|
Calories:
28
kcal
|
Carbohydrates:
2.7
g
|
Protein:
0.7
g
|
Fat:
1.9
g
|
Saturated Fat:
0.6
g
|
Cholesterol:
2
mg
|
Sodium:
384
mg
|
Potassium:
92
mg
|
Fiber:
0.5
g
|
Sugar:
0.4
g
|
Calcium:
13
mg
|
Iron:
1
mg